IPL 2023 GT vs MI Preview - The Qualifier 2
Key match stats
IPL Records at the Narendra Modi Stadium
Average first innings score: 187
Average first innings winning score: 188
Average powerplay score: 49
Win % batting 1st vs batting 2nd: 57% / 43%
Team form GT vs MI
GT: LWWLW
MI: WWLWW
Recent matches: GT won by 55 runs, MI won by 27 runs
Preview GT vs MI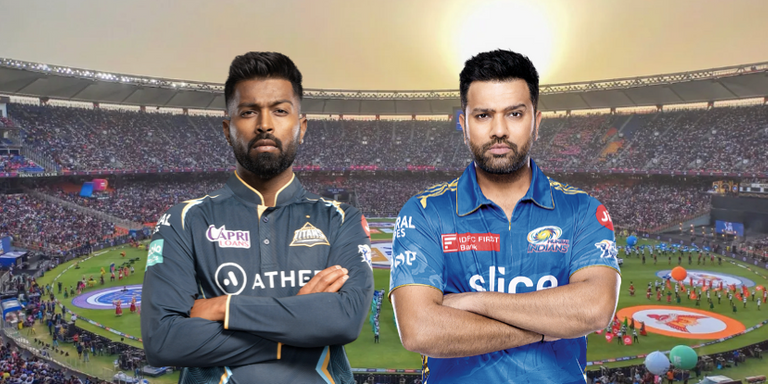 While no one can dismiss the success that this Gujarat Titans team have enjoyed in their first couple of seasons as an IPL franchise, you would have to say that these next few days represent the biggest challenge in the club's relatively short history.
Yes, they won the title in their inaugural season but that coincided with CSK and Mumbai Indians finishing in the bottom 2 spots in the league and well off the playoff places. Taking nothing away from the likes of RCB and RR who made their own push for silverware in 2022 but when you head into the playoffs with the likes of Chennai and MI still in the hunt it's a very different scenario.
In all sports, their are certain sides who just seem to have success weaved into their DNA and that is very much the case with CSK and Mumbai. If the Titans can overcome these 2 behemoths of the league then they will be well on their way to establishing their own successful dynasty. If not, will they just become a footnote in the history of a league dominated by Chennai Super Kings and Mumbai Indians?
The Titans should of course enjoy playing here at their home stadium where the final will also take place, far more than they did in Chepauk but that is not to say that they can expect the kind of partisan support that CSK got on their home ground.
Ultimately, GT's defeat to CSK came down to a number of individual errors (what if Nalkande hadn't have overstepped against Gaikwad) and poor team selection. I wrote in my preview that I fully expected Sai Sudharsan to be involved in order to counter the threat of Ravi Jadeja but Gujarat instead opted for the likes of Dasun Shanaka and Vijay Shankar in a top 6 that had 5 right-handers. Jadeja finished with figures of 2 for 18 in a performance that effectively strangled any hope that GT had of chasing CSK's total. Will they make changes to their personnel in this match?
Meanwhile, MI whipped the floor with a Lucknow side that looked more like a rabbit caught in the headlights than it did a professional cricket side. As much as anything, it was the intensity that Rohit Sharma and his men brought to the field that won them the game. Yes, LSG contributed some comical run outs to the equation but that was a result of the immense pressure that MI had them under from the off.
We've seen 2 really high scoring affairs between these sides so far this season with a win a piece. However, MI where thumped the last time that they played GT at this venue, being reduced at one point to 59 for 5 before a rearguard action saved them from total humiliation.
| Playoff victories batting first | Playoff victories batting second |
| --- | --- |
| 30 (50%) | 30 (50%) |
All-time IPL playoff results (inc. the final) wins batting 1st vs batting 2nd
As we'll examine later in the blog, the powerplay will be crucial to determining the winner of this match as will be the toss. We know that both these teams enjoy a chase and that no total is likely to be safe from their respective batting units. However, as we've already seen in these playoffs when it comes to high pressure knockout games, getting runs on the board can very often lead to victory. After 60 IPL playoff games we're fascinatingly poised at 30 wins each for sides batting first vs second. Will Rohit or Hardik stick to their traditional strength or be tempted to get the runs on the board?
GT vs MI head to head
MI bowling vs GT batting
The biggest immediate challenge for Mumbai Indians is that they are now entering the domain of Shubman Gill. The stylish right hander has been impressive in venues all across the tournament but his IPL record at the Narendra Modi Stadium is formidable.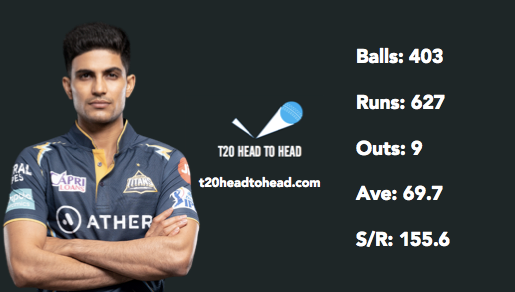 Shubman Gill T20 record at the Narendra Modi Stadium
He has already established himself as the record run scorer in the IPL at this ground and is quickly pulling away from the pack. When you then factor in his T20i record here for India that's when the stats get really scary!
Getting Gill early then would be a real boost to MI's hopes of progressing to the final, particularly when you consider that of late, GT's traditionally strong middle order has been struggling for runs.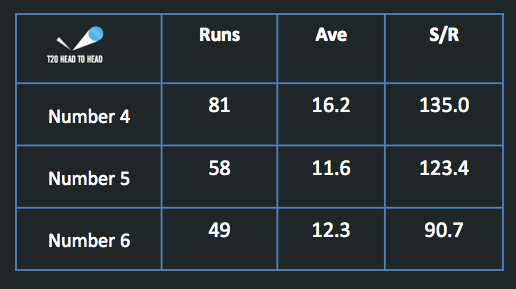 GT's middle order batting stats since the start of May
In that regard, Gujarat's batsmen will have to deal with the in-form Akash Madhwal who has taken 12 wickets in his last 4 IPL matches including a 3 for against this opposition just a couple of weeks ago.
However, don't underestimate the impact that a bowler who has been around for significantly longer than Madhwal is having on this tournament. Piyush Chawla is still in with an outside chance of winning the purple cap and it's been his consistency across the entire season that has got him to 21 wickets. He's only failed to take a wicket in 2 of his last 10 matches and in the same period has struck twice in 5 games. That includes 4 wickets this season against this GT batting line-up.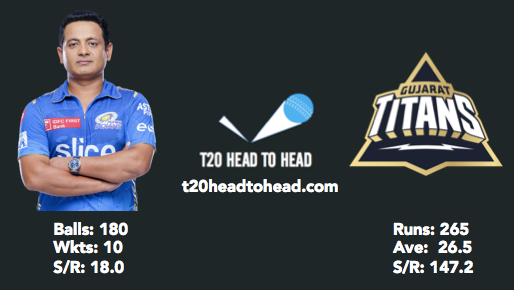 Piyush Chawla T20 head to head vs current GT line-up
What we didn't see in the last Mumbai Indians match is how their bowling attack would face up to the pressure of the occasion and big hitters at the death. The game against LSG was essentially finished as a contest within 12 overs but this GT side are less likely to fold so easily and have already shown in the 2 previous meetings in IPL 2023 that they are capable of scoringly heavily in the last 5 overs against this MI team.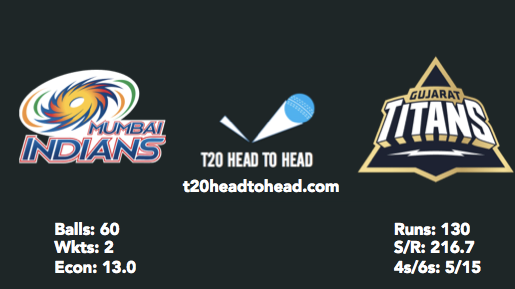 MI bowling vs GT batting at the death in IPL 2023
That includes GT having struck an incredible 15 sixes at the death against Mumbai this season!
GT bowling vs MI batting
Mumbai will certainly want to get off to a far better start than they did the last time they played the Titans here at the Narendra Modi Stadium when they found themselves 29 for 1 at the end of the powerplay. That was one of only 5 times so far in IPL 2023 that a side has failed to make 30 in the powerplay with the Titans responsible for 3 of those instances
| Batting Team | Powerplay Score | Bowling Team |
| --- | --- | --- |
| RR | 26 for 2 | GT |
| DC | 28 for 5 | GT |
| RR | 28 for 5 | RCB |
| MI | 29 for 3 | RCB |
| MI | 29 for 1 | GT |
Lowest powerplay scores in IPL 2023
On the flip side, in the reverse fixture at the Wankhede, Rohit and Ishan got off to a great start and were particularly brutal against Mohammed Shami, taking the leader of Gujarat's attack for 22 off his opening 2 overs, his most expensive opening spell of the tournament to date.
Getting off to a fast start is particularly important against this GT side given their strong spin attack through the middle overs. Rashid Khan has enjoyed himself against this Mumbai side over the last couple of years, taking combined figures of 8 for 81 since joining GT.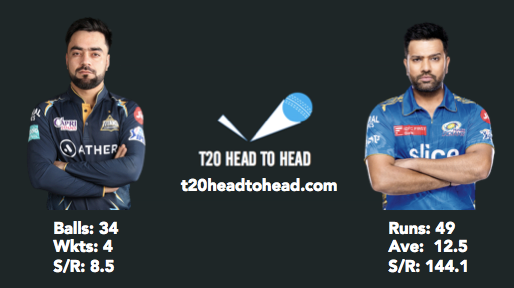 Rashid Khan vs Rohit Sharma T20 head to head
At the same time, with Hardik having been unable to bowl since the last game between these 2 sides, it does feel like the Gujarat attack is short of options, particularly if you can target one of their 5 available bowlers. MI took GT's seamers for a combined total of 148 for 1 off the 12 overs that they bowled at the Wankhede and I would imagine that their strong middle order will target whoever the Titans opt to play as their 3rd seamer in this game.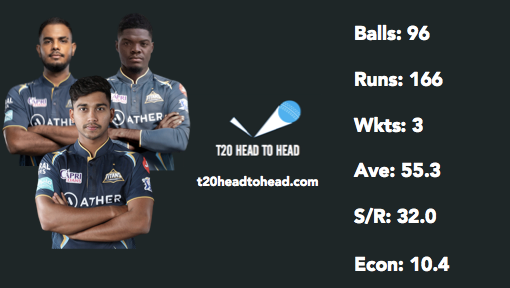 GT's 3rd seamer combined bowling stats since Hardik's injury
---
All stats used in this blog are from my own databases which are freely accessible below
IPL head to head player stats
IPL player stats by venue
IPL stadium statistics.
Images are my own with the exception of player profiles and highlights within GIFs which are not intended to infringe copyright- read full disclaimer. Background images are used under a creative commons license or otherwise royalty free.
---
---