IPL 2023 GT vs SRH Preview - Titans looking to get the job done
Key match stats
Pitch Stats – Narendra Modi
Average first innings score: 179
Average first innings winning score: 169
Average powerplay score: 42
Win % batting 1st vs batting 2nd: 40% / 60%
Team form GT vs SRH
GT: LWWLW
SRH: LWLWL
Recent meetings: IPL 2022 - GT won by 5 wickets, SRH won by 8 wickets
Preview GT vs SRH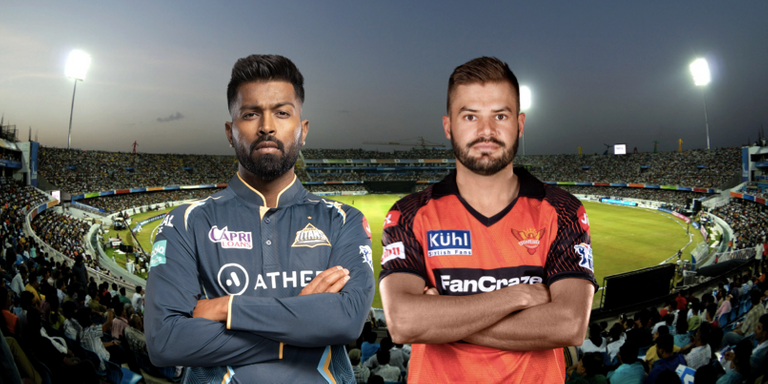 It was a fairly chastening defeat for the league leaders at the hands of Mumbai Indians on Friday night and if not for the efforts of Rashid Khan with both bat and ball then it would surely have been significantly worse.
The only concern for GT at the moment is that despite some really impressive performances this season, they still appear to have the odd bad game in them. Their 2 most recent victories have seen them wipe the floor with fellow playoff hopefuls RR and LSG but those wins were sandwiched in between a defeat to bottom placed Delhi and the loss at the Wankhede at the end of last week.
Still, I would expect them to regroup over the weekend and come and put their qualification for a top 2 spot beyond any doubt by beating a Sunrisers team who throw away a great opportunity to keep themselves in with an outside chance of qualification by losing to LSG on Sunday.
In my preview of that match, I highlighted that Sunrisers tactics with the ball, particularly at home, have not been right all season and lone behold, they went and did it again by bowling far to full and taking what was a fairly slow wicket out of the equation.
As a fan, it's difficult to know what's going on in team meetings or tactical discussions in the middle. Is it that SRH have just not got the right personnel to bowl in that way? Is it that their tactics are wrong? Or is it that the bowlers simply aren't delivering what is required? I'd suggest it's probably a mixture of all 3.
However, the decision to bowl Abhishek Sharma in the 16th over which went for 31 runs and to not bowl their impact sub at all in this match has to rest with both the coach and captain. Aiden Markram's lack of experience in the IPL is beginning to tell while the same can be said of Brian Lara who was fast tracked into the Head Coach role with very little prior experience of managing a team at this level.
| Franchise | Captain | IPL Career Matches |
| --- | --- | --- |
| CSK | Dhoni | 246 |
| MI | Rohit | 239 |
| PBKS | Dhawan | 215 |
| DC | Warner | 174 |
| RR | Samson | 150 |
| RCB | du Plessis | 127 |
| LSG | KL Rahul / K Pandya | 118 /110 |
| GT | H Pandya | 117 |
| KKR | Rana | 103 |
| SRH | Markram | 30 |
Captains in IPL 2023 and the total IPL matches played over their career
Of course, the bigger picture is that Sunrisers have changed their coach and/or captain in each of the last 3 seasons and to little or no effect. SRH achieved 6 victories in IPL 2022, although just 1 of those came in the 2nd half of the season, while they finished rock bottom with 3 wins in IPL 2021.
If Markram and Lara can get another couple of wins in their 3 remaining games this year with what is a fairly inexperienced group of players, they could probably argue that they've done a better job than those that came before. If they can't get those wins then it might well be that SRH choose to roll the dice again on a new leadership team.
GT vs SRH head to head
SRH bowling vs GT batting
A few of GT's batsmen will be more than happy to get back to the Narendra Modi following their mauling in Mumbai. Shubman Gill's average alone jumps 50 points from the Wankhede to when he bats on his home track here in Ahmedabad and that's just taking into account games in the IPL. Gill also has a T20i hundred at this ground for India.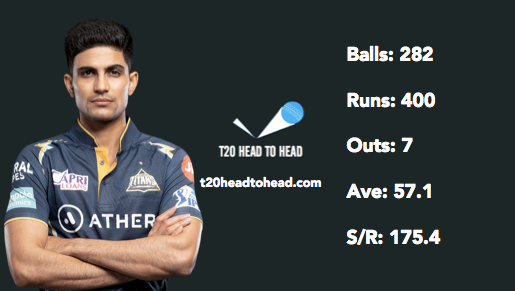 Shubman Gill IPL batting stats Narendra Modi Stadium
Having criticised the SRH bowling this season, they might yet find that the Narendra Modi is more to their suiting than many of the other pitches in IPL 2023, including their own.
Mohammed Shami has been particularly impressive this year by bowling a Test Match line and length with the new ball and Bhuvi has enjoyed similar success at this venue, firstly in his one and only IPL appearance here were he took 4 for 14 and more recently when England and India played a 5 match T20i series with all games taking place in Ahmedabad. Bhuvi was able to find appreciable swing and movement off the wicket in those games 2 years ago. Can he do something similar in this fixture?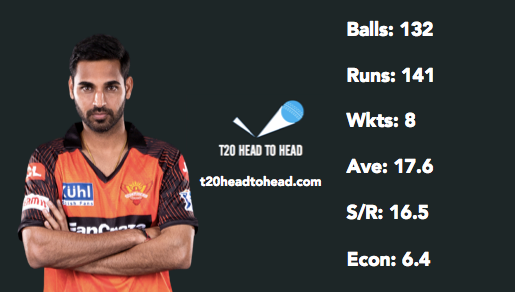 Bhuvi T20 career bowling stats at the Narendra Modi Stadium
Based on recent performances, the concern for SRH has to be that even if their seamers can get them into a strong position with the new ball then they don't seem to have the quality and depth in their squad to really hammer home that advantage.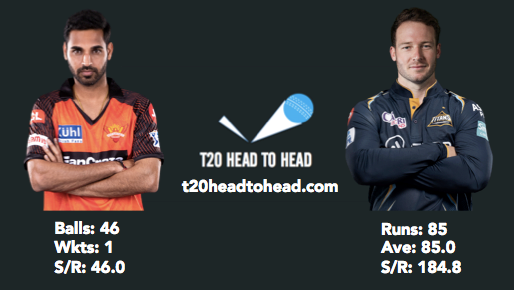 David Miller vs Bhuvi T20 head to head
We've seen on multiple occasions that this powerful GT batting line-up have hitters coming in as low as number 8 and SRH have first hand experience of how useful that depth can be the last time these 2 sides met. On that occasion, Rahul Tewatia and Rashid Khan scored 59 off the last 4 overs, including 25 off the final over to secure what looked an unlikely win off the last ball.
GT bowling vs SRH batting
It was a rare off day for GT's pace attack on a Wankhede pitch that you'd have thought they would enjoy bowling on. Still they will fancy their chances of returning to form in this fixture.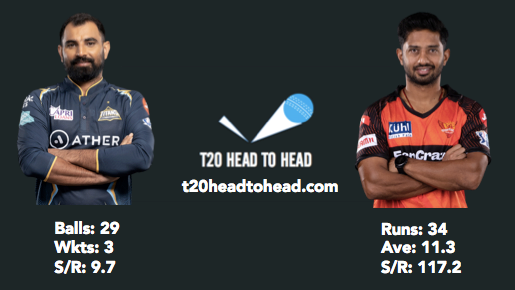 Mohammed Shami vs Rahul Tripathi T20 head to head
One of the biggest problems that Sunrisers have had with their batting all season is their tendency to lose wickets in clumps, particularly during the middle overs. 2 wickets in 2 balls in their last match against LSG completely changed the context of the innings and cost Sunrisers at least 15 runs that might have proved the difference.
SRH are going to have to bat well throughout the entirety of their innings against a GT bowling line-up who are quite capable of running through this batting unit if the door is left even a jar.
| Opposition | Collapse | Result |
| --- | --- | --- |
| RR | 24 balls, 4 for 18 | Lost |
| LSG | 9 balls, 3 for 4 | Lost |
| CSK | 27 balls, 5 for 23 | Lost |
| DC | 16 balls, 4 for 16 | Lost |
| KKR | 21 balls 4 for 25 | Lost |
| LSG | 21 balls 3 for 33 | Lost |
Batting collapses of 3 or more wickets by SRH that have taken place within the first 15 overs of matches in IPL 2023
A few of the SRH batsmen could well be playing for their 2024 contracts this week with the team also having games against RCB and MI. While those may be dead rubbers, as far as progressing in the tournament is concerned, it's still all to play for when considering the immediate IPL careers of much of the Sunrisers squad.
In that respect, this remains a dangerous fixture for the Titans because we have seen glimpses of what players like Klaasen and Phillips are capable of on their day and with qualification now beyond them, it might be time for the Sunrisers to cut lose!
---
All stats used in this blog are from my own databases which are freely accessible below
IPL head to head player stats
IPL player stats by venue
IPL stadium statistics.
Images are my own with the exception of player profiles and highlights within GIFs which are not intended to infringe copyright- read full disclaimer. Background images are used under a creative commons license or otherwise royalty free.
---
---