IPL 2023 KKR vs GT Preview - Is there life left in the Knight Riders?
Key match stats
Pitch Stats – Eden Gardens
Average first innings score: 222
Average first innings winning score: 222
Average powerplay score: 53.5
Win % batting 1st vs batting 2nd: 100% / 0%
Team form KKR vs GT
KKR: WLLLL
GT: WWLWL
Recent meetings: KKR won by 3 wickets
Preview KKR vs GT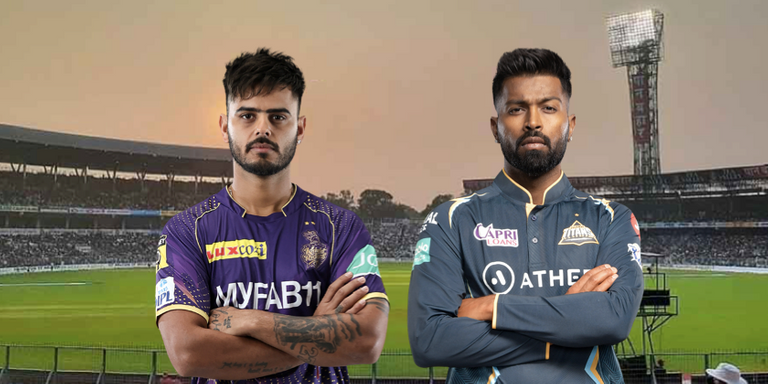 Is there any life left in this KKR team? Well the win against RCB suggests that they are not totally out of the running for a spot in the top 4 and we have seen plenty of evidence this season that shows they have the match winners to go on a bit of a run.
A win here and they go onto play a struggling Sunrisers team and a Punjab side that lacks a bit of star quality before finishing off their season with a much harder run of matches against the likes of Rajastahan, CSK and Lucknow all of whom you'd imagine will be competing for at least a top 4 spot themselves.
Of course despite the commanding performance against RCB, we can't simply ignore the fact that KKR had lost 4 in a row prior since the victory against today's opposition who got "Rinkued" (an early contender to be added to the Oxford English dictionary later this year) when these 2 teams met in Ahmedabad a few weeks ago.
The most satisfying aspect of KKR's victory in Bangalore was that it wasn't reliant on a single outstanding performance. Instead the Knight Riders put together an actual partnership at the top of the order and that laid the platform for what is a very strong middle to lower order to get them past the 200 mark.
As things stand, this Eden Gardens pitch will require something very similar. Every team that has batted here first has hit at least 200 with CSK and SRH going well beyond that in the last 2 matches and unsurprisingly all of those sides have won!
Defending Champions Gujarat Titans have responded to criticism of being a little bit conservative with their batting by revamping their middle order, pushing Hardik to 3 and accommodating the likes of Vijay Shankar (whose brilliant 63 from 24 balls in the earlier match against KKR was somewhat overshadowed by Rinku Singh's heroics) and Abhinav Manohar who excelled in their win against Mumbai.
| Statistic | Eden Gardens IPL 2023 | Rank |
| --- | --- | --- |
| Average 1st innings score | 222.3 | 1st |
| Balls per 6 hit | 11.0 | 1st |
| Average death overs score | 60.9 | 1st |
Key pitch stats at Eden Gardens in IPL 2023 and rank relative to all other grounds used
This match then has the potential to be a really high scoring affair at a venue that is leading the way for runs in almost every measure imaginable.
KKR vs GT head to head
GT bowling vs KKR batting
While it's easy to focus on GT's batting after the win against Mumbai, the role their bowlers played was also crucial. On an evening where dew looked likely to play an increasingly important part as the match went on, the GT attack crippled the MI top order and won the game by the 11th over, before the ball truly turned into a bar of soap!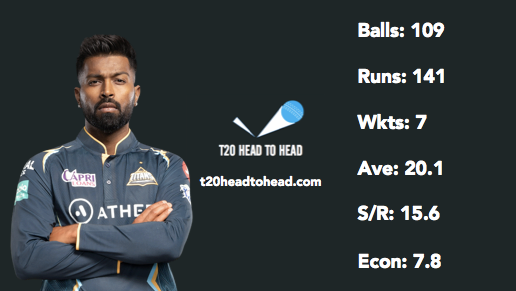 Hardik Pandya IPL bowling stats at Eden Gardens
Against this fragile KKR top order, they'll be looking to do something similar with Hardik Pandya having a great IPL record at Eden Gardens leading the way alongside Mohammed Shami who has been irresistible with the new ball so far in IPL 2023. In fact, no other bowler this season has bowled more overs in the powerplay than Shami and a big part of Gujarat's success over their first 2 seasons is based on the simple premise that players have a very clearly defined role in the squad and the skills to execute that role!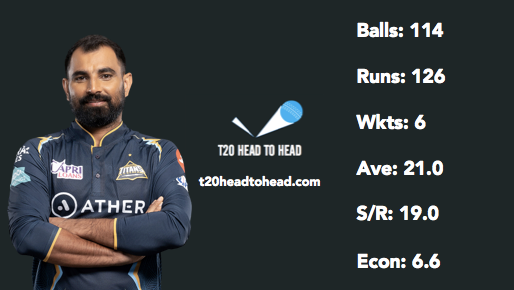 Shami IPL 2023 powerplay bowling stats
Another major hurdle for KKR to jump is the form of current purple cap holder, Rashid Khan. Again, the final over heroics from KKR the last time these 2 sides met, means that Rashid's hattrick that occurred about 15 minutes prior has been instantly forgotten.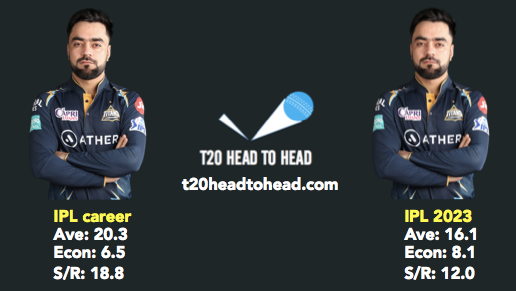 Rashid Khan IPL career vs IPL 2023 bowling stats
Perhaps it's the need for sides to go much harder in this IPL than we've seen in previous years (as Faf du Plessis recently said 200 is the new 180) that is leading Rashid to have his most prolific IPL season to date. In previous years, sides have been fairly happy to see him off for around a run ball while preventing the loss of wickets. This year, he's going at over 8 an over but striking with far more regularity.
Clearly the return to home and away fixtures across Indian venues has helped resurrect the careers of several domestic players who had barely had a look in over the past few campaigns. Gujarat have certainly rediscovered one of those bygone stars in the form of Mohit Sharma.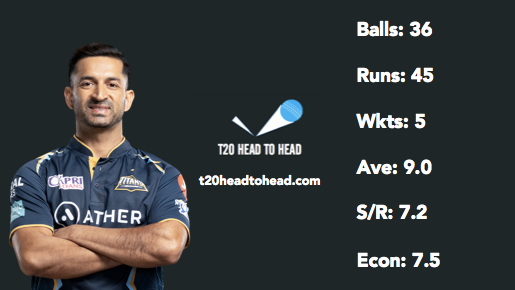 Mohit IPL 2023 death bowling stats
With a very strong powerplay attack and brilliant spin options, the only potential chink in the armour for GT was their death bowling. However, Mohit has come in and solved that problem single handedly while also allowing the Titans great flexibility to pick and choose from 3 overseas bowling options to compliment the main attack.
However, he'll certainly be up against it in this game if Kolkata can get a start with the recent selection of David Weise only adding to the late order hitters that KKR have at their disposal.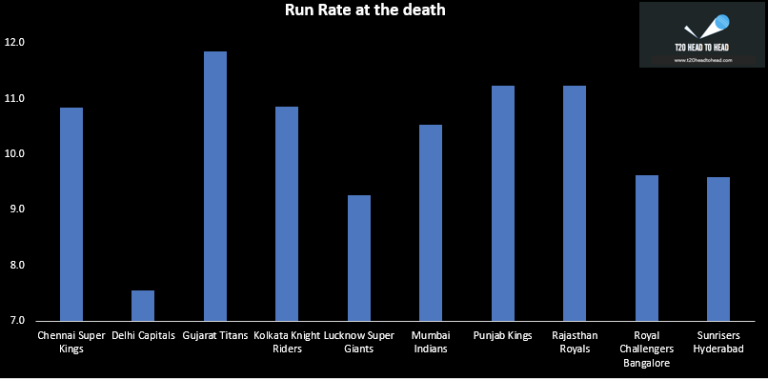 Death overs run-rate by franchise IPL 2023
In fact, given what we've seen achieved at Eden Gardens so far this season plus the relative strength of the 2 teams batting line-ups, we could well be in for some fireworks late in the innings.
KKR bowling vs GT batting
There must be a little bit of concern in the KKR camp about the current form of Sunil Narine who has gone wicketless in each of his last 5 matches. Narine has become increasingly less prolific since he burst onto the scene between 2012 to 2014 but generally where his wicket taking exploits have decreased his ability to contain sides has remained. However, that's certainly not been the case so far this season with the West Indian going at just shy of 9 an over, the most expensive he's ever been in an IPL career spanning over a decade.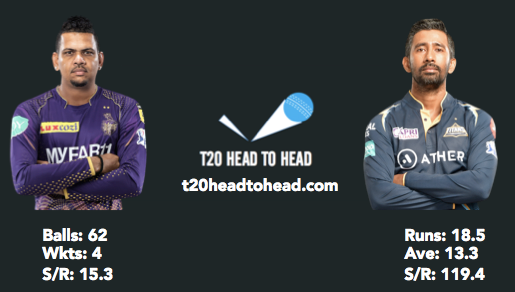 Narine vs Saha T20 head to head
KKR may well be tempted to go with spin in the powerplay again, a decision that proved profitable the last time these sides met with Narine accounting for Saha once again. If it is the case that the Knight Riders look to introduce the slow bowlers early then expect Shubman Gill to look to attack them. Since joining GT has powerplay stats against spinners are very impressive!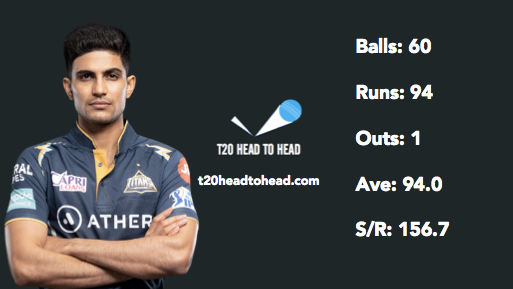 Shubman Gill powerplay stats vs spin since joining GT
Gill has the advantage of knowing these KKR bowlers and the conditions at this ground very well given his time in Kolkata. However, he's not the only Titans batsmen with a very good record at the Mecca of Indian cricket.
| Batsma | IPL average at Eden Gardens | IPL S/R at Eden Gardens |
| --- | --- | --- |
| Miller | 53.3 | 145.9 |
| Pandya | 40.0 | 181.8 |
| Shankar | 42.0 | 150.0 |
| Gill | 37.0 | 145.1 |
GT IPL batting stats at Eden Gardens
That plus the form of a few of the Titans batters and the added incentive that a win would take them clear at the top, suggests that a few of them will be adding to their impressive IPL records at Eden Gardens.
---
All stats used in this blog are from my own databases which are freely accessible below
IPL head to head player stats
IPL player stats by venue
IPL stadium statistics.
Images are my own with the exception of player profiles and highlights within GIFs which are not intended to infringe copyright- read full disclaimer. Background images are used under a creative commons license or otherwise royalty free.
---
---