IPL 2023 LSG vs GT Preview - Have we found the Titans kryptonite?
Key match stats
Pitch Stats – Ekana Stadium
Average first innings score: 158
Average first innings winning score: 193
Average powerplay score: 43
Win % batting 1st vs batting 2nd: 33% / 67%
Team form LSG vs GT
LSG: WLWWL
GT: LWLWW
Recent meetings: IPL 2022 - GT won by 62 runs and GT won by 5 wickets
Preview LSG vs GT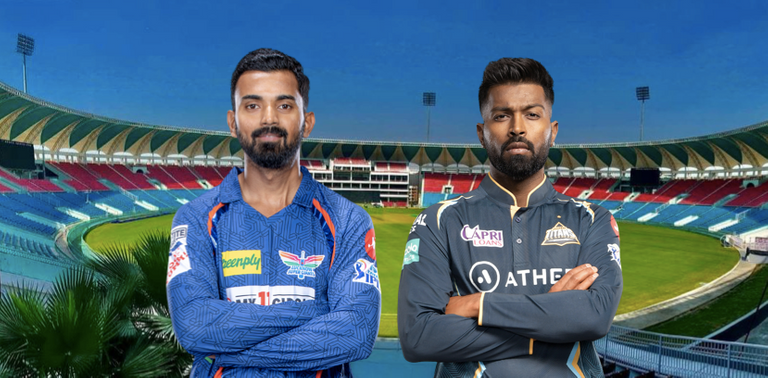 The 2 newest franchises go head to head on Saturday morning, looking to establish their credentials as 2 of the sides to beat once again this season.
The inaugural season for these teams was a bit of a strange one with both Mumbai and Chennai already out of the running by this stage of the 2022 tournament. That's not to take anything away from the achievements of both in making the playoffs and of course for Gujarat being crowned champions but when the majority of previous IPL titles are sat occupying the bottom 2 spots in the table then it does take the pressure off to some extent.
That doesn't look likely to be the case this year and it doesn't look likely that any one side is either going to cruise through to the playoffs or be cut a drift, at least not yet.
LSG contributed to that fact by stopping Rajasthan opening up a lead at the top of the table in what was an excellent come back win for KL Rahul's side. Meanwhile Gujarat's last game was also against the Royals who along with these 2 teams look like they'll be in the mix at the end of the season again.
Gujarat's biggest advantage coming into this game is that they've essentially had a week off to recover from that thrilling match on Sunday. Perhaps it's just a coincidence or bad luck but there do seem to be more injuries impacting sides in this IPL than I can remember happening in previous editions of the tournament so a week with their feet up, might be just the tonic for the Gujarat squad.
Gujarat also come into this match with the confidence of having beaten LSG twice last year, including bowling them out for just 82 in their most recent encounter! We saw against Rajasthan that one of the great strengths of this Titans team is their bowling attack which gives them the ability to look for wickets at any stage of the game. Credit has to go to the Royals for escaping that opening burst with just 2 wickets down, if they hadn't have dug in then it's entirely plausible that they'd have been skittled out in the same manner that the Super Giants were last season.
The difficulty with predicting conditions at the Ekana Stadium is that it possesses both black and red soil pitches and it's likely that LSG will look at the oppositions strengths and weaknesses and choose a pitch to give them home advantage.
The red soil surface that we saw them choose for the opening match against Delhi Capital and again against PBKS looked to be a bit more of an even contest between bat and ball while the black soil pitch used for the Sunrisers game was significantly harder to score on with little pace or bounce.
| Statistic | Black soil pitches | Red soil pitches |
| --- | --- | --- |
| Average first innings score | 121 | 176 |
| Spin average | 14.1 | 27.5 |
| Pace average | 32.8 | 17.7 |
| Spin economy | 5.9 | 7.9 |
| Pace economy | 6.8 | 8.2 |
Ekana Stadium IPL 2023 stats for red and black soil pitches
On the black soil pitch, we've seen that LSG's multiple spin options have come to the fore and it might be that they look to continue that against a Gujarat team that generally play a single spinner in Rashid Khan. We did see them bring in fellow Afghan Noor Ahmed as the impact sub in their last match against the Royals but so far the Titans haven't bowled a single over of finger spin in this season's IPL!
If it is another black soil pitch here at the Ekana Stadium, it'll be fascinating to see whether GT stick with their tried and trusted attack or look to bring in the likes of Jayant Yadav or Sai Kishore to give them more spin options to choose from and exploit the conditions on offer.
LSG vs GT head to head
GT bowling vs LSG batting
We've mentioned that the Gujarat bowlers troubled Lucknow's top order last season with Mohammed Shami dismissing KL Rahul on both occasions that these 2 met in 2022. Having been teammates together at Punjab for several years, the pair had only faced each other once before in T20 cricket before meeting in the IPL last year but the early points have certainly gone to Shami.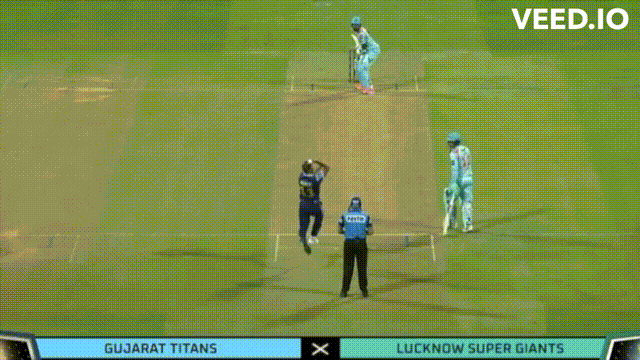 Shami dismissals vs KL Rahul IPL 2023
As the number 1 ranked bowler in T20 cricket, Rashid Khan tends to have a pretty decent record against most sides but his career stats against this Lucknow team are particularly impressive. He's dismissed Stoinis 4 times, Pandya, Hooda and KL Rahul 3 times and Pooran twice before in previous T20 matches around the world.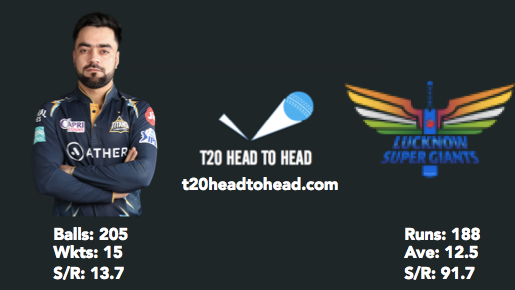 Rashid Khan T20 bowling head to head vs LSG top 7 batsmen
If there is a weakness in this GT attack then it appears to be during the death overs. Alzarri Joseph has done well at times at the back end of the innings but GT's 2 defeats this season have at least in part been as a result of them failing to close out what were otherwise good bowling displays. There is certainly some good depth in LSG line-up and we know that they favour more conservative starts to their innings so if they do have wickets in hand coming into the final 5 then they'll fancy their chances of accelerating the scoring.
LSG bowling vs GT batting
If it is to be a black soil pitch again, then expect LSG to go to spin early in the powerplay. In their game here against Sunrisers, they gave Kyle Mayers the first over to look for any hint of swing before turning to Krunal Pandya who bowled 4 out of 13 overs of spin against what was a very right-hand dominant line-up.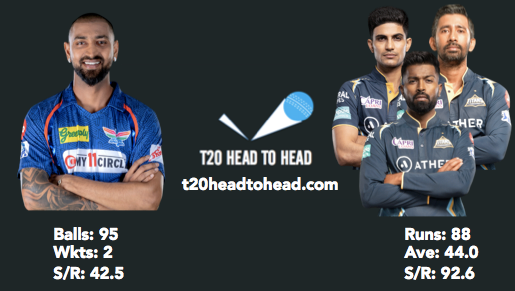 Krunal T20 head to head vs Gill, Saha and his brother Hardik
GT aren't quite as unbalanced as that but with 3 of their top 4 being right-handers, I'd expect to see Krunal into the attack very early again especially if conditions remain low and slow. His 3 wickets at this ground against the Sunrisers all came in the first 8 overs of the match and were all right handed batsmen.
In fact, there's growing evidence to suggest that spin is definitely the way to go against this Gujrat batting line-up. I have mentioned already that there is a growing trend for teams to use more slow bowlers and to look employ them deeper in the innings during this year's IPL. A full analysis of that will happen at the end of the tournament.
| Opposition | Overs of spin bowled | Combined spin figures | Result for GT |
| --- | --- | --- | --- |
| RCB | 11 | 79 for 2 | Lost |
| KKR | 10 | 95 for 4 | Lost |
| GT | 12 | 105 for 2 | Lost |
Opposition use of spin in GT's last 3 defeats in the IPL
However, it's also noticeable that the last 3 matches the Titans have lost in the IPL have all been against teams who have bowled at least half their overs with spinners. Again, we'll need a bit of a bigger sample size to confirm whether that is a telling weakness or just a coincidence but KKR and RR, the last 2 teams to beat them, certainly had the option to bowl pace at these GT batsmen but actively felt that the match-ups, at least as far as restricting scoring, were better exploited with spin.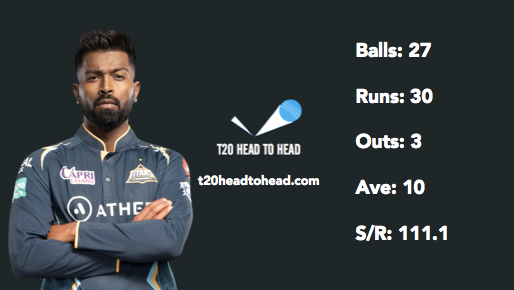 Hardik batting stats vs spin in IPL 2023
Particularly with Hardik Pandya, a player who has previously been used as a death overs batsmen against pace, now batting at 4 on some pitches offering more to the spinners than the 4 venues used for the round robin last year, it's entirely possible that teams have stumbled upon the Titans kryptonite. Let's see how this game progresses and the remainder of the season...
---
All stats used in this blog are from my own databases which are freely accessible below
IPL head to head player stats
IPL player stats by venue
IPL stadium statistics.
Images are my own with the exception of player profiles and highlights within GIFs which are not intended to infringe copyright- read full disclaimer. Background images are used under a creative commons license or otherwise royalty free.
---
---