IPL 2023 LSG vs RCB Preview - Which Super Giants Team will turn-up?
Key match stats
Pitch Stats – Ekana Stadium
Average first innings score: 152
Average first innings winning score: 164
Average powerplay score: 44
Win % batting 1st vs batting 2nd: 50% / 50%
Team form LSG vs RCB
LSG: WLWLW
RCB: LWWLW
Recent meetings: LSG won by 1 wicket
Preview LSG vs RCB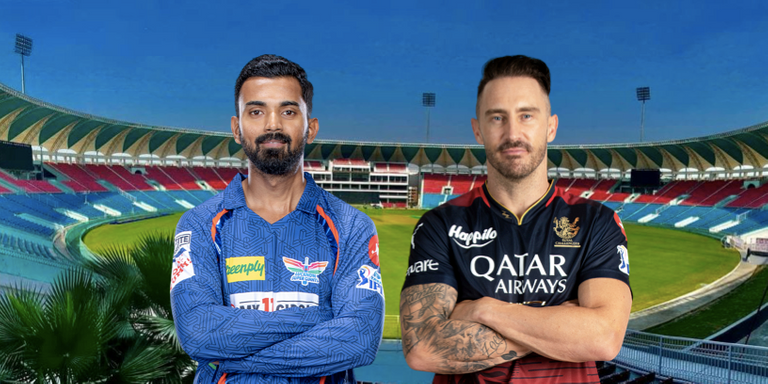 The last time these 2 sides met saw a high scoring rollercoaster of a game that ended as a last ball thriller. It was also arguably the best comeback of the season so far as the Super Giants recovered from 23 for 3 and then 105 for 5 to chase down RCB's total of 212.
Since then, Lucknow's batsmen have blown hot and cold, failing to pass the 160 mark in the 3 matches after that game until going absolutely berserk in Mohali last week where they recorded the 2nd highest total ever in the history of the IPL (257).
Certainly the pitch conditions played a major role in that game and the wicket here in Lucknow has not been conducive to big hitting and high scoring. In fact a quick look at the IPL records at the BRSABV Ekana Stadium would suggest that this is the toughest venue to bat at this season!
| Statistic | BRSABV Ekana Stadium IPL 2023 | Rank relative to other 2023 venues |
| --- | --- | --- |
| Average first innings score | 152 | 11th |
| Average winning score | 164 | 10th |
| Balls per 4 | 10.3 | 11th |
| Balls per 6 | 22.3 | 9th |
| Average powerplay score | 44.0 | 10th |
| Average death overs score | 43.0 | 10th |
Ekana Stadium IPL 2023 stats
Still, it was noticeable that the Super Giants approached their last match against PBKS with significantly more intent to score quickly than we've seen over the last couple of weeks and that is something they'll want to try and continue even here at the BRSABV Ekana Stadium where they've lost their last 2 matches and received plenty of criticism for their conservative approach to batting.
Meanwhile, RCB have played 6 of their 8 matches this season at home on a pitch vastly different from what they are likely to find themselves on today.
I don't think it's any big secret that they are overly dependent on their 3 star batsmen to get them runs this season. Once Kohli was dismissed against KKR, it never felt likely that the Royal Challenger's middle to lower order would get enough momentum in their innings to chase down KKR's total even though we've seen 12 an over (they required 63 off the last 5) be well within the reach of most sides this year.
The other weakness that we've seen this year from the RCB is their ability against spin. KKR have beaten them twice this season, while recording just one further victory in their remaining 7 matches, have shown the other franchises how to go about limiting this RCB batting line-up with slower bowling.
They are now moving from the M Chinnaswamy Stadium where spinners have been smashed around and sometimes out of the ground to venues like the Ekana Stadium where the slower bowlers have kept a tight hold on matches. Whether RCB can adapt to that change will almost certainly define whether their season is a success or not!
| Statistic | Ekana Stadium IPL 2023 | M Chinnaswamy IPL 2023 |
| --- | --- | --- |
| Spin bowling average | 22.8 | 35.3 |
| Spin bowling strike rate | 19.4 | 23.3 |
| Spin bowling economy | 7.1 | 9,2 |
Spin bowling at the Ekana Stadium vs the M Chinnaswamy Stadium IPL 2023
As mentioned in one of my earlier previews of matches here in Lucknow, the curators have the ability to switch between black and red soil pitches. So far they've gone red, black, red, black. Will the pattern continue or will LSG fancy putting this RCB line-up onto a very slow black soil pitch?
LSG vs RCB head to head
RCB bowling vs LSG batting
RCB's powerplay attack has found sufficient movement so far this season to trouble most sides and have them struggling early in the game. Lucknow by contrast have been fairly conservative at the top of the order and seek to build their innings by maintaining wickets in the powerplay. Something will have to give in this match...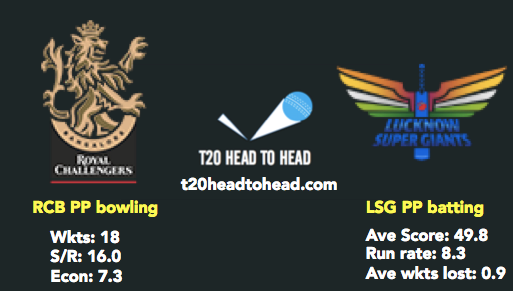 RCB powerplay bowling vs LSG powerplay batting IPL 2023
While I've implied that a few of the RCB batsmen won't be happy about leaving the road which is the M Chinnaswamy behind, there will of course be several of the Bangalore bowlers who'll be incredibly pleased to find some conditions that favour them a bit more.
RCB's spinners have taken just 14 wickets in the 8 matches they've played so far in IPL 2023 at an average of 31.5. By contrast, the 8 innings that we've seen completed at the Ekana Stadium so far this season have seen spinners strike 24 times at an average of 22.8.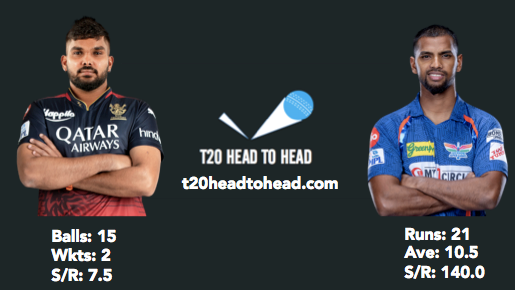 Hasaranga T20 head to head vs Pooran
The battle between Pooran and Hasaranga could be key. The Sri Lanka wrist spinner dismissed Pooran twice in the first 9 deliveries he bowled to him in T20 cricket but Pooran hit back the last time these 2 met earlier in the year while playing in the inaugural international T20 league in the UAE.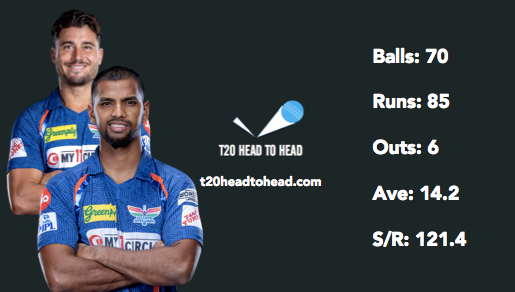 Pooran and Stoinis combined batting stats at the Ekana Stadium
Pooran himself has the highest strike rate in the tournament (min 100 balls faced) of 196 but that has largely come off the back of innings played away from home. Here at the Ekana stadium both he and Marcus Stoinis who hit a brutal 72 from 40 balls in Mohali last time out, have struggled to impact the game.
LSG bowling vs RCB batting
I mentioned in my most recent preview that LSG's seamers have struggled for penetration in the powerplay this season. However, if we see a black soil pitch again in this game then it seems likely that LSG will hand Krunal Pandya the ball early in the innings as they did against both SRH and GT. Pandya took wickets on both occasions and in general has enjoyed himself on the low slow wickets at home.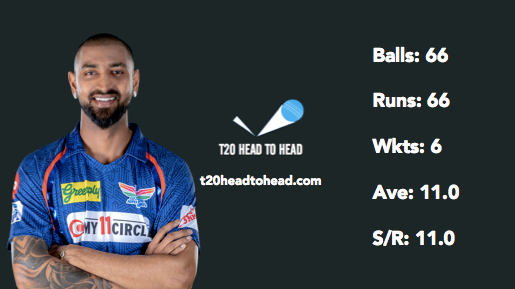 Krunal bowling stats at the Ekana Stadium
Of course, Krunal's impact on this game could be even more significant when you consider that RCB's primary run scorers this season are all right-handed batsmen. Shahbaz Ahmed has been shunted up the order several times to try and correct that imbalance but has so far offered very little (40 runs in IPL 2023).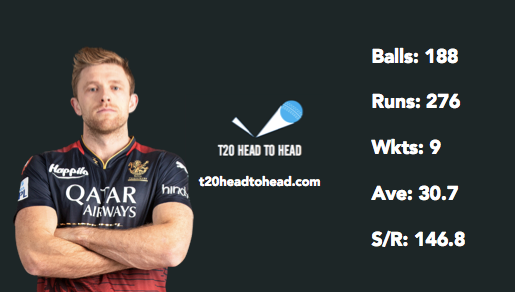 David Willey T20 batting stats vs slow left-arm bowling
An alternative to the struggling Shahbaz could be to send in David Willey higher up the order. The English left-hander does have 2 x T20 centuries to his name and is quite happy taking on left-arm spinners as his stats show.
---
All stats used in this blog are from my own databases which are freely accessible below
IPL head to head player stats
IPL player stats by venue
IPL stadium statistics.
Images are my own with the exception of player profiles and highlights within GIFs which are not intended to infringe copyright- read full disclaimer. Background images are used under a creative commons license or otherwise royalty free.
---
---