IPL 2023 MI vs RCB Preview - Win the powerplay, win the game
Key match stats
Pitch Stats – Wankhede Stadium
Average first innings score: 192
Average first innings winning score: 214
Average powerplay score: 62
Win % batting 1st vs batting 2nd: 25% / 75%
Team form MI vs RCB
MI: LWWLL
RCB: LWLWW
Recent meetings: RCB won by 8 wickets
Preview MI vs RCB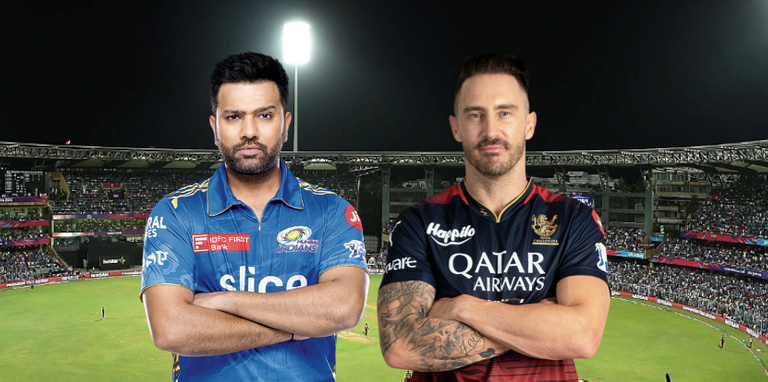 This match sees 2 of the founding members of the Indian Premier League and the sides that have gone on to play more games in the tournament than anyone else to date, go head to head in a crucial battle that could go a long way to determining whether either will clinch a playoff spot.
After back to back titles in 2019 and 2020, it's been a fallow couple of years for Mumbai who are still wrestling with the loss of several star players either to other franchises during the super auction or to injury.
Meanwhile having finished bottom in 2019, RCB have been far more consistent, reaching the playoffs 3 years in a row but failing to get to the final on each occasion. The expectations for Bangalore are huge, a fact that no doubt adds even greater pressure on this group of players to succeed.
Both sides lost their last match largely due to making poor starts to their respective innings. Mumbai found themselves 14 for 3 and despite some fight from the middle order, never got close to posting a competitive total against a strong CSK batting unit. As for RCB, they made a steady 51 from their opening 6 overs against DC which at the time looked to be a good total before the Capitals came out to bat and blasted 70 from their powerplay and never looked back in chasing down Royal Challengers' 181.
| Team | Powerplays won | Wins when ahead after PP | Wins from behind after PP |
| --- | --- | --- | --- |
| CSK | 4 | 4 | 2 |
| DC | 3 | 3 | 1 |
| GT | 8 | 5 | 3 |
| KKR | 2 | 1 | 3 |
| LSG | 5 | 2 | 2 |
| MI | 4 | 4 | 1 |
| PBKS | 5 | 4 | 1 |
| RR | 9 | 4 | 1 |
| RCB | 7 | 5 | 0 |
| SRH | 3 | 2 | 2 |
Powerplays won in IPL 2023 and number of wins when ahead or behind at the 6 over mark
As the above table shows, RCB are yet to win a game this season where they've been behind at the 6 over mark while Mumbai have managed it just once in their last game here at the Wankhede when they chased down Rajasthan's big score.
It seems fairly obvious that in a match of just 20 overs, sides are more likely to win if they are ahead about 1/3 of the way through the game but for these 2 teams the need to lead from the front is even more pronounced for a couple of reasons.
RCB have a great top 3 but their middle to lower order has offered very little all season. If their 3 big guns don't come off in the early stages of the innings then the chances of them winning a match diminish considerably.
While MI certainly have a much stronger middle order, they still lack depth in their batting to the extend that sides like CSK, GT and KKR do and as the stats above show, those are the sides who are more likely to come from behind to win a match.
With the ball, neither side have exceptional spin options. RCB have been very good at taking wickets in the powerplay but if you can get through that then on current form, their slow bowlers don't look likely to wrestle back the initiative . MI do have Piyush Chawla who is having a great season but they lack the type and calibre of bowler to finish things off, going at over 2 a ball during the death overs and allowing sides to accelerate away from in that phase of the game.
| Statistic at the Wankhede | IPL 2023 | IPL all-time |
| --- | --- | --- |
| Average powerplay score | 61.6 | 46.2 |
| Strike rate with the ball in powerplay | 36.0 | 24.2 |
Wankhede powerplay stats this season vs all-time
Here at the Wankhede, we've seen teams making really fast starts all season. The average score after 6 overs this year is well ahead of the historical trend, with sides also taking fewer wickets during that phase of the game than has previously been the case. RCB will certainly need to come out all guns blazing and take advantage of their powerplay strength if they are to maintain their playoff hopes.
MI vs RCB head to head
RCB bowling vs MI batting
Josh Hazlewood's return to fitness is a welcome boost for RCB and if prior form is anything to go by then he will be a handful on a Wankhede pitch that does tend to have more pace and bounce in it than many of the other venues used in the IPL.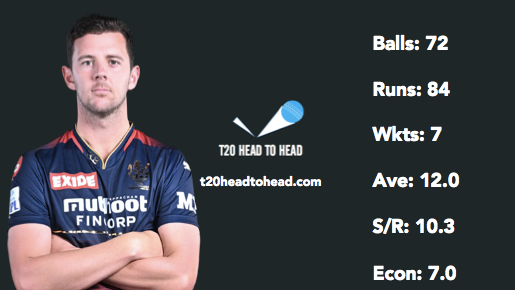 Josh Hazlewood IPL bowling stats at the Wankhede
RCB ran through the Mumbai top order the last time these 2 sides met reducing them to 20 for 3 at one stage. Hazlewood's new ball partner, Mohammed Siraj has been exceptional in the powerplay this season particularly when playing at home but if the ball doesn't swing then Mumbai's batsmen would do well to target his overs in the same way that DC did in the last game.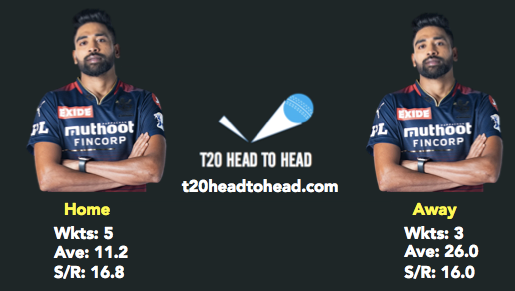 Mohammed Siraj powerplay bowling stats home vs away in IPL 2023
Tilak Varma missed out with a niggle in the game against CSK and MI will be very keen to have him back for this clash. The youngster is one of the classiest batsmen in the tournament and at the age of just 20 could be a star for many seasons to come. He hit a rearguard 84 from 46 the last time these 2 sides met and made a composed 29 not out to help see MI across the line in their last game at the Wankhede.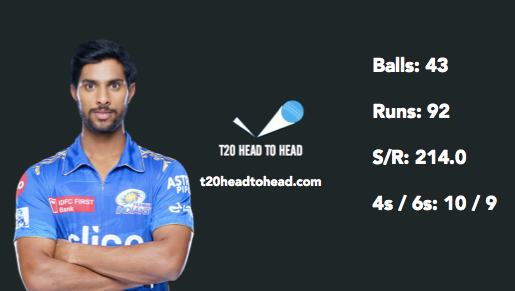 Tilak Varma IPL 2023 death over batting stats
MI bowling vs RCB batting
Virat Kohli copped a fair amount of criticism over his scoring rate after the defeat to Delhi and I'm sure that he'll have a point to prove in this game at a venue where he's got an exceptional record.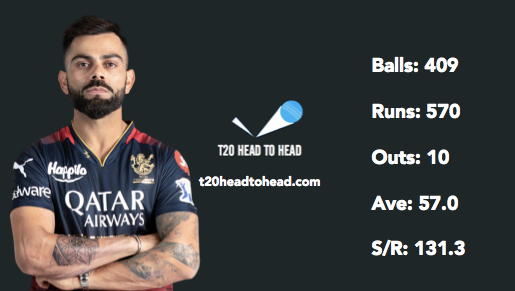 Kohli IPL batting record at the Wankhede
With du Plessis and Maxwell also enjoying strong records at the Wankhede then the question for Mumbai becomes how do they dismiss that top 3 before they've had the chance to do any real damage?
Jofra Archer is yet to take a wicket in the powerplay this season and in previous T20 encounters against him, the likes of du Plessis and Kohli have generally been happy to see him off. Given the stats above about the need to dominate the powerplay, can RCB afford to take a similarly cautious approach in this match?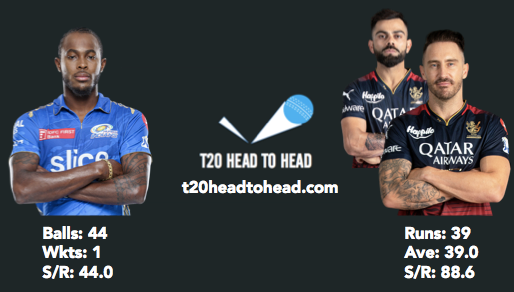 Archer vs Kohli and du Plessis in the powerplay, all T20 cricket
Archer does have a good head to head record against Maxwell (17 balls, 14 runs, 2 wickets) and he'll be very keen to get the opportunity to bowl at the Australian with a new rock in his hand.
---
All stats used in this blog are from my own databases which are freely accessible below
IPL head to head player stats
IPL player stats by venue
IPL stadium statistics.
Images are my own with the exception of player profiles and highlights within GIFs which are not intended to infringe copyright- read full disclaimer. Background images are used under a creative commons license or otherwise royalty free.
---
---