IPL 2023 PBKS vs DC Preview - heading to the Himalayas
Key match stats
Pitch Stats – HPCA Stadium
Average first innings score: 176
Average first innings winning score: 191
Average powerplay score: 41
Win % batting 1st vs batting 2nd: 56% / 44%
Team form PBKS vs DC
PBKS: WLLWL
DC: LLWWL
Recent meetings: PBKS won by 31 runs
Preview PBKS vs DC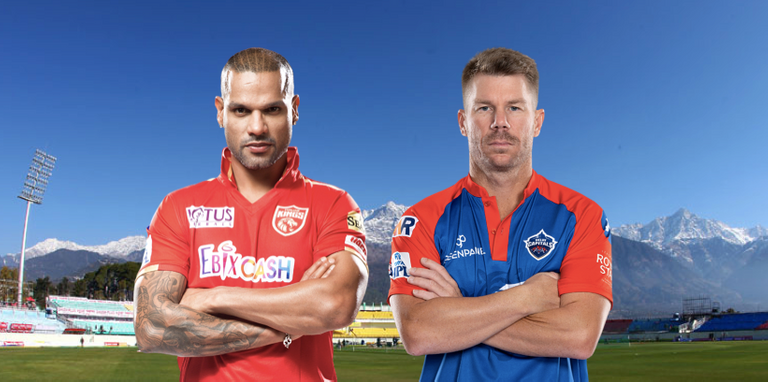 Could Punjab Kings pull off the improbable by making a late charge for a playoff place?
They have 2 game to do it in with both matches taking place in the Himachal Pradesh Cricket Association Stadium in Dharamshala at the foothills of the Himalayas. It's by no means the first time an IPL match has taken place at this iconic stadium with one of the best backdrops in world cricket but that last time the tournament visited was almost 10 years ago to the day in a match that featured the likes of Adam Gilchrist and Azhar Mahmood.
Little therefore is known of the current pitch conditions here and I've based the above IPL records at the HPCA Stadium on the historical data available which spans matches between 2010 to 2013. However, one thing that hasn't changed over the last decade is the altitude. Sitting at 1457m above sea level, the HPCA Stadium is the highest ground in the world to host this level of cricket (it's also hosted international cricket) and therefore if a few of the big hitters can get into their stride, we should see the ball disappearing into, if not over the stands, given the thin air up here.
Adam Gilchrist 122m six at the HPCA Stadium in IPL 2011
Above is an example of what we might be in store for at this ground as Adam Gilchrist pumps Charl Langeveldt for a 122m six, the 3rd biggest six in the history of the IPL. As described by the commentary team at the time, the ball had gone "out of the ground, out of the stadium and was running down the hill".
We have a few big hitters in this fixture, not least of all Liam Livingstone whose 117m six at the DY Patil Stadium last year would surely have gone at least an extra 10m at this kind of altitude. The current record for the biggest six in IPL history lies with Albie Morkel at 124m, a record that has been held since the inaugural tournament back in 2008. Could we finally see that record eclipsed in either of the matches being played here this week?
The Delhi Capitals could do with cutting lose following a couple of poor run chases in recent games. For a side that had bounced back so convincingly in the 2nd half of the season, it seems strange that they've allowed the matches against CSK and PBKS to drift to such an extent. Some sides have the ability to make up runs later in the innings, this DC team is not one of them...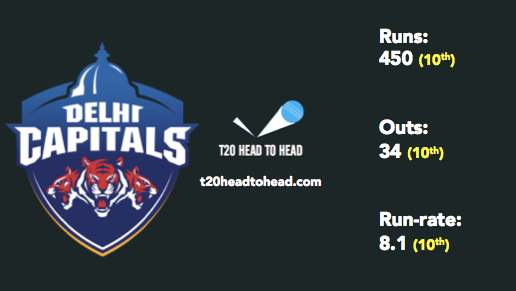 DC death overs batting stats in IPL 2023 plus rank relative to all other teams
As for PBKS, I guess the best way from them to approach this game would be to think of it not as a home match! The Kings have been brilliant on the road all season and by contrast won just once in Mohali.
22-year-old Prabhsimran Singh continued to demonstrate his promise with a maiden IPL century in the win against the same opposition on Saturday while with the ball in hand, it was Harpreet Brar and Rahul Chahar who found appreciable turn at the Arun Jaitley to limit the DC batsmen. The Kings 2 frontline spinners took 6 wickets between them in that game having only managed 4 wickets in the 5 matches played at the IS Bindra this year. Will they get conditions that continue to suit them in this game?
PBKS vs DC head to head
DC bowling vs PBKS batting
There are a handful of players in this years tournament who have been hanging around the IPL long enough to have played at the HPCA Stadium before including PBKS captain Shikhar Dhawan. He stroked an unbeaten 95 off 57 balls at this ground for the now defunct Deccan Chargers back in 2011.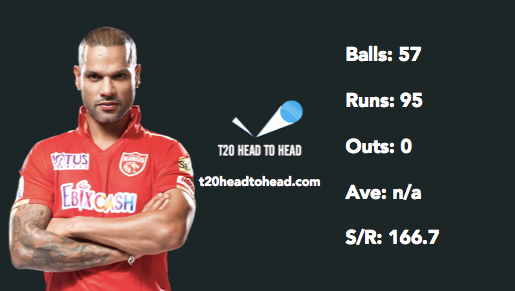 Shikhar Dhawan IPL batting record HPCA Stadium
DC will need to get into this PBKS middle order quickly if they are to limit their scoring. On the face of it, DC's death over bowling stats aren't too bad with an economy rate in the last 5 overs of 10.7 (6th best in the league this year). However, you do have to factor in that they've played half their matches at the Arun Jaitely where run scoring in general but particularly when the ball gets soft, has been very difficult.
PBKS death overs batting stats in IPL 2023
Punjab Kings meanwhile have (at the time of writing) scored more runs in the final 5 overs than any other side in IPL 2023 and might well fancy doing some damage again in this game particularly as their slim hopes of qualification rest on them not just winning, but winning big!
PBKS bowling vs DC batting
The problem with the DC batting all season has been their middle order which simply hasn't been able to give them any impetuous at all. That puts an incredible amount of pressure on the openers to get the team off to a strong start and even then, it's often not enough.
DC number 4 and 5 batting stats IPL 2023
A case in point would be the game that these 2 played on Saturday where the openers raced to 69 off 37 balls before DC lost 6 for 19 in the space of 4 overs! That was against a PBKS spin attack which as I alluded to above, hasn't exactly been prolific this season.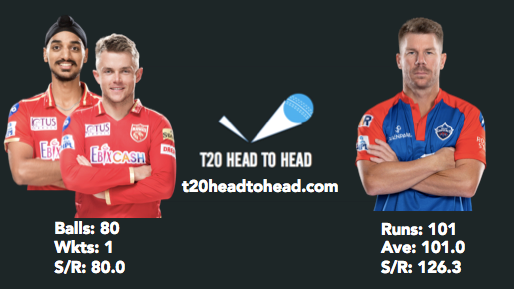 David Warnes T20 head to head vs Curran and Arshdeep Singh
Will the likes of David Warner be able to get them off to a fast start again particularly against this left-arm dominant attack? The DC captain and Phil Salt looked fairly comfortable against this PBKS seam attack the last time the 2 sides met.
---
All stats used in this blog are from my own databases which are freely accessible below
IPL head to head player stats
IPL player stats by venue
IPL stadium statistics.
Images are my own with the exception of player profiles and highlights within GIFs which are not intended to infringe copyright- read full disclaimer. Background images are used under a creative commons license or otherwise royalty free.
---
---