IPL 2023 SRH vs LSG Preview - cloudy with a chance of elimination for the Sunrisers
Key match stats
Pitch Stats – Rajiv Gandhi Stadium
Average first innings score: 171
Average first innings winning score: 178
Average powerplay score: 47
Win % batting 1st vs batting 2nd: 80% / 20%
Team form SRH vs LSG
SRH: WLWLL
LSG: LNLWL
Recent meetings: LSG won by 5 wickets
Preview SRH vs LSG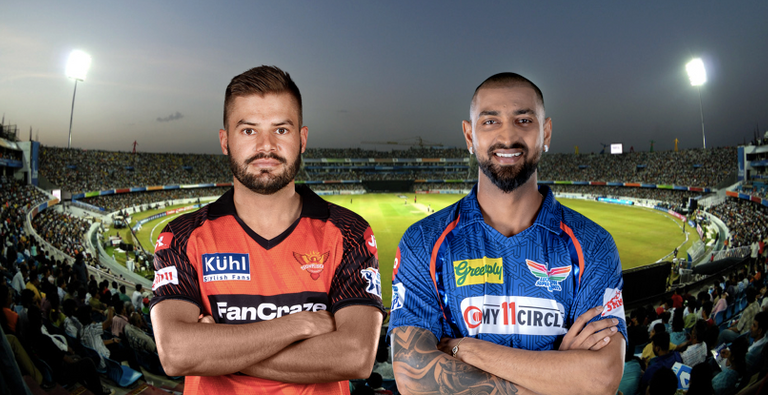 With neither of these teams having had a fixture since last weekend, both have sat and watched events unfold around them as we head towards a dramatic finish to the IPL 2023 season.
In fact, Sunrisers come into this game with 2 matches in hand on a few of the sides above them in the table and knowing that if they can win those games they do maintain an outside chance of slipping into a playoff spot.
Stranger things have happened but I think despite SRH's recent uptick in form, they've left themselves a bit too much to do after a shaky start to the season. Given the number of changes made over the off-season, that wasn't wholly unexpected (I predicted a 9th place finish and they are currently sat in 9th place) but that's not to say that there isn't still plenty to play for, at least in as far as getting a core of 6 or 7 players that the franchise can build a team around for next season.
The likes of Glenn Phillips and Marco Jansen, who have largely sat on the periphery of the starting XI this year, should now be given the opportunity to try and cement their place in the squad.
Generally speaking Sunrisers who have traditionally built their success around having a settled playing XI and in fact were one of the franchises who argued against a Super Auction in 2021, have struggled to find an identity this year following their spending spree in the 2022 auction.
Nowhere has that been more evident than when they play in Hyderabad and as I demonstrated in my blog yesterday, their home record is the worst in the league! Part of that is due to the constant chopping and changing of the batting line-up but it is also due to the fact that Sunrisers bowlers have failed to come to grips with the conditions here at the Rajiv Gandhi Stadium.
| Bowler | Home matches played in 2023 | Average at the Rajiv Gandhi 2023 | Strike Rate at the Rajiv Gandhi 2023 |
| --- | --- | --- | --- |
| Bhuvi | 5 | 36.0 | 30.0 |
| Natarajan | 5 | 43.5 | 27.0 |
| Jansen | 3 | 12.7 | 12.0 |
| Malik | 3 | 20.3 | 16.0 |
| Farooqi | 1 | 15.5 | 9.0 |
| Tyagi | 1 | 30.0 | 12.0 |
SRH pace bowlers stats in first 15 overs of matches played in IPL 2023 at the Rajiv Gandhi
Looking right back to the very first game they played here in IPL 2023, Rajasthan Royals got off to an absolute flier with the likes of Bhuvi and Natarajan trying to pitch the ball up and swing it and Buttler, Jaiswal and Samson smashing it all over the park! When the penny finally dropped that you'd need to bowl into the surface here at the Rajiv Gandhi then scoring for RR became much more difficult.
However, rather than learn from that, SRH have continued with their poor selection and tactics at home for the remainder of the season, as the stats above show. Will they look to do something different in this game?
Of course, LSG can sympathise with Sunrisers struggles at home and a few of their squad, particularly the batsmen, will be happy to see the back of the very slow and low pitches at the Ekana Stadium. With just 1 win in their last 5 matches, LSG need a victory here today before they head into what seems likely to be a make or break fixture with Mumbai on Tuesday.
The Rajiv Gandhi has the highest win % for teams batting first of any venue in IPL 2023 that has hosted 3 or more games so I'd expect the team that wins the toss will want to have a bat.
The big boundaries here also make six hitting significantly harder than at many of the other grounds. A maximum has been struck here on average every 24.3 balls which is over double what many of the big scoring grounds in IPL 2023 have offered.
The order of the day is for bowlers to bowl into the wicket and take advantage of that acreage while batsmen need to be aware that their are plenty of 2s on offer at this ground.
SRH vs LSG head to head
LSG bowling vs SRH batting
Mohsin Khan's return to fitness is a welcome boost to an LSG side that has been struggling to make an impact with the ball during the powerplay. Their 9 wickets taken in the powerplay is the lowest by any side so far in IPL 2023.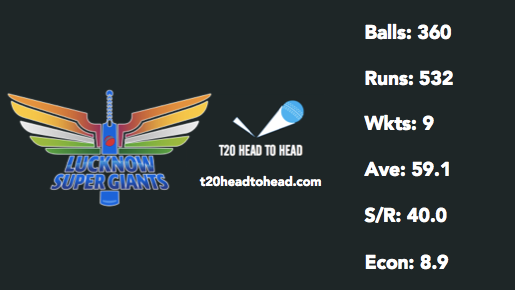 LSG powerplay bowling stats IPL 2023
As things stand, Krunal Pandya is their most effective powerplay bowler with 2 wickets and an economy rate of 6.1 from the 10 overs he's bowled in that phase of the game. However, I'd imagine they'll want to hold him back to bowl against SRH's right hand dominant middle order, against whom he has an excellent head to head record.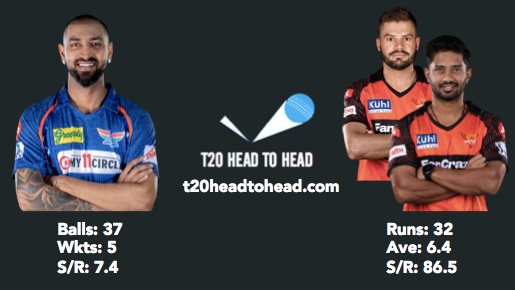 Krunal vs Markram and Tripathi
Having mentioned the fact that the SRH bowlers have failed to come to terms with the conditions here in Hyderabad, it's worth noting that LSG have a couple of former Sunrisers stars who have exceptional IPL records at the Rajiv Gandhi Stadium.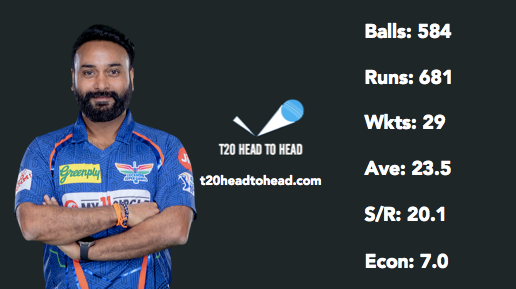 Amit Mishra IPL bowling stats at the Rajiv Gandhi Stadium
Amit Mishra has been brilliant all season for LSG and only Bhuvi has taken more IPL wickets here than the little leg-spinner has.
While Jayant Unadkat went wicketless in the 3 games he played earlier in the season, LSG might be tempted to give him another chance in this match given his brilliant record here (11 wickets at an average of 11.5 and S/R of 9.8)? Even if they don't decide to bring back Unadkat, I think that the likes of Yash Thakur and Naveen-ul-Haq should find the conditions in Hyderabad to their liking.
SRH bowling vs LSG batting
There is always plenty of debate about KL Rahul's role in this LSG team as well with the Indian national side. Given his poor strike rate and struggle to really play the anchor role this year it might not be the worst thing that he's now out with injury when you consider his replacement is Quinton de Kock.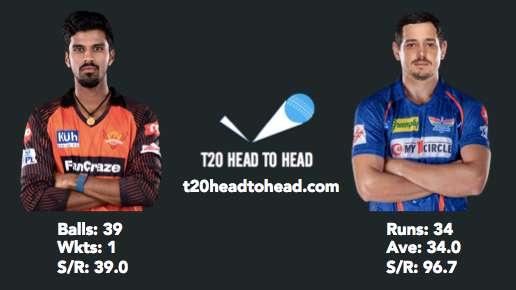 Washington Sundar vs de Kock T20 head to head
The only draw back to a QdK and Mayers opening partnership is they are both left-handers and both more vulnerable to spin. I would be surprised if we didn't see Washington Sundar brought into the attack relatively early on while those 2 are at the crease.
LSG's middle order have been a little bit hit and miss all-season and I'd be tempted to term the likes of Nicolas Pooran and Marcus Stonis as 'flat track bullies' given the form that they shown when conditions are very much in their favour vs what they are capable of when the pitch offers more to the bowlers.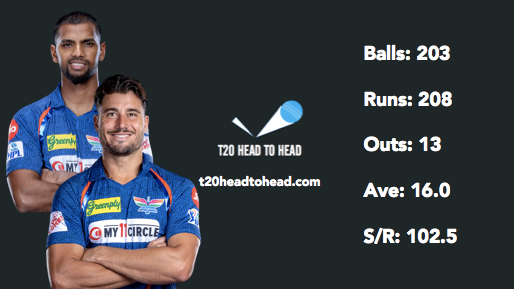 Pooran and Stoinis IPL 2023 batting stats on more challenging pitches
The above shows their batting stats this season if you take out the matches they've played at the IS Bindra, M Chinnaswamy and Narendra Modi Stadiums (all within the top half of stadiums ranked by average score in IPL 2023). Their records on the tougher pitches this year are pretty awful and LSG will need that to improve if they are to reach the final this year!
---
All stats used in this blog are from my own databases which are freely accessible below
IPL head to head player stats
IPL player stats by venue
IPL stadium statistics.
Images are my own with the exception of player profiles and highlights within GIFs which are not intended to infringe copyright- read full disclaimer. Background images are used under a creative commons license or otherwise royalty free.
---
---