Is this blunt instrument the solution to Spurs lack of cutting edge?
So it would appear that Spurs are once again chasing the signature of one Adama Traore, a footballer who can best be described as part man, part fridge-freezer.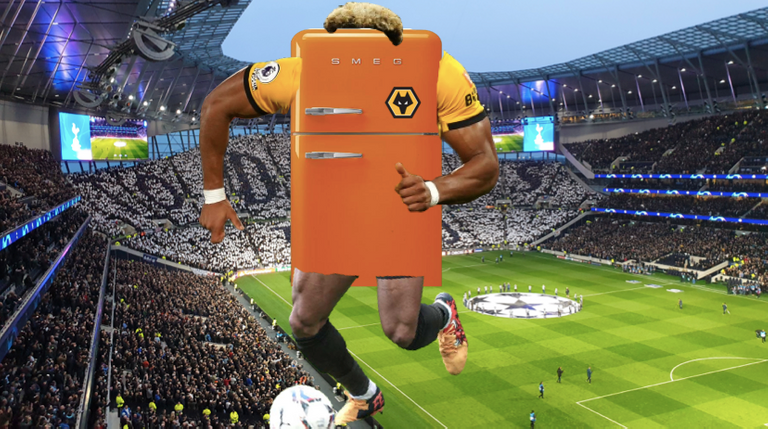 background image source
It was widely reported that we were also interested in acquiring Traore and his bulging biceps earlier this summer as the club sort to reunite him with his former manager Nuno Espirito Sanchez but despite the later's departure Spurs allegedly still wish to bring in the Spaniard to improve their options.
The immediate question to ask then is where would Traore fit into the current Spurs side and Conte's style of play?
It's no secret that Conte is looking to bolster the right-side of the team and in particular the wing-back role where it appears that he has little faith in Spurs current options of Emerson Royale or Matt Doherty.
In fact, if stories are to be believed Doherty could soon be on his way out of the club after a fairly unimpressive 18 months in North London, with Emerson is considered more of a conventional right-back and not the flying wing-back that Conte tends to prefer.
The papers have immediately jumped on the idea then that Conte will be bringing in Traore in a bid to convert him in the same way he did with Victor Moses at Chelsea from an attacker into a marauding wing-back.
However, while Traore has certainly played more minutes in the forward line, he does come with some experience of playing in a wing-back type role as the stats below show.


source of stats
Diving a little bit deeper into the stats and the positions that Traore has played over the years most of those appearance at "RM" which would probably be the closest to the kind of role he might play at Spurs came in the 2019/20 season in a Wolves team that set-up in a very similar way to Conte's Spurs usually in a 3-5-2 formation or on occasion a 3-4-3.
Those formations were later abandoned by Nuno Espirito Sanchez in favour of a back 4 with Wolves trying to change their style from a side that preferred to counter-attack into more of a possession based game. That shift in philosophy not only changed the position that Traore found himself playing in but also had an impact on his effectiveness.
Looking at his match ratings over his time with Wolves, you can see that his most productive seasons in the Premier League came in 2019/20 while playing in a 3-5-2 formation in which he at least started over 1000 minutes of football in a wing-back like position.


year by year stats show Traore being most effective during a season where he played a considerable amount at wing-back source
I say started because the other thing that Traore brings is versatility and the potential to impact a game from various positions on the pitch. In fact, a great example of that versatility can be seen in the 2-0 win that Wolves achieved over Man City in October 2019 in a game in which Traore started in a right-wing back role before moving to play as a second striker.
If he signs for Spurs then, I would see him being used as a kind of utility/impact player. Yes, he might start some games at right-wing back but he might also come and play as a second striker off Kane (in the way that Son does) or as an inside/wide forward.
These then are certainly plus points for the Spaniard and we know that on his day he can be unplayable when opposition sides either leave space in behind their defence and/or allow him to get into one on one situations with full-backs.
My concern is that Spurs problems at the moment are against sides who sit deep and look to defend their 18-yard box. This was certainly the case against Watford who despite having one of the worst defences in the league this season managed to repel us for 96 mins and against Southampton, a side who played the entire second half with just 10 men.
Would Traore have made an impact against these well drilled defences where a little bit more guile and skill is needed? We'll never know but my guess is that his impact on these types of fixtures may be more indirect.
Traore is much maligned for his perceived lack of technical ability and end product and a stat that is often banned around at the moment is that he has failed to deliver a goal or an assist in any of the 20 appearances he has made so far this season.
But while Traore might not be whipping in lethal crosses in the same way that a player like Kieran Trippier (was he considered for a return to Spurs?) could from the same position, you still can't ignore him on the right-side in the same way that sides are doing with Emerson Royal.
The game against Watford was a prime example of this as can be seen from the average position of the 2 teams. Emerson Royal (12) has an average position in advance of either of the Watford left-sided players. The Hornets were happy for him and indeed Spurs right-sided centre back Davinson Sanchez (6) to have plenty of possession on that flank while they concerned themselves more with defending the other side of the pitch against the threat not only of Reguilón and Davies but also Son and Kane who both favour drifting in from that side.


Average player positions Watford vs Spurs source
I very much doubt that Traore's final ball against Watford would have been significantly better than Emerson's, a performance for which the Brazilian has copped a lot of flak, but I can't imagine that Watford would have been able to leave Traore with that kind of time and space. For one, if afforded the opportunity, Traore would happily run at defenders in that situation, something that neither Doherty or Emerson are going to bring.
No defence can afford 90mins of a player of Traore's pace and power running at them even if his final ball is less than perfect so at the very least it requires them to spread out across the pitch to push Traore wider and leave less opportunity for him to get into one on one situations. This in turn should open up space in other areas of the pitch for Spurs to take advantage of and therefore at the very least in an indirect manner a player like Traore could improve Spurs as a creative force.
Going back to the original question as to whether Traore is the answer to Spurs lack of cutting edge, the answer is that no, alone he isn't but he could be an important part of the puzzle going forward.
The bigger question is how can Spurs get more creativity into the midfield areas? It's all very well having flying wing-backs like Reguilón and potentially Traore that don't allow teams to defend too narrow but at the moment Spurs don't have the kind of players who can take advantage of any space in the middle of the park.
It's difficult to fault the likes of Højbjerg and Skipp whose energy and drive in those roles have been one of the key factors in Spurs mini-revival under Conte but at the same time, neither possess the ability to play that killer pass that might unlock an organised defence.
Since the demise and eventual departure of Christian Eriksen, Spurs have lacked that kind of player to the extent that over the past 18 months, Harry Kane, the clubs record goal scorer, has been dropping into deeper and deeper positions in a bid to provide those kind of defence splitting passes.
It's noticeable that one of the first things that Conte has done then is to push Kane back into an out and out centre forward role. That seems a reasonable and fairly basic tactic of putting your best goalscorer in position where he is most likely to score goals but it has left us looking a little bereft of ideas when in possession.
Conte has several options to choose from to solve the greater problem of Spurs lack of cutting edge. He could move to a 3-5-2 formation and put a more creative player in alongside the likes of Højbjerg and Skipp, but who? Certainly there doesn't seem to be a lot of faith in the likes of Alli or Ndombele and for good reason considering their patchy returns while Giovanni Lo Celso seems to only be able of dragging himself off the physio's table when it comes time to play for Argentina.
At Inter, Conte had Nicolò_Barella, at Chelsea he had Cesc Fabregas, at Spurs he has Harry Winks....
You don't need me to tell you that Conte is frustrated by the lack of quality on offer, just listen to his press conference following our midweek defeat against Chelsea.
The concern is that Conte has apparently opened the door for a return to the club for Christian Eriksen, a player who looked well short of his best for the last 18 months of his time at Spurs before leaving to play for Conte at Inter in a relationship that was often stretched and finally collapsing on the pitch this summer while playing for Denmark.
Let's hope that this isn't our plan to solve the lack of cutting edge in the team and that Conte and Paratici are pursuing alternative options in the background and will get the backing from Levy to go and get them!
Somehow, despite our form this season being somewhere between poor and average, we are in with a shout of finishing in the top 4. A couple of key signings this January might push Spurs over the edge and that puts us in a much better position come the summer to pursue the calibre of player who wants Champions League football.
See previous blogs for further reading on Spurs transfer policy and the need for major changes to the squad.
Tottenham Hotspur in need of major surgery
---
---