The Greatest Football Transfers that never happened

In recent weeks the internet has been awash with some of the worst click bait the world has ever seen! Transfer stories involving every major club across Europe and hundreds if not thousands of players swamp social media feeds and crash inboxes. It's that magical time of the year - transfer deadline day!

Image sources 1 2 3 4 all shared under a CC license
Of course, 99% of the deals never materialise and perhaps worse than that the vast majority were never even genuine stories to begin with instead just being the creation of some guy in his bedroom with a Google Ads account and an overactive imagination.
However, some of these non-deals have taken on an almost mythical status over the years so that despite the player never actually putting pen to paper, never posing for the obligatory photo holding the new clubs shirt and never showing off their keepie uppie skills for the cameras, these nearly football transfers have entered the history books purely for the speculation they generated.
I'd love to have published this blog on the greatest football transfers that never happened, on or just after the transfer window shut earlier this week. Unfortunately work commitments have meant that my general engagement on Hive has been down a bit recently but hopefully there is light at the end of the tunnel and I can get back to more regular posting.
Big Foot sightings
Some of these nearly transfers are akin to sightings of supernatural beings. Whether it's Big Foot wandering through your local woodland, aliens hovering over some rural location or Juan Román Riquelme arriving at an obscure airport in the UK on his way to signing for (insert team name), you can bet your bottom dollar that someone on social media is claiming that they've spotted it.
Of course Big Foot and the aliens tend to be glimpsed shortly after sucking back one too many bottles of the local hooch, while the later, Riquelme, is a deadline day legend when it comes to transfers that never happen and is sighted exclusively on 31 January, wandering through arrivals gates at UK airports.
Everton seemed to be the club most synonymous with securing his signature but it'd be fair to say that the majority of established Premier League sides have been linked with him over the years. Even now at the age of 43 and having been retired for some 8-years, you can be sure to find a story of him signing for someone, somewhere.
https://twitter.com/tubby_toffee/status/1485606726699307011
Is it too late to believe that the Riquelme deal might yet happen?
Well let's not forget that Roberto Carlos at the age of 48 just joined a Shropshire Sunday League side so keep the faith Everton fans. If you tweet it, he will come!
Of course, Riquelme isn't the only player to have a long running transfer link with a Premier League club that never came to fruition. In fact, part of the inspiration for this post came from one of @wolfgangsport 's comments were he mentioned the late great Freddie Adu, a teenage sensation who was perpetually on the verge of signing for Manchester United.
There is actually some truth to this long running saga with the player having had a trial at Manchester United in 2006 during which Alex Ferguson said that his side would be "keeping tabs" on the lad which was enough to sustain this transfer for story for many years to come. Read Wolfgangsport's comment to find out what happened to Adu in his later career.
You're not likely to find many transfer stories linking the American to a move to Old Trafford these days but perhaps the player might argue that if United are willing to spend £40million on Donnie Van de Beek to not play for them then why not cough up a fraction of that amount for him to perform a similar role?
Another transfer story recycled ad nauseam was Leandro Damião to Spurs. The Brazilian striker spent a large portion of his career on the verge of signing for us only for the deal to never go through.
This begs the question as to whether Leandro Damião actually exist?
Has anyone ever seen him in the flesh?
I mean he has a wikipedia page but then so does the Loch Ness monster...
https://twitter.com/TalkingTHFC/status/1152183388536750081
The brilliantly named Bas Dost, a player who sounds like one of those cleaning products that you see being flogged via infomercials on late night TV is another that springs to mind when talking about transfers that never happened. He was always on his way to Newcastle or some similarly ranked Premier League club but seemed to take a wrong turn somewhere on route finding himself back in continental Europe.
Or how about Karim Benzema to Arsenal?
I mean he's French so that was definitely a move that was going to happen, until it didn't...
Or Wesley Sneijder to Manchester United?
There's a brilliant spoof article about the impact Sneijder didn't have at United here
An Odemwingie affair
From fleeting glimpses of footballers and hushed rumours of imminent transfers to the players who really went the extra mile to try and force a move that ultimately never happened.
No transfer deadline day from now until eternity will be complete without a good old chuckle at the expense of Peter Odemwingie who simply turned up at QPR's stadium back in 2013 in the hopes of forcing a move from WBA.
This year it seemed like a similar saga involving Aubameyang and a move to Barcelona might occur when the player rocked up at the airport prior to a deal being agreed with officials at both clubs somewhat mystified by the striker's actions.
Ultimately, Arsenal's desire to get the player off their books plus Barcelona's willingness to hover up just about any footballer who is available despite their impending financial ruin ensured a solution could be found but that's not always been the case despite players' best efforts.
Back in 2018, French midfielder Nabil Fekir was so sure that he was about to join Jurgen Klopp's Liverpool side that he began giving interviews wearing the Anfield club's shirt despite a deal never having been formerly agreed between his current employers Lyon and the English club.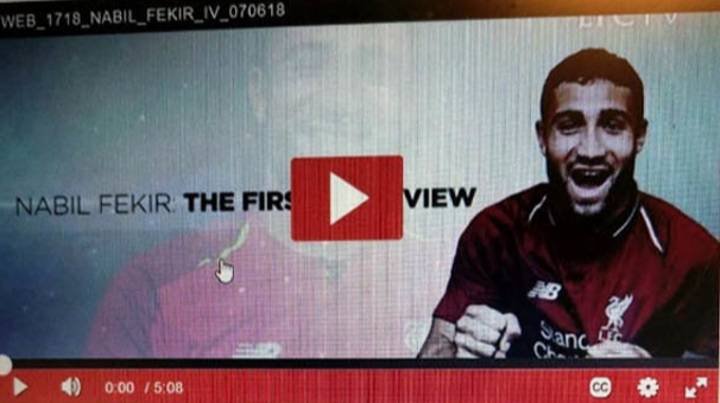 Videos of the interview were quickly removed from the internet source
However, in the days of social media the method of choice for your average footballer to tell their current club that they are looking to leave for pastures new is to simply stop following them on instagram, twitter, etc and/or begin liking posts from the side they want to transfer to.
The list of players who have attempted this method in order to push transfers is long and not particularly distinguished and out here in the real world is the equivalent of breaking up with your girlfriend by changing your facebook status from "in a relationship" to "single" and then just not returning her calls!
Taken
I don't know who you are. I don't know what you want. If you're looking for ransom, I can tell you I don't have money...
Oh shit, they've hung up and signed for another club that does have money!
Our next category looks at transfers that did occur, just not for the clubs that expected them to.
As a Spurs fan, the most obvious example was Willian's move to Chelsea in 2013. The Brazilian midfielder was on his way to North London for a medical before the Blues swept in at the 11th hour with a better offer. To make matters worse, 7 years later he then goes and signs for Arsenal! I'd suggest he doesn't holiday in the Seven Sisters area anytime soon. Actually I'd probably suggest no one does that...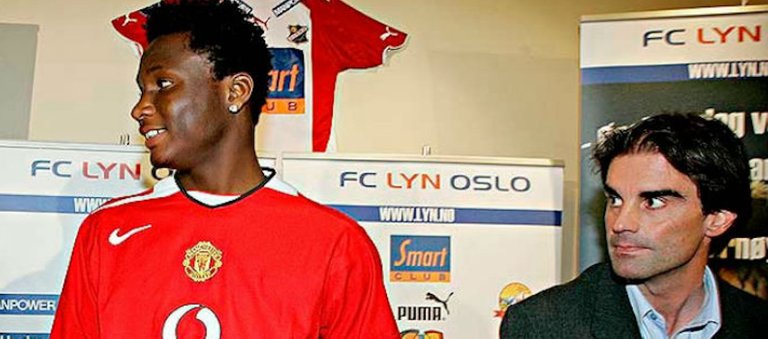 Wearing the shirt with pride! Well at least for 5mins... source
But of course he's not the only player that Chelsea have nabbed at the last minute. The John Obi Mikel saga saw the young Nigerian sign a pre-contract agreement with both United and Chelsea leading to a long drawn out court case and a £12million compensation package for the Red Devils who ultimately lost out on the midfielder.
United would also be famously snubbed by Alan Shearer in 1996 when he opted to join boyhood club Newcastle as opposed to signing for the most successful side in football league history. While, the romantics amongst us might consider the player's decision to move for love rather than money and status somewhat refreshing, Alex Ferguson has always maintained that the deal was scuppered by Blackburn owner Jack Walker who had a strong dislike of their Lancashire rivals United.
The boot has though been on the other foot for United who stole Diego Forlan from Middlesborough late on in 2003. There would have been moments during his early United career when the club must have wished they hadn't done so with the forward taking 27 games to register his first goal, a period that included this incredible miss in the Champions League.
Sliding Door Moments
For the angst and disappointment that fans, clubs and players have demonstrated over the years for transfers that never happened, there are those failed deals that have worked out quite well for the parties involved.
What might have been for example had The Icelandic volcano Eyjafjallajokull not erupted in 2010 preventing Robert Lewandowski boarding a flight to England to complete a move to Blackburn Rovers?
The delay in the player completing his medical and signing a contract for the Premier League club allowed Borussia Dortmund in and a week later he was signing on the dotted line for them and on his way to becoming the most prolific striker of the next decade. In the same period Blackburn were relegated from England's top flight and have yet to return.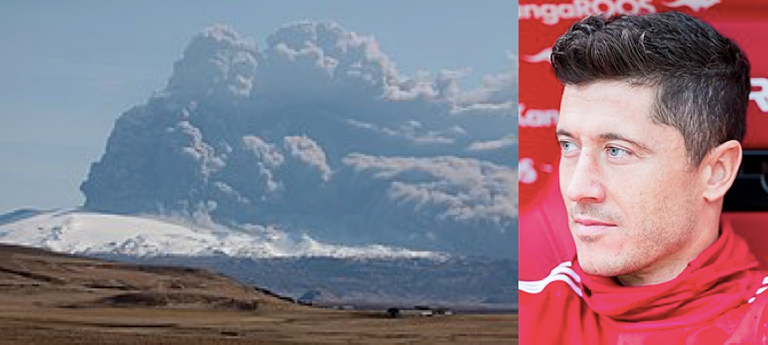 The 2010 eruption grounded flights across Europe for weeks source
Similarly how might history have changed had Liverpool's proposed swap deal for current club captain Jordan Henderson with Fulham's US forward Clint Dempsey gone through?
Apparently both clubs were happy with the arrangement but it was Jordan Henderson who refused to budge, instead opting to stay and fight for his place at Liverpool and subsequently going onto lift the club's first league title in XXXXXX as well as a Champions League to boot.
Or how might life have been different for Chelsea, Burnley and Michael Essien had the later been willing to offer more than the £60 a week limit for academy players which proved to be the major financial stumbling block for Burnley in their efforts to attract one of the world's best out and out midfielders. 5 years later, Chelsea would break their transfer record to finally take the Ghanian to the Premier League.
---
The above are just the tip of the iceberg let me know in the comments,
Which are the greatest transfers you remember never happening?
---
---