The weirdest sporting endorsements ever
Athletes have always had the necessary fame, looks and at least in some cases charisma that companies are willing to pay for when it comes to trying to flog their products or services.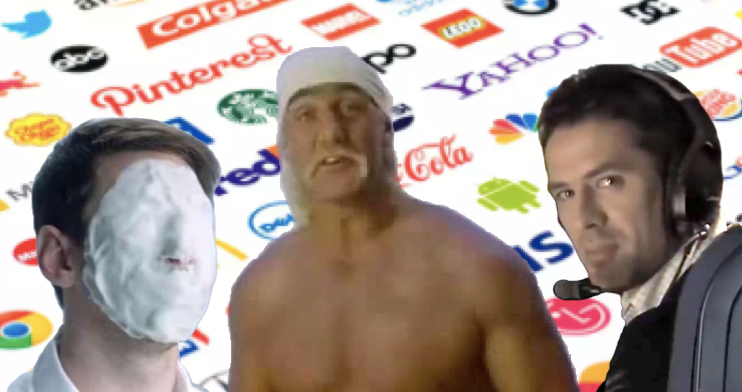 background image source, other images sourced below
These days the top sports stars around the world have also utilised the power of social media to build themselves brands in their own right which only add to their gravitas when it comes to endorsements. A carefully worded tweet or instagram post about a product by one of sports biggest stars can send it trending across the world in a matter of seconds.
I wrote a more serious blog on the topic of #sportingtrends last time out and so thought I'd add something a little more lighthearted into the mix with this one.
There are of course the obvious endorsements for athletes to make when it comes to sportswear, footwear and other sport related products and it's now common place for some of the world's biggest businesses such as car, soft drink and tech manufacturers to use sports stars to sell.
However, the below will concentrate on the weirder endorsements made by sports biggest names from beauty products to pets, it seems that if the price is right, these athletes will lend their names and image to pretty much anything.
Getting your face out there
If you want to cause a buzz about your new product then what better way than to hire one of the most recognisable faces on the planet to endorse it for you!
That was exactly the approach that Angfa, makers of Scalp D Face Wash took when they hired arguably the greatest footballer ever to grace the game to endorse their beauty treatment. Problem is they forgot to show his face for much of the advert!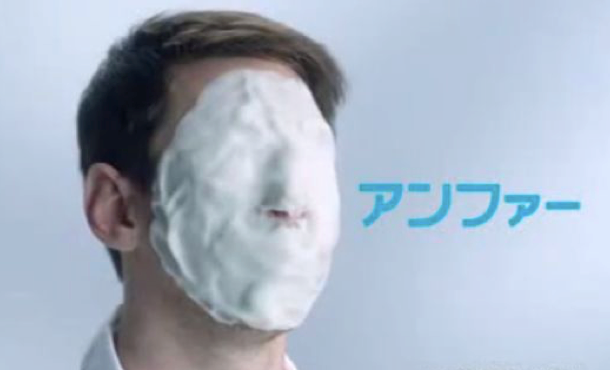 source
So cryptic is this sporting endorsement that I could have used the image in one of the Monday Sports Quizzes in a guess who kind of a round!
No, it's not Robin Williams doing a rehash of the classic family movie Mrs Doubtfire.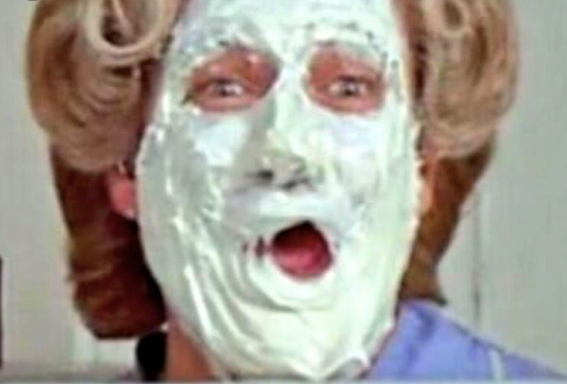 source
It is in fact, 7 times Ballon D'or winner Lionel Messi!
But of course, anything Messi can do, Cristiano Ronaldo can do too. In fact, they are such fierce rivals that in order not to be outdone by the Argentine maestro's weird endorsement for a Japanese beauty treatment, CR7 opted to front this campaign. I don't think we have the necessary words within the English language to describe it so best just watch...
What is apparently a product to develop "facial fitness" looks to me more like something you'd find in a sex shop for S&M enthusiasts (or so I've been told ).
I've got to say if I was being paid half a million pounds a week to prance around a football pitch, I wouldn't need a tool to help me develop what would already be the very broad smile that was permanently plastered across my face!
Lost in translation
Our first 2 examples of weird sporting endorsements have both come from Japan and it'd be fair to say that TV ads from the Asian country have a reputation for being a little out there.
Several of Manchester United's squad definitely delivered with the necessary "intensity" in this ad for tomato juice. I love the added sound effects for them drinking it just in case the audience was in any doubt that they managed to get this horrible looking product down their throats! How long it stayed down is another question altogether..
The next ad really goes beyond weird and falls more into the category of creepy, as topless former wrestling star Hulk Hogan sings a nursery rhyme to a small child in order to sell air conditioning units.
Thanks to the chill that ran down my spine after watching the ad, I don't think I need to invest in one of Hitachi's products to keep me cool this summer!
Of course there are those who would argue that Hulk Hogan's entire sporting career was nothing but acting so it's perhaps not surprising that he was happy to appear in ads for pretty much anything from smoothie makers to pasta.
However, my personal favourite has to be the series of ads that Hogan did for LoanMart a payday loan company that lends against the value of your car. Usually such ads are followed by that really annoying voice that runs through 12 pages of terms and conditions for the loan in about 3 seconds flat but by using Hulk Hogan in their commercial they are ensuring that nothing is lost in translation. After all, LoanMart have made it abundantly clear in their advert that when you don't keep up with the exorbitant repayments they will be sending someone the size of a pro wrestler to repossess your property...
Interesting fact, while Hogan was happy to endorse pretty much anything, he ended up turning down the opportunity to add his name to a portable grill with the endorsement being picked up by a certain George Foreman instead. You might have heard of or indeed own the the product? It made Foreman somewhere in the region of $250 million. Sounds like Hulk might need to call that 1800-LoanMart number himself if he continues to make such poor financial decisions!
Never work with children or animals
Any seasoned actor knows to follow this old adage but unfortunately for a few of our sports stars they had to learn the hard way.
Take baseball star Pete Rose for example who appeared in this advert for Kool-Aid, a product marketed specifically for "hot" kids, a phrase which back in the 1980s meant something entirely different to quite a lot of people who worked in television. Jimmy Saville, for example, was known to buy this stuff by the case.
I'd love to have been a fly on the wall when the director pitched (no pun intended) his vision for the ad to Rose - it's Field of Dreams meets Flash Gordon with a giant exploding tomato.
Next up we see a regular individual of ridicule on my blogs in the form of striker Fernando Torres who back in the day decided to endorse a dog training school.
You'd assume that most commercials will embellish the product and services that they are selling but in this case it seems difficult to hide the fact that this dog training school is little more than a field with a big tent and a cold and wet Fernando Torres standing in it or is it his accountant brother? I guess we'll never know...
Stick to your day job
Finally lets have a look at a few endorsements from some of sports biggest stars that certainly won't be gaining any Oscar nominations.
If you're a cricket fan like me you'll have seen this below ad quite a few times. In fact, it's impossible to enjoy a game of cricket without being bombarded with ads for hair replacement, impotency cures or other male health related conditions. They certainly know who the key demographic is watching the sport but please let me just enjoy my life before I become bald, flaccid and/or die!
Here we see a couple of the game's great characters including "England Cricketer 'Extraordinaire'" (Did Darren Gough come up with that weird description himself?) giving very wooden performances. You can\\ sense the unease with which they deliver some of the lines while talking about their glorified wigs.
Let's go full circle and finish the blog with another Ballon D'or winner in Michael Owen who gives one of the most cringe worthy performances known to man in this promo video for Dubai.
Are you buckled up and ready? You'll certainly need some form of restrains in place before watching this endorsement to stop you poking your own eyes out!
It's difficult to know which is the greater threat to life. An unqualified helicopter pilot or Michael Owen boring you to death with his monotone voice?
---
What are some of the weirdest sporting endorsements you've seen?
---
---