If it's in the Game?
Today I watched by far the best game of the World Cup so far, when Japan beat Germany in a huge upset, with the final score at 2-1. It wasn't just that the underdog won, but the game itself was great to watch because unlike so many of the other games, there was barely any diving. At least from the Japanese team. It is is almost like that with all of the ball skills they practice that require speed and agility, they also practiced how to stay up on their feet while doing it - which isn't always easy as they were well and truly outsized physically.
But more than this, the game had a different air than most other games, where while Germany was expected and was expecting to win, they had a respect for the sheer tenacity of Team Japan, who ran down every ball and even when muscled over, got up and back into the fray. And while the first score went to Germany via a penalty, both of Japan's came through open play, through some impressive breaks.
Enter random.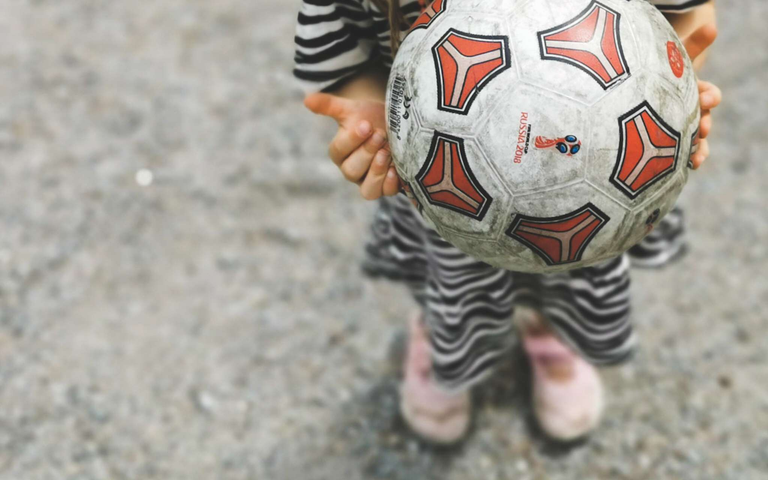 I have written about the death of random in football before, where they have introduced the *video assistant referee (VAR) to review all kinds of decisions and how it takes something away from the game. While it is far more precise and they end up making better calls, it takes away the random of result, the controversy, the passion and at least some of the screaming at the TV.
It also takes away the possibility for some legends to be made, where for example, what would the football world be without "The hand of god" from Maradona? How much conversation would never have taken place? The more clinical and precise it becomes, the less there is to discuss, to talk about, to argue about with friends and colleagues over a coffee or a beer.
But, we only have ourselves to blame for this. Well, our consumer demands at least. We don't live in those days anymore where a stray (completely on purpose) hand is able to get away with knocking the ball into the back of the net. We live in a world of dozens of angles on and off the ball, with instant and curated replays shown not only to those watching at home, but those in the stands in 4K splendor, with super-slow motion and closeups so we can see the sweat beading on the faces.
We see it all.
And because we see it all, we demand that the right call be made by the referees based on the information we have, not the information they have at the time on the field. We want them to make the decision through the perspective of hundreds of cameras and angles and slow motions - but they are only human - we want them to be robots.
As the midfielder launches the ball from the back-half over the heads and the forward makes a break, the lines of defense moving against the play, the referees shifting into position as quickly as they can, we want them to get it right, we want them to see the offside - we want them to see this: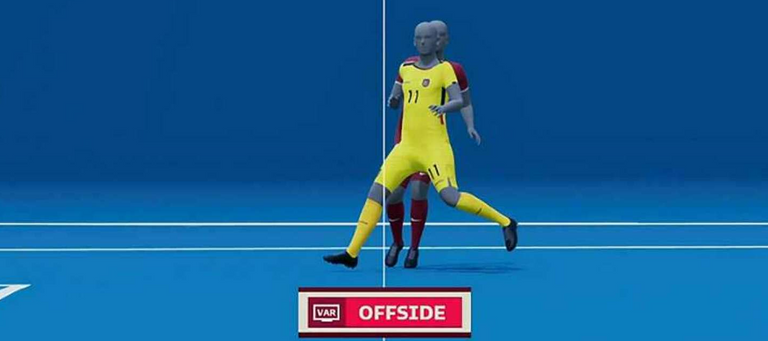 Because we will.
And in order for them to get that call right consistently, they are going to have to continuously go to the VAR and this will happen for smaller and smaller calls, because any mistake they make using their judgement, we will penalize, criticize, call for their head on Twitter, have them cancelled.
And at some point, the technology is going to be so good and so fast at tracking, that there will be continuous 3D model of the game going on at the same time as the game itself, with every movement tracked. At some point, they won't need referees at all to make calls, it can all be AI driven.
Does it make the game better?
I don't think so, but perhaps that is because I am old-fashioned. I don't judge the quality of an image by the resolution. I don't judge a person based on a single thing they have said. I don't expect there ever to be such a thing as perfect. The beauty of life is in the imperfections and the gaps, because that gives us room for growth, to expand ourselves and also, get better acquainted with the feeling of disappointment when we feel that it isn't fair.
Fair.
Everyone seems to want it. We want an even playing field. We want equality for all.
Except...
We don't, because we want our team to win, we want exclusivity for ourselves, we want to be treated like individuals.
Can't have it both ways.
I don't watch a lot of sports, but when there are the big events on that I have access to, I like watching them because I like the opportunity to see what I saw today, the diligent, hard-working underdogs take a surprise win. It might be a while before it happens again, but at least for those players on both sides of the field, they are going to remember it for a very long time to come.
With the expansion of sports into new markets, there is going to hopefully be more upsets and disruptions in the results. It takes decades to put together a sports program and refine it to be competitive, but that is part of the evolution of sports and all things and at some point, it is possible that the old guard, are going to have to step up their game to beat the new, or be supplanted.
I just wonder. In a world where we keep demanding higher resolution, at what point do we feel we are seeing too much?
Perhaps these errors of judgement and bad calls by referees are part of the game in the same way that the players themselves are, and therefore, maybe we should leave them in, rather than replace them with a better version.
If it's in the game....
Taraz
[ Gen1: Hive ]
---
---