The return of Kirgyos? (ING/ESP)
Hello hive friends, this time I bring you an analysis of one of the most controversial players in tennis but with a lot of potential and his performance in the Wimblendon tournament.
Hola amigos de hive, en esta oportunidad les traigo un análisis de unos de los jugadores más polémicos del tenis pero con bastante potencial y su desempeño en el torneo de Wimblendon.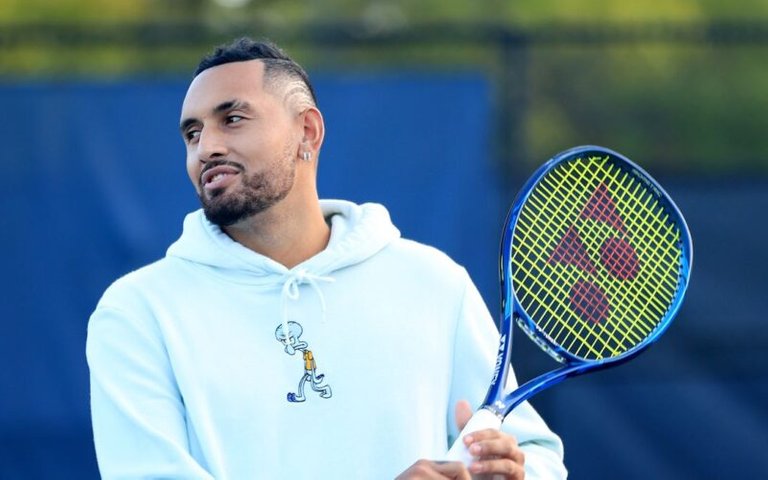 Nicholas Hilmy Kyrgios, better known as Nick Kyrgios, is an Australian tennis player of Greek and Malay descent. He won the 2013 Australian Open in the junior category. In 2014 he reached the Wimbledon quarterfinals, defeating Rafael Nadal in the round of 16 at under 20 years of age. His best level was reached when he was top 13. He reached the top 50 of the ranking at the age of nineteen.
Nicholas Hilmy Kyrgios, más conocido como Nick Kyrgios, es un tenista australiano, de ascendencia griega y malaya. Ganó el Abierto de Australia 2013 en categoría júnior. En 2014 alcanzó los cuartos de final de Wimbledon, derrotando a Rafael Nadal en octavos con menos de 20 años de edad. Su mejor nivel lo alcanzó cuando fue top 13. Alcanzó el top 50 del ranking a los diecinueve años.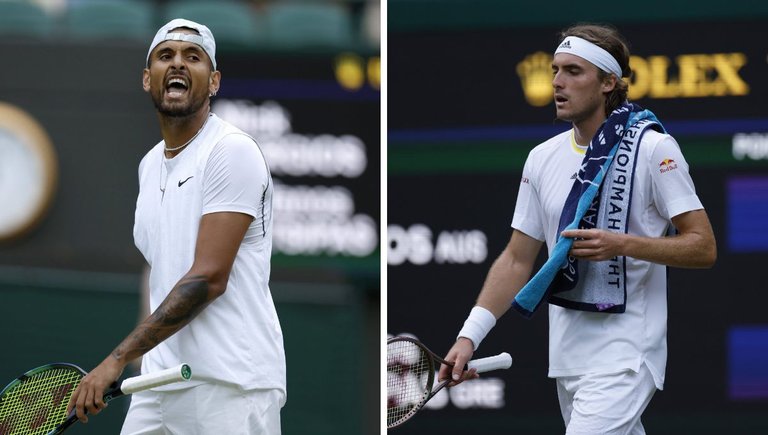 Although this tennis player has not had an outstanding career, he is characterized by having a very showy game and at a certain point ending with controversial matches. This year at Wimblendon he came to vindicate himself, starting in the 1/64 round, beating British Paul Jubb in a tight match with a score of 6-3/1-6/5-7/7-6/5-7.
In the 1/32 round he had an easy match and, already more adapted, he massacred Serbian Filip Krajinovic with a score of 3 straight sets, leaving 6-2/6-3/6-1.
The litmus test came in the 1/16 round, he faced nothing more and nothing less than the Greek Tsitsipas who is number 5 in the ATP ranking. The Greek would fall in the mental game of Kirgyos and thus declining in 4 set against to the Australian with a score of 7-6/4-6/6-3/7-6. The Greek would later declare that he did not like the rival's gestures at all.
Si bien este tenista no ha tenido una carrera destacada se caracteriza por tener un juego muy vistoso y en cierto punto terminar con partidos polémicos. Este año en Wimblendon llego para reinvindicarse, comenzado los en la ronde 1/64 Ganándonosle en un partido apretado al británico Paul Jubb con marcador de 6-3/1-6/5-7/7-6/5-7.
En la ronda de 1/32 tuvo un partido fácil y ya más adaptado masacra al servio Filip Krajinovic con marcador de 3 set corridos quedando 6-2/6-3/6-1.
Venia la prueba de fuego en la ronda de 1/16, se enfrentaba nada más y nada menos que al griego Tsitsipas que en el ranking ATP es el numero 5. El griego caería en el juego mental de Kirgyos y así decayendo en 4 set frente al australiano con marcador de 7-6/4-6/6-3/7-6. El griego declararía más adelante que no le gusto para nada los gesto del rival.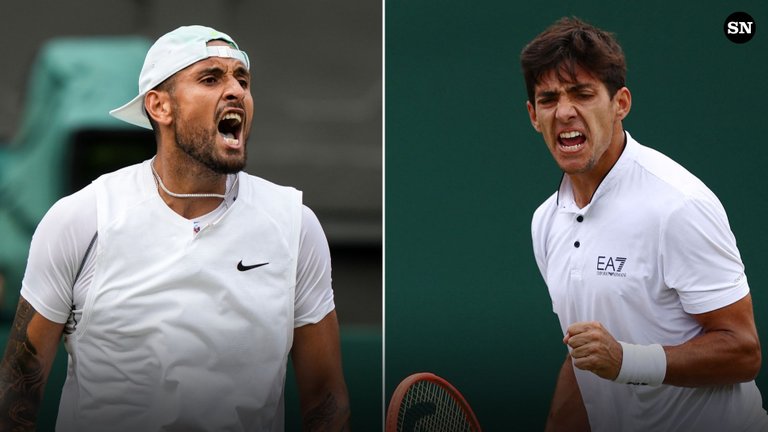 We reached the 1/8 final, an instance that for years he had not reached, his injuries and controversies had marginalized him but he was here and nobody would take this round from him, his victim was the American of Japanese descent Nakashima in a very tight match who reached the 5 sets with a score of 6-4/4-6/6-7/6-3/2-6 thus passing to the next round.
Kirgyos arrived inspired and nothing can stop him on the Wimblendon courts, he is already in the 1/4 final round where he faced Chileno Garin, a simple match for the Australian's experience, taking him convincingly in 3 sets with a score of 6- 4/6-3/7-6.
Llegábamos a los 1/8 de final, una instancia que desde hace años no alcanzaba, sus lesiones y controversias lo habían marginado pero ya estaba aquí y nadie le arrebataría esta ronda, su víctima fue el Americano con descendencia japonesa Nakashima en un partido muy apretado que llego hasta los 5 set con un marcador de 6-4/4-6/6-7/6-3/2-6 pasando así a la siguiente ronda.
Kirgyos llegaba inspirado ya nada lo puede detener a las canchas de Wimblendon, ya está en la ronda de 1/4 de final donde se enfrentaba a Chileno Garin, un partido sencillo para la experiencia del australiano llevándoselo contundentemente en 3 set con marcador de 6-4/6-3/7-6.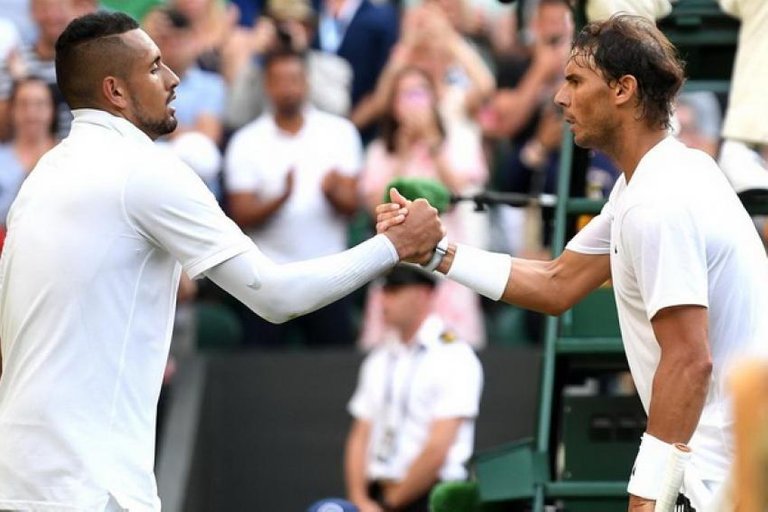 We are in the semifinals where he will face the Spanish and number 2 in the world Rafa Nadal on Friday, July 8, and these two have history, they have faced each other 10 times where the Spanish has the advantage with 6 wins and 4 losses, their last confrontation at Wimblendon It was in 2019 with victory for Nadal in 4 sets, a very epic semifinal is coming, Nadal comes with discomfort and an inspired Kirgyos looking to come back in a big way and reach his final of this prestigious tournament.
Estamos en semifinales donde se enfrentara el viernes 8 de julio al español y número 2 del mundo Rafa Nadal, ya estos dos tienen historia se han enfrentado en 10 ocasiones donde el español tiene la ventaja con 6 ganados y 4 perdidos, su último enfrentamiento en Wimblendon fue en 2019 con victoria para Nadal en 4 set, se viene una semifinal muy épica, Nadal viene con molestias y un Kirgyos inspirado buscando volver a lo grande y alcanzar su final de este prestigioso torneo.
---
---