Hive fpl ~ Rip it Up and Start Again ~ The BIG reset!
Hello Hello Hivers and especially to all my fellow hivefpl fans!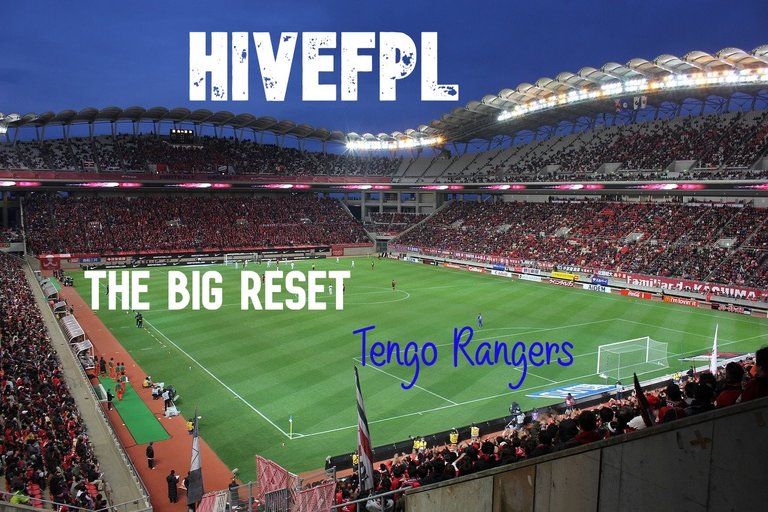 Image by David Mark from Pixabay edited by me in pixlr.com
Yep, I did it, I just used my fluffing wildcard.
I was slipping behind in the league, and I thought what the fluff was the point of keeping my free hit card for later in the season when I am so fluffing far behind that it would make no difference.
So today, I did it, I bit the bullet I took the chance, I sacked my whole team.
I ripped it all up and started again.
I love my footy but I also love my music, and being Scottish I was reminded of this song by a Scottish Indie Band from the 80s...
So a wee bit of oldies music for any reader who is reading but not particularly interested in the mechanics of the fantasy football league!
Yes I am looking at you Super Eli
@coquicoin
😋

This was how Tengo Rangers finished week 5...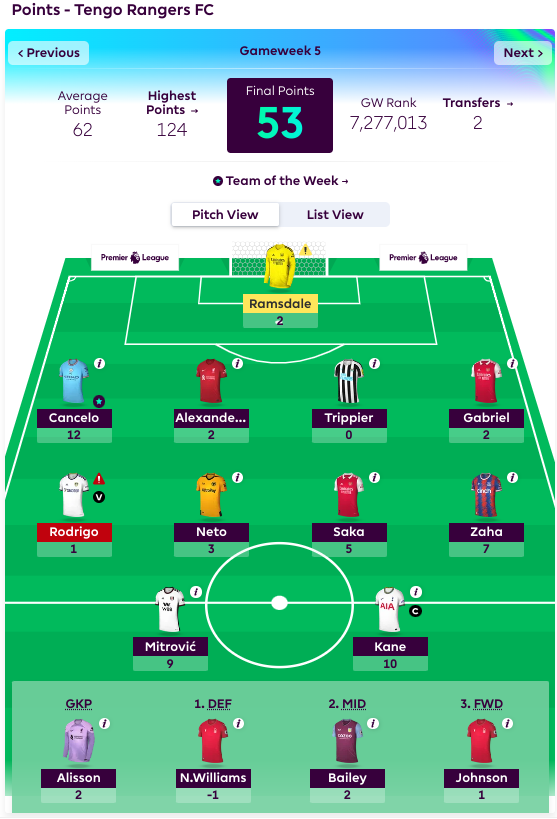 I did not even make the Average Points total, so what hope had I to get to the top!
To coin a football phrase ~ SFA!
I had only just transferred in Rodrigo and he goes and gets himself fluffing injured!
Originally I had meant to have Jesus from Arsenal in my team, well I effed that up as well and he was not there.

Action Baby Action!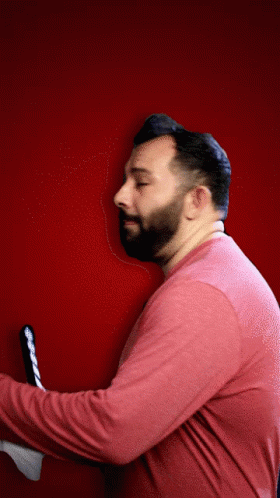 Yep, I decided that transfer(s) were required.
There is a certain striker at Manchester City that needs to be incuded. Yes you know it, Haaland and could I afford not to include Salah as well?
Two transfers were not cutting it, as I would need to juggle players to raise the funds to buy both Haaland and Salah.
My mind was made up!!

The 🪓AXE🪓 had to fll!
Of my squad of 15 players I have kept two...
Can you guess the two who survived the cull?
WEEK 5 SQUAD
GOALKEEPERS
🪓 Ramsdale Arsenal
🪓 Alisson Liverpool
DEFENDERS
⚽️ Cancelo Man City ⚽️
🪓 Alexander-Arnold Liverpool
🪓 Trippier Newcastle
🪓 Gabriel Arsenal
🪓 N.Williams Nott'm Forest
MIDFIELDERS
🪓 Rodrigo Leeds
🪓 Neto Wolves
🪓 Saka Arsenal
🪓 Zaha Crystal Palace
🪓 Bailey Aston Villa
FORWARDS
⚽️ Mitrović Fulham ⚽️
🪓 Kane Spurs
🪓 Johnson Forest
The Survivors!
Cancelo from Man City, I just had to keep. Do you see anyone challenging them for the title this year?
I don't and think they are going to romp to the League title, perhaps the focus on the Champions League might cause a hiccup but I doubt it.

Mitrović from Fulham, I am so glad he is proving his doubters wrong. Much has been made of his'failures' previously when Fulham were promoted. They seem a different team this time, and he is working his socks off, I had him from the start and think he is good value. So survive the axe is exactly what happened.

PLAYING the WILDCARD
What is a wildcard?
A wildcard allows you to make unlimited free transfers throughout a Gameweek. Playing a wildcard will remove any points deductions from transfers already made in the same Gameweek.
source fantasy premier league help
I figured out who I wanted and played my wildcard.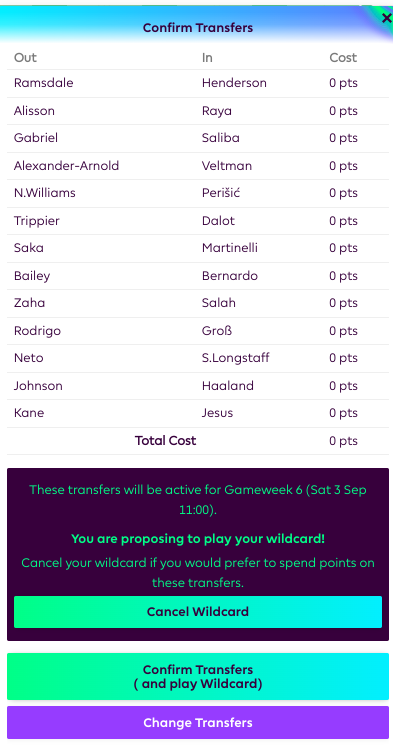 So I got rid of 13 out of 15 players.
Surprise,surprise! The first two I brought in were Haaland and Salah.
I then picked Jesus like I had originally intended to.

The New TENGO RANGERS Squad
GOALKEEPERS
Henderson Notts Forest
Raya Brentford
With the top teams shipping goals left right and centre picking a point scoring goalie is harder that it appears. Henderson I think with his penalty saves is a shrewd choice and Raya from Brentford another good low cost alternative. Brentford aren't just making up the numbers, and I think they will keep a few cleansheets against many of the teams around them.
DEFENDERS
Cancelo Man City
He creates and can score and plays for Man City,one of my two survivors.
Veltman Brighton
Brighton are showing again how tough they are to beat.They don't score many but they don't concede many either. A good cheap point scorer.
Perišić Spurs
I had thought about him for my original squad but ended up with Son (binned at gameweek 4) and Kane. Another potential point scorer.
Saliba Arsenal
He can score and he can assist, yes Arsenal have had an easy set of games so far, but I think they will be up there and will have some clean sheets along the way.
Dalot Man United
Finally I picked a Manchester United player. Recent results would indicate that the new manager is steadying the ship. Dalot is looking a good bet and was cheap too.
MIDFIELDERS
Bernardo Man City There will be plenty of rotation with the City games this season with the push to win the CL. They will score goals for fun and I expect a few assists for Bernardo.
Groß Brighton Each season they seem to go from strength to strength and expect some good points week, this week at home to Leicester who are in freefall could be a good week.
Martinelli Arsenal Whilst I don't rate Arsenal as title challengers, they will score a hell of alot of goals from midfield. Let's see what he does at Old Trafford this week.
Salah Liverpool Say no more! I had to do it, the ultimate in FOMO He is now due goals, but have I jinxed him by putting him in my team!
Longstaff Newcastle I was left with $4.5 million for my last player, and it was tossup between Longstaff and Milner. I plumped for Longstaff, I don't think there is much between between but expect Longstaff to get more minutes.
FORWARDS
Mitrović Fulham The second of my original squad members to make the cut. Fulham are here to make a go of it this season, and I can see him picking up some more good point weeks.
Haaland Man Even if he only comes on as a sub he can score a hat trick. You simply cannot not have him in your team.
Jesus Arsenal Such a great player and will score goals for Arsenal, I think he is good value. He makes up a good trio of strikers for Tengo Rangers

So this is my set up for gameweek 6.
What do you think?
It sure as hell is a fluffing improvement 🤣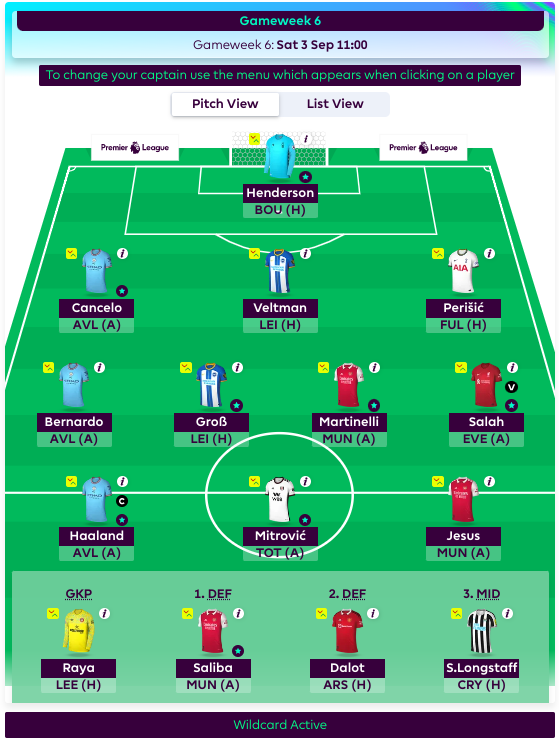 I can still make changes to my squad until 11am Saturday morning!
But I think this is as good as I can do!
I would love to hear your thoughts so....
Many thanks for reading, and if you are playing hivefpl good luck!
If you are not playing, there is still time, it is free and you could win some hive. Check out hivefpl play for free and join in the fun and win

Note: The three YouTube video that I have shared is not owned by me, I am simply spreading great music on Hive.
In the meantime have a great weekend!

All images and ramblings are from me, the mad Scotsman @TengoLoTodo unless otherwise stated (screenshots are from my fpl account.
DO WHAT YOU LOVE AND DO IT OFTEN
Haste Ye Back!
---
---