HIVE World Cup Fantasy League LFG already
I have never experienced such an underwhelming buildup to a World Cup as this one. And trust me I have been around for a fair few of them!
The Qatar 2022 World Cup kicks off tomorrow the 20th of November.
Never before have I experienced a World Cup in the middle of the winter in the Northern hemisphere.
Last week we were talking about the domestic leagues around the world, yet now we are talking about the World Cup kicking off tomorrow!
Sums this year up really!
Fluffing weird, almost as weird as having no alcohol at the stadiums...
Oh wait, that has happened, with Budweiser being banned.
Just as well Scotland didn't qualify, try telling the Scots you cannae drink in the stadium pal.
Nae bother, those hipflasks would come in handy again. We are well aware of how to smuggle in the bevvy into stadiums as well as drink in public.
Having worked in the Middle East, I know all the tricks of the trade. Not that I will be there!

So enough with the frivolity, it is time to pick my fantasy team.

Our wonderful @hivefpl guys are using the fifa fantasy game as another contest for us.
We have got the HIVE World Cup Fantasy League!
@talesfrmthecrypt wrote a cracking post telling you how to do it. So give it a quick read and sign up.
Hive World Cup Fantasy League - Intro / Prizes / How to Join
You can even do an autopick if you are pushed for time hint hint
Okay all this hard work made me feel like an American policeman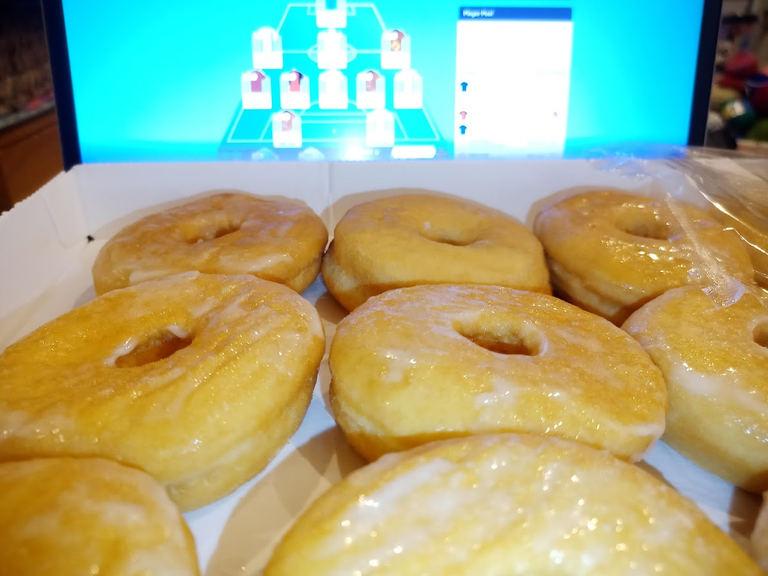 Gotta love a donut or 12!

All this food made me feel like a right old fat bastard and took me back to the days on the Terraces when you could sing anything!


Buster Bloodvessel and Bad Manners with You Fat Bastard!
Damn they were the good days
I'll tell you what, that song had the easiest chorus to memorise that you will ever hear!
You fat bastard
You fat bastard
You fat bastard
You fat bastard
Got it? Told you that it was easy!
This has took me down a rabbithole of listening to some ska!

Pardon my BAD manners, back to the footy ...
MATCHDAY 1
So it took me fluffing ages picking players, removing players, picking more players, changing formations.
Then hitting RESET and start all over afluffingain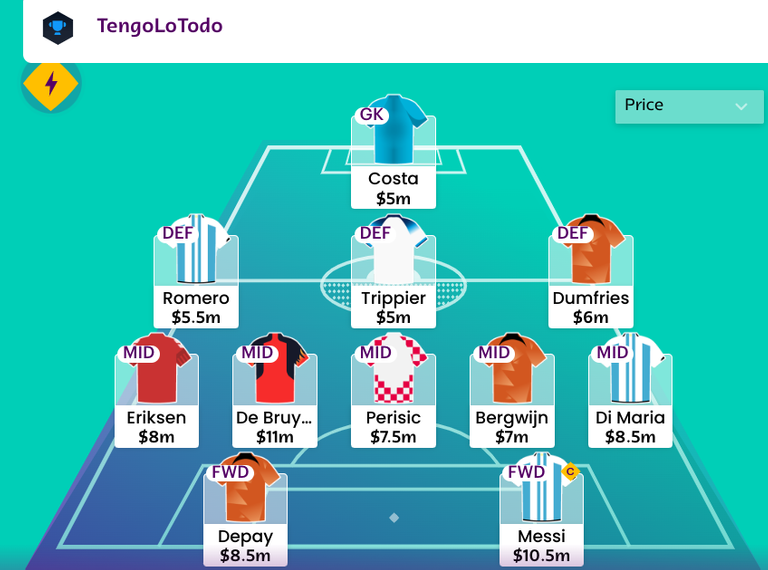 So there we have TengoLoTodo Starting XI
I do have all night and tomorrow morning to finalise things.
Hands up, I admit that My bench is pish.
Points to note....
I love the group Argentina are in and they should bang in some goals and may well not concede, hence including Romero in defence.
Messi I put as captain, surely he will come good this tournament. It pains me though, as I am of the Ronaldo persuasion for GOAT not Messi.
England could have three 0-0 goals or couldscore a bucket or two, Trippier is enjoying his football and is always a threat with freekicks.
My five midfielders are all capable of scoring, and if not scoring then assisting.
Would it not be the ultimate feel good story if Eriksen wins the tournament with Denmark?

The rules are quite tasty with this fantasty league, and we have some good bonuses available to use, not to mention the possibility of using unlocked players and cancelling out a players contribution with one from your bench.
So much to sift through, and just go fnck it this is what I am doing!

Before I go I have to mention another massive football competition that is being played out on Hive, and this one is even easier to take part in.
Now ladies I am looking at you 👀
@deraaa @lhes @coquicoin @farmgirl
For the price of 1 Hive you could have chance to win hundreds of HIVE, ecency points, LEO not to mention NFTs and other prizes!!!
This is being organised by HiveBuzz and you will see a WORLD CUP 2022 tab in your hivebuzz.me screen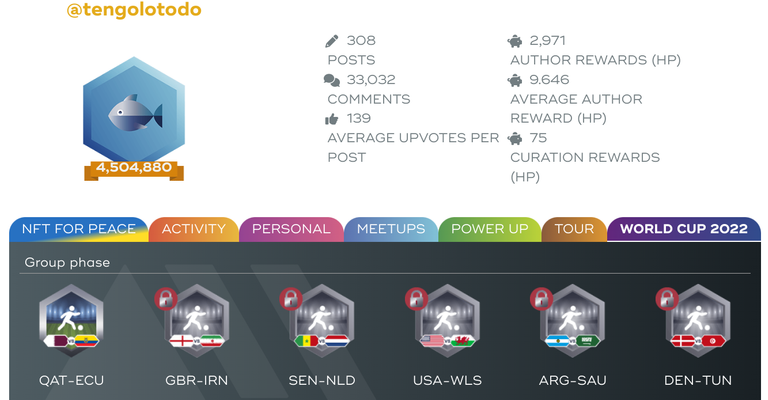 That is my screen.
So go look if you have not already at HiveBuzz World Cup Contest - Collect badges and win prizes - More than 5500 HIVE to win and you can see what to do, it is sooo easy, did I say so easy, well it is....
You need to register for the contest by sending 1 HIVE to @hivebuzz.pool with the memo worldcup2022.
Once you have done that, you just vote on each match, which is incredibly simple....any questions at all just holler at me!

Let's hope it is a great fooballfest, that the sport shines and that the best footballing team lifts the Cup in time for Christmas!
All images and ramblings are from me, the mad Scotsman TengoLoTodo unless otherwise stated.
@tengolotodo November 19th 2022

DO WHAT YOU LOVE AND DO IT OFTEN
Haste Ye Back!
---
---