Let's get back to the Real footy ⚽️ HIVE FPL GW 17 is here
Hello Hello footy ⚽️ fans of The Hive!
Did you enjoy that football fest that was the World Cup?
To be honest, I did not watch any of the games live 🤣 I am not really an International football fan. Being a Rangers fan in Scotland you don't really do international football, in fact I would have not even been upset had England won the World Cup!
Although whilst we are talking about international matches, I was living in Spain when Spain won the World Cup in 2010 and The Euros in 2012. Utter bedlam it was and to be honest I do support La Furia Roja and was a tiki-taka fan!
Yeah I was gutted they went out this time!
It was totally bizarre having this tournament being played in the run-up to Winter, when we are supposed to be focusing on team footy!
Enough of that nonsense, BUT just to throw in my tuppence, Maradona was amazing and had no support from referees, would Messi have been as effective and prolific as Maradona was without the protection from referees. hmmm I am not sure.
I like what Ossie Ardiles said, and that is the two of them are right along side each other as legends in Argentina.
Being a Real Madrid fan it sticks in my throat to say that Messi is any good, after all CR7 was the man for me, although his fucking petulance in the last wee while has taken a hell of a lot of gloss off his status.
Enough with the havering and get on with it!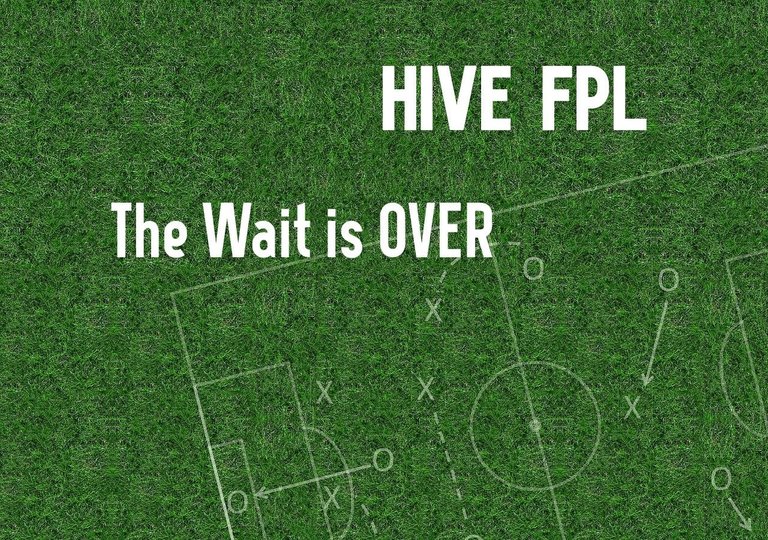 Source Image by annca from Pixabay modified by me in pixlr.com


Okay Okay so the English Premier League returns on December 26th or aswe call it in the UK ... Boxing Day...
What do you call Boxing Day I wonder?
eh Boxing Day you numpty!
Football has already returned North of the border. My team Rangers took the opportunity of the WC break to poach the rookie manager from QPR. Mick Beale took the opportunity to turn down the approach from Wolves (a wee Premier league team) and left the wee Rangers to try his hand at being manager of The Rangers.
Personally, I think he has got big balls of steel for taking the job on! Yeah he was the brains behind Gerrard and did the coaching and the players love him ... but we shall see ...
First game after the bread was at home to Hibs, and whilst we started well and tooke the lead, we hde to come from behind to take a 3-2 win. Celtic meanwhile scrambled yet another last-minute winner, this time against Aberdeen to win 1-0.
We went up there to Aberdeen (and got our usual loving welcome from the sheep youknowwhats) last night and won 3-2 courtesy of 2 Scotty Arfield injury time goals!
Beale got out of jail, and hopefully when we get most of our defence back from injury things might improve.
League Standings in the Fantasy Premier League
So after a month off, it is time to refresh our brains and see where we are placed in the Fantasy Football League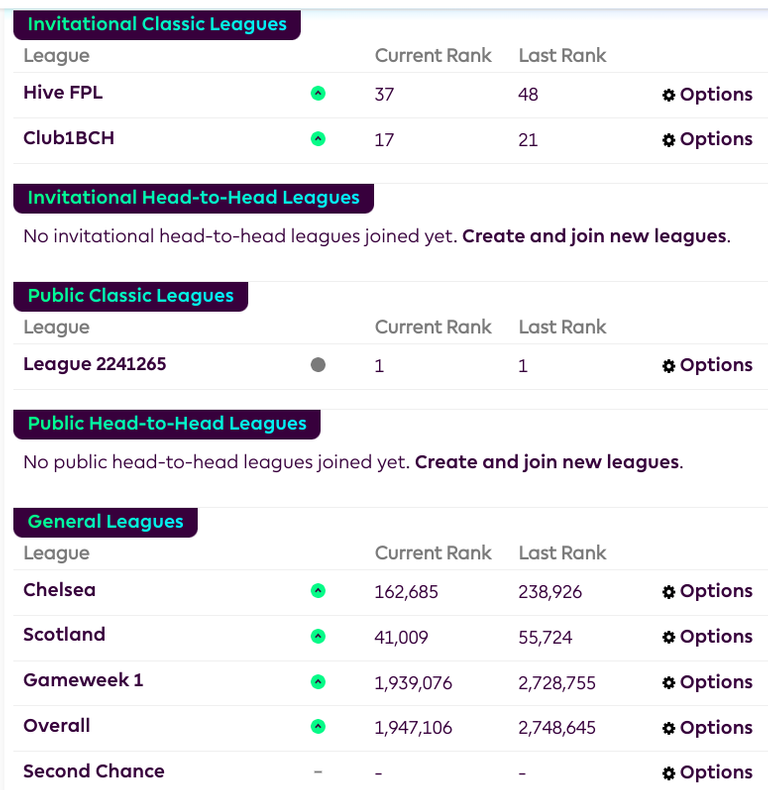 The eagle eyed amongst you might notice at the bottom of the above image two words
Second Chance
That is right, we have a Second Chance ....
This afternoon I received an email, the screenshot of which is below...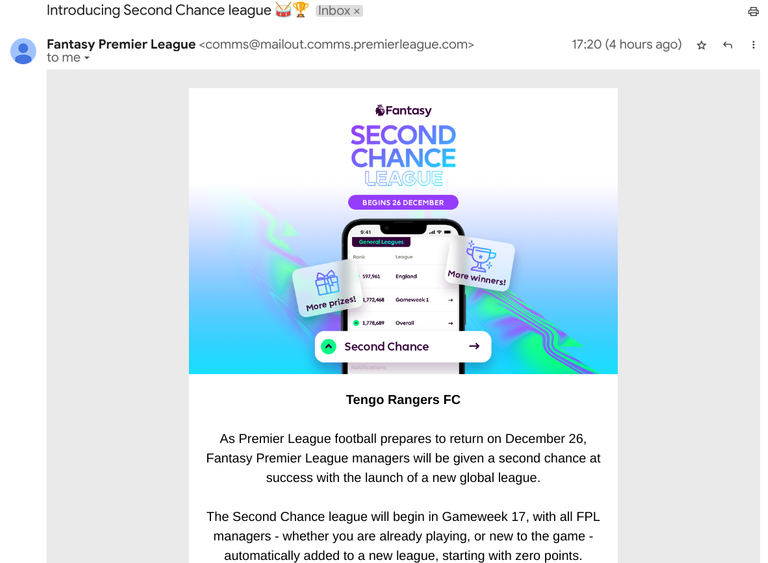 Even if you have not played the game at all, you can join for FREE and enter a team!
If you want more details on how to join and what to do,then drop me a comment and I can help you.
Back to the Second Chance, let's have a more detailed look .. (info from the Second Chance page)
The Second Chance league will begin in Gameweek 17, with all FPL managers - whether you are already playing, or new to the game – automatically added to the new league and starting with zero points.
This unprecedented innovation is to help ensure that Fantasy Premier League continues to offer opportunities for both existing and new managers – whether you are already streaks ahead, far behind, or not yet off the starting line.

The new league might benefit me, I was terrible for the first few weeks as I had not really grasped the rules at all and was towards the bottom of our league.
However with dogged determination and pulling ma heid oot ma arse I made great headway up our Hivefpl league.
I know the best is yet to come for Tengo Rangers ...
My last Team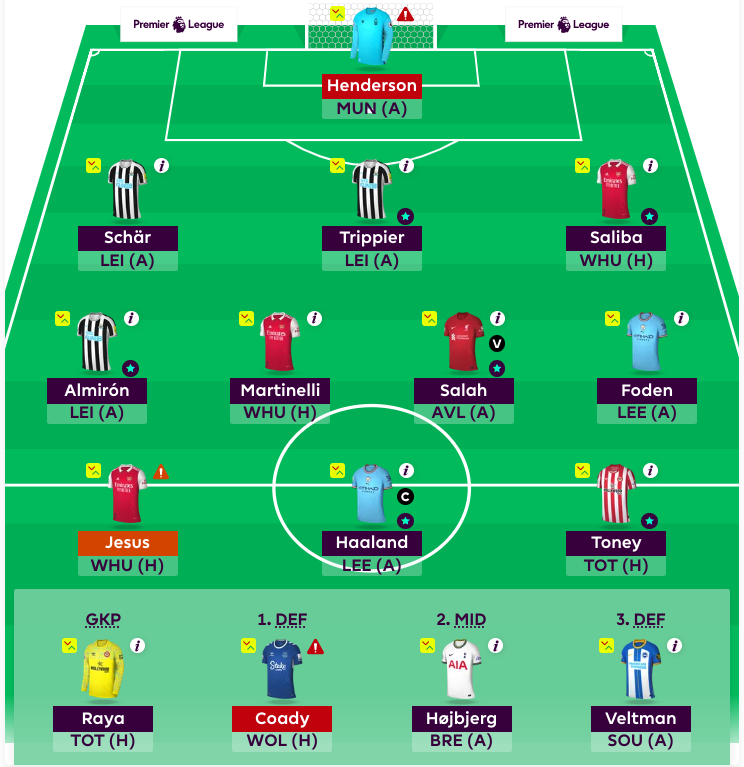 The first thing to note is that Jesus is injured, and if I remember he was pulled out of the Brazilian World Cup squad due to an injury.
Injuries, do you know that you have unlimited FREE transfers until Game Week 17 closes (i.e. Monday 26th December at 11am UTC I think the time...)
I think it might be time for Eddie Nketiah to step up and replace Jesus in the Arsenal lineup. Interestingly as fantastic a team player that Jesus was, he was not really scoring many goals.
The big news this week is that Toney another of my strikers has been charged with 30 more betting offences, will this have an effect on him?
The other big general talking point has been about the players who went to the World Cup as opposed to the players that stayed at home and had a holiday so to speak!
Various pundits think the teams without World Cup players might be sluggish and lethargic after this break, so what then of Salah and Haaland?
Will Haaland be ready? And what of the young Argentinian striker Julián Álvarez will he bring his form back to City, will Pep let him loose?

What I do know, is that I need a couple of days to sort through the team, this is a big reset, we can start all over again!
If we learn from our mistakes then they become lessons!
I have learnt from my first few weeks and will select my new team wisely!
Have you sorted your new team yet?
Have a great time choosing your team.
Thanks for visiting and Merry Christmas!


All images and ramblings are from me, the mad Scotsman TengoLoTodo unless otherwise stated. Note the screenshots are taken from my FantasyPremierleague.com account
@tengolotodo December 21st 2022

DO WHAT YOU LOVE AND DO IT OFTEN
Haste Ye Back!
---
---