Chelsea fc performance was outstanding

If you have been following up with my post you will notice that for some days I have been speaking about the Liverpool fc and Chelsea fc match. I talked about it very much because I know it will show us how prepared Liverpool fc or Chelsea fc are. Winning against other smaller team is good, that will seal your hope of winning the English premier league to 90% if you knows what you are doing. It is really interesting to watch the Liverpool fc match along side my Chelsea fc fans. The only issue I have with them is how noisy they are. I don't know if it is the Chelsea fc fans in my country along that behaves like this.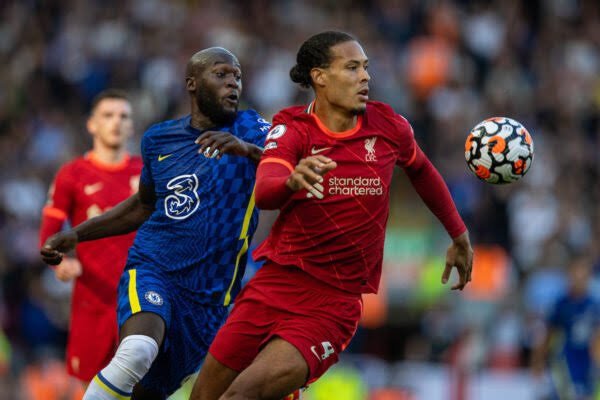 When watching match with them you should be prepared for the worst, they are not always tired of talking and I always referred to them as noisy neighbours. Before the match started I went to a nearby sporting hall where I can watch the match and on getting there it wasn't interesting at all. This is because my neighbours, the noisy fans were already chanting and saying all sort of shit about my team (Liverpool fc). I was just calm and observant, my attention and mindset was just on us winning the match, that is what I am all about. Because of what I have on my mind I was just calm like the river.
The match started pretty well and the atmosphere went agog. Immediately the match started I rushed down and check our line up, I must admit that I was not impressed by it. I was wondering why Jurgen Klopp will pick Roberto Firmino above Diego Jota and also Elliot was featured with Jordan Henderson. I was just not happy about the pairing I saw but I just have to believe on what Jurgen Klopp is doing, he knows the best since he is the one managing the team.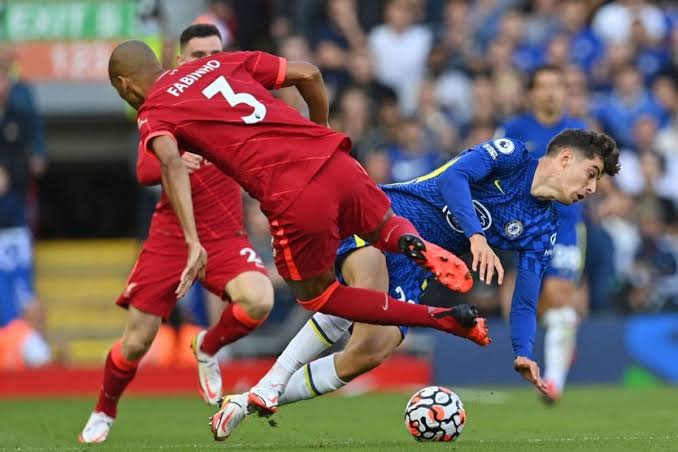 Since is a more crucial match I was expecting to see Diego Jota picked above Roberto Firmino, Naby Keita and Chamberlain introduced. This is just what I was expecting. That didn't happened so I had to keep my hope alive. As per the defence I am still waiting to see the day Ibrahim Konate will get his time, I still don't know why he is still not paired with Van Dijk yet. Nonetheless, Jürgen Kloop knows exactly what he is doing and I know when the time is right he will introduce him to the pitch. I was just thinking he is waiting for this day to introduced him but from the look of things Joe Matip is looking more better with age, just take a look at his display, perfect I must say.
The match started well and with good performance from Chelsea fc they were able to go in front in the 22nd minute through Kai Havertz header. The goal boost their moral and Chelsea fc performance was top notch. I was expecting things to go against them since the match is being played at Anfield. You know when it comes to supporters, Liverpool fc have one of the best supporters so far, their fans performance are always awesome. The chanting and celebration is just too amazing.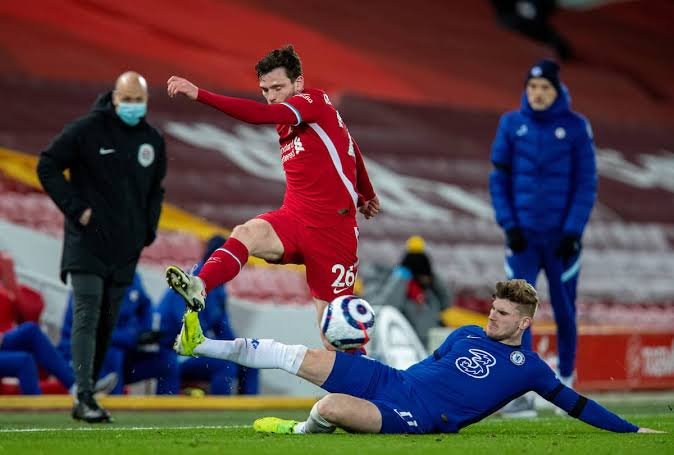 With the way Chelsea fc were playing I was very sure that assuming red card wasn't given to Reece James, Liverpool fc could have lost the match. I am saying this again because Chelsea fc match performance is amazing. They knows they are at Anfield and they composed their selves so perfectly. The penalty was awarded to Liverpool fc team and Mohammed Salah step up and converted it well. Chelsea fc falls back because they knows they are now one (1) man down.
Immediately the Liverpool fc team knows that Chelsea fc are now one man down they started pushing and pressuring. This continues from the end of the first half to the end of the second half. Despite a the pressure, Chelsea fc team were able to hold on and that ended the match. It was not easy holding to a point against Liverpool fc especially when you are one man down but Chelsea fc were able to do it, they really tried I must admit. They shows while they are the world champions.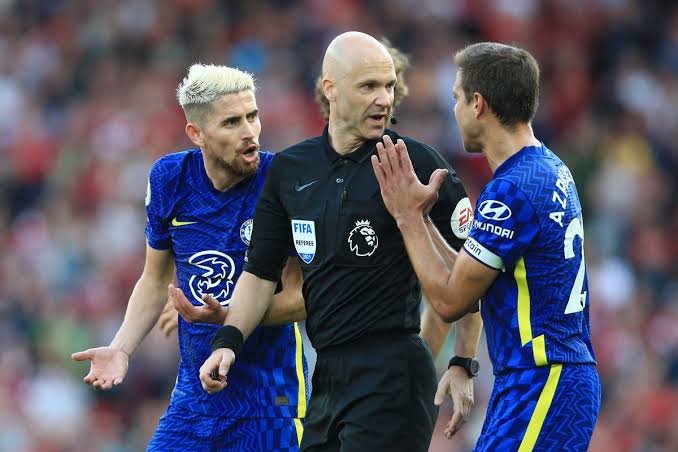 I will end the post here, if you have anything to say you can air your view as usual by commenting.
---
---