The Sports Nerds LIVE!!! 11/27/2022
Another exciting episode of The Sports Nerds. tonight we enjoy the rare time when all four hosts can celebrate a victory. From the bills and Cowboys winning on Thanksgiving day to the Browns Come from Behind OT victory over the Buccaneers and the 49er shutting out the Saints. Jon had some excellent takes on the Bills and how they looked, we discuss the Jags win over the
Ravens, The Jets, and their new franchise QB, and every nail-biting action from Week 12 in the NFL. ENJOY!!!!
Join me and my cohosts @jongolson, @scubatexan, and Eliot "Big E" Lomba each and every Sunday night at 7:30 PM Eastern time for The Sports Nerds! 60 minutes of sports talk, trash talk, and laughs as we discuss the week in sports.
https://www.vimm.tv/c/the-sports-nerd
https://www.facebook.com/groups/1839617396217126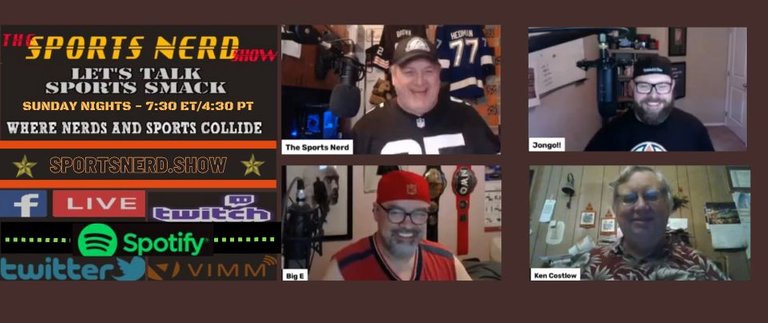 ---
---