the-hive-mobile.app - messenger - updates with demo video and trello board
Watch on 3Speak
---
Hello Hive Community Members,
With this post, I am going to give you an update on https://the-hive-mobile.app
Note: On this, I am working without any funding since Nov-2022. To support this project, please check out the support section of the post added at the bottom of the post.
In my last update, I showcased the work done on messanger feature.
But the feature was half baked.
So, This time, I'll use Trello board to give you update with the tasks done.
With that, you'll get clarity on how much is done.
Support me
What's Done?
Messenger > Show the message which was just sent
Messenger > message which was just sent should be shown at the end of list
Messenger > Search a user & send a message
Messenger > Send HBD or Hive
Messenger > Show Send HBD / Hive option
Messenger > Save Messages locally
Messenger > Reduce API calls & load messages faster
Messenger > Allow user to refresh messages manually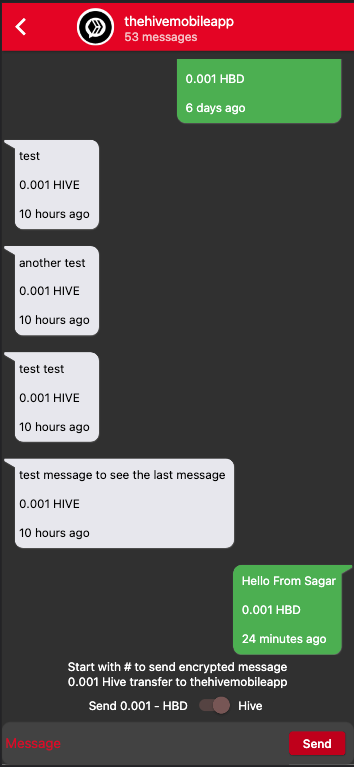 What's next?
Messenger > Fetch latest after every 5 seconds
Messenger > Show attachments from message
Messenger > Support HiveAuth
Why does it take time?
I am working on this app all alone.
I work on this app, whenever I have free time in hand.
I want more community members / devs to join me & help me
If you like this project and want me to work on regularly, please suggest me. I'll write a proposal.
Please be my helping hand
Where do I try out this appUI?
Explore code
Want to know more?
Previous Update - Mar-2023
Previous Updates - Feb-2023
Previous Updates - Jan-2023
Support me
Support & Join other Communities
I recommend joining these communities on Hive & Discord.


---

Click on the banner to join

---

---

Click on the banner to join
Important 3Speak Links
THANK YOU
Thank you for staying till the end of post
Please share feedback via comments section
Follow me & see you in the next post
Stay Fit, Stay Healthy
Keep learning, keep exploring & keep sharing
I'll keep curating different posts from different communities on Hive
Lots of love for Hive
Cheers
Have a good one
IPFS HASH:

---

3Speak

Posted from 3Speak iOS App for 3Speak
Developed and maintained by @sagarkothari88
---
---