Just Watching A Little Bit Of Sports With My Free Coffee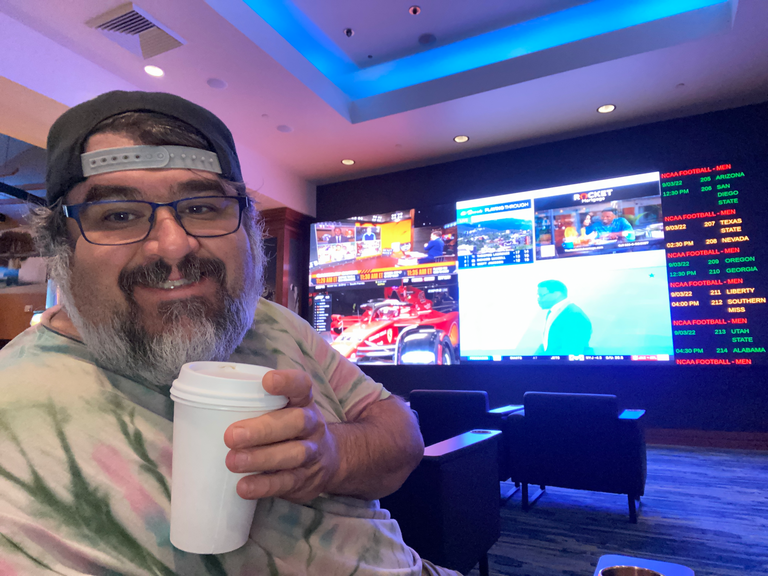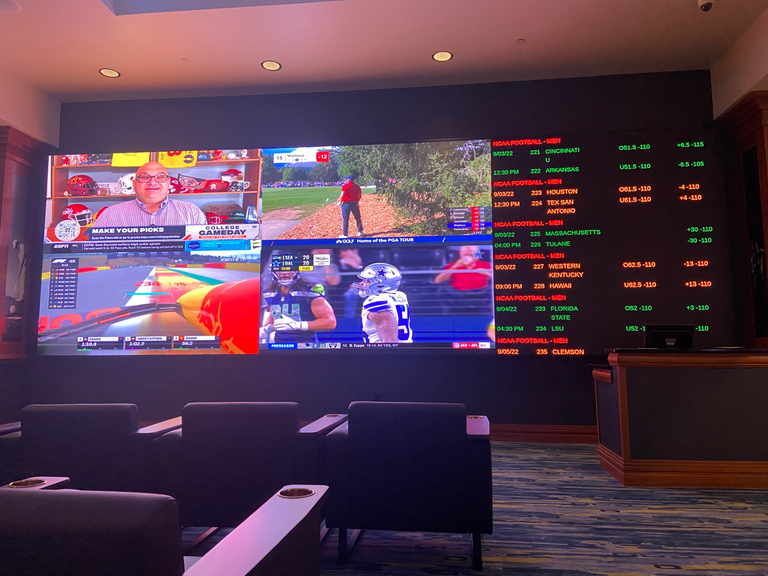 My trips to the Oregon coast usually consist of me sliding into a parking space at the local casino where I can use their nice restrooms, and of course, the free coffee!
So after a nice night of sleep out in their lot, I usually come in and do the morning biz, get some free coffee, which is the best tasting coffee, cause it's free, lol. So I sit here in front of these 4 jumbo screens, which is actually one huge screen that they can divide into 4 screens, it's really cool. Then of course you have the betting stuff on the side, which I look at but I don't gamble. Hell, crypto is enough of a gamble, lol. I just act like I am researching stuff so they don't look twice at the fact that I drink allot of free coffee and don't ever play, lol.
I will however go and eat at their restaurants to at least support in that manner. but yeah, this is a way that a vanlifer can feel like a king, lol. I suggest trying it sometime, lol.
I have been more into sharing life than my opinions of crypto, global issues, and alike because it has really been making me extremely depressed lately. So a bit more focus on the beauty in life is making me a bit more happy these days.
Until next time folks…
Be Cool, Be Real, and always Abide!
Support The Logical DAO
If you want to support the efforts of The Logical Dude and his projects that come out of The Logical Labs, you can support by purchasing a special NFT directly from the site using pHBD on Polygon! These funds are used to fuel the income engine in The Logical DAO
https://thelogicaldude.com/nfts
https://thelogicaldude.com/dao
The Logical Labs Projects
https://hivelist.io - Classifieds, NFTs, DEFI Pool, Online Retail
https://HiveHustlers.com - Community for Entrepreneurs and All Around Hustlers
https://coin-logic.com - Live crypto market data, news, and research
https://blocktunes.net - Music NFTs, DAO, Downloads, and more
https://groovelogic.audio - DJ/Producer/Sound Engineer music and services
https://weedcash.org - The Highest Form of Social Media
Video Channels
View my channel on 3speak.tv! Video platfrom for a free speech society!
https://3speak.tv/user/thelogicaldude
But if you must... here is the YouTube channel link:
https://www.youtube.com/channel/UCtGApfTp4ZzLHksDdImJ9JA
Other Ways To Support
If you like what I am doing, please consider voting for my Hive Engine witness with your staked WORKERBEE!
https://tribaldex.com/witnesses
Get started playing Splinterlands, the top blockchain game in the world, today!
https://splinterlands.com?ref=thelogicaldude
---
For the best experience view this post on Liketu
---
---