My Chess Story
This happened few months ago...I always watched people play chess and I always ended up having headache whenever I tried to Understand the movement of all the chess characters lol I originally used to think they all just move in a straight vertical line but as soon as I began to feel that I was getting the logic, then boom! one of the players move the characters in another direction, totally different from the direction I had in mind.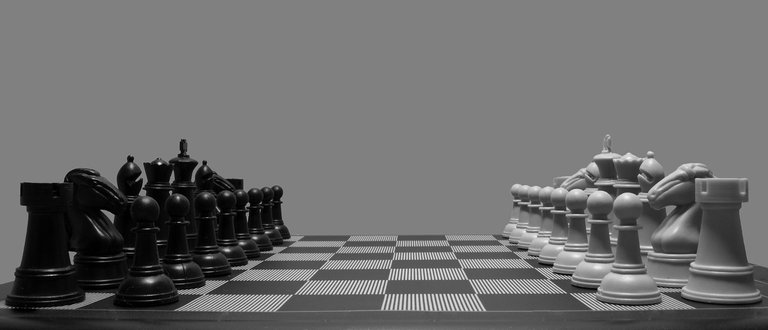 Photo From Pixabay
One day, when I sighted some guys playing the chess again, I had to talk to one of them to please explain the rules of the game to me of which he did and I was glad he did, but then the Knight's movement was so hard for me to get used to at first because unlike the castle which just moves vertically or horizontally, and the Bishops which moves diagonally, the Knight moved in more like an "L" shape.
However, I loved the queens ability to move just like the Bishops and also like the castles I was told it doesn't move the same way the Knight does. I began to practice on my own and within weeks of constant practice I was able to play against some people who learnt how to play before me.
Luckily for me, I learnt this just few weeks before our school's inter-house sports. I belonged to the blue house at that time, and the teachers in charge of the blue house were in search of "chess pros" who could represent blue house in the Senior category. I jokingly raised my hand as a volunteer alongside three other students...I honestly didn't think too deep about what would happen when i was seen raising up my hand. When I realised what I was about to get myself into I tried to put down my hand quickly but it was already too late my class mates were already cheering me up lol I was supposed to be happy but then I was so nervous considering the fact that I just learnt chess and was about to be picked to represent the blue house but then I summoned courage.
I was selected and shortly after, we were paired in twos...funny Enough, I was to play against the guy who taught me how to play chess😂😂 I gave up at that moment because I just couldn't picture myself winning someone who literally taught me a few weeks back but then I just had that strong feeling not to give up and so I stayed focus.
The guy on the other hand, was also surprised to see me as his opponent the moment he saw me I saw how relaxed he was knowing that he was the one who taught me and so he was more likely to win....so we began. He played well but because he belittled me, he lost to me. I took out one of his Knight
Photo From Unsplash
and then his two Bishops at that point he just gave up still surprised that I could be that good. And that was how I won him, now over to the next stage which was going to decide who was going to represent the blue house, I was a bit nervous still but I didn't let it stop me. The guy I played against right after was really good...he used the little mistakes I made against me...at some point people thought he was going to win (i also thought he was going to win ) but funny enough he also got carried away by the praises he received from the students and shortly after that, I took down his queen with mine😅😅 . Now with his queen down, I was able to last longer and i won eventually. And that was when it dawned on me that I was going to represent the house since i won all internal opponents in the house I was so happy about it.
Late in the night that day, I began to wonder what had happened earlier that day and how on earth that happened. I was surprised that I was able to beat the guy who taught me how to play and another experienced player, after some time of thinking, i just told myself "it is was beginners luck". Weeks later it was time for the chess battle. I played against the pink house and I won I also played against the red house at the semi finals and I won too and then to the finals. Indeed the finals really got me tensed up with so many people watching including the teachers. my opponent was really good too he was so determined to get the golden medal well I was just playing for fun from the very beginning lol besides I never believed I was going to get that far in the competition but then I tried not to discourage myself I tried all I could to beat him but he was just too good I then decided to use a trap method I discovered many chess players fall into I began to lure him with my pawns...at that time he was just so focused on having a kill without really looking at the later consequences and so I was able to take down one of his castle, his Bishops, and one of his Knight with the technique I felt very relieved having done that and got a bit careless with my queen, and so I ended up losing my queen to his Knight at that time. I only had three pawns left...well, I was able to keep putting his king on check while also trying to move a step forward with my pawns. Luckily for me, I was able to do all this without him suspecting I was trying to get my queen back and so I was able to get my queen in place of my pawn and with that, I was able to checkmate him.
Photo From Pixabay
As soon as i checkmated him, so many people began to scream especially the blue house members. I was so amazed at how far i had gone in chess...it all just looked like a dream and yes i was so happy I made my house win.
Shortly after, the golden medal was given to me. I was just so filled with joy that I just had to go hug the guy that taught me to say thank you...I could actually see the genuine happiness in him...I could tell he felt like Albert Einstein at that moment😂😂 and yes I was right he literally went about yelling "That's my boy i taught him how to play chess" lol. This I can never forget 😁.
---
Thanks for reading ❤️.
---
---