Hardwork Pays
Being in a good form is useless and meaningless if you cannot attach a trophy or some trophies to the good form. For this reason, it is always important that as a club and coach, you strive to grab a few trophies especially when your team possesses a solid form and class.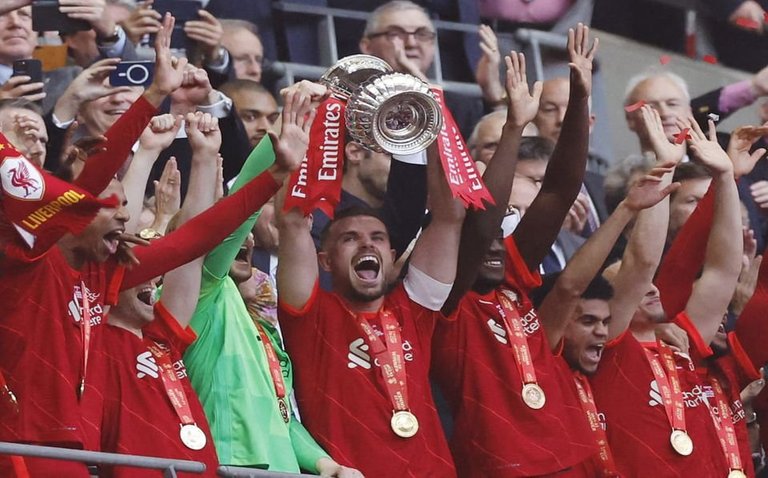 Source
---
It would have been a sad and disappointing feeling this season if the Merseyside Reds didn't have any trophy to show to the fans, looking at the exceptional quality the team possesses currently. Fortunately, for the Reds and the fans, there are enough reasons to be delighted in this 2021/2022 season.
I've probably read lots and lots of articles about Liverpool winning the 2022 Emirates FA Cup so, I won't say much in that regard. However, Liverpool has created a huge record this season, and it's very remarkable. Defeating the same club, twice in two finals, in the same season is a big one. It must be devastating for the Blues but that's the game.
As I wrote in my previous posts, I said it wasn't going to be an easy FA Cup final being that the same team, defeated Chelsea in the Carabao Cup final weeks ago. Regardless, the mentality monsters came out victorious. So far in 2022, two trophies have been confirmed while another two are still up for grabs.
Notably,
Jurgen Klopp has now won all the domestic trophies in England - EPL, Carling Cup, and FA Cup
Trent-Alexander Arnold becomes the youngest player to win all major trophies in England at the age of 23. No one can deny the fact that the young man is exceptional and he deserves all the trophies
Jordan Henderson becomes the first captain in Liverpool to lift all major trophies for the club. He has lifted the UEFA Champions League Cup, English Premier League Cup, FIFA Club World Cup, FA Cup, Carabao Cup, Super Cup, etc. This is something Steven Gerrard worked hard to achieve but unfortunately, he couldn't. Henderson must be greatly delighted.
Liverpool FC has now won 7 FA Cup trophies
---
The Quadruple Hope Kept Alive
Two trophies have been secured so, we have two left - UCL and EPL.
If you have followed my recent posts, you'll discover that I'm one of the strong believers in Liverpool lifting four trophies this season. The only time I'll stop believing is after the final EPL games but for now, anything is possible.
Tottenham Hotspur made the Reds' EPL fight even tougher after that 1-1 draw. Then again, West Ham gave Liverpool hope after playing a 2-2 tie with Manchester City. Yeah, the chances of Liverpool winning is slim but I'm loving the fact that Manchester City, though the favourite to win still has to be kept on their toes.
---
Pep Guardiola had better kept his technique up else, he'll have to pay dearly for it. Liverpool will be hoping for its former captain (Steven Gerrard) and team player (Philippe Coutinho) to be a thorn in the flesh for Manchester City on match-day 38.
What a loving sight it will be if Aston Villa can defeat Pep Guardiola's men. Come to think of it, Steven Gerrard will be excited if he helps his former club win the trophy since he couldn't win it while still playing for the club. That's on a lighter note btw.
On the other hand, the final in Paris will be very interesting to watch and I just hope the Reds don't let the Los Blancos defeat them twice. Also, I hope fatigue doesn't affect Liverpool as they still have games to play before the final. Above all, may the odds be in our favour - YNWA!
On the whole, Liverpool FC didn't get here via balloting. This team has been very hardworking, determined, and focused. All I can say is that hardwork pays!
---
---