Carlsen se retira del campeonato de Sinquefield / Carlsen withdraws from Sinquefield championship
¡Saludos comunidad!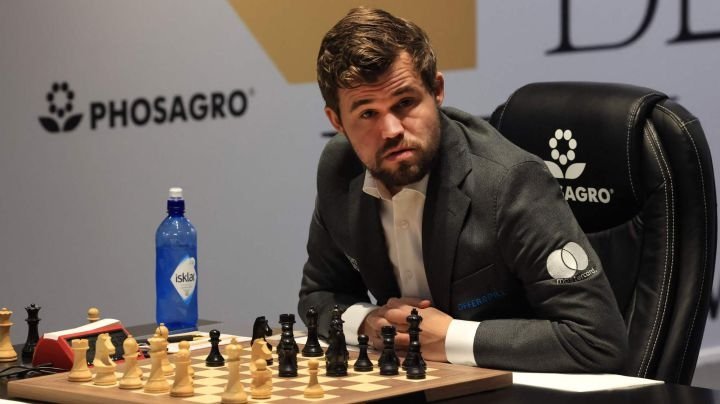 Fuente de imagen
Una noticia mundial que esta rodando en torno a las 64 casillas, es la retirada del Torneo Sinequefied de la Ciudad de San Luis, del Gran Maestro y actual campeón del mundo Magnus Carlsen.
Esta retirada se da tras la dura derrota que recibió en la 3ra ronda del certamen cuando tuvo que inclinar su rey ante el Gran Maestro Estadounidense Hans Niemann.
👉👉Mucha polémica a nivel internacional ha causado semejante acción, una situación poco frecuente vista antes, la retirada de un torneo del Noruego.

Niemann acabo cortándole una racha de victorias 53 en modalidad clásica; jugando de manera sólida una defensa nimzoindia con las piezas negras.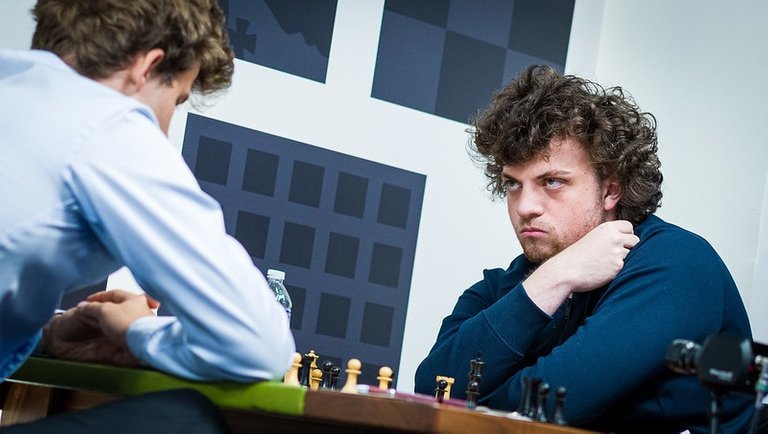 Carlsen por su parte en su red social twitter se expreso con lo siguiente: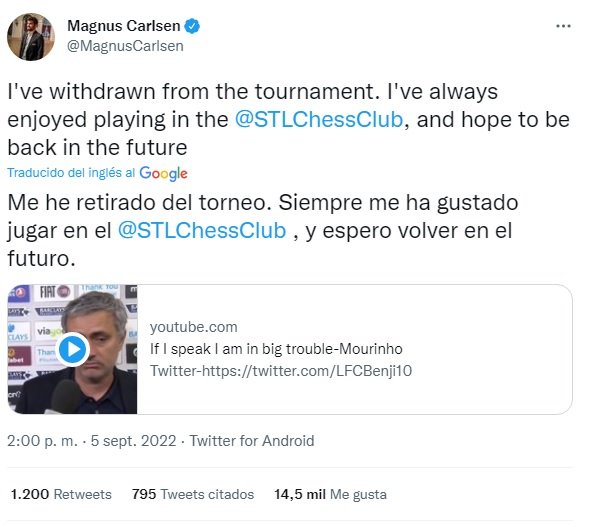 Este tweet junto con una entrevista del técnico portugués Jose Mourinho.
De esta manera se crea aún mucho mas la tensa situación por este ajedrecista, que ante todo es su decisión y se debe respetar.

¿Cuales factores se piensan que pudo llevar a Carlsen a tomar esta acción?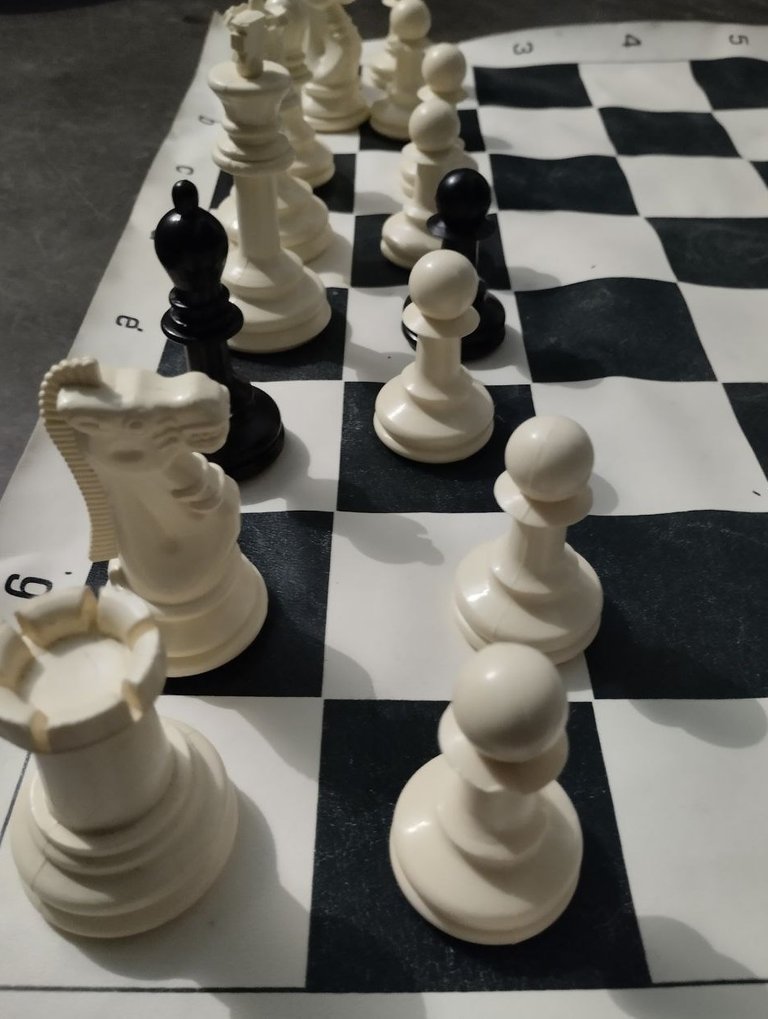 Algunas fuentes del medio ajedrecista suponen que algún infiltrado dentro de los entrenadores de Carlsen, dieron la información a Niemann, sobre su preparación teórica, y al correrse este fuerte rumor, prefiere retirarse ya que puede suceder lo mismo en las siguientes partidas.
Esta información puede ser una suposición, o una noticia real, yo pienso que ante cualquier acto, "todo el mundo es inocente hasta que se demuestre lo contrario".

¿Trampa?
Es una palabra muy fuerte, denota una acusación, en esta tensa situación se rumorea que el GM Hans, realizo trampa durante la partida, aún esta bajo investigación semejante acción; en mi opinión personal no considero que el jugador haya utilizado ayuda informática y/o cualquier otra ayuda para ganarle al noruego, estamos hablando de ajedrez de elite y cualquier acción se estará viendo ante los ojos de toda la comunidad mundial.
Me puse analizar la partida, siendo una partida interesante la verdad, un buen planteamiento sólido por ambos jugadores; mucha tela que cortar en estrategia, Carlsen acostumbrado a hacer a sus rivales cenizas jugo una apertura con bastante paciencia, pero sus fuerzas a medida que fue definiendose la partida iban siendo igualadas poco a poco.

Observando y analizando esta partida, se ve que el jugador de piezas negras tuvo un buen planteamiento de principio a fin, no dando tregua al campeón del mundo, para Carlsen no debe ser nada fácil una derrota, pero pienso que debe aceptar / aprender a respetar a sus rivales cuando es vencido.
La generación nueva de ajedrecistas son cada día mas brillante, con la ayuda de la tecnología y software informático los jovenes estan volando, sumado a sus talentos naturales.
De este pequeño caso en un futuro no muy lejano, sabremos cual fue la verdad de todo esto, si Niemman hizo trampa, algún capricho del Noruego, y/o alguna otra cosa que no sepamos en este momento.

Mi posición analitica, de este acontecimiento del ajedrez mundial, como ajedrecista, pienso que Carlsen debio continuar con el torneo hasta el final, ya ha ganado todo en el ajedrez, solo esta por batir sus propios records, los campeones anteriores (en su gran mayoría) defendieron su título, y se mantenían en pie ante las dificultades / adversidades de los torneos.
FUENTES:
👉Imagenes tienen su fuente en los enlaces.
👉La imagen del tablero es de mi autoría
👉La imagen gif de la partida es gracias al servidor de lichess.org
👉Las imagenes son editadas en Paint
👉Separador de mi autoría
👉traducción gracias a deepl.com

Greetings community!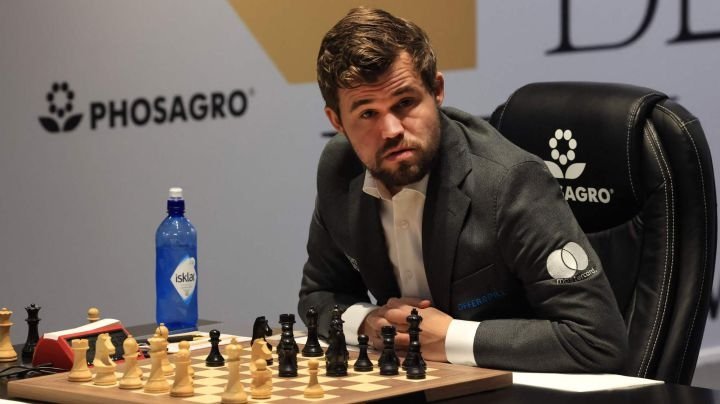 Fuente de imagen
A world news that is rolling around the 64 squares, is the withdrawal from the Sinequefied St. Louis City Tournament of Grandmaster and reigning world champion Magnus Carlsen.
This withdrawal comes after the hard defeat he received in the 3rd round of the tournament when he had to bow his king against the American Grandmaster Hans Niemann.
👉👉Much controversy at the international level has caused such an action, a situation rarely seen before, the Norwegian's withdrawal from a tournament.

Niemann ended up cutting off a winning streak of 53 in classical mode; playing a solid Nimzo-Indian defense with the black pieces.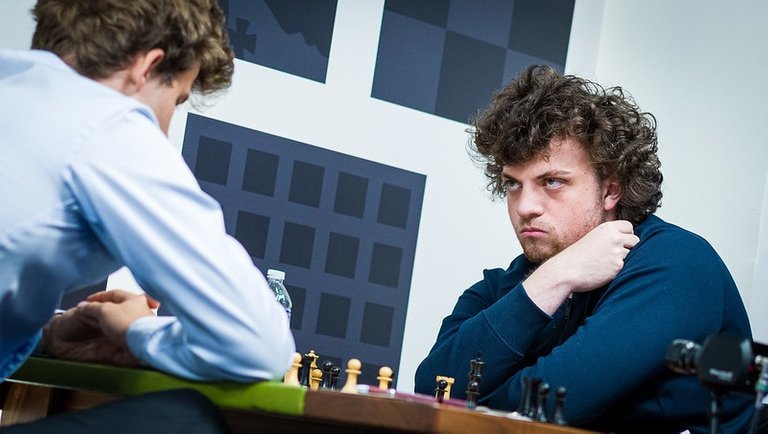 Carlsen for his part in his twittersocial network expressed himself with the following: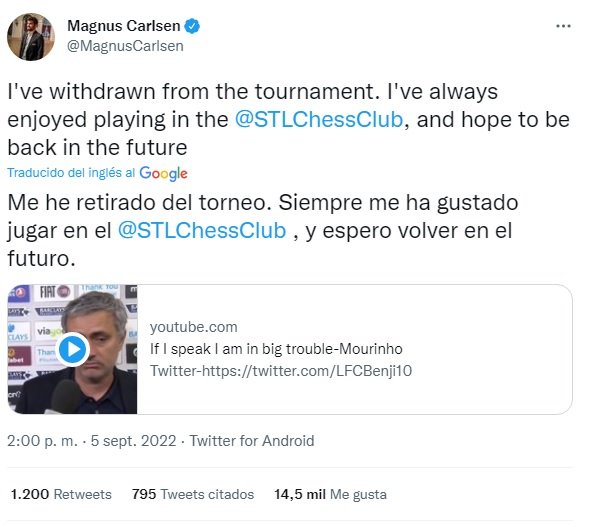 This tweet together with an interview of the Portuguese coach Jose Mourinho.
This creates even more tension for this chess player, which above all is his decision and must be respected.

What factors are thought to have led Carlsen to take this action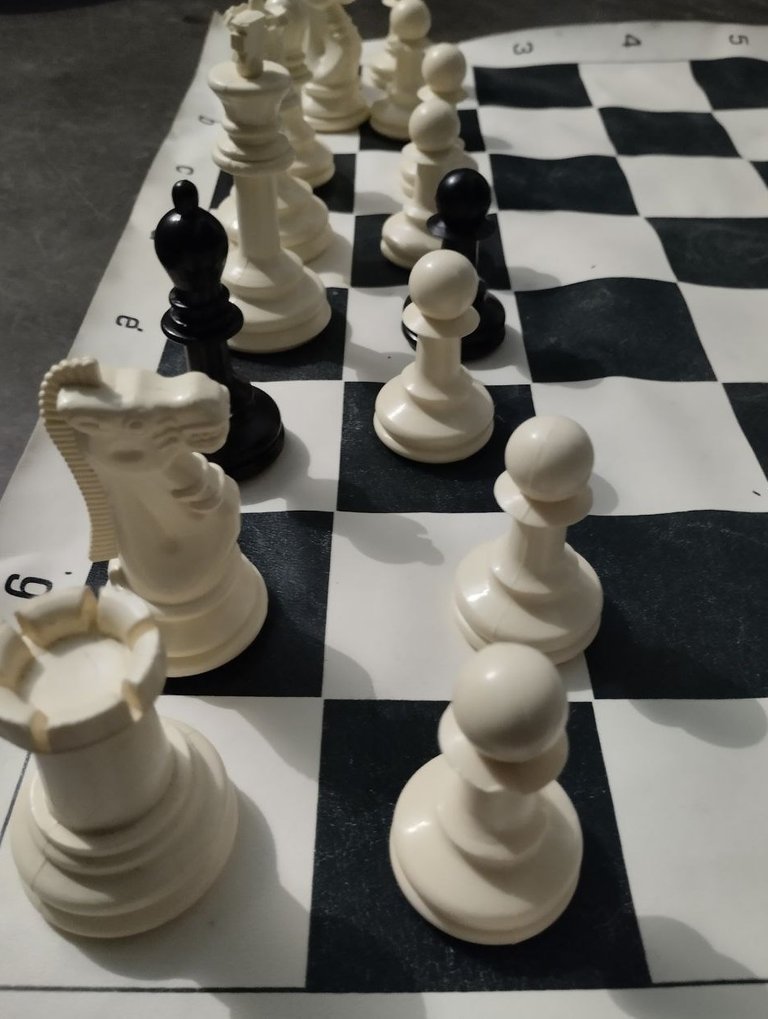 Some sources of the chess media suppose that some infiltrator within Carlsen's coaches, gave the information to Niemann, about his theoretical preparation, and when this strong rumor spread, he prefers to withdraw since the same thing can happen in the following games.
This information can be a supposition, or a real news, I think that before any act, "everyone is innocent until proven guilty".

¿Trap?
It is a very strong word, it denotes an accusation, in this tense situation it is rumored that GM Hans, cheated during the game, such action is still under investigation; in my personal opinion I do not consider that the player has used computer help and/or any other help to beat the Norwegian, we are talking about elite chess and any action will be seen before the eyes of the entire world community.
I started to analyze the game, being an interesting game the truth, a good solid approach by both players; a lot of fabric to cut in strategy, Carlsen used to make his opponents ashes played an opening with enough patience, but his forces as the game was being defined were being matched little by little.

Observing and analyzing this game, it is seen that the player with black pieces had a good approach from start to finish, giving no truce to the world champion, for Carlsen it should not be easy to lose, but I think he must accept / learn to respect his opponents when he is defeated.
The new generation of chess players are getting brighter every day, with the help of technology and computer software the youngsters are flying, added to their natural talents.
From this little case in the not too distant future, we will know what was the truth of all this, if Niemman cheated, some whim of the Norwegian, and/or something else that we don't know at this moment.

My analytical position, of this world chess event, as a chess player, I think Carlsen should have continued with the tournament until the end, he has already won everything in chess, he is only about to beat his own records, the previous champions (mostly) defended their title, and stood up to the difficulties / adversities of the tournaments.
SOURCES:
👉Images have their source in the links.
👉The image of the board is from my authorship.
👉The gif image of the game is thanks to the lichess.org server.
👉The images are edited in Paint
👉Splitter of my authorship
👉translation thanks to deepl.com
---
---