Regresando a los tableros de hive - Returning to the hive boards
Greetings fellow members of the chess community of the hive, I have long been away from the platform for university reasons, retired from chess and other electronic platforms.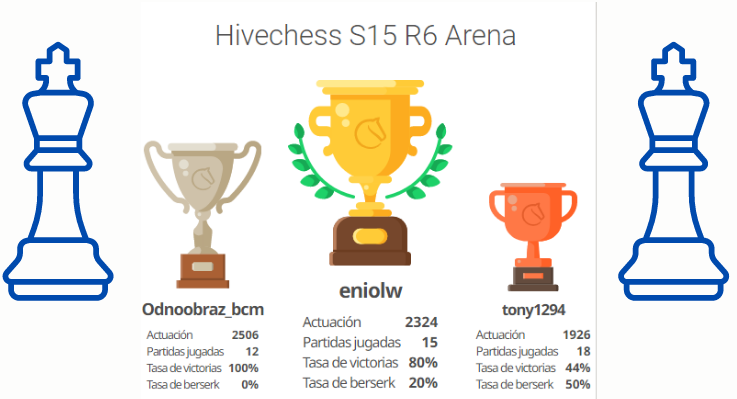 Saludos compañeros de la comunidad ajedrecística de la colmena, mucho tiempo he estado lejos de la plataforma por motivos universitarios, retirado del ajedrez y de otras plataformas electrónicas.

Regresando a los torneos de la comunidad de ajedrez de Hive, me da mucho gusto haber compartido y haber participado en el día de hoy en el torneo organizado por @stayoutoftherz ; al cual en ocasiones anteriores le he comentado que pronto estaría de retorno.
En estas instancias un ritmo arena, 2 min + 1 seg, a 1 hora de combate, donde se vivieron partidas electrizantes, emocionantes, pude reencontrarme con varias amistades en la plataforma, donde comparti algunas partidas como @sawko, @stayoutoftherz,
@eniolw, Pavarotty, entre otros; pude constatar que la comunidad a crecido en esta pausa que tuve.
Observe nuevos oponentes que en instancias pasadas no los llegue a ver, Felicitaciones a los organizadores que mantienen la llama del ajedrez viva.
Returning to the tournaments of the Hive chess community, I am very pleased to have shared and participated today in the tournament organized by @stayoutoftherz, which on previous occasions I have told him that I would soon be back.
In these instances an arena rhythm, 2 min + 1 sec, 1 hour of combat, where electrifying and exciting games were lived, I could meet again with several friends on the platform, where I shared some games like @sawko, @stayoutoftherz,
@eniolw, Pavarotty, among others; I could see that the community has grown in this pause I had.
I observed new opponents that in past instances I did not get to see them, congratulations to the organizers who keep the chess flame alive.

Durante esta travesía, en algunos momentos estuve en el primer lugar1️⃣, pero 3 derrotas📉 seguidas ya casi finalizando la arena, fue un sepulcro en mis aspiraciones por el primer lugar, el cual se llevo el podio Eniolw, lugar bien merecido.
During this journey, in some moments I was in the first lugar1️⃣, but 3 defeats📉 in a row and almost at the end of the arena, was a grave in my aspirations for the first place, which took the podium Eniolw, well deserved place.

Algunas de las partidas que jugué:
Some of the games I played:
En el primer enfrentamiento, inicie ganando al que posteriormente ganaría el evento, recordando que es un evento a ritmo rápido, y el margen de error es amplio.
In the first matchup, I started by beating the event's eventual winner, remembering that this is a fast-paced event, and the margin for error is wide.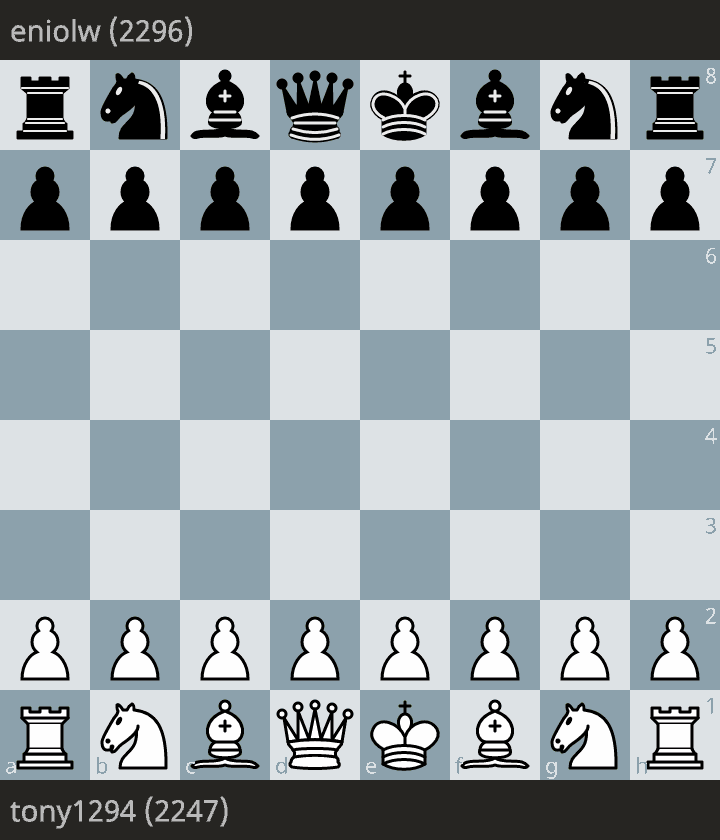 En esta partida admito que el sacrificio de 🐴caballo en f2, me sorprendio! en un principio, pense que me iban a destrozar en plena apertura, pero después me di cuenta que era un error, y jugue rápidamente mi torre hacia la casilla de f1, donde el punto de f7, queda bastante débil, a partir de ahí las debilidades de las piezas negras fueron muy notables y me permitieron ganar la partida.
In this game I admit that the knight 🐴sacrifice on f2, surprised me! At first, I thought I was going to be destroyed in the opening, but then I realized it was a mistake, and quickly played my rook to the square of f1, where the point of f7, is quite weak, from there the weaknesses of the black pieces were very noticeable and allowed me to win the game.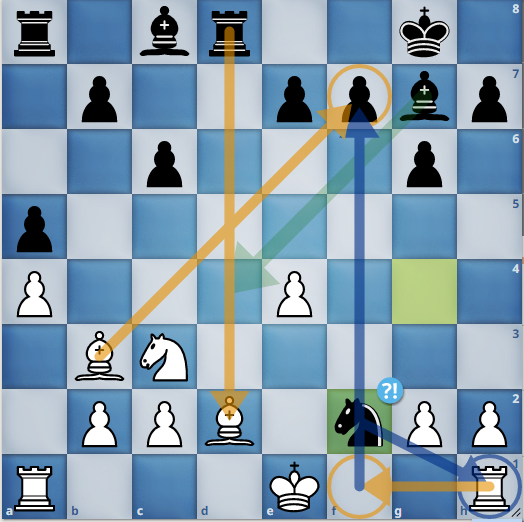 Un jugador que siempre se me ha hecho complicado ganarle es al usuario lichess: Odnoobraz_bcm ; a pesar de haber jugado una partida rápida donde caer en el error es mucho más fácil que en un ritmo clásico, cito esta partida, a pesar de 50 jugadas para ver a mi rey caer, apenas solo 3 imprecisiones y 1 una imprecisión del adversario, analizado por el motor de ajedrez de lichess, stockfish 15
A player that has always been difficult for me to beat is the user lichess: Odnoobraz_bcm ; despite having played a fast game where falling into error is much easier than in a classic rhythm, I quote this game, despite 50 moves to see my king fall, only 3 inaccuracies and 1 inaccuracy of the opponent, analyzed by the lichess chess engine, stockfish 15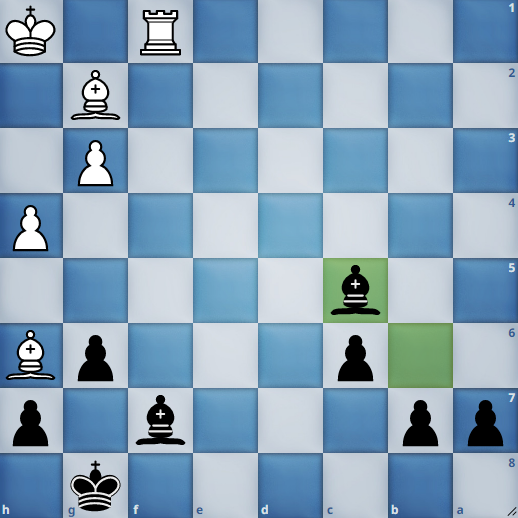 Este final me parece un bonito diagrama, debido a que en una partida blitz, puede pasar cualquier cosa, luche hasta el final, pero mi rival jugo muy bien; termino ganandome la partida.
This final seems to me a nice diagram, because in a blitz game, anything can happen, I fought until the end, but my rival played very well; he ended up winning the game.

El que conoce en persona a CM Carlos Abiad, sabe que es un buen jugador a cualquier ritmo, pero en el caso del blitz, es una bala; juega demasiado rápido y compromete rápidamente a sus rivales con líneas emprendedoras, en este caso ganarle de una manera brillante, aprovechando sus errores es un buen punto para mi, en mi regreso a las ligas de ajedrez de hive.
Whoever knows CM Carlos Abiad in person, knows that he is a good player at any pace, but in the case of blitz, he is a bullet; he plays too fast and quickly engages his opponents with enterprising lines, in this case beating him in a brilliant way, taking advantage of his mistakes is a good point for me, in my return to hive chess leagues.
Por último, no puedo dejar pasar desapercibida la partida miniatura que me gano el campeón del evento @eniolw , en tan solo 12 movimientos me dieron jaque mate ++ ; esta vez si me sorprendieron! Brillante manera de desquitarse por la derrota anterior.
Tuve muchas partidas importantes, unas mas que otras, no puedo mencionar todas en esta pequeña publicación, solo quiero decirles a todos mis amigos del ajedrez de esta gran comunidad, aquí estoy de regreso, y mientras pueda jugar los torneos con gusto jugare.! Gens una sumus.
Finally, I can't let pass unnoticed the miniature game that the champion of the event @eniolw beat me, in only 12 moves I was checkmated ++ ; this time I was surprised! Brilliant way to get even for the previous defeat.
I had many important games, some more than others, I can't mention them all in this small publication, I just want to tell all my chess friends of this great community, here I am back, and as long as I can play tournaments I will gladly play! Gens una sumus.
1️⃣Las imagenes gif y las partidas son gracias al servidor de liches.org
2️⃣Los separadores son de mi autoría realizados en canva
3️⃣El separador ajedrez - chess es de mi autoría realizado en cooltext
4️⃣Imagenes editadas en la aplicación paint.
5️⃣Traducción gracias a https://www.deepl.com/es/translator
1️⃣The gif images and games are thanks to liches.org server
2️⃣Los separators are of my authorship made in canva
3️⃣El chess separator - chess is by me made in cooltext
4️⃣Imagenes edited in paint application.
5️⃣Traducción thanks to https://www.deepl.com/es/translator
---
---