HIVE ecosystem holds value like a champion 😂
I think the last time I published the status of the value in $ of my HIVE Portfolio was almost a couple of months ago.
Today I had some time to update the data and I was pleasantly surprised to see how well this portfolio is holding up despite the fact that the rest of my crypto assets are declining in value.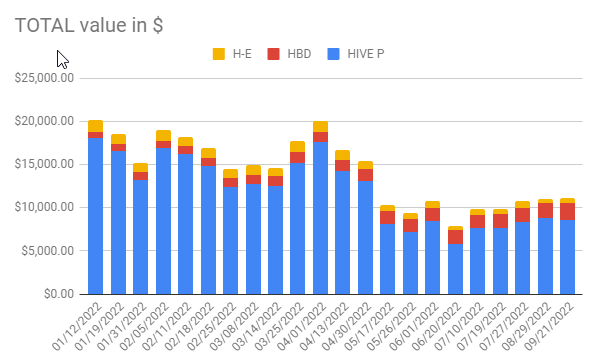 HIVE is holding the price like a champion and the stability of HBD has been improved, at least we don't go too far from the peg and when we do it's only up, which isn't bad for converting some HBD to HIVE at a good rate. price in the internal market.
In addition, the 20% APR of the savings portfolio adds more and more each month, which drastically slows down the loss of value of the portfolio and even improves it.
What is not working at all is the price of the H-E Tokens, there is a permanent sale there although I have seen certain tokens that have improved lately, one of them is SPORTS.
Unfortunately, and despite the efforts of its owners, LEO has not yet found a ground from which to grow, although I have not lost faith in the project.
Others like SEED continue to do well, maintaining their value and even improving on it. The CENT team also seems to be doing well with the new governance measures and their CENTG token so I continue to accumulate both tokens.
Outside of these already named, I don't think there is any other that is worthwhile at the moment.
---
P.s. In my July post I expected HIVE to be close to 30 cents to buy at a discount, today I'm beginning to doubt that this will happen soon in the near future... in any case, I'm still accumulating.
---
---