Hive -Engine Market Watch: Selling off at Sports token
Sports talk social tribe on hive engine has been one of my biggest investment in the hive-engine trading dex and has been my worst, due too almost no development of the sports tribe by the developers, they seem to be waiting for hive-engine developers to update scot bot before implementing any update on the community, i had very high hopes for sports to be one of the best hive tribes especially in terms of development as they got alot of oppotunity to bring hive to the masses.
The last time i wrote about sports hive engine coins was august 2021 after i reviewing my portfolio and saw sports was on a massive downtrend, it was actually trading between 0.00013-0.00016 hive/sports Read post and i place a very huge bet on the sports community thinking they where going to develop something like a book marker where other hive engine can build a sink for burning their tokens through sports betting with both earning and burning mechnism which would have also generated revenue for sports community through listing fees from other tribes and burning of tokens. i also thought by now sports talk would have had a cross chained bridge to other blockchain like binance chain or solana chain to increase price stability and more exposure to traders who are not a, but thats not fort coming also as aside from the iniatial decelopment by the hive-engine developers nothing is been done on sportstalk social thats why the price has plunged ov er 1000% to the downside.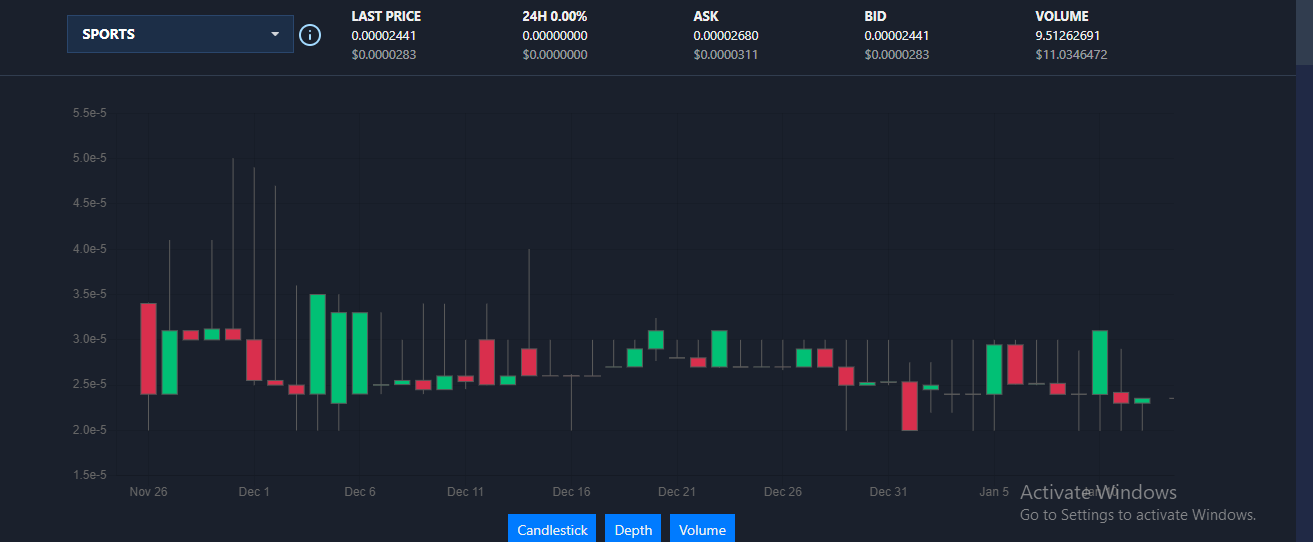 Looking at the chart of sports we can see the price is currently finding support at 0.00002 hive per sports with the sell pressure still massive and a resistance of 0.0004 hive withe the spread being so wide, sports has been trading with low volume as most users no longer buy more sports due to the nature in which hive-engine was developed canclling all open buy orders after 30days if the order wasnt excuted.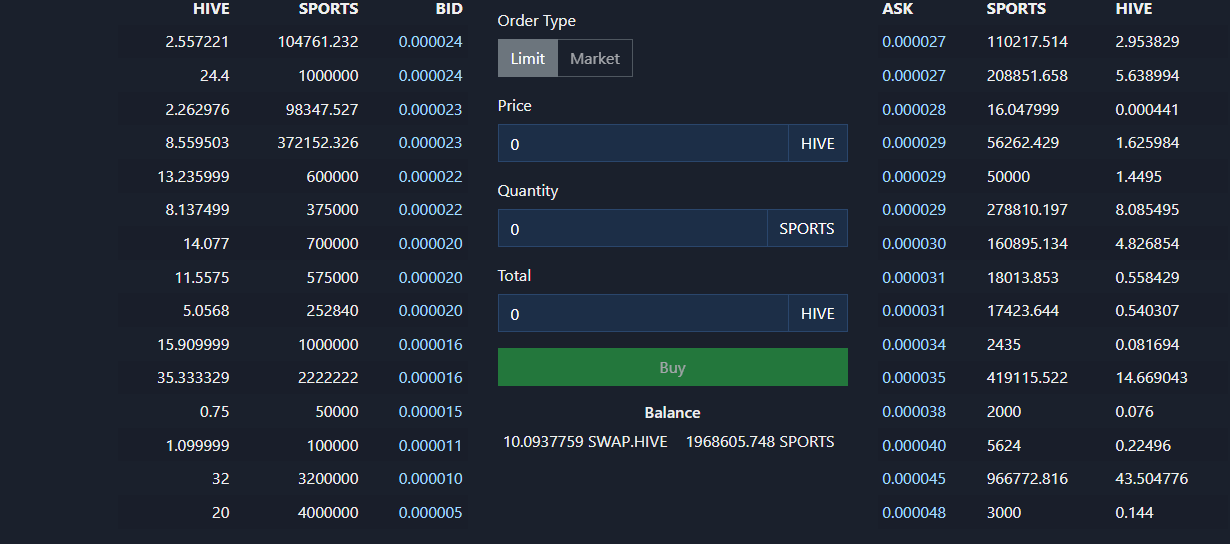 On the order book the volume of buyers has surged to an all time low, as only few buyers who truely support sportstalk community still buy sports and the sell pressure is still on a high side at most investors who powered up sports are currently selling at any price at earning to recover some of their investment, as the price of hive is surging high.

looking at the trade history you can see clearly that the market is in a serious down trend as most of the executed orders where sell orders, although they are small volumes of sells but still are priced in on the chart.
Conclusion
In order for the price of sports to have a mega bull run, sports talk developers have to carry out and upgrade in the sports ecosystem as only new innovation and upgrade on the tribes ecosystem that can foster new users and investors to the sports talk front end to use their products, and inverably purchase their coin.
I am also suggesting for the sports community to file a proposal that will create a bridge token to other blockchain as it will bring in more exposure to sports coin blockchain i will like them to look intoeither the solana blockchian or the fantom block chain because thats is whats trending at the moment for low cost bridging.
Posted Using LeoFinance Beta
---
---