My Actifit Report Card: May 28 2022
A Beautiful Photo History of 1800's Waterloo Region -
---
Saturday, May 28th, 2022
---
---
You can find my daily actifit postings here / @trezzahn ,
https://actifit.io/activity/trezzahn#
Ecency here: https://ecency.com/@trezzahn/blog
and PeakD here: https://peakd.com/@trezzahn
---
Yesterday's Pixie:
https://www.pixie.xyz/en/share?permlink=pixie-p90336756-1653665299181&author=p90336756
---
Additionally, posting reblogs can be found here,

Posting reblogs:
https://www.sportstalksocial.com/@trezzahn/
or on my Engrave dblog, here:
---
My Morning -> Afternoon
Waking up early around 5am, I awoke yo the sounds of chirping and a beautiful sunrise gleaming through my front window!
I checked up on my remaining crypto-work, generation, passives, dailies, monitoring and faucets leftover from the day before for today as well as prepared my show Below Deck - Mediterranean, Season Two now on Amazon Prime Video: HaYu to watch with my breakfast and coffee!
Heading up, I prepared my meal and cup of Joe, then headed down to watch a few episodes and catch up on my spending, budgeting, economics, stocks, investments and finances.
I checked up on the state of the crypto-world today with CoinMarket Cap and Crypto Market as well as kept up to my news with Aliens, Medium and Notion.
I checked up on LikeTu, worked through my Web3 Multiverse and NFT Sites on Polygon and BSC, including OpenBlox, Melos, Vimm and Project Galaxy dApps, finishing up with my Phoneum, COIN, PI and other smaller applications, eventually finishing up close to 8:30am and heading out for a small breakfast in Cambridge for 9am!
---
My Afternoon -> Evening
With afternoon rolling around, I decided on heading to the nearby Ken Seiling Museum, paying for access to McDougal House and Cottage, Schneider Haus and Village, and the Doon Heritage Village, starting with Ken Seiling and working my way,
Ken Seiling Museum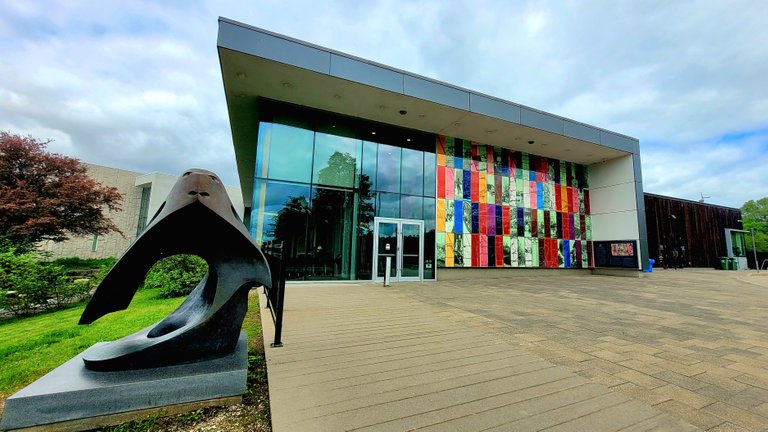 Entering the museum,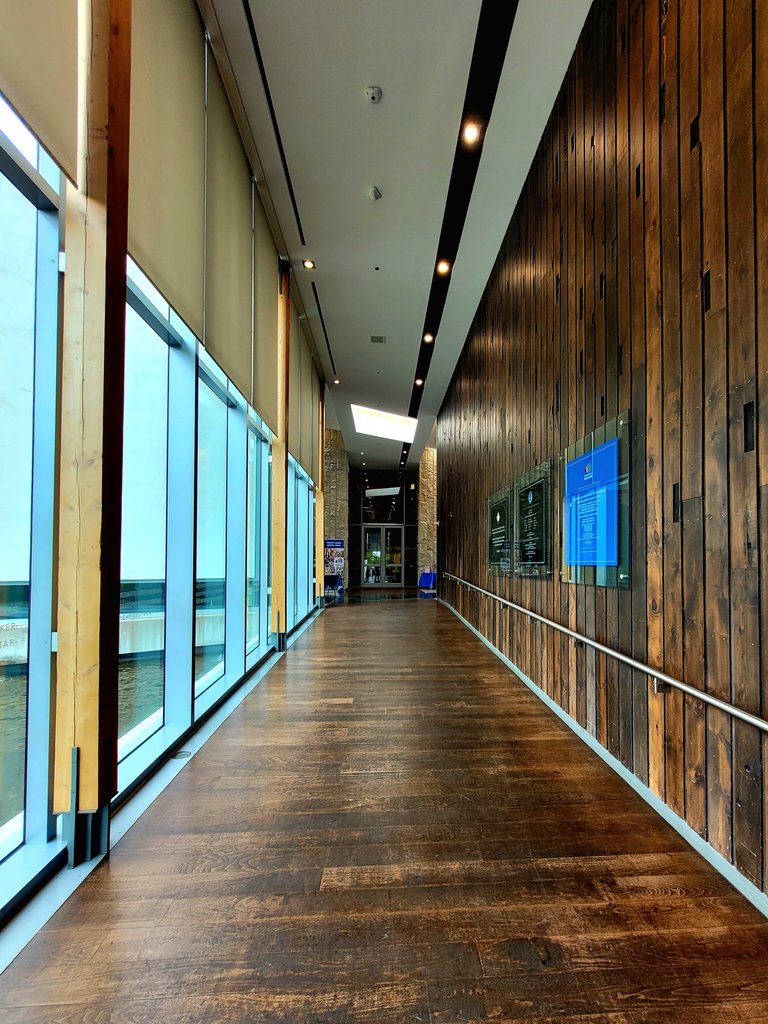 I snapped a few shots,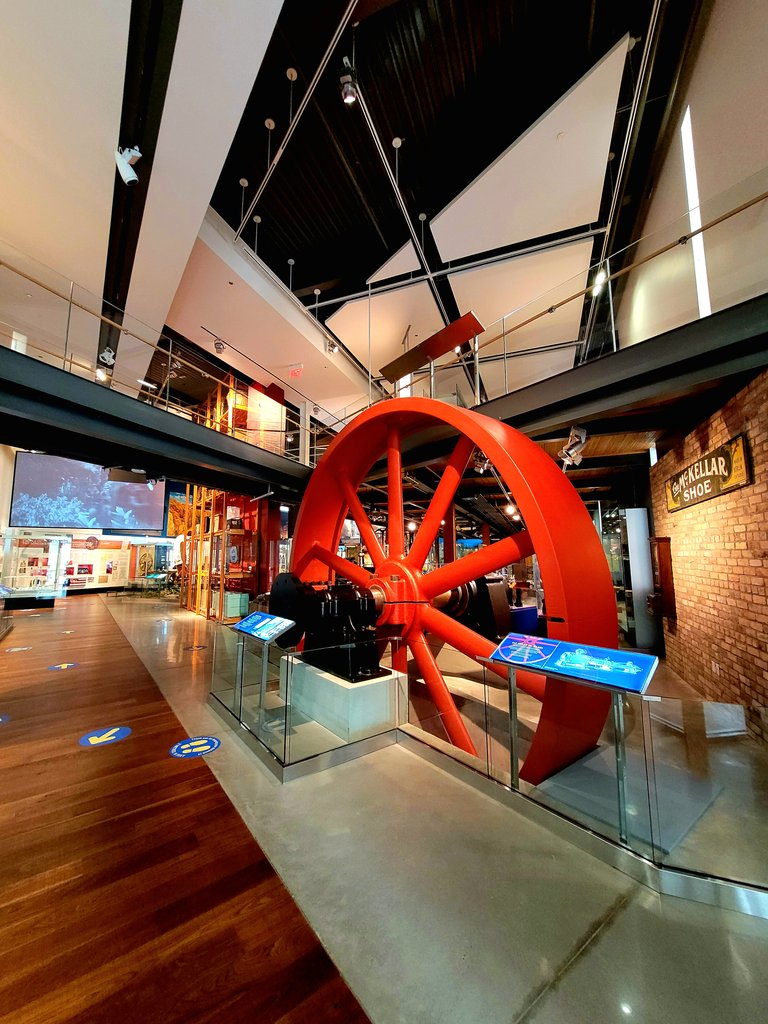 And after a little bit of walking around,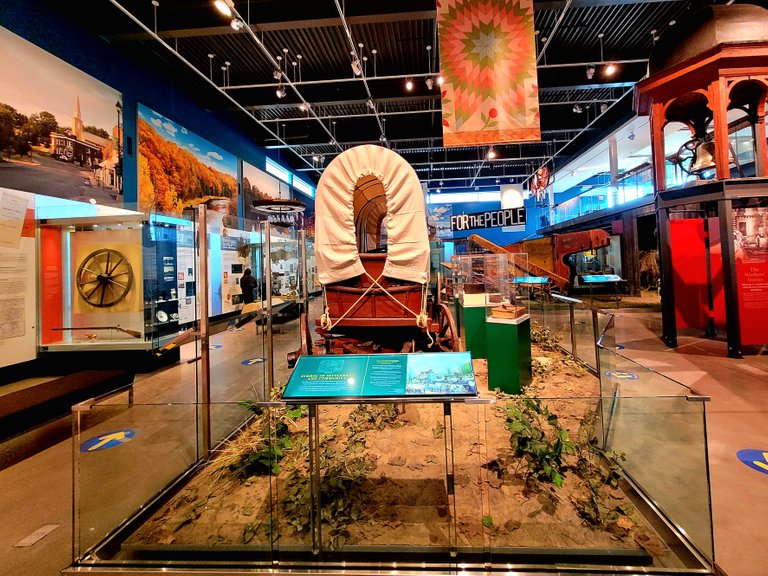 Explored some history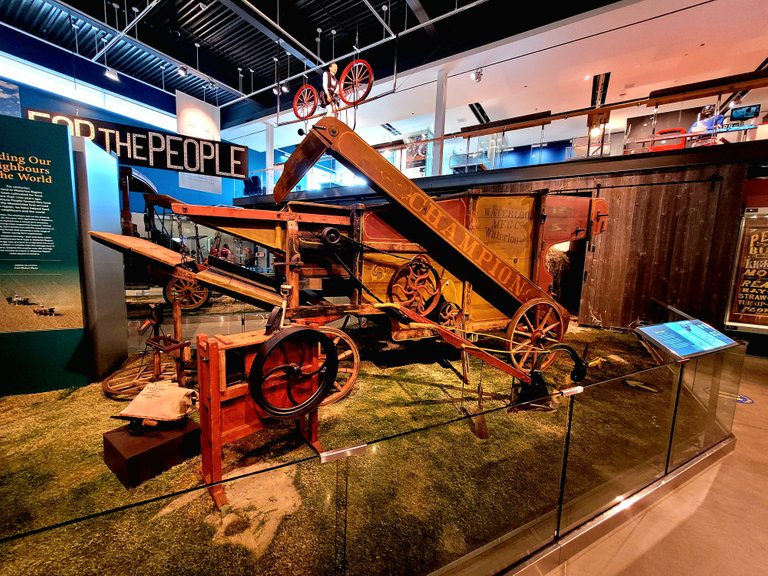 Of the agriculture,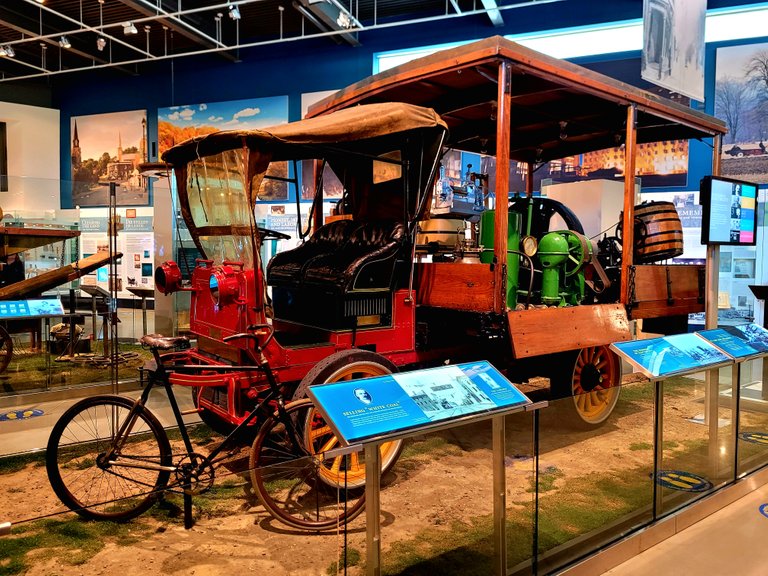 Some history of the Mennonites that used to live here,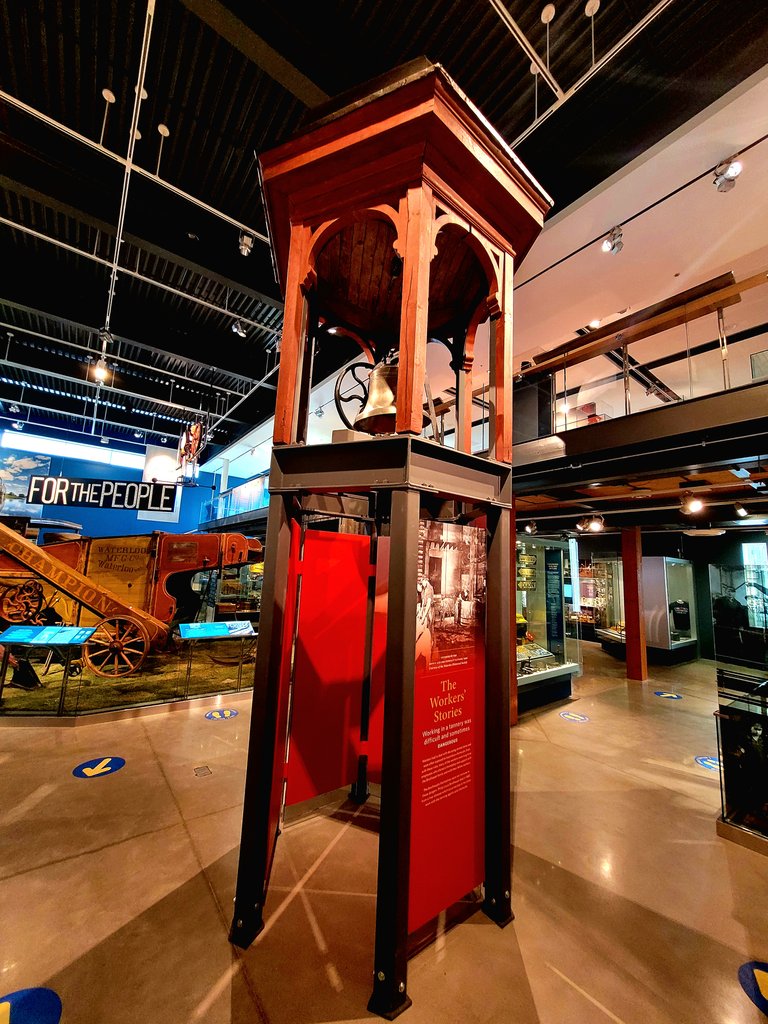 And history of the town of Berlin!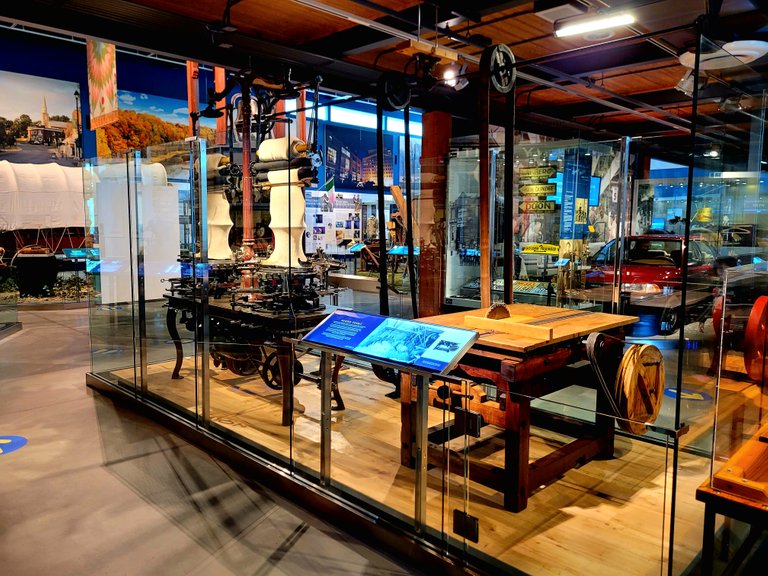 There was a ton of old machinery,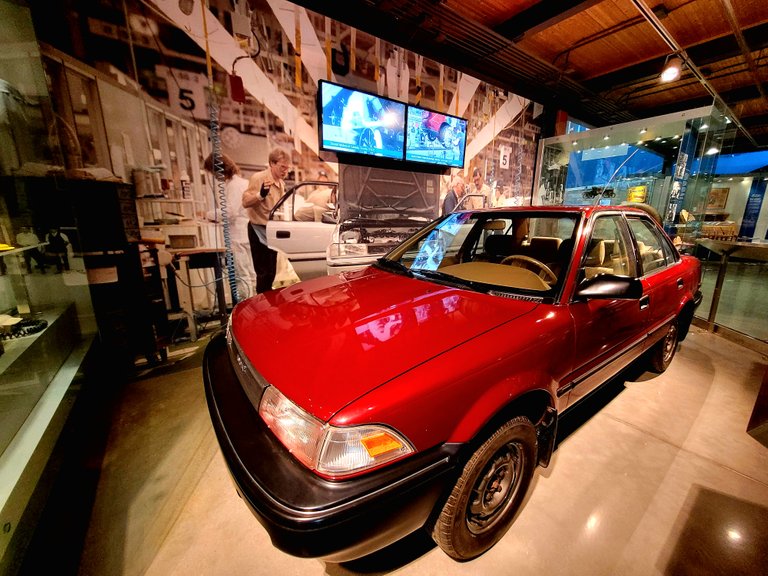 And even the first car produced at the nearby plant in Cambridge!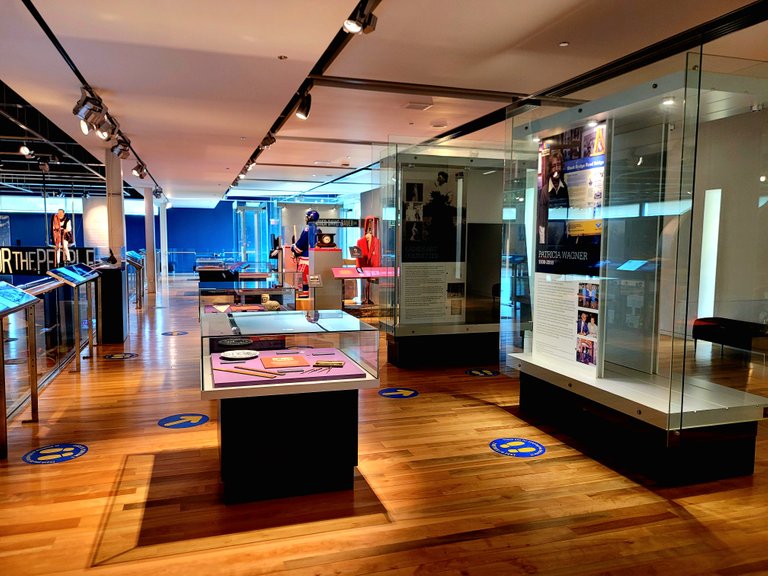 I headed up and checked out the Hall of Fame, and Waterloo War Memorial!
---
Doon Heritage Village
Onward,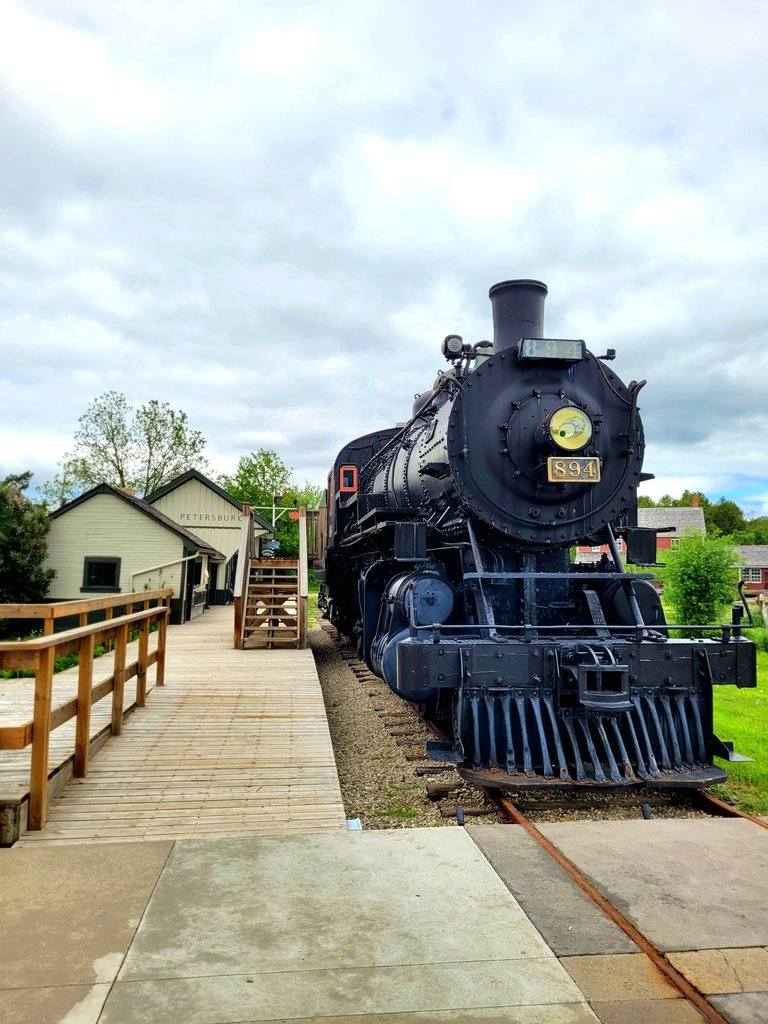 I journeyed through the Doon Heritage Village,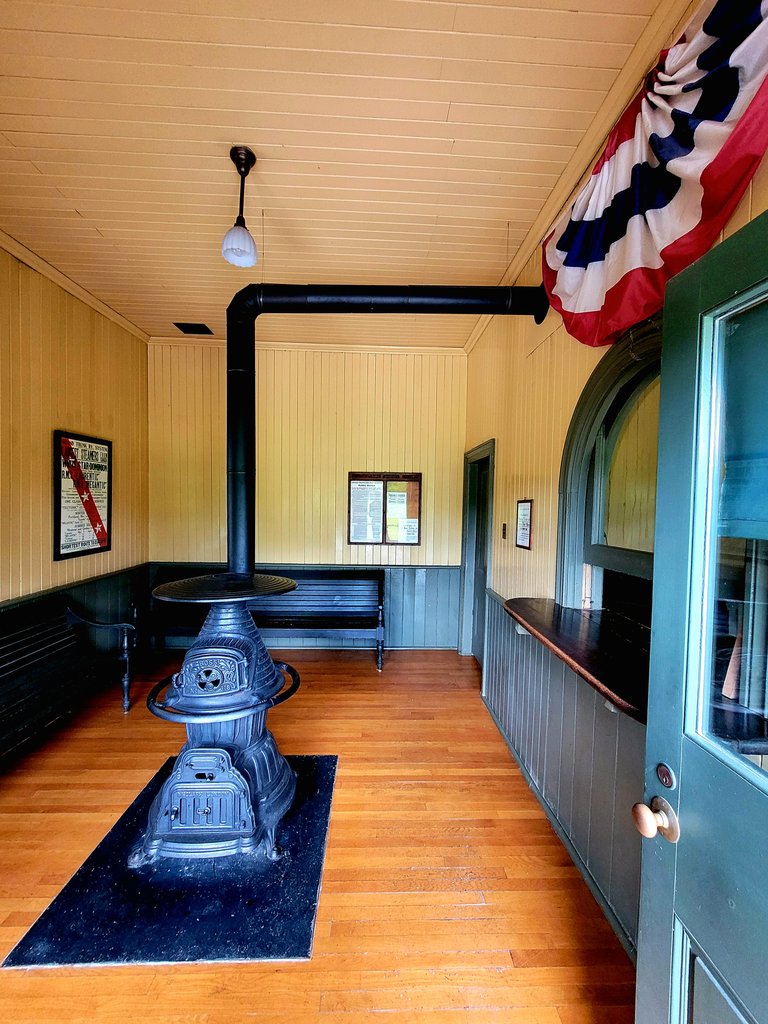 Starting off at the train station,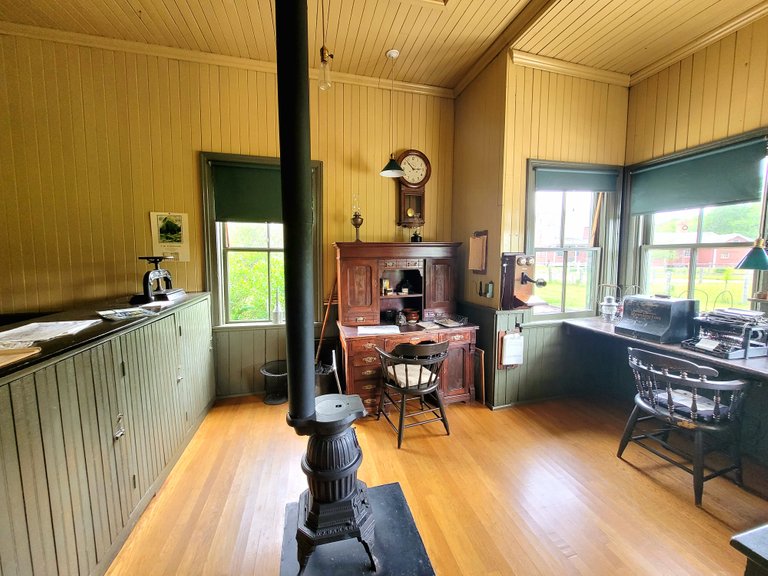 And exploring first, the Martin House;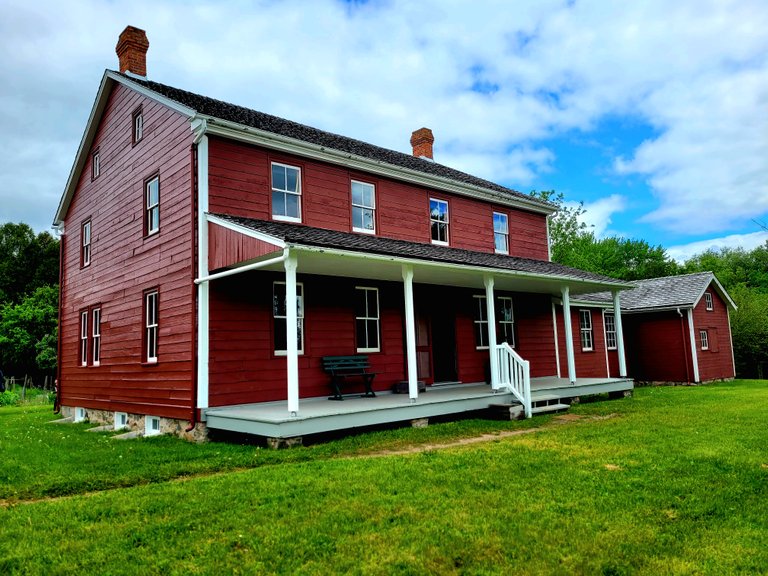 The inside was large,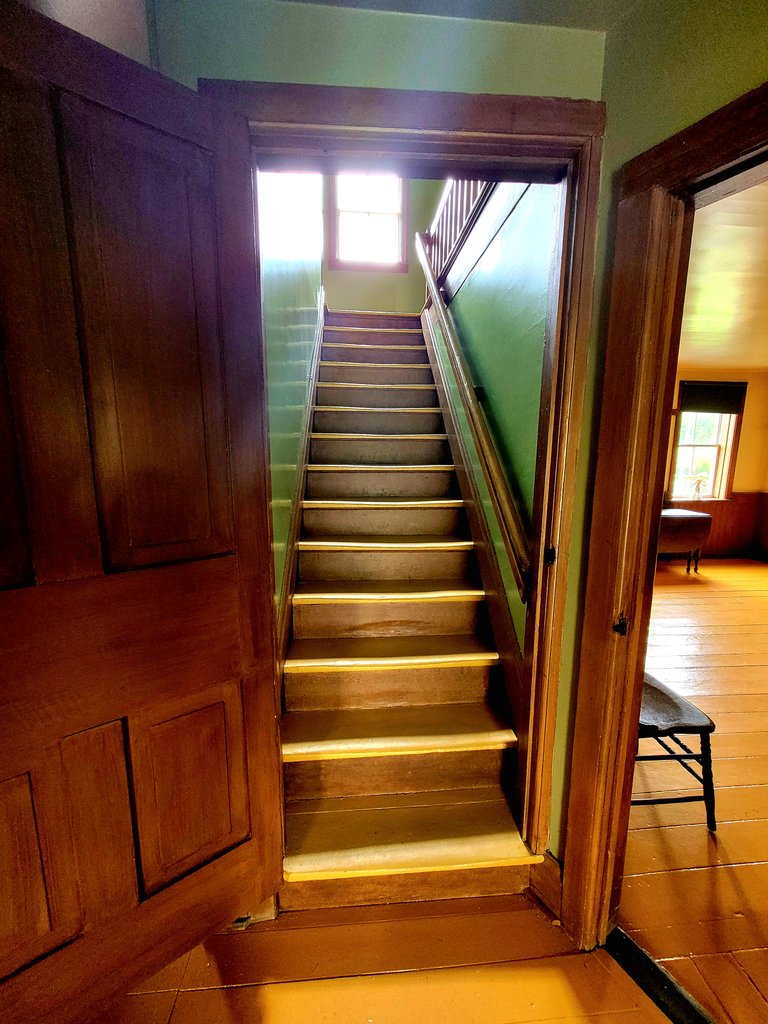 And there was plenty of rooms!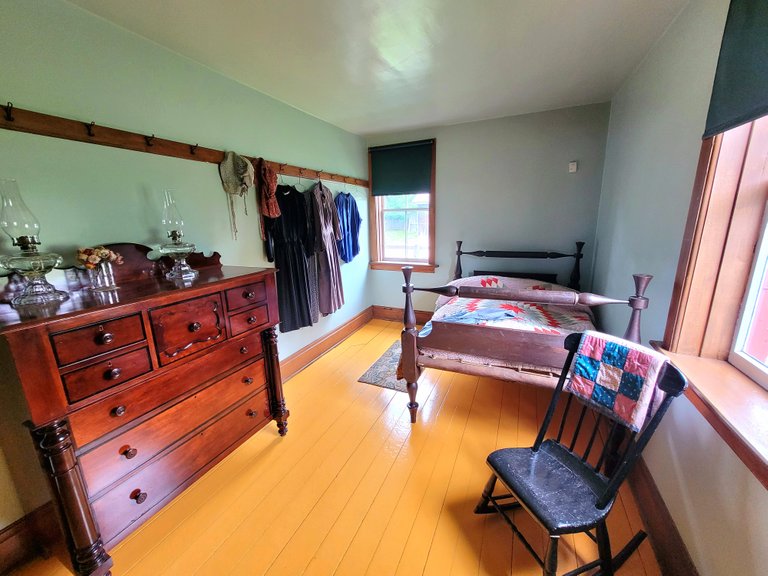 This old stove was over a century old!
And this summer cooking room was unique,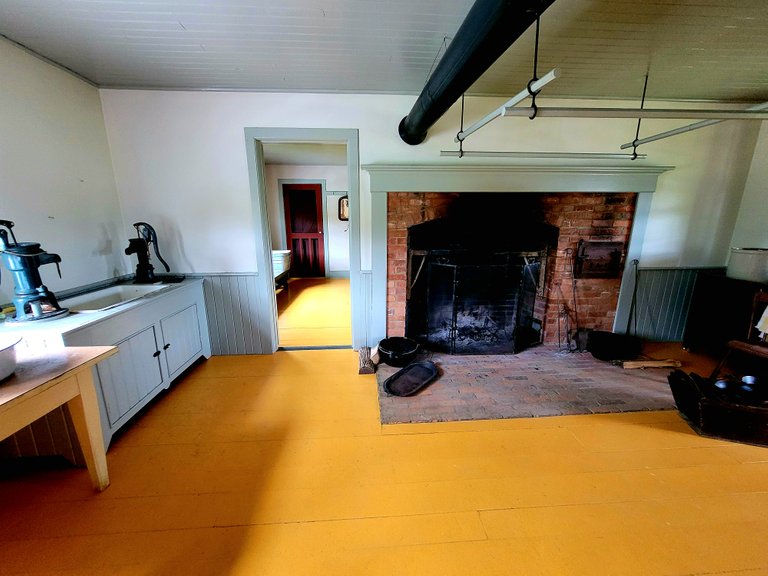 Continuing on,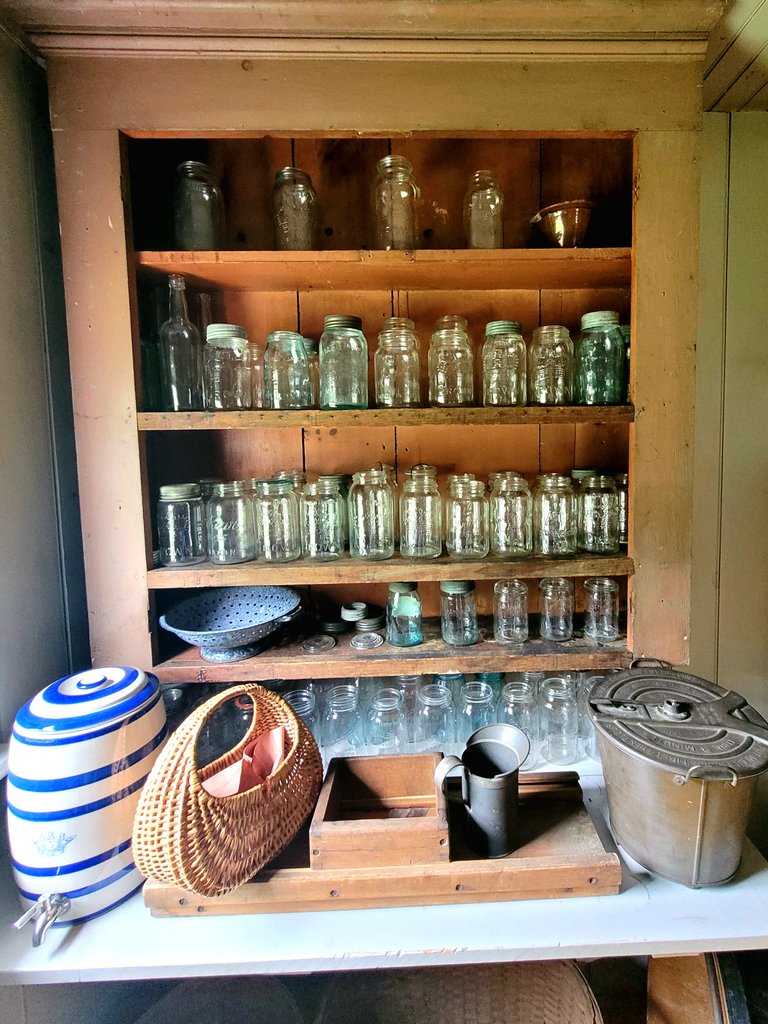 I passed through the wood storage,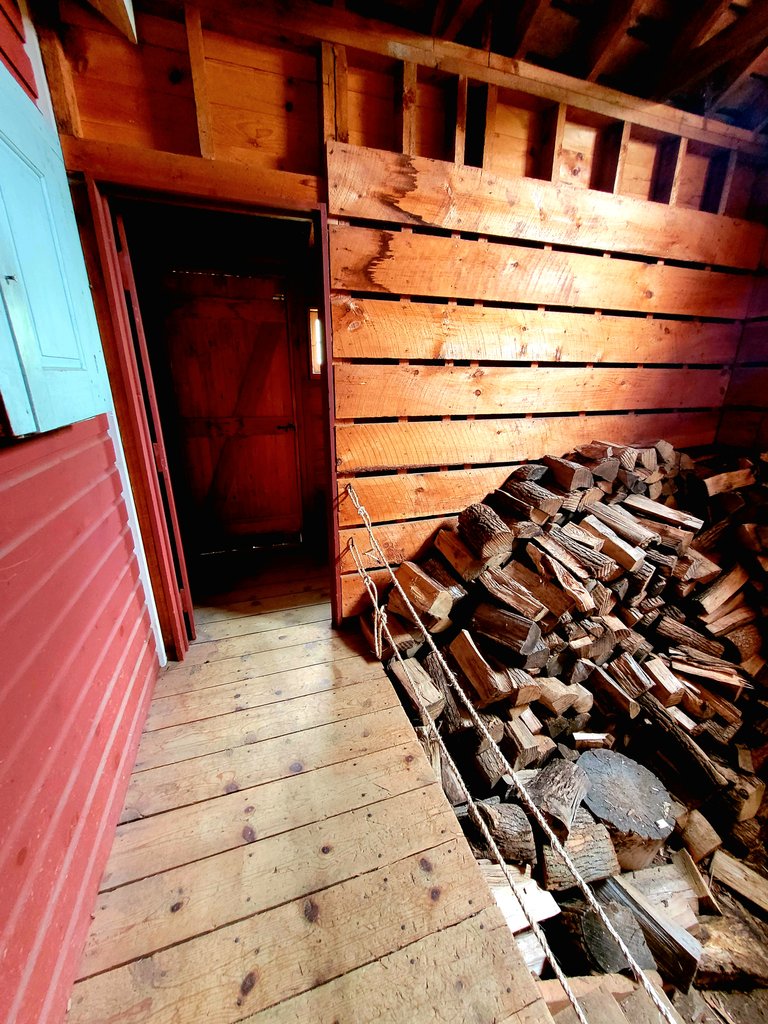 A water bilge,
And one more final bedroom!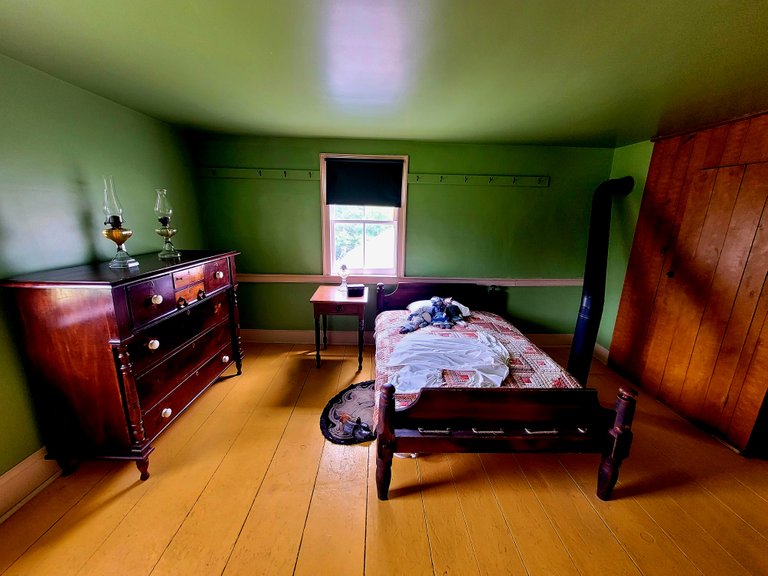 Checking out the barn in the back,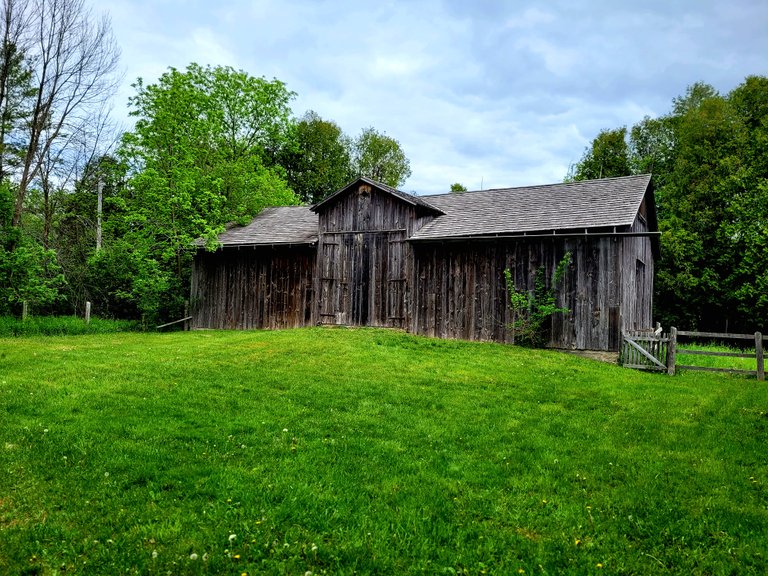 I continued,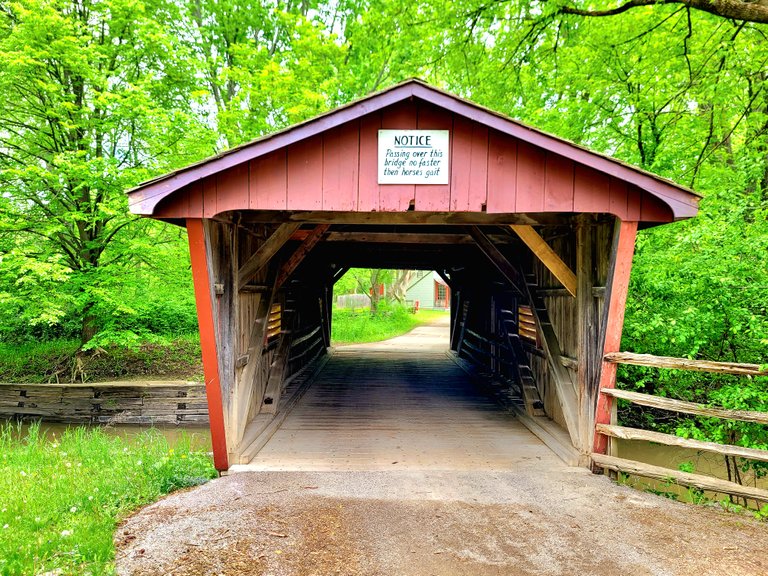 Through this beautiful covered bridge,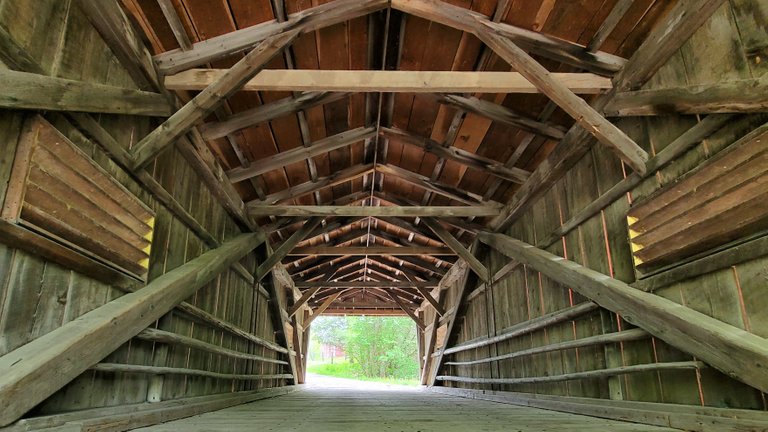 And past the weavery!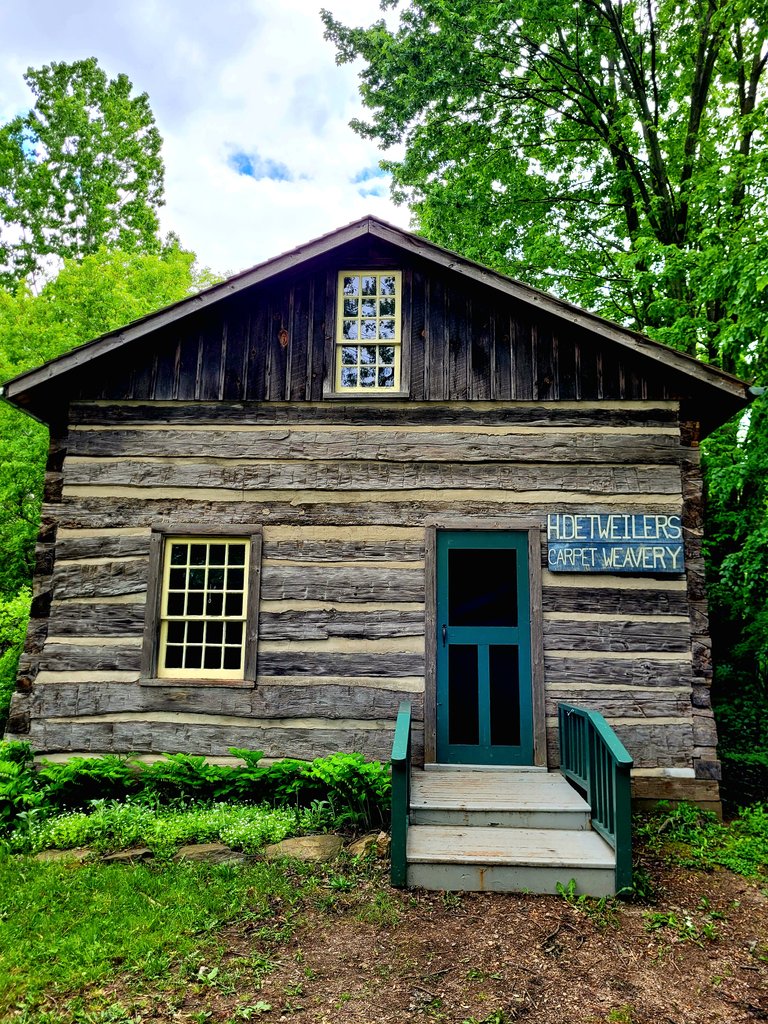 It was very interesting inside this place,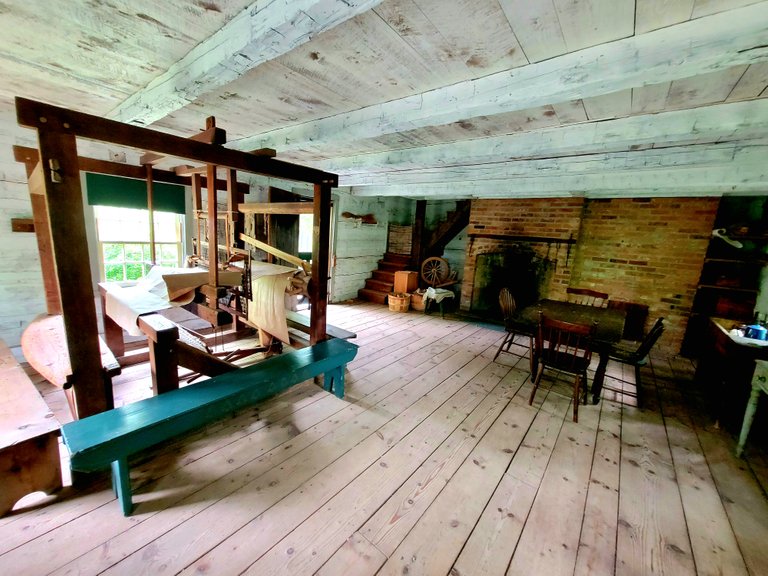 And looking down the ways,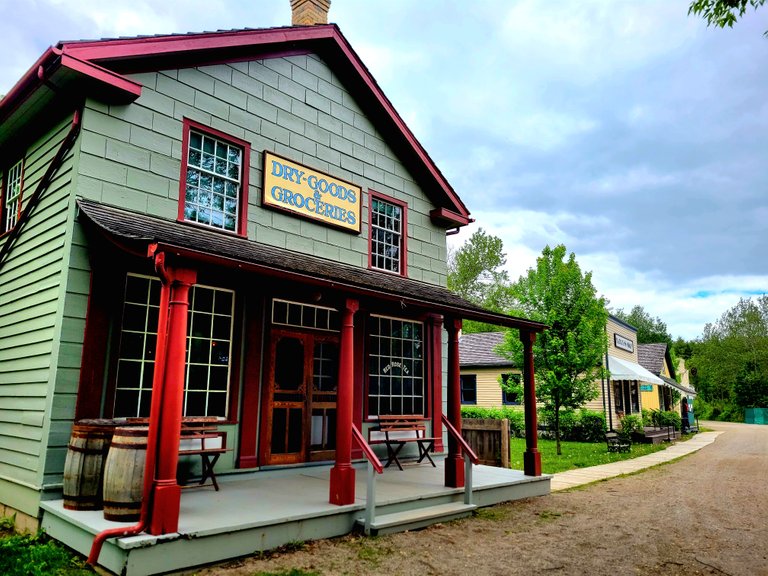 I entered the general store;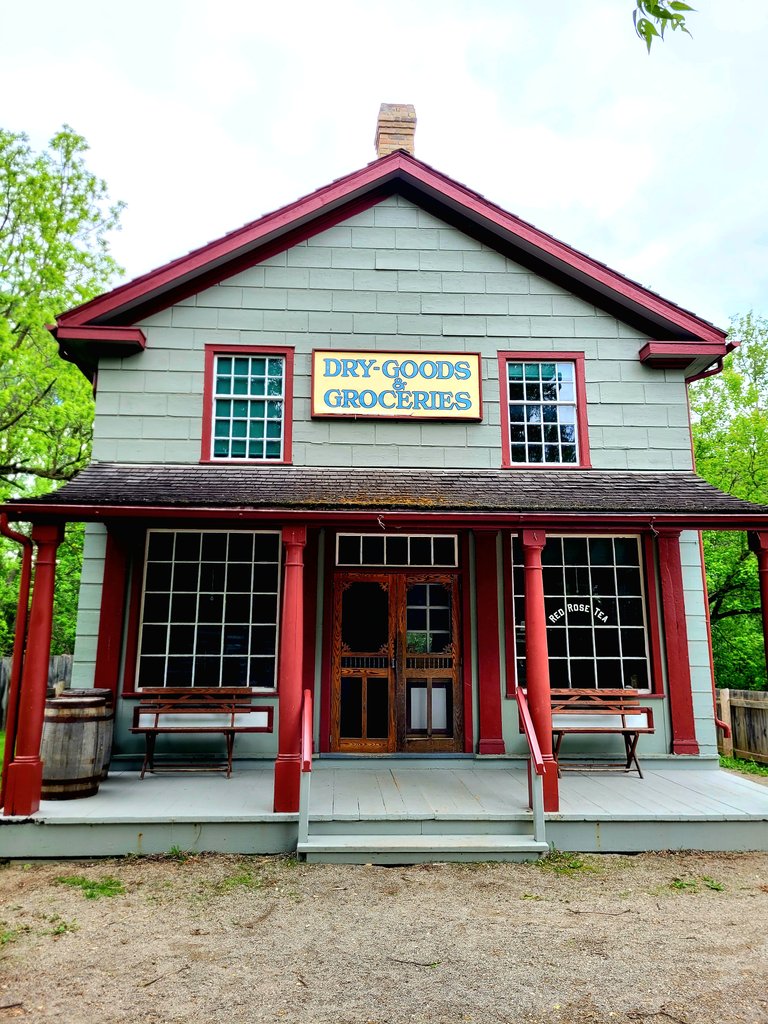 There was plenty of shopping essentials lining the walls,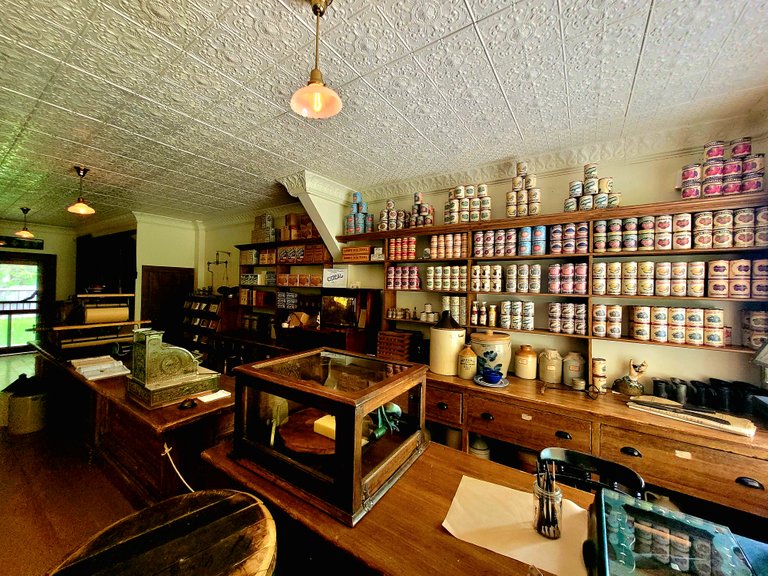 And general goods along the latter,
Coming out, I was across from Jubilee Park,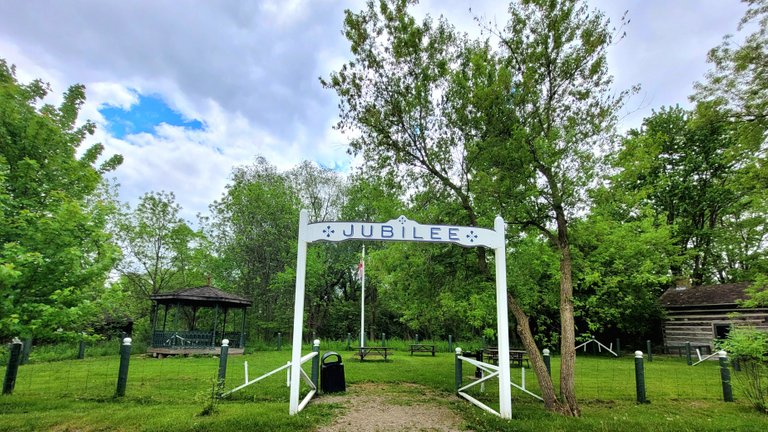 With a row of old buildings beside!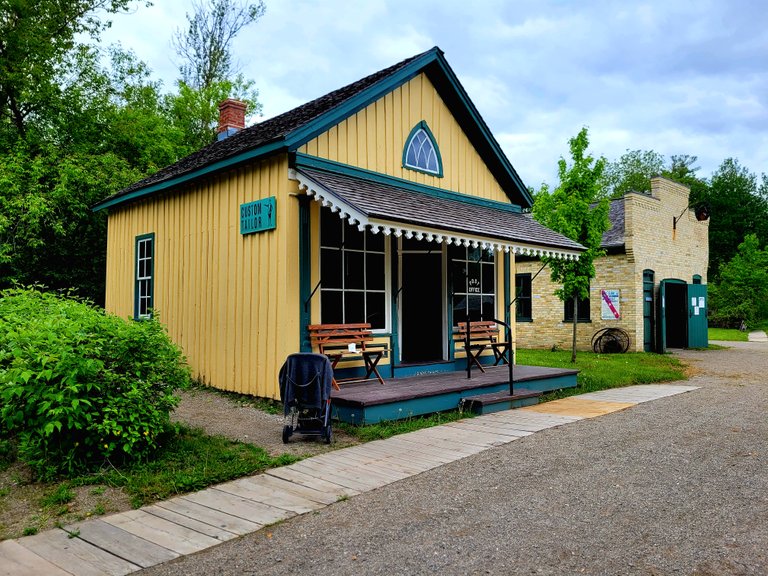 I entered the Harness Shop!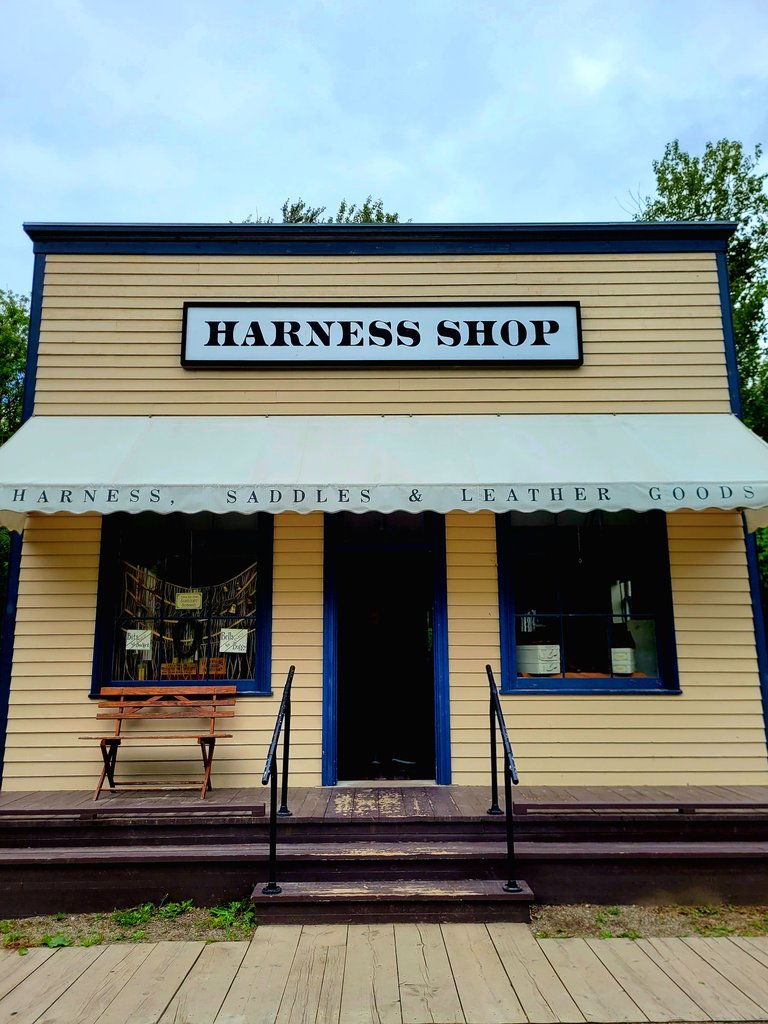 There was a lot of product hanging along the wall and roof in here!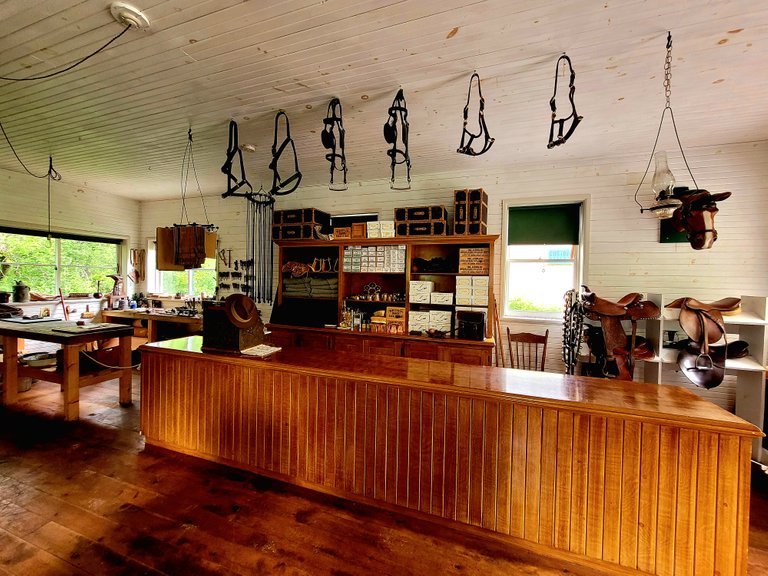 And lots of work had clearly been done here!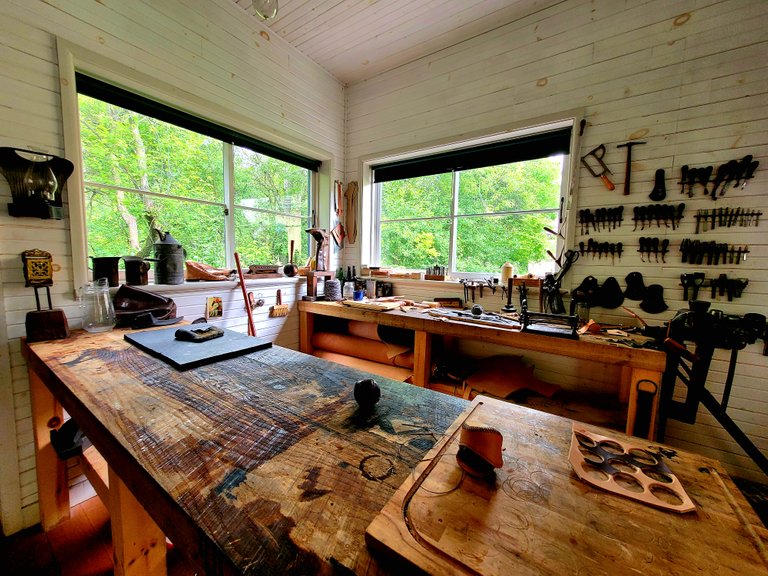 Entering the Post Office,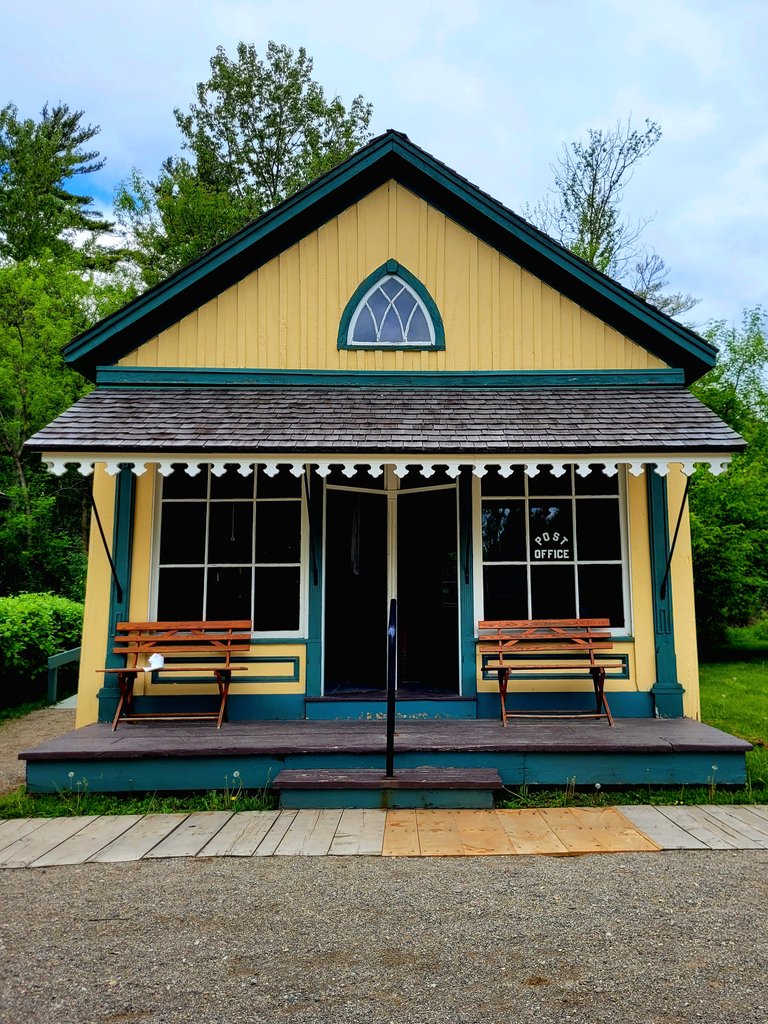 I passed the front entryway,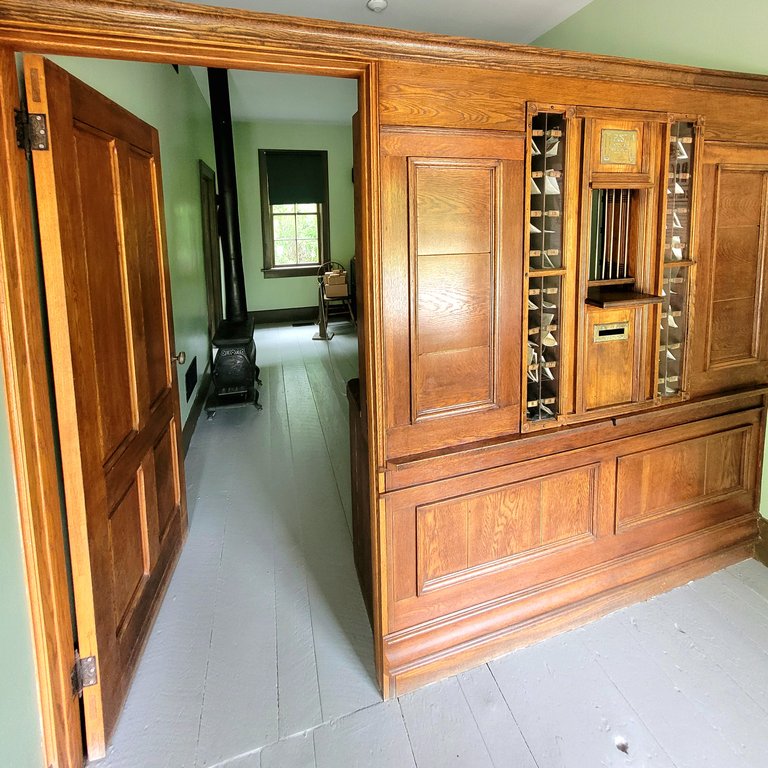 And mail pickup,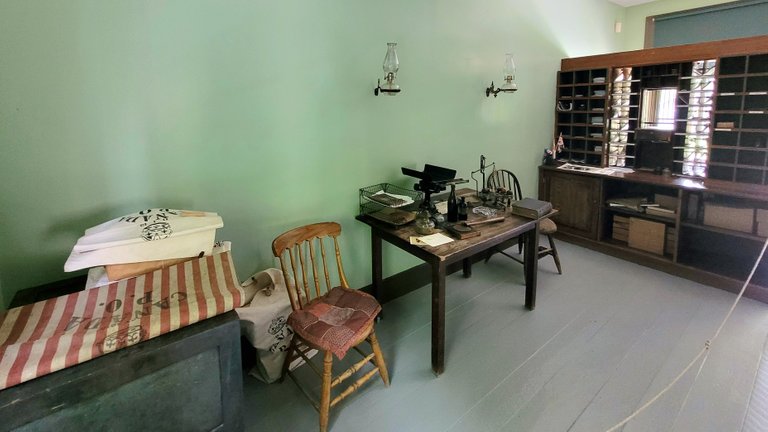 Checking out the Tailor Shop also attached,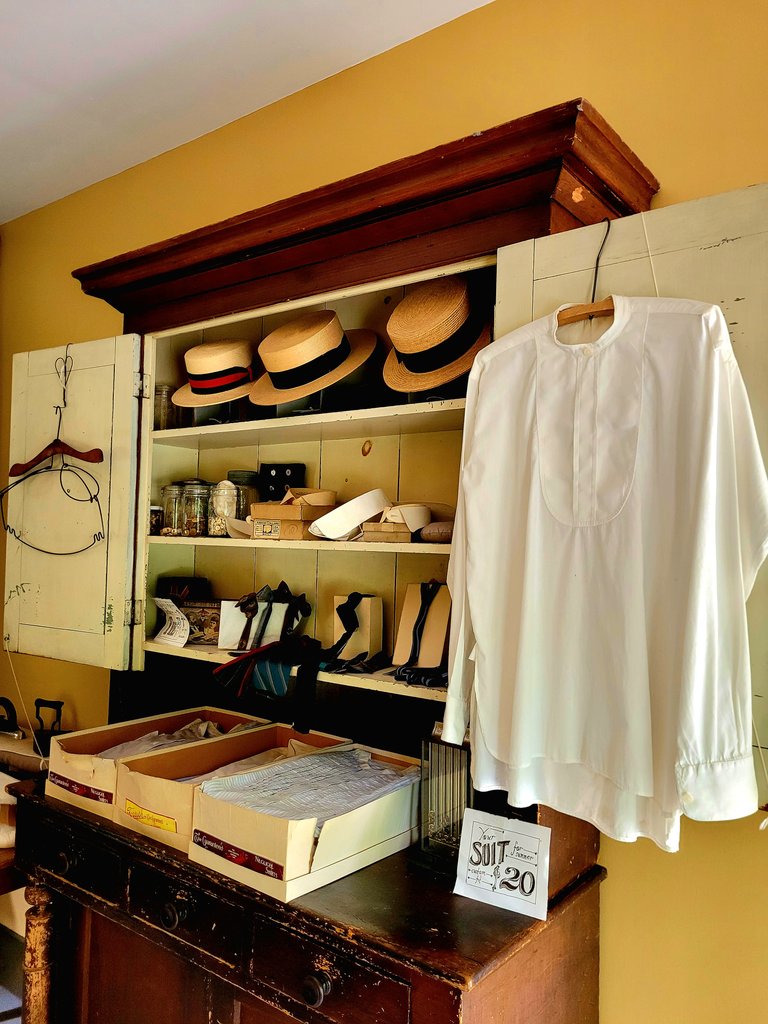 Eventually reaching the Blacksmith Shop!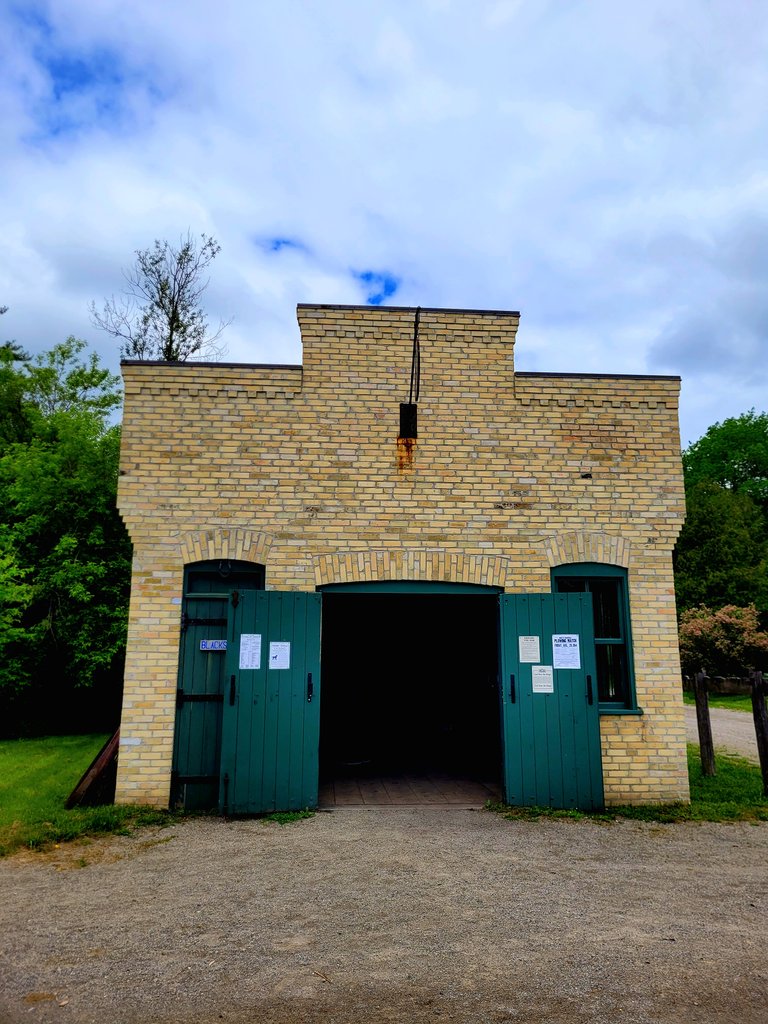 It was awesome to see someone working away at the anvil!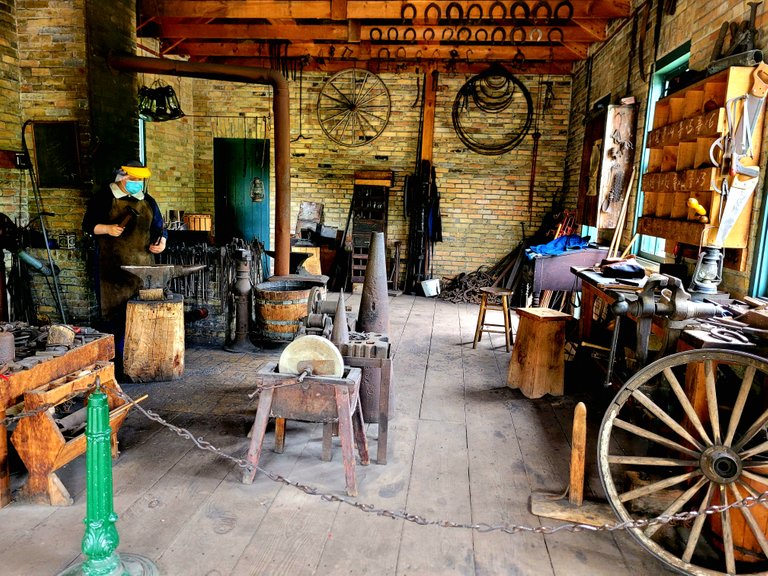 Next was the Meat Market,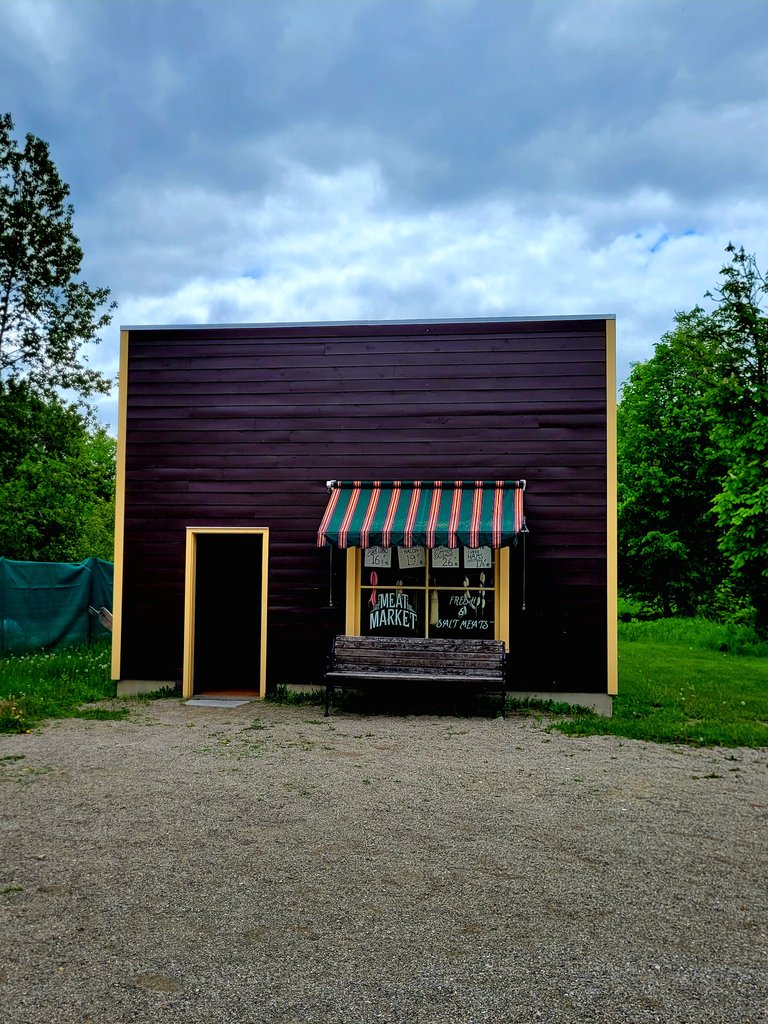 And showing the front,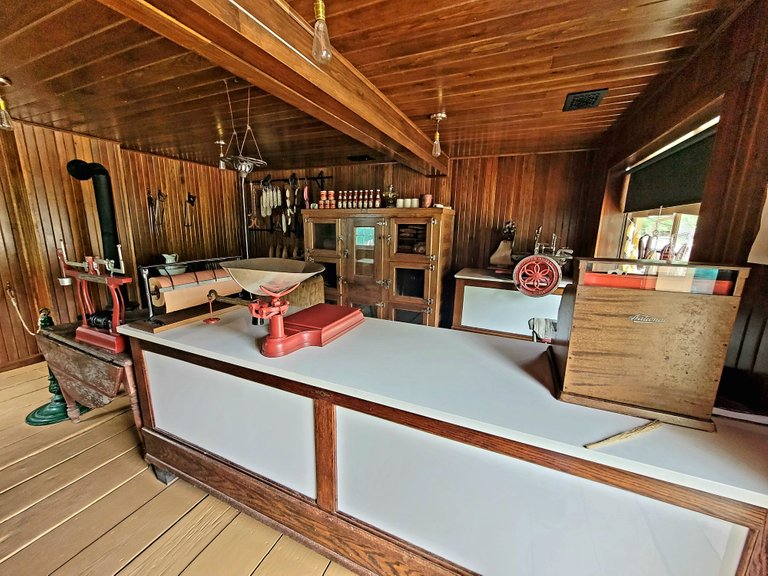 The butchering was done at the back,
Across the ways, the McArthur House,
And showing inside,
There was also another beautiful century-old stove!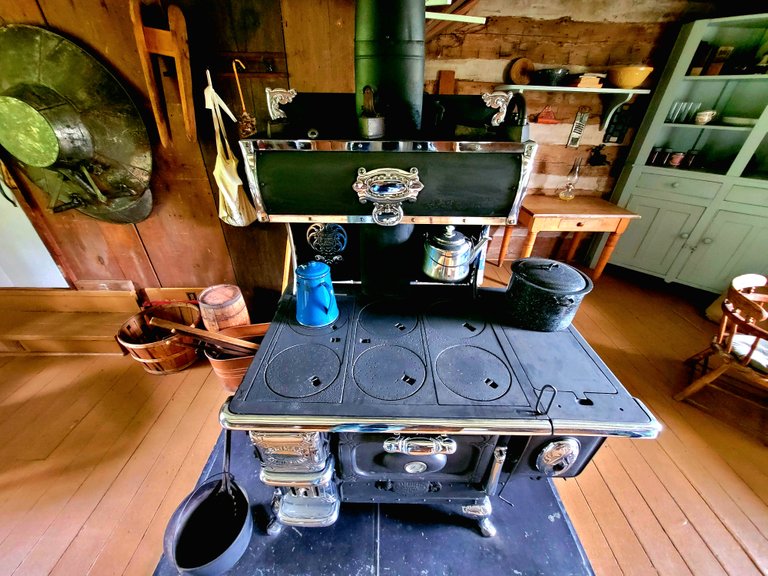 This was a beautiful room I thought!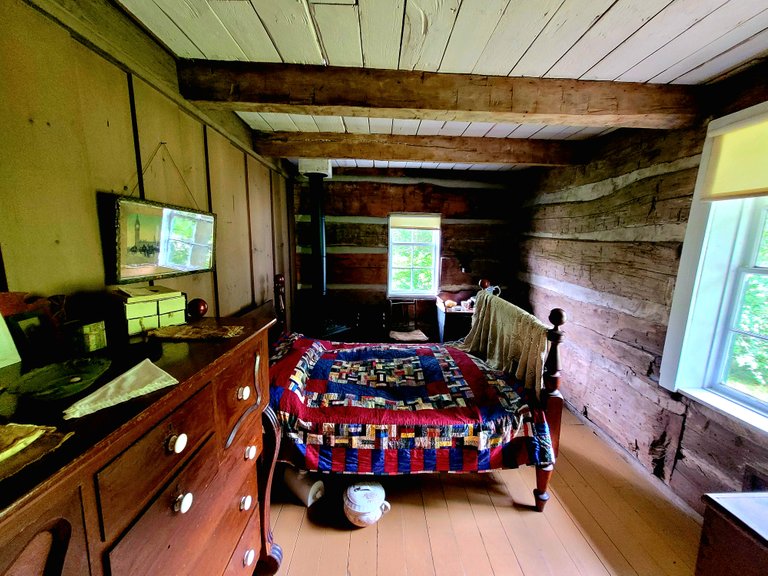 Heading up next to the Sararas House,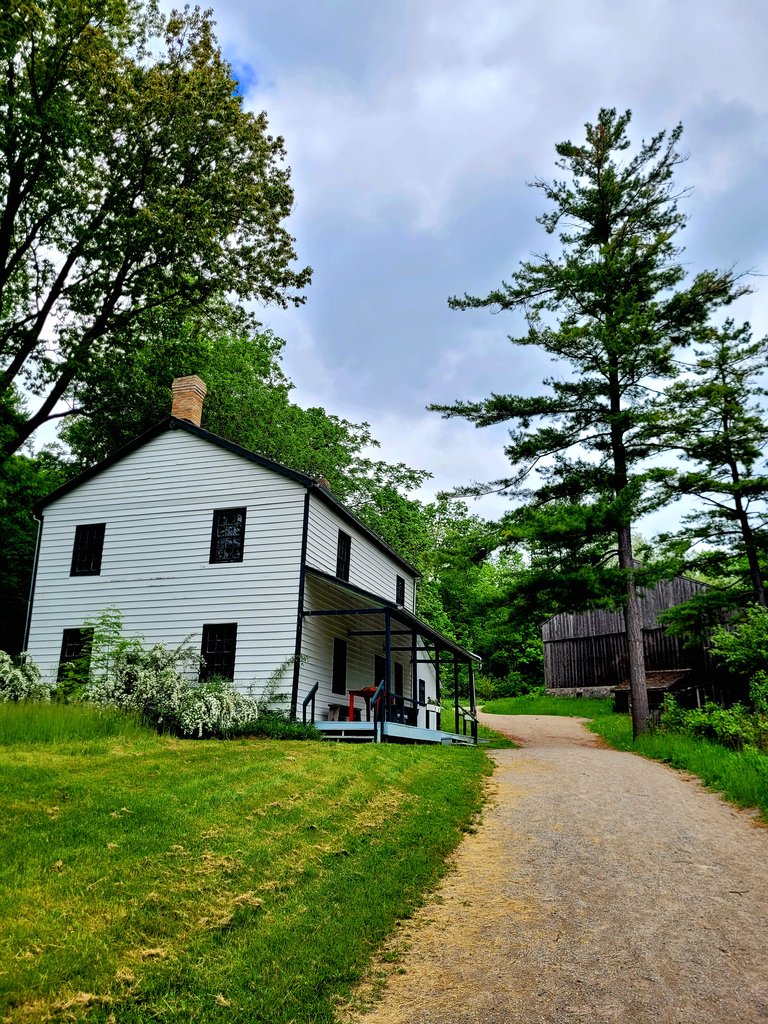 I snapped a shot of the front,
And headed inside to explore,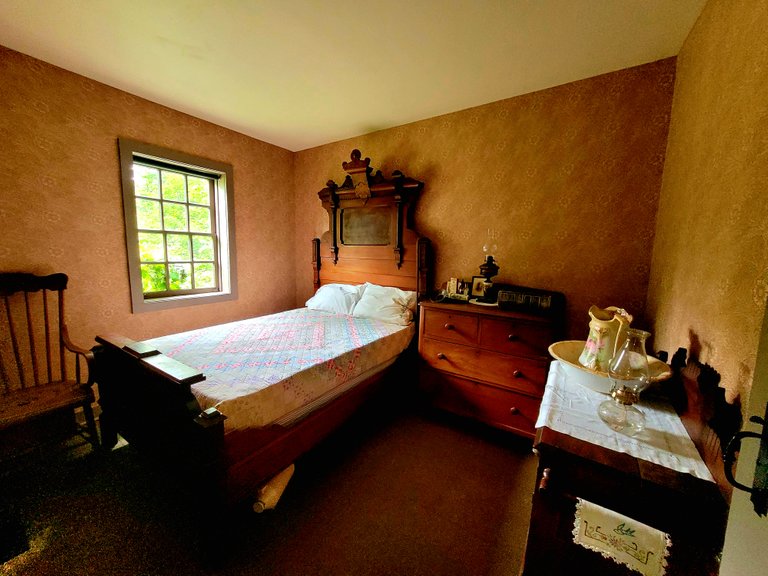 Seeing the bedrooms,
Kitchen and upstairs,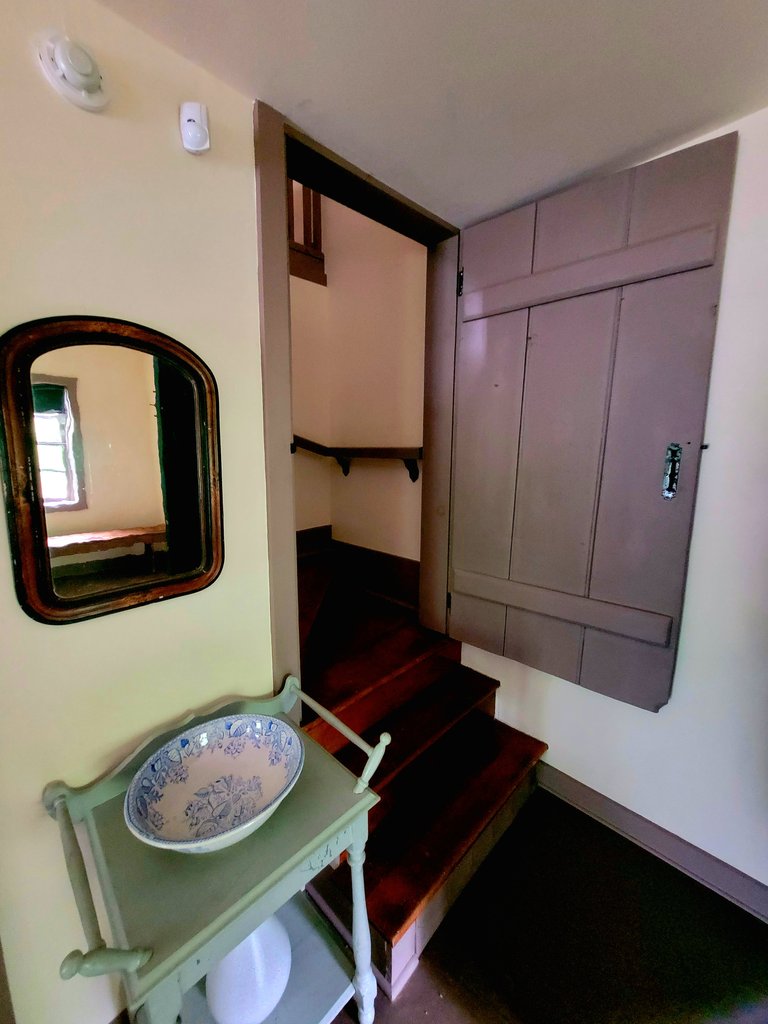 Leading to some other bedrooms,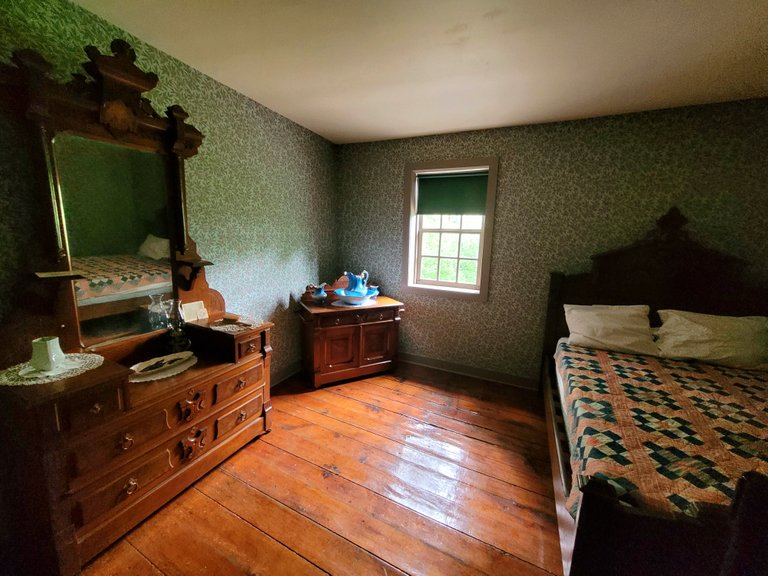 And eventually, walking up to the barn behind,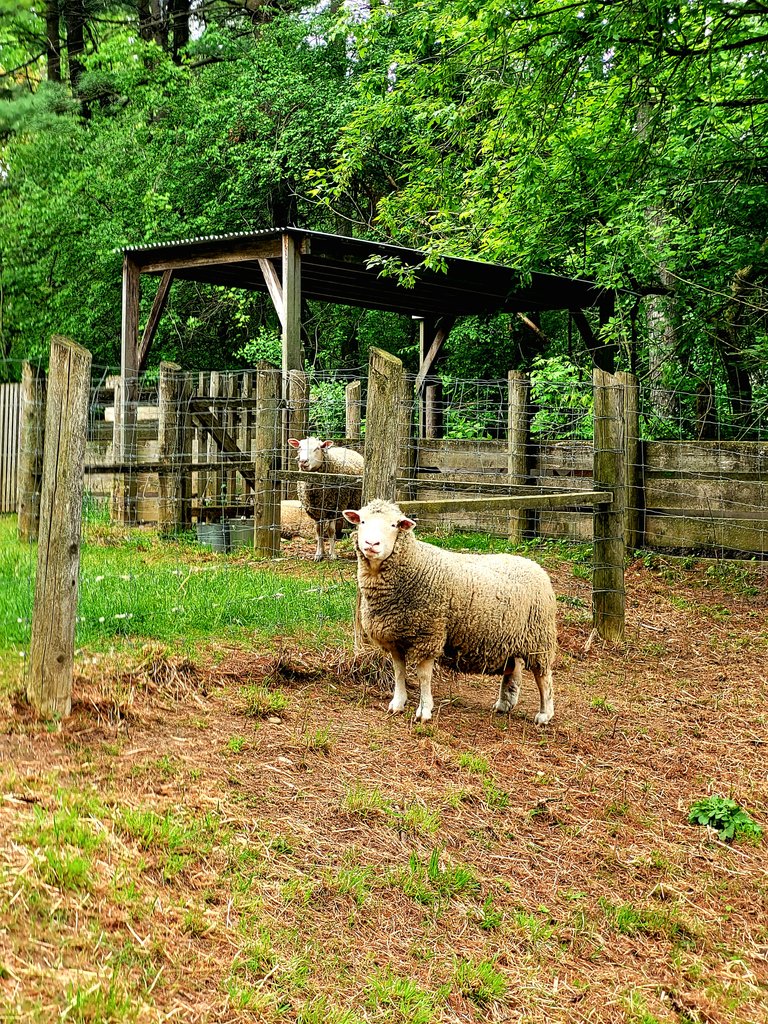 Encountered some friendly sheep!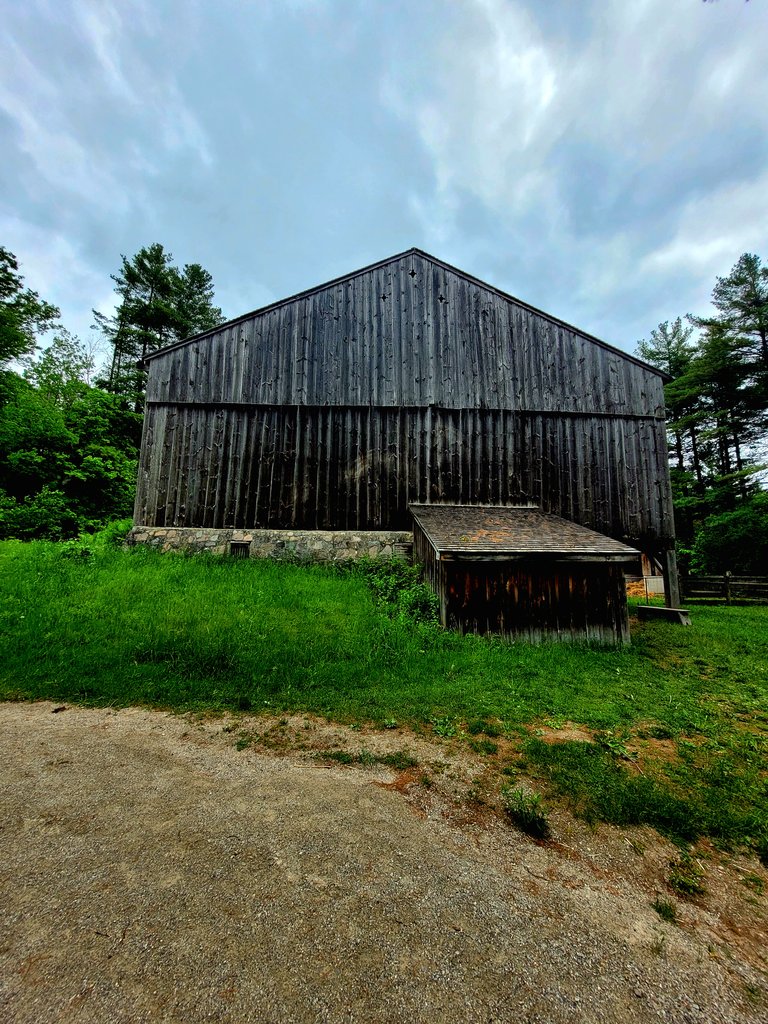 I checked out up top,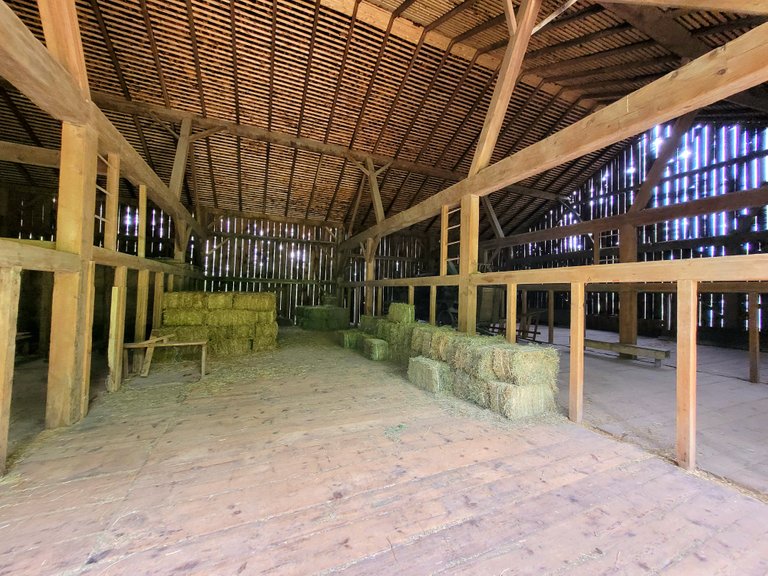 And found some old farming equipment,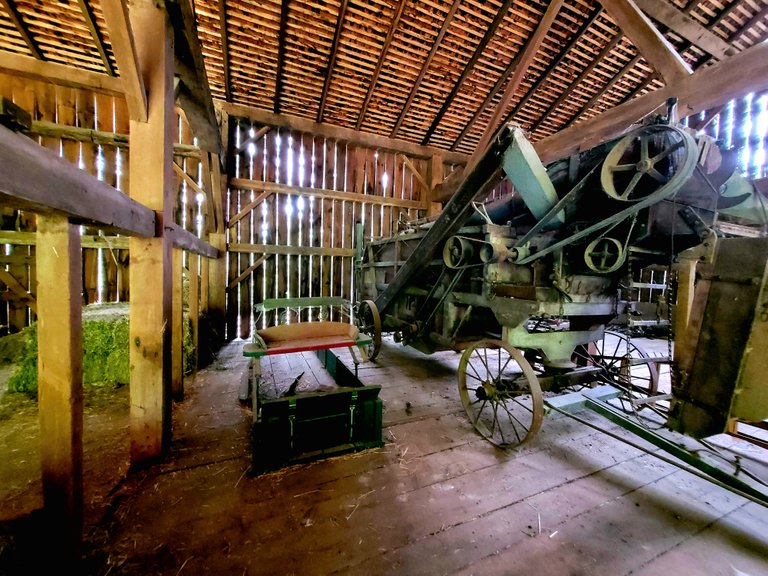 Then went down and said hello to the friendly cows,
And pigs!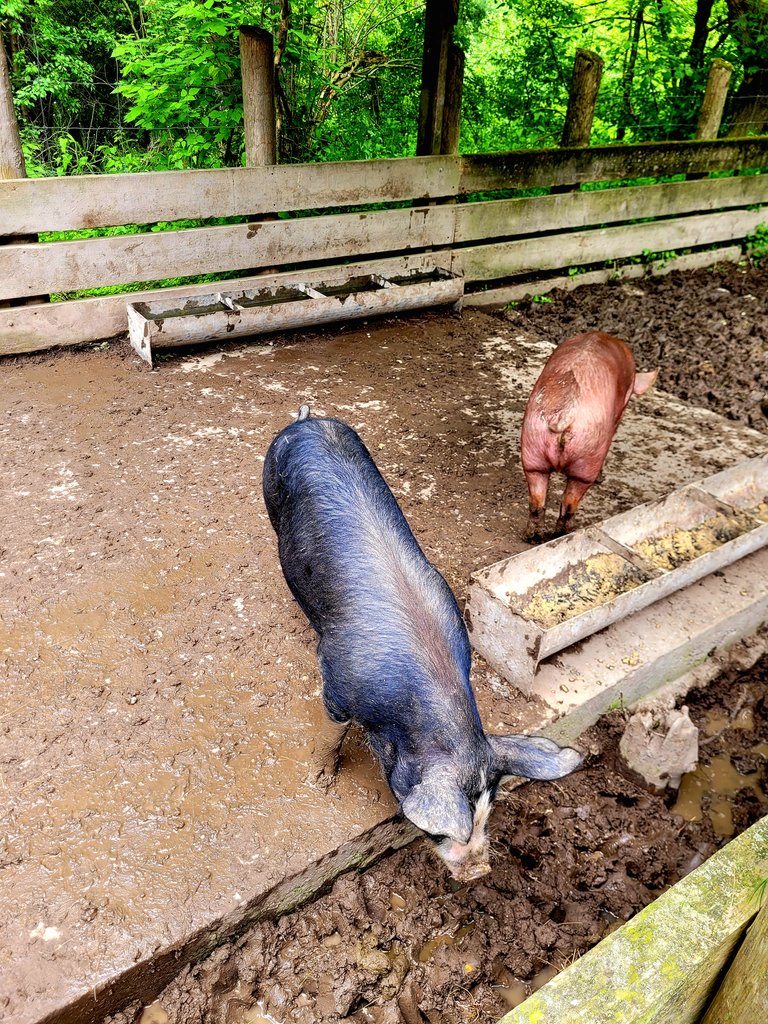 The barn was so cool!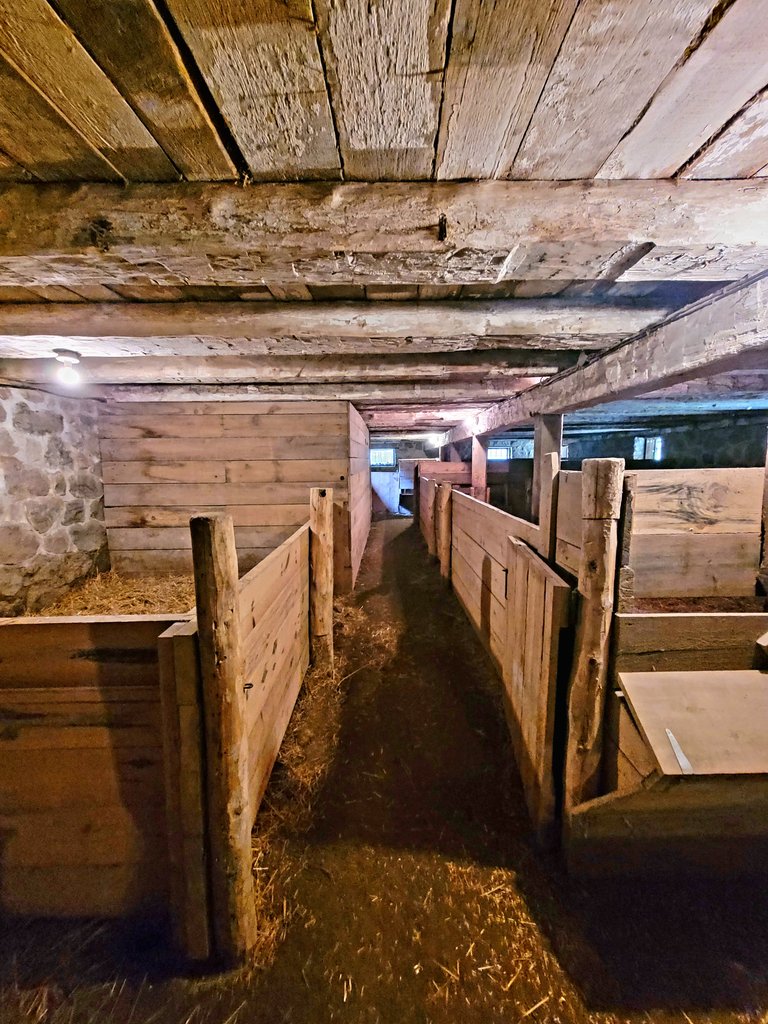 Next, I walked up,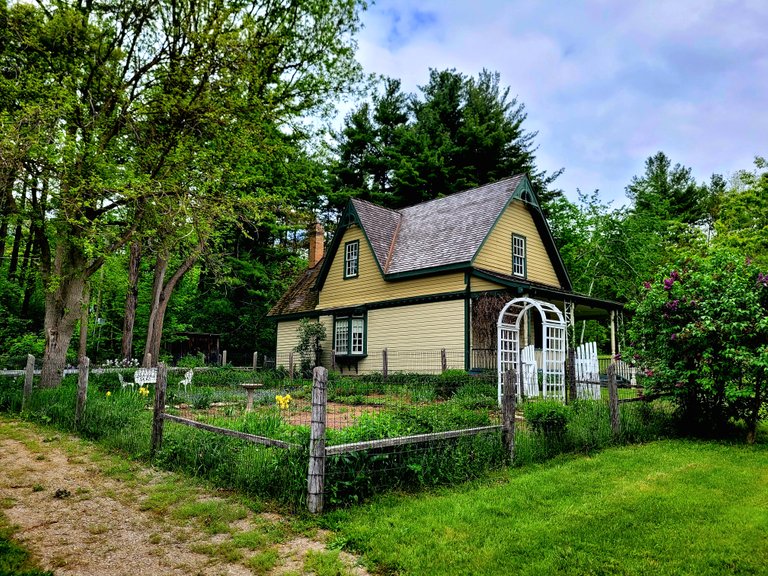 To the Seibert House!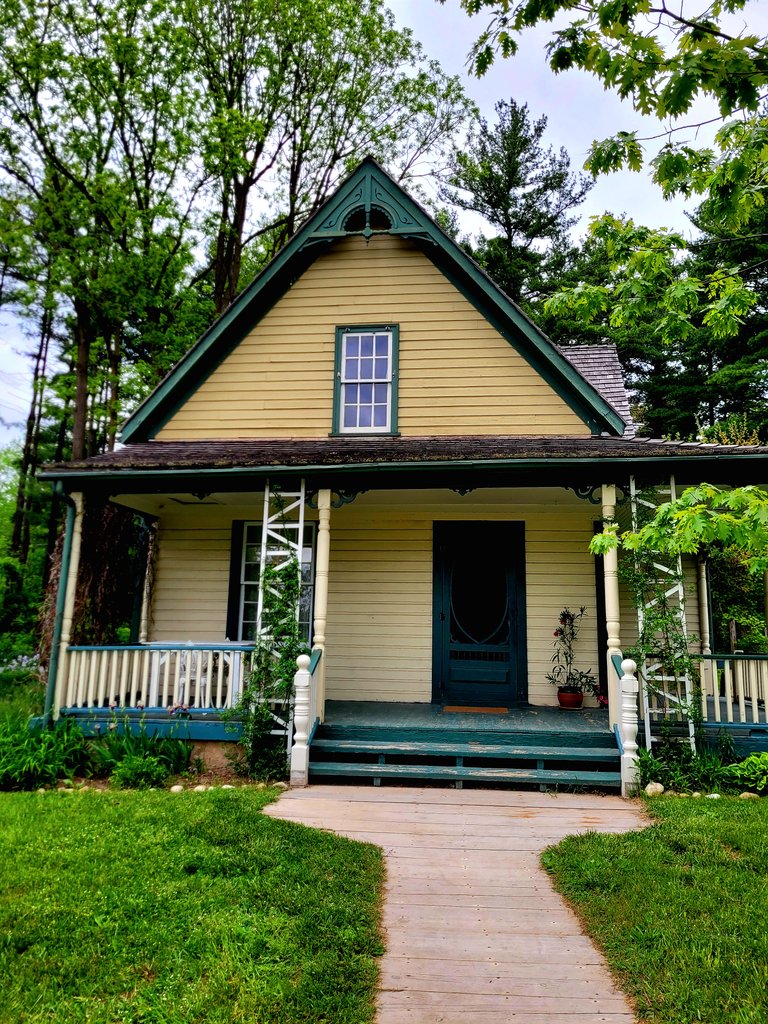 This house had a beautiful design and interior,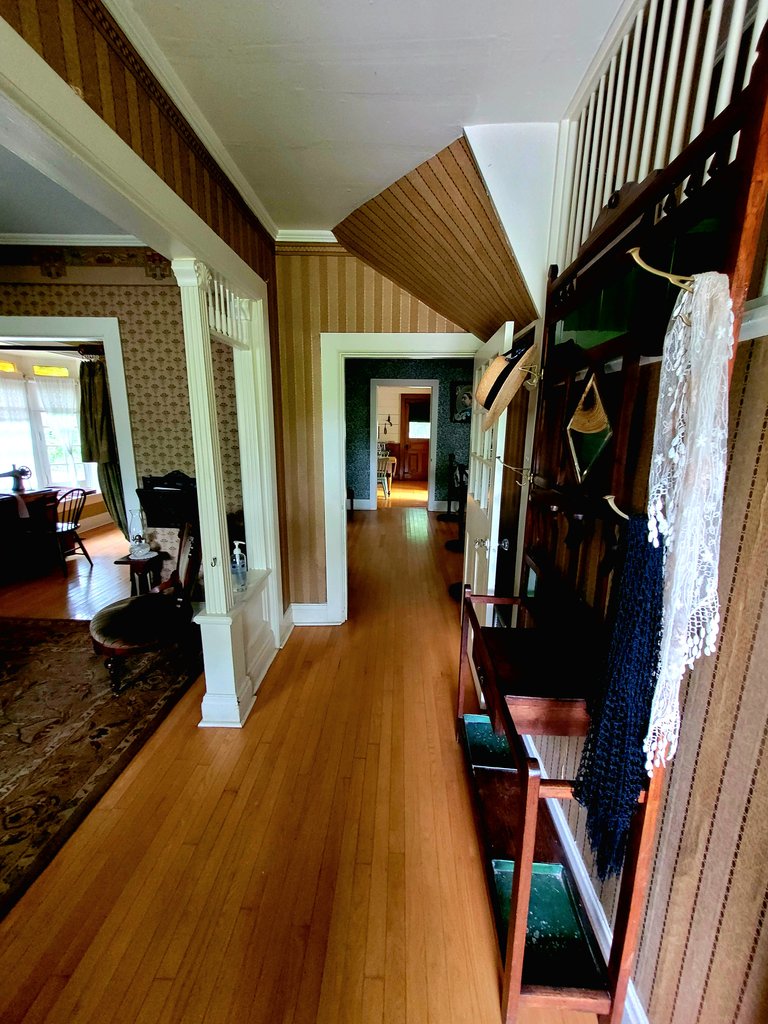 And a fancy organ to match!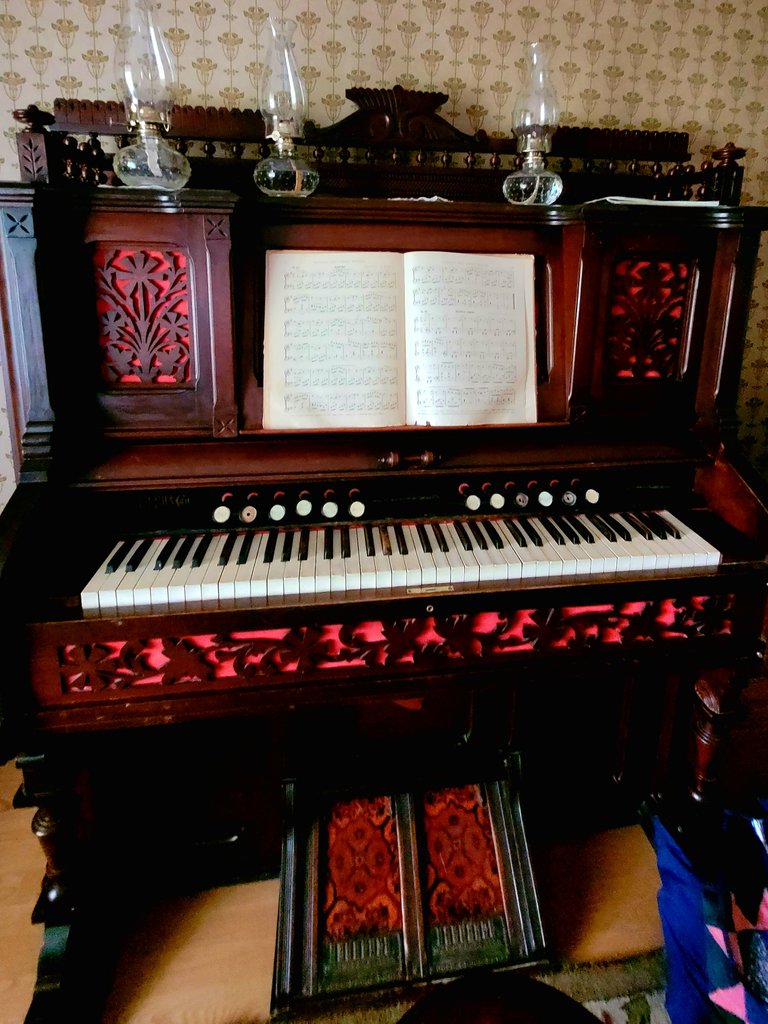 The dining room was beautiful,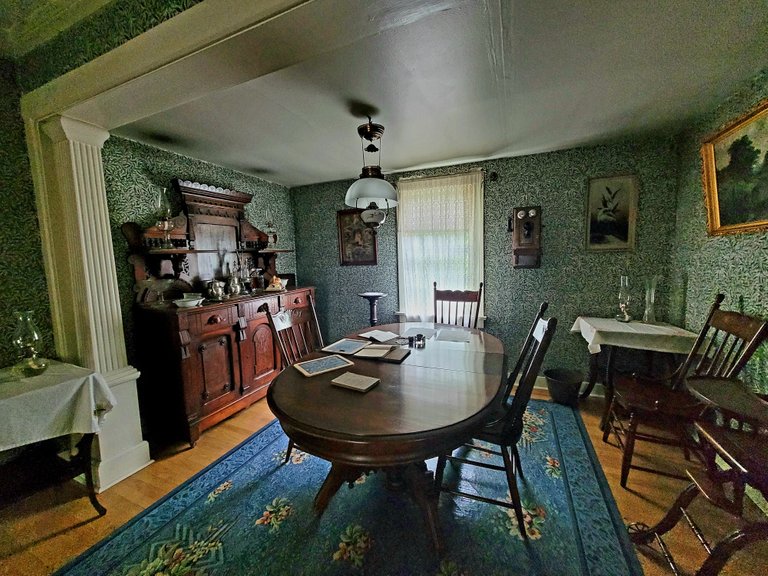 And the kitchen, cookable!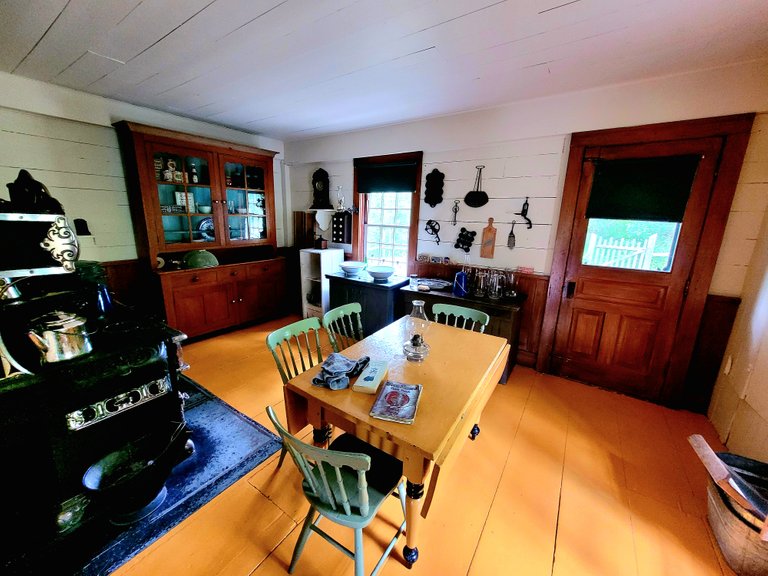 Next was the Freeport Church,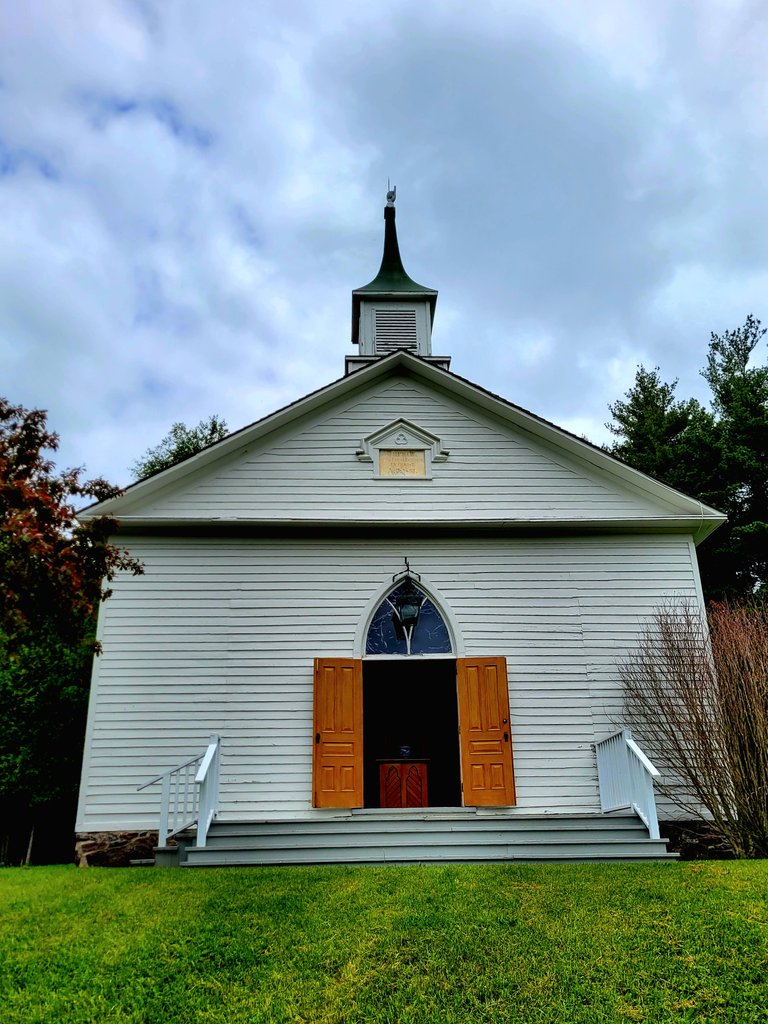 With a beautiful interior!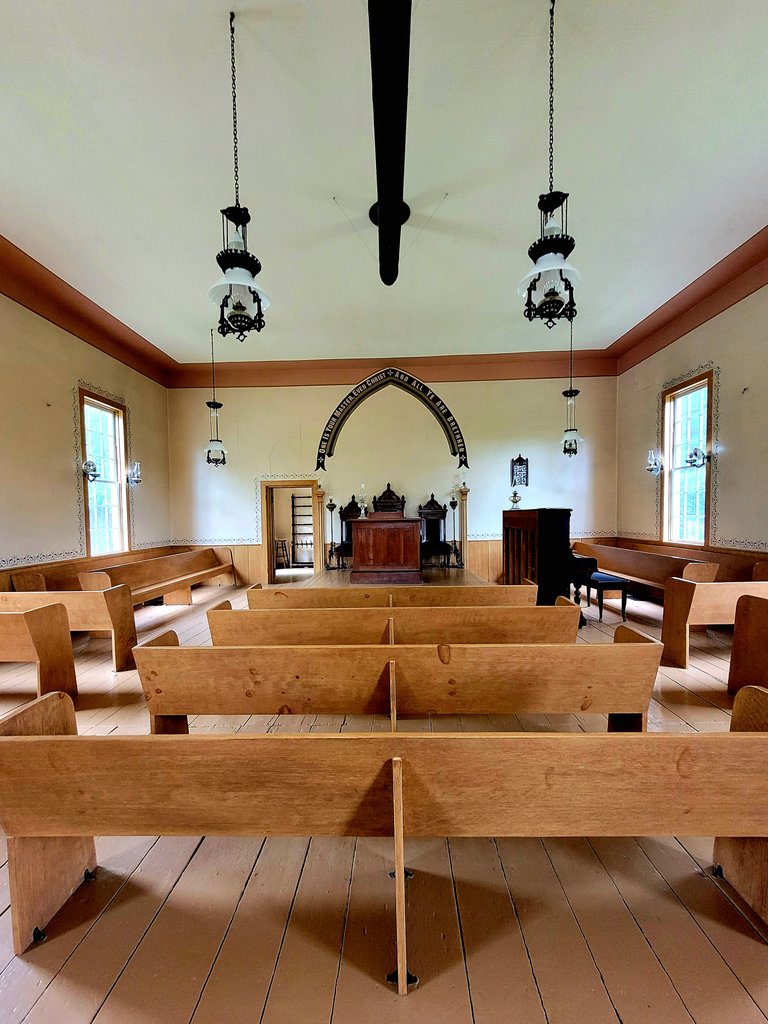 And with one final walk, checked out the heritage Fire Hall
To finish off this excursion at Dan Seiling Museum - Doon Heritage Village!
---
Schneider Haus and Village
Next, I headed on way to Schneider Haus National Historic Site and Village museum to do a walkthrough of this old piece of German heritage,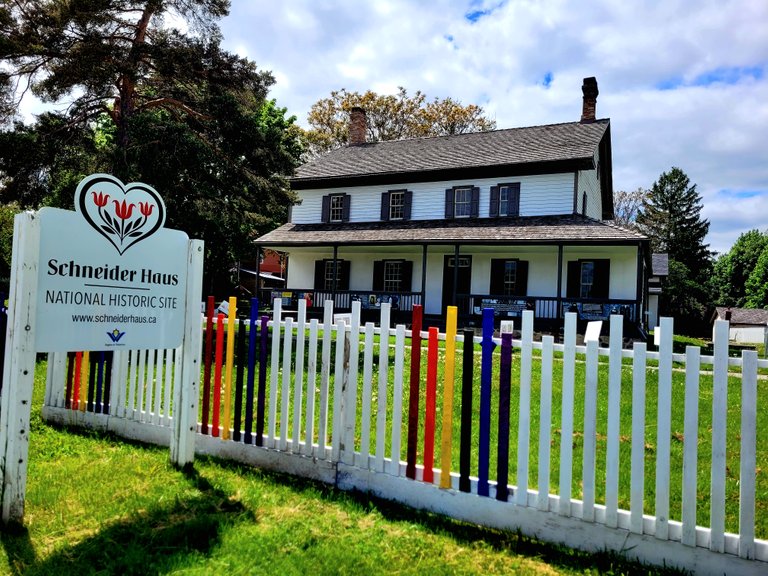 I headed to the historic house around the side,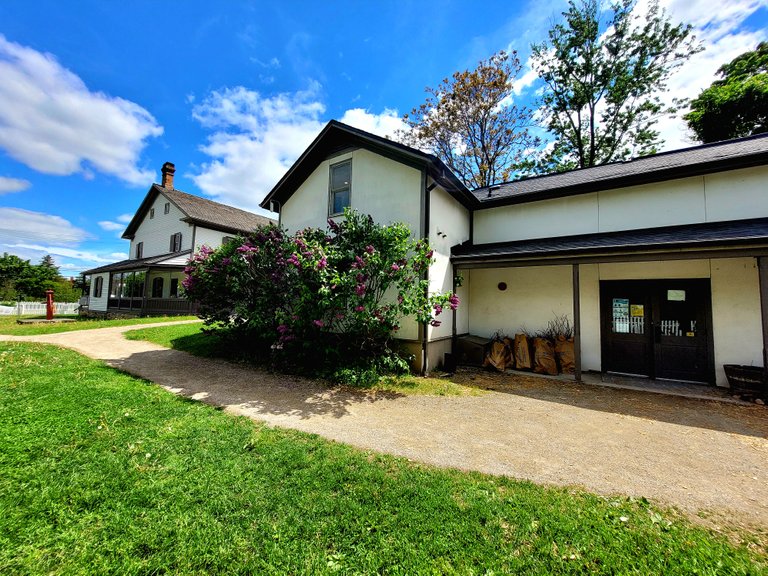 Checking out the various outbuildings around!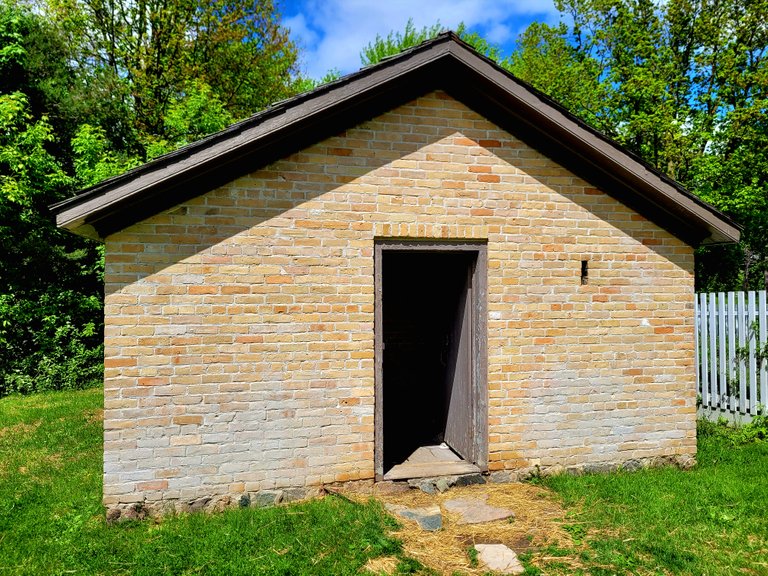 First, I went into the stove oven building,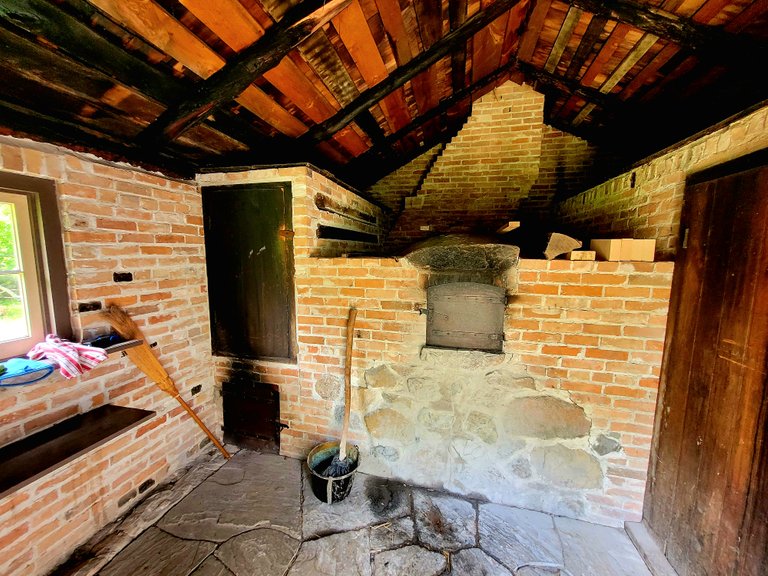 And got to look inside at the biscotti's being made!
I turned around to see the back storage of the home,
And then continued back past the garden;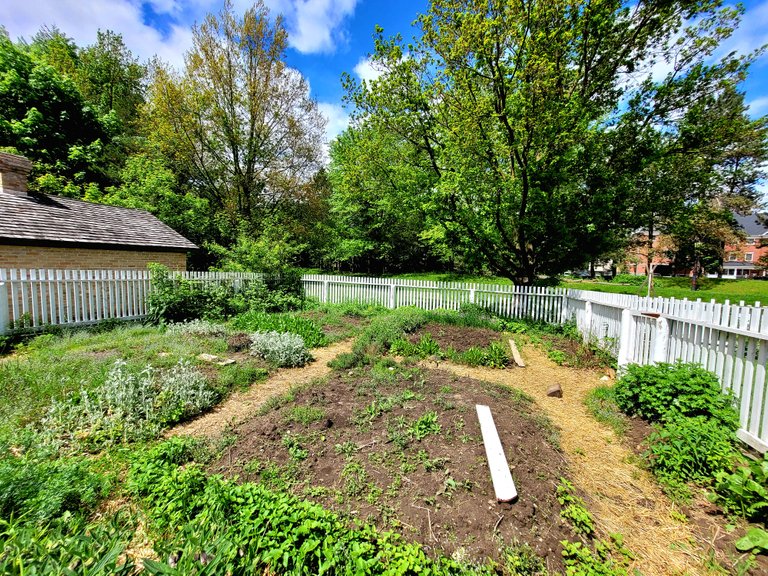 I checked out another outbuilding,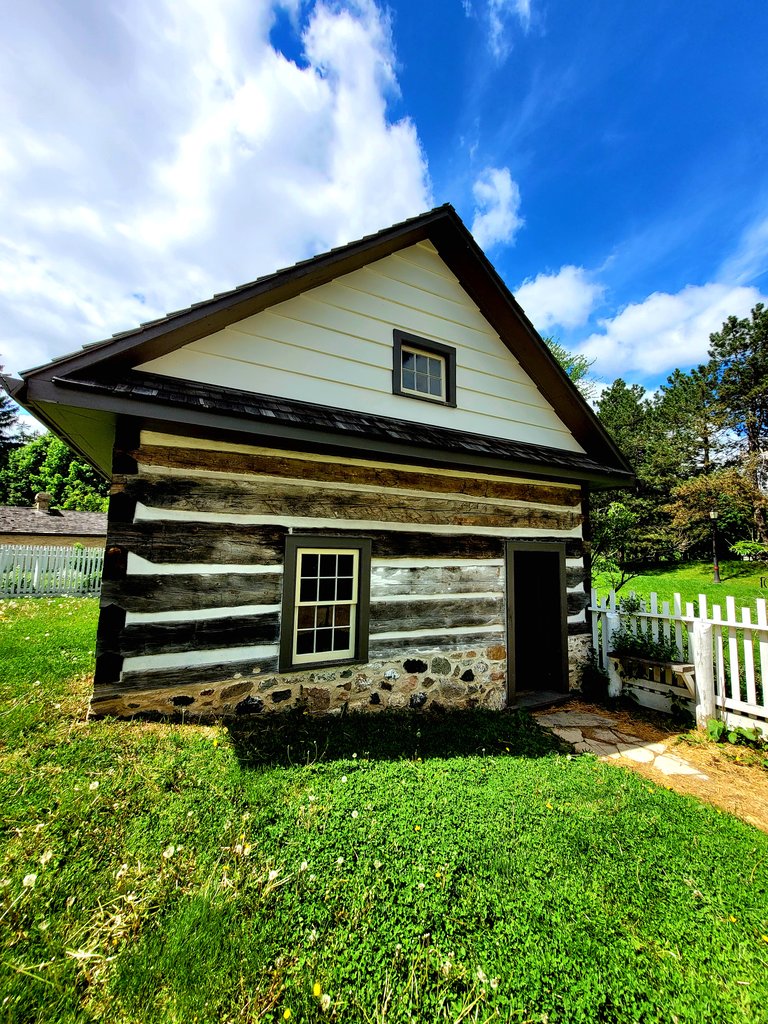 The main floor of it,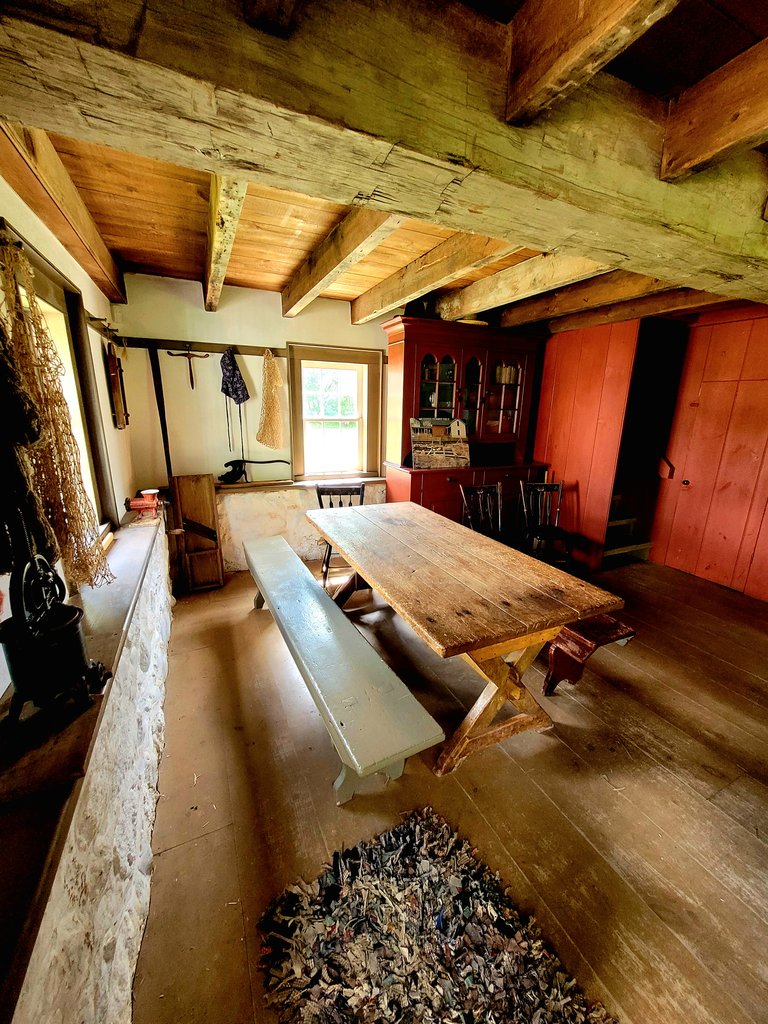 And after heading up the stairs,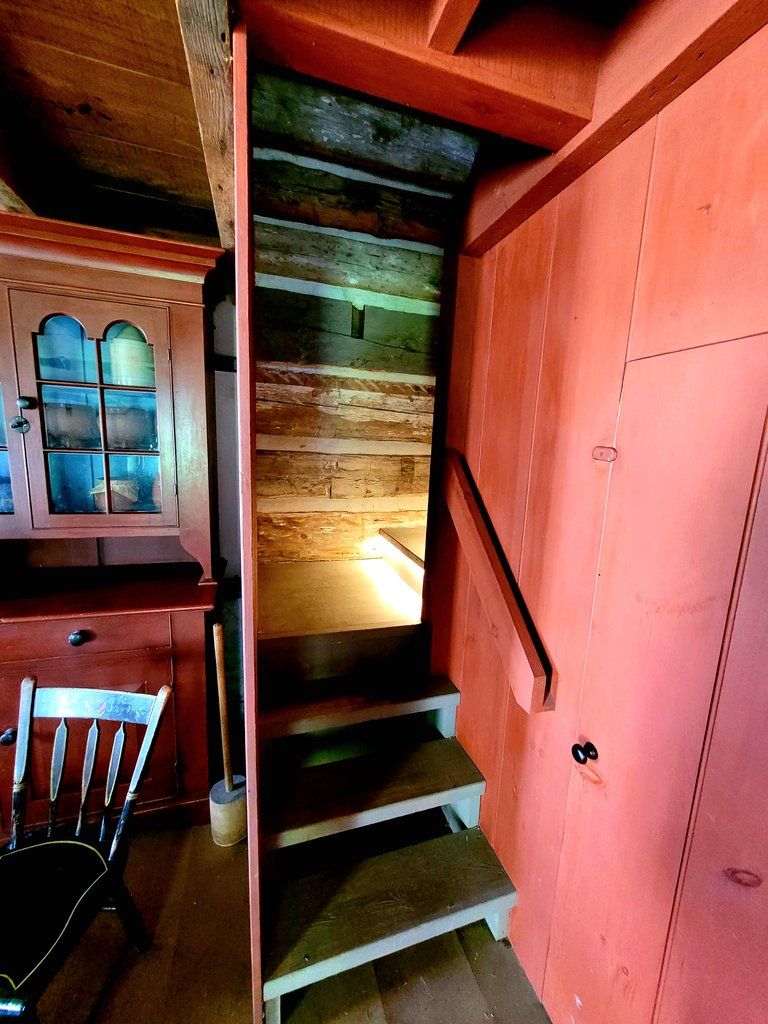 The weaving that was done atop.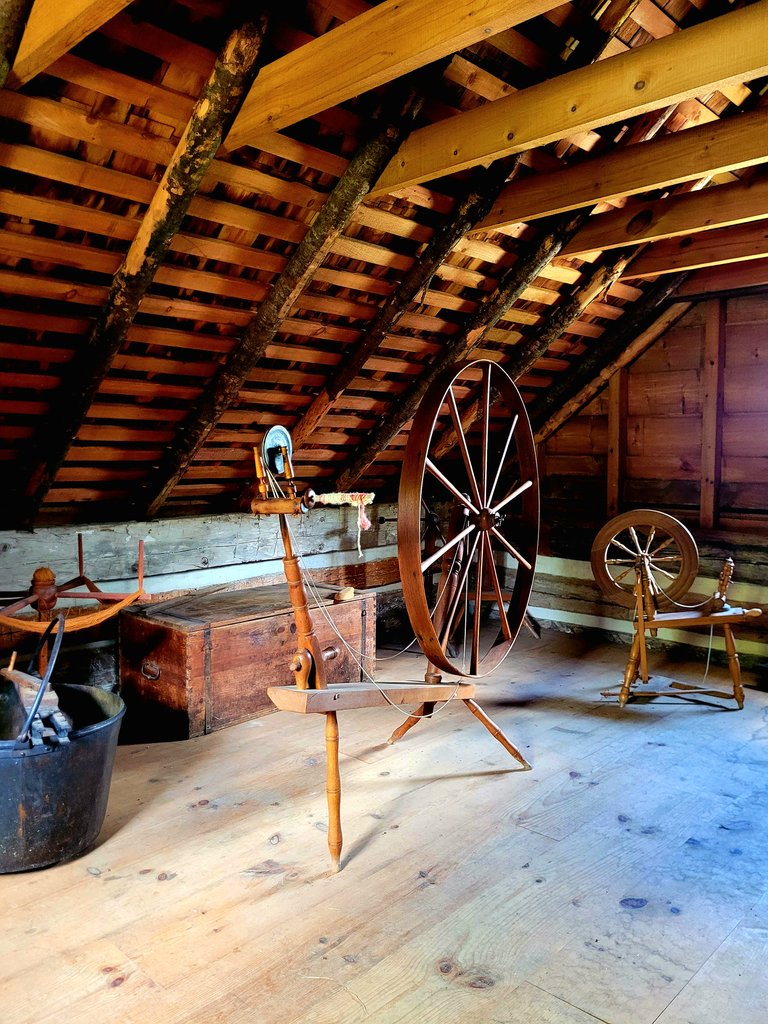 The main floor featured this beautiful arrangement opposite the other wall,
And after heading out,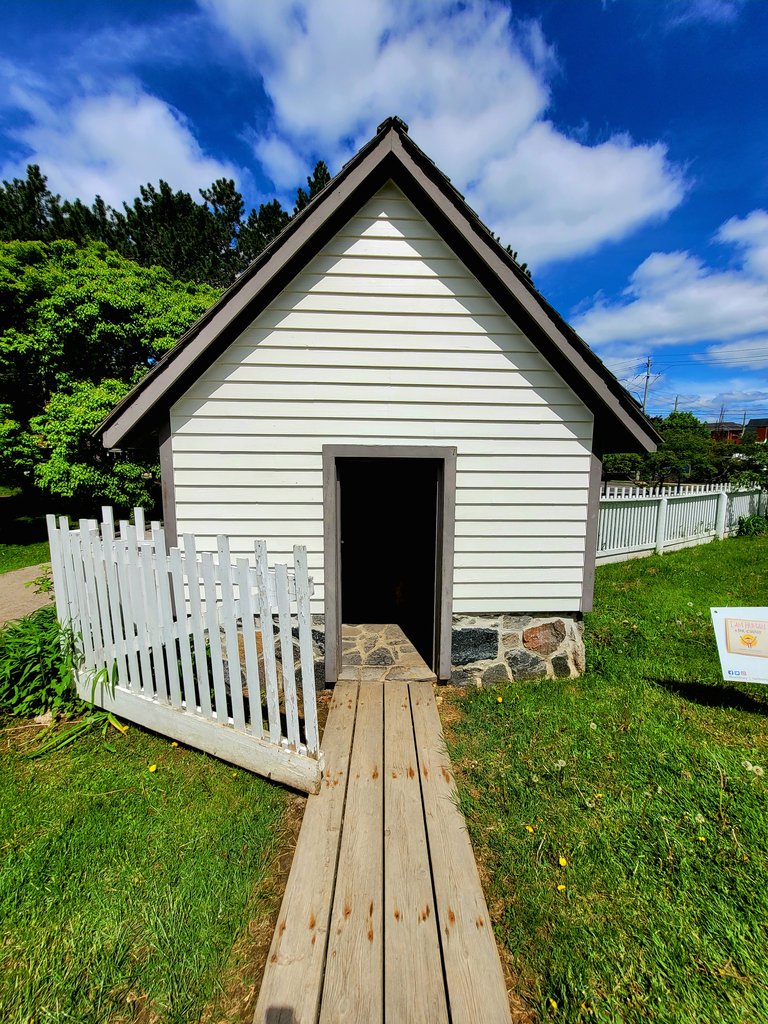 Checked out one last building - where the churning and some cooking was done!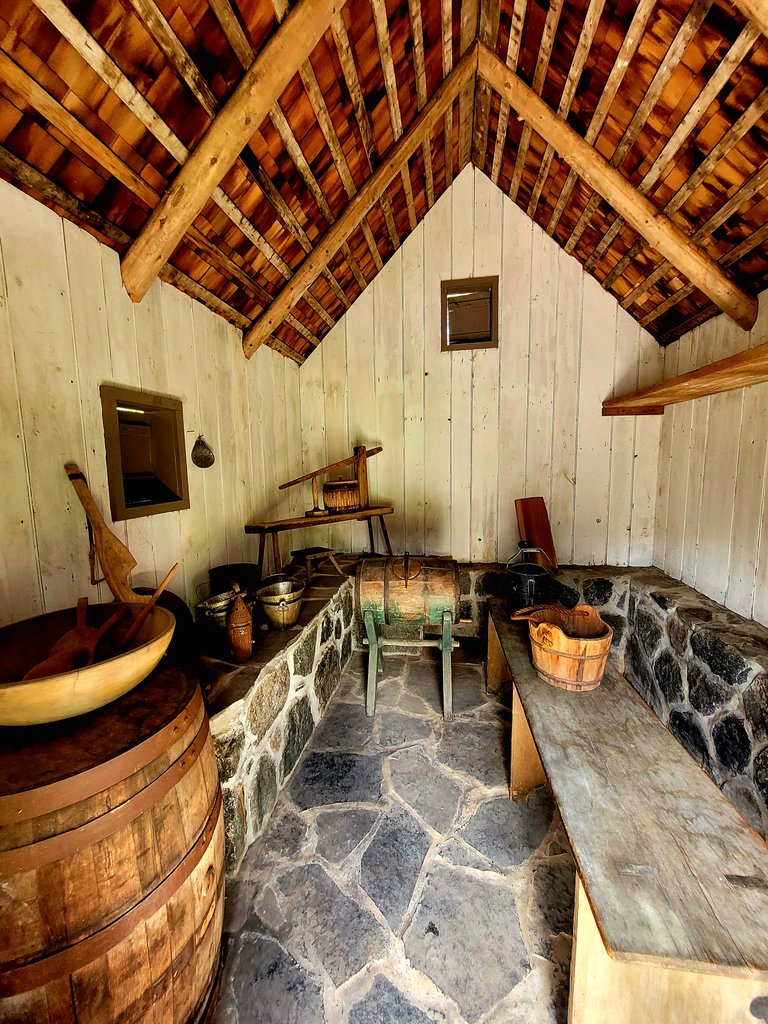 Heading inside,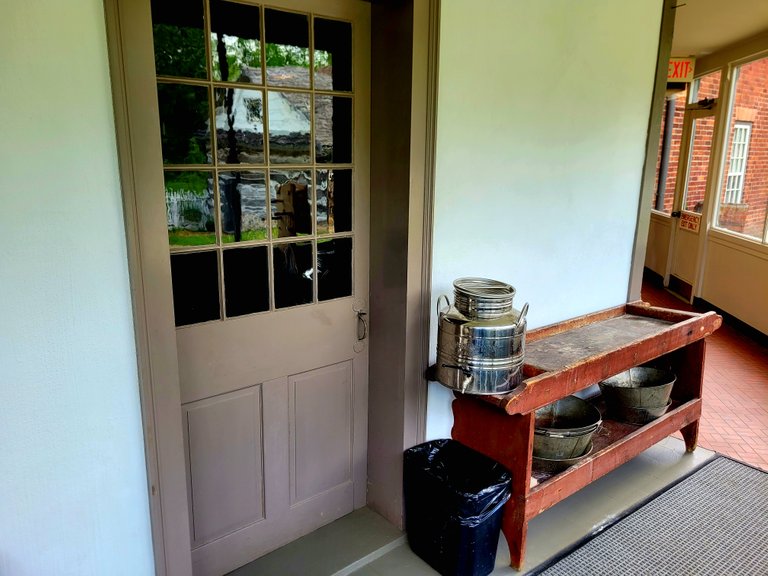 I began my tour on the main floor,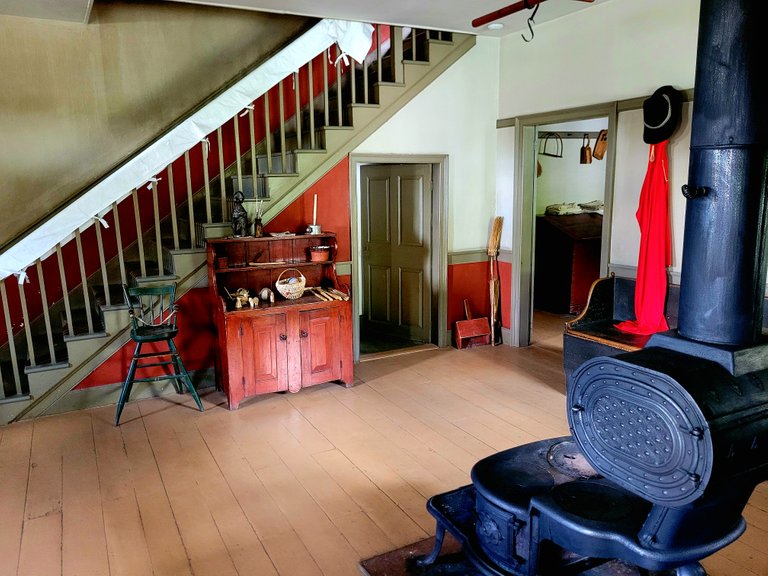 Looking at the dining area,
And finding this beautiful 220 year old clock on my way!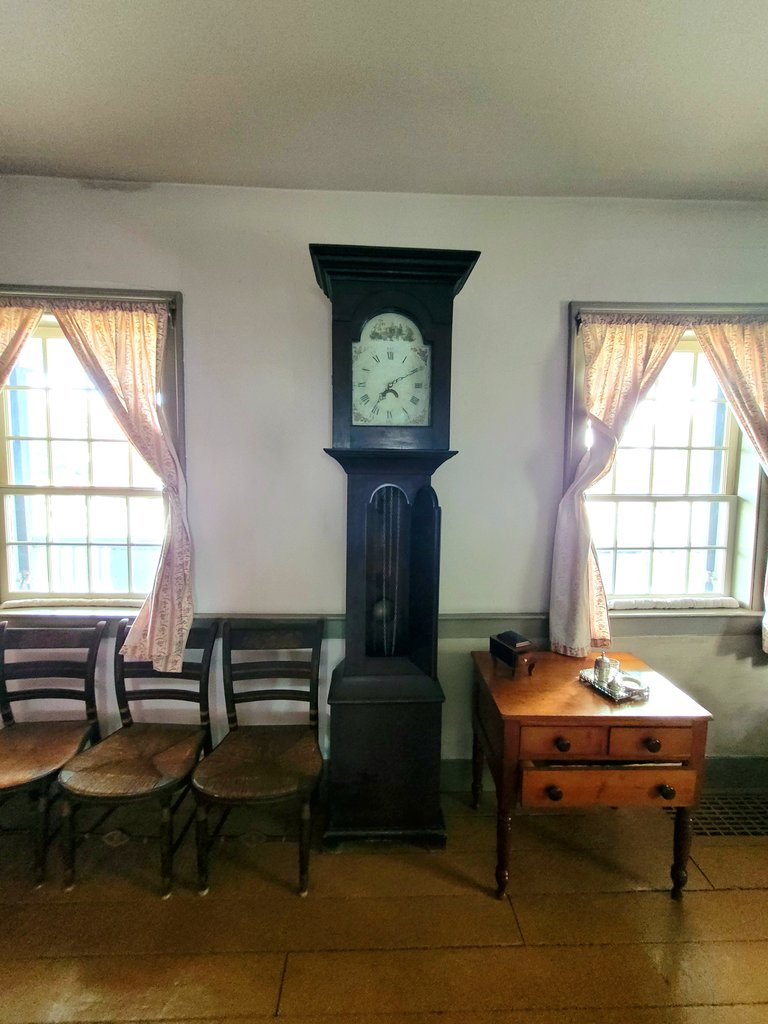 I passed the lounge,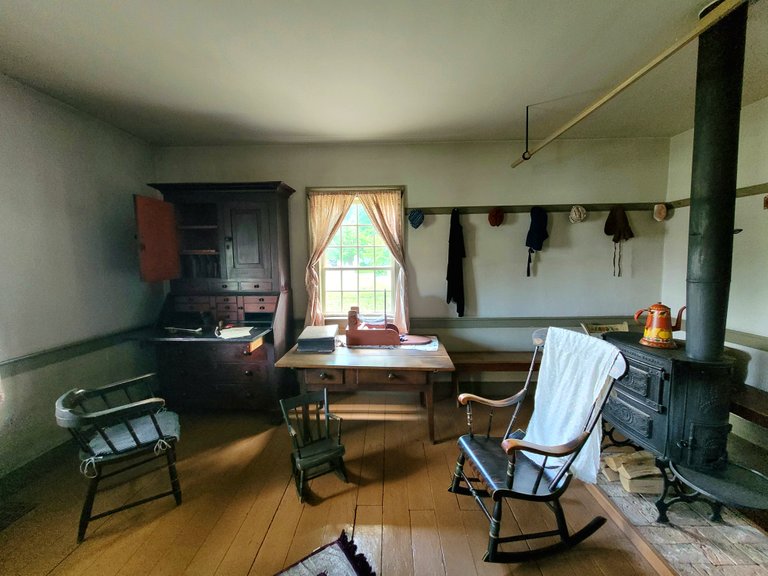 And the grandparents' room of the Schneider's whom this home belonged to,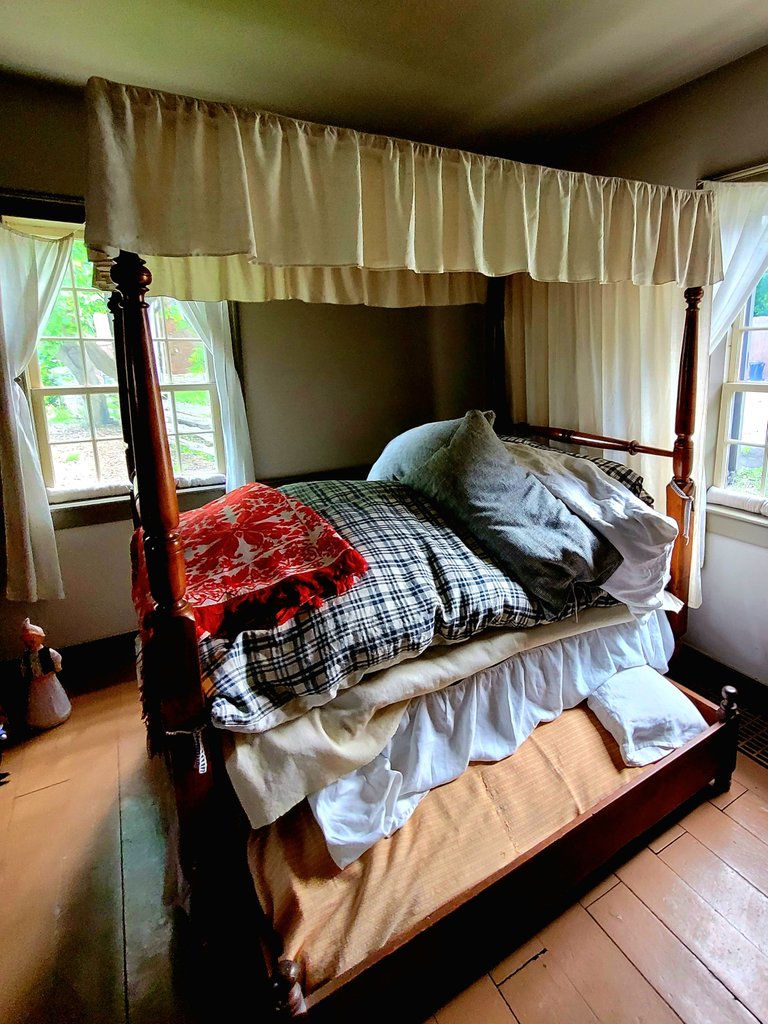 Taking a look at the pantry,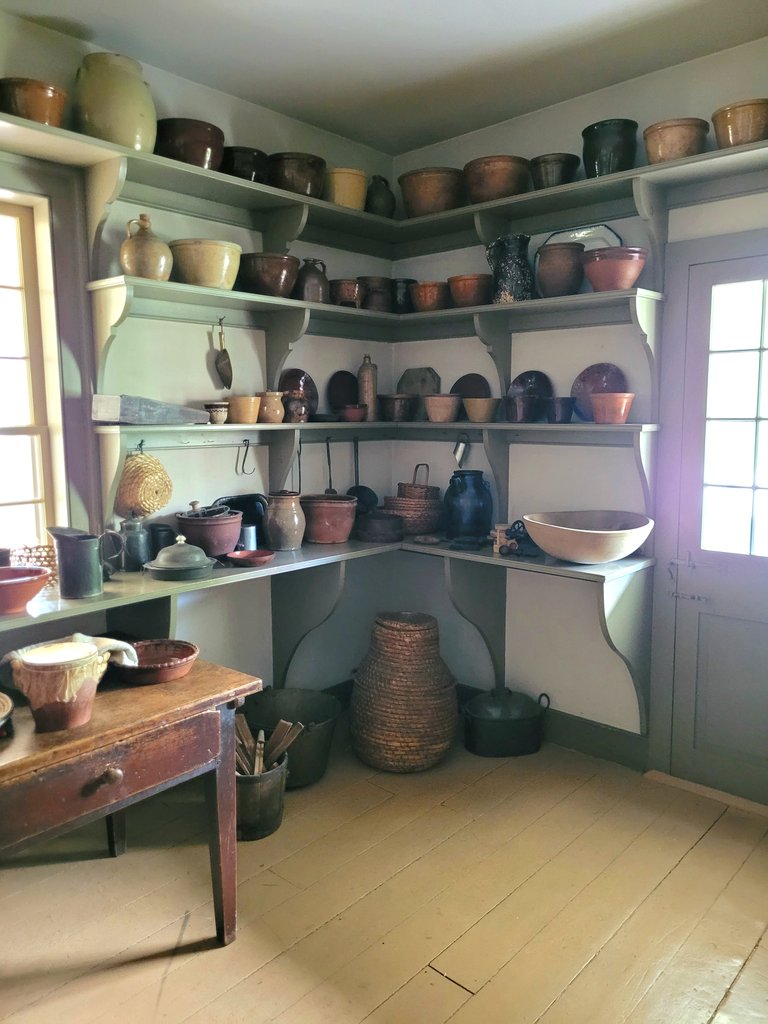 And eventually heading up to the second floor!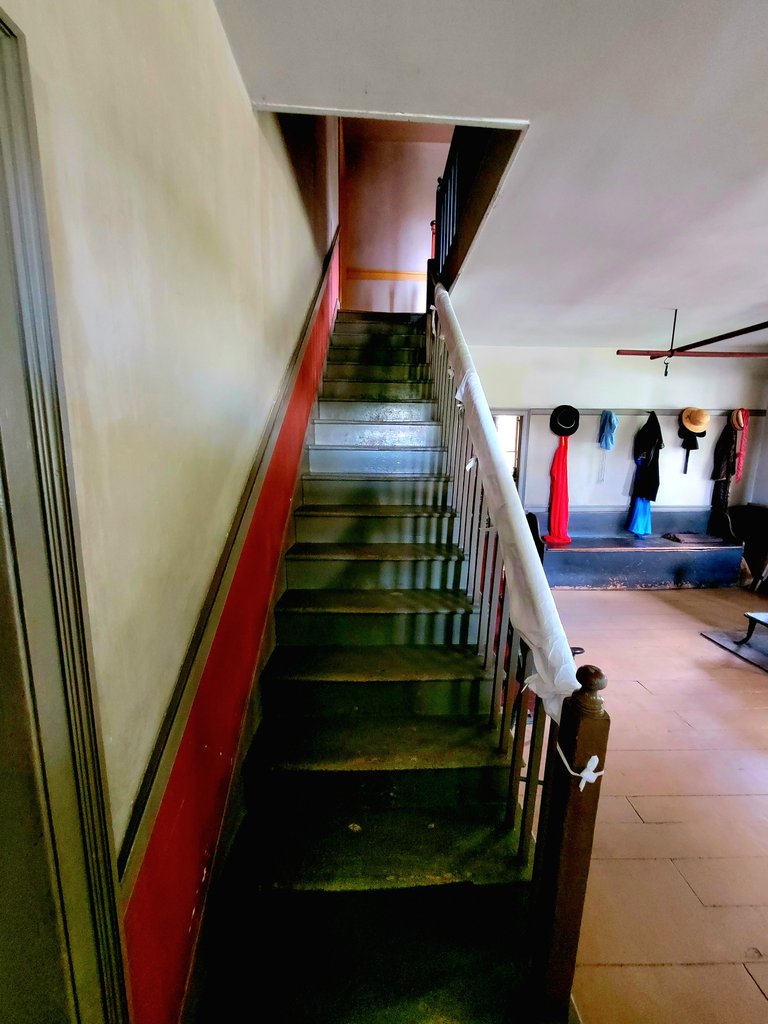 I saw the male children's bedroom,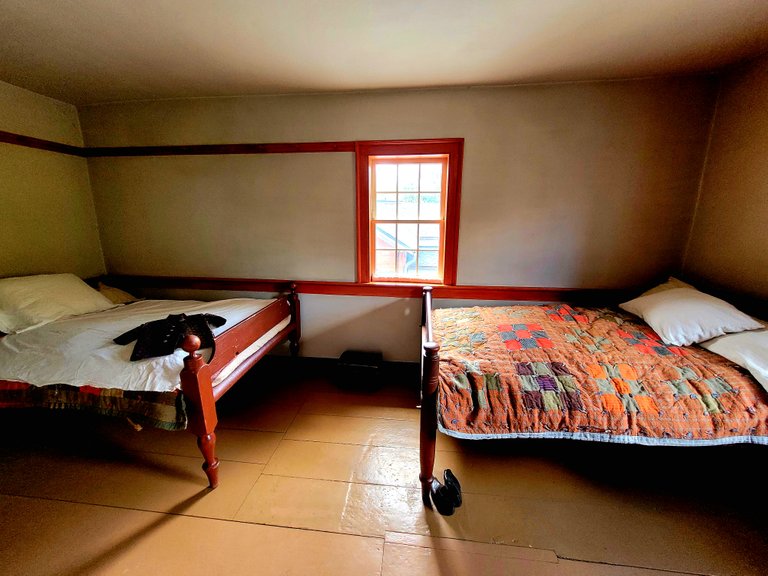 And then the guest room,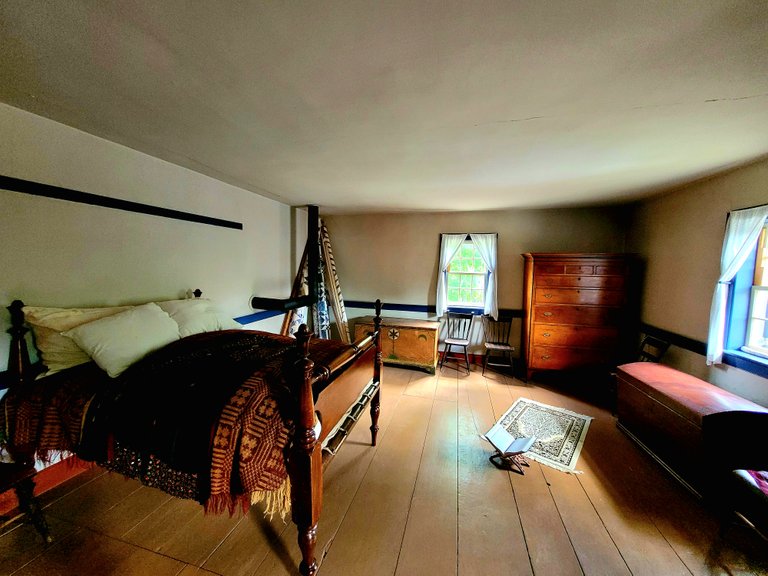 Continuing on to see the "beggars room",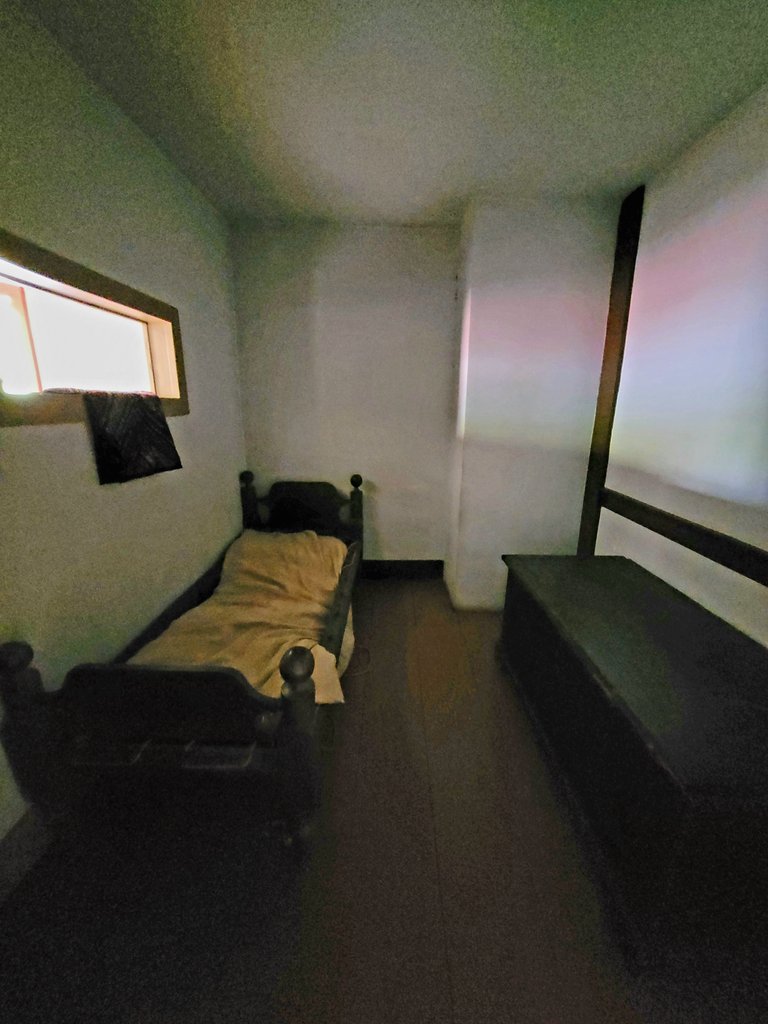 A sewing room,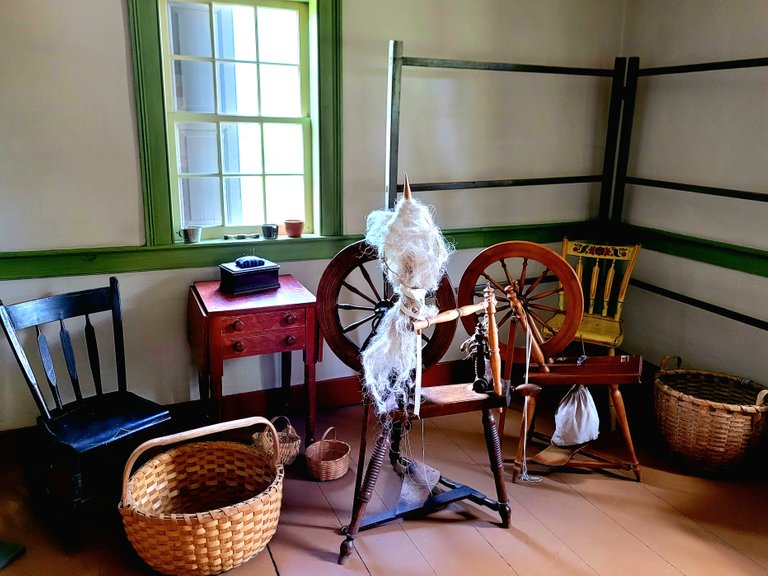 And the girl's/at one point, parent's, bedroom,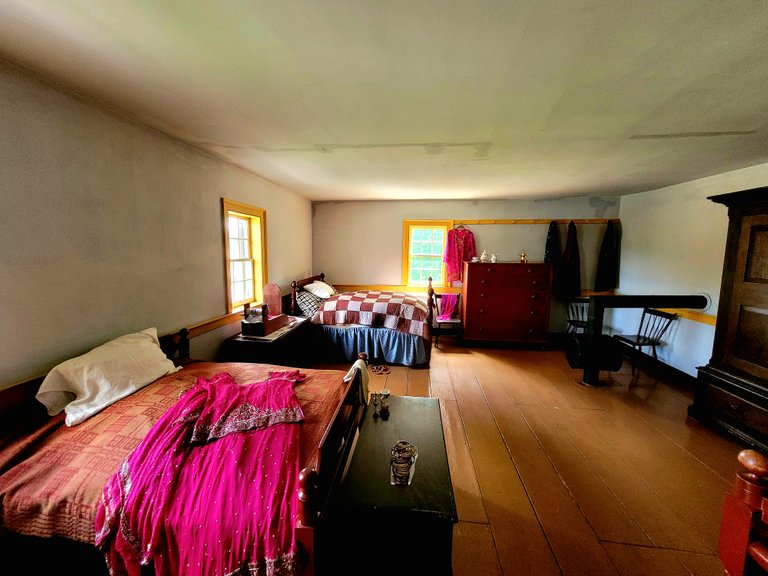 Next up: the attic!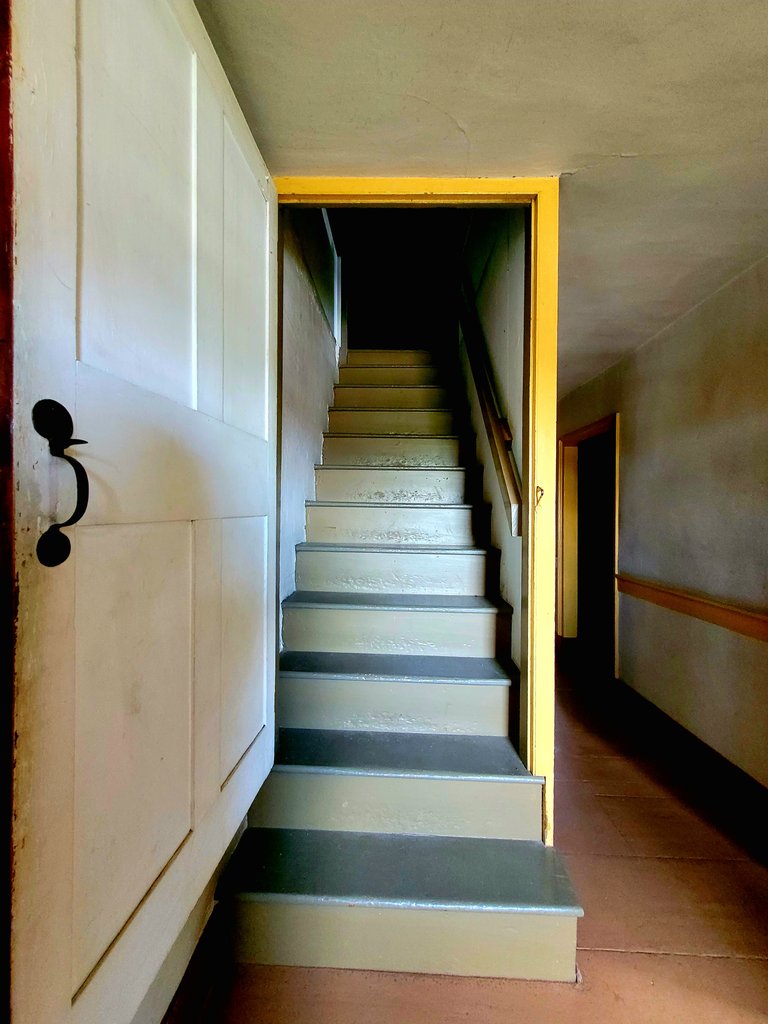 This was incredible to see - the original 200 year old floorboards and design of the house!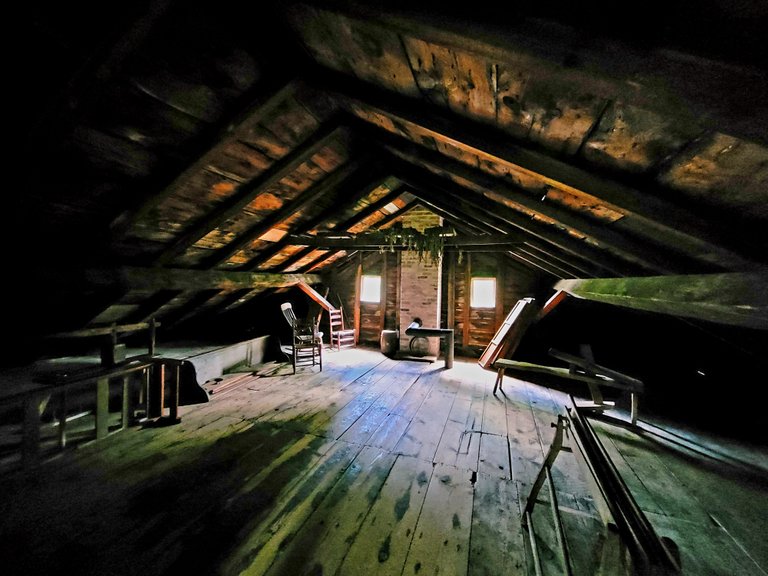 And to finish off my trek, an old sewing machine!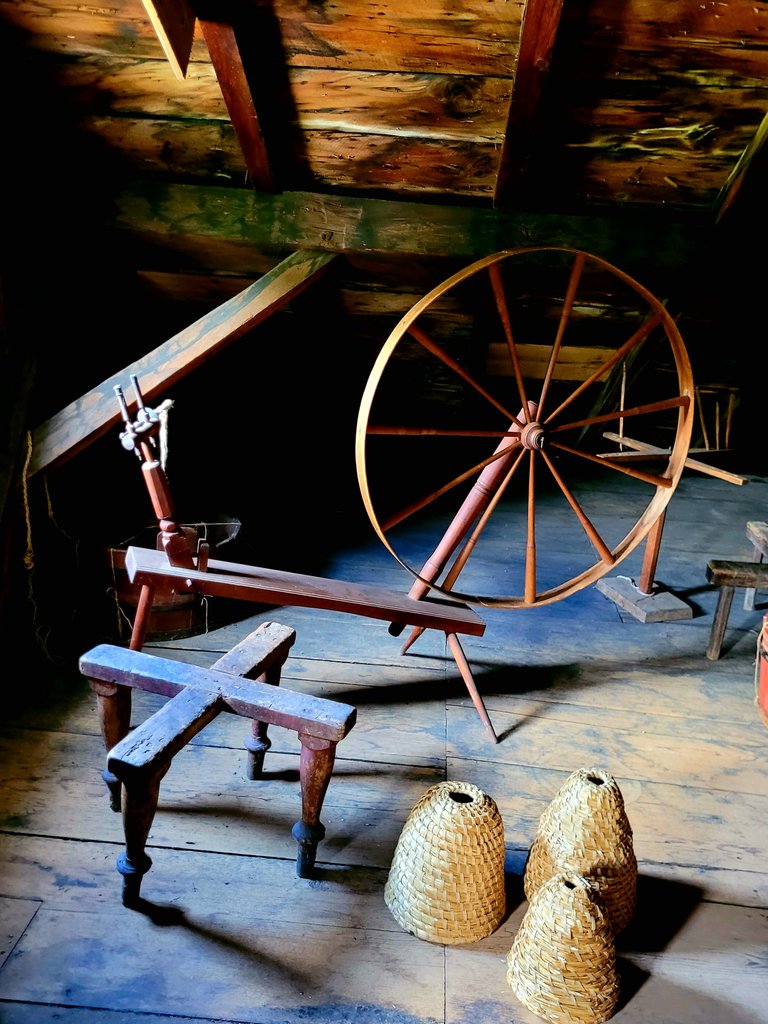 ---
At around 4pm, I finally headed on my way,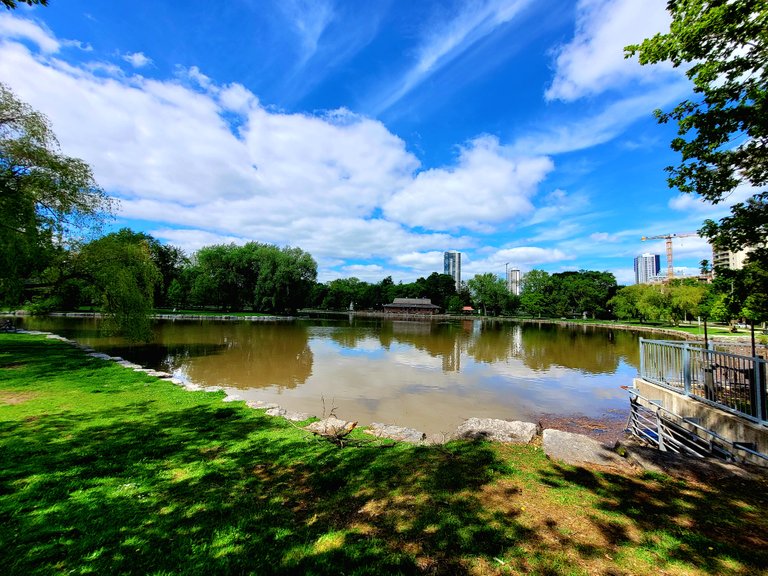 Passing Victoria Lake at Victoria Park,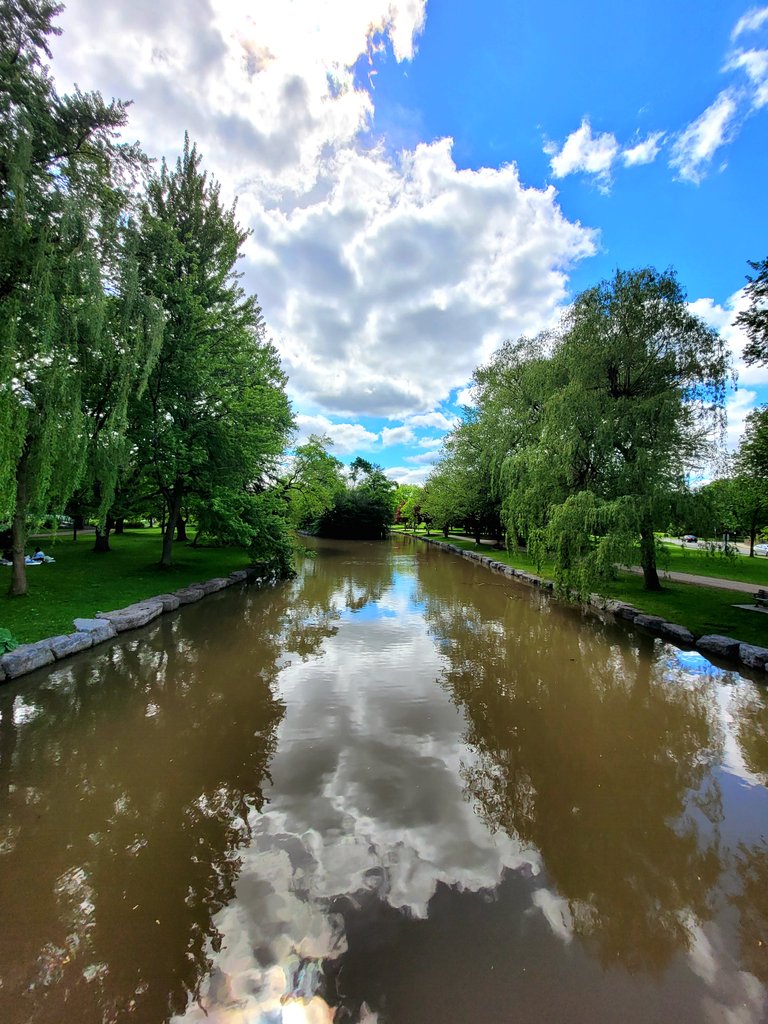 And departing from Kitchener shortly thereafter!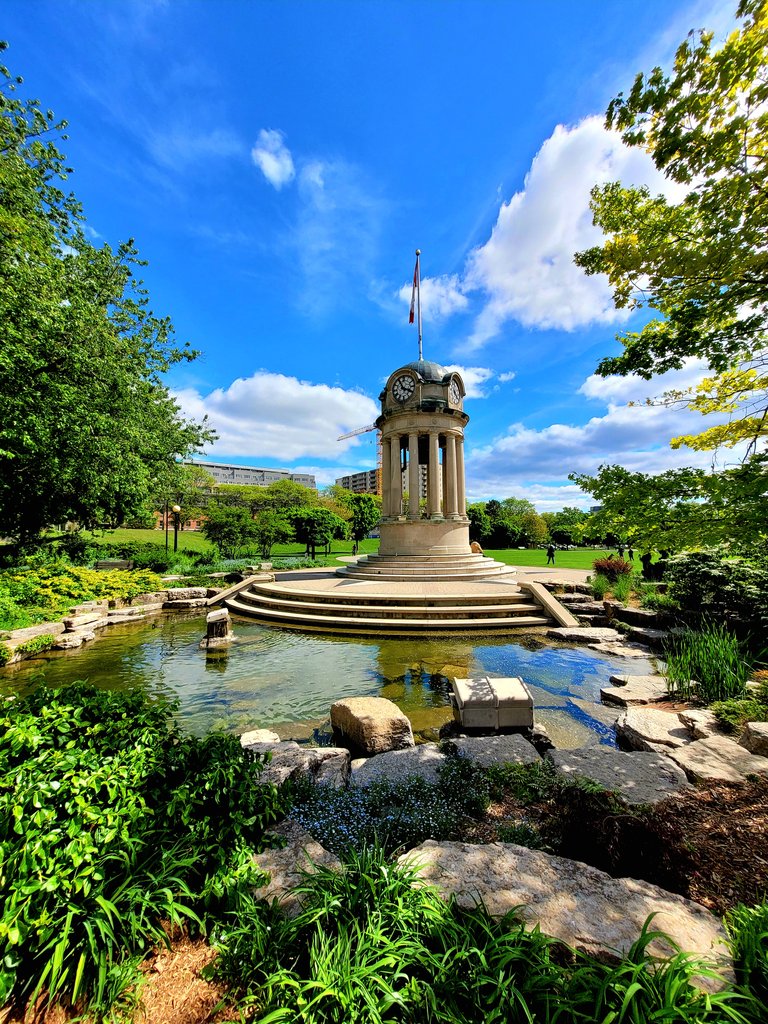 ---
My Evening -> Night
Arriving back in Mississauga early evening, I threw together my blog and settled down for the evening.
For today had been a long but adventurous journey! And I look forward to many more like it!
---
---
Cheers to yet another good one all, and to tomorrow's, all fellow ActiFitters - the best of days! 🍻
---
Check out today's Pixie posting!
---
Check out some of my other stuff!
https://ecency.com/@trezzahn/blog
https://trezzahnshideout.dblog.org
Blurt: https://blurt.blog/@trezzahn
Steemit: https://steemit.com/@trezzahn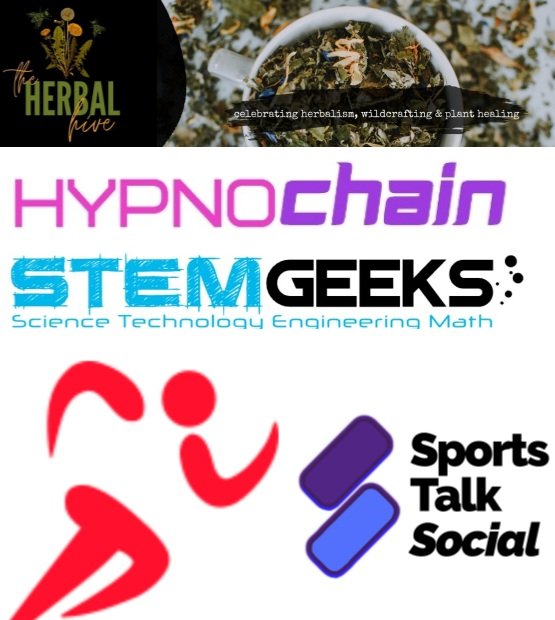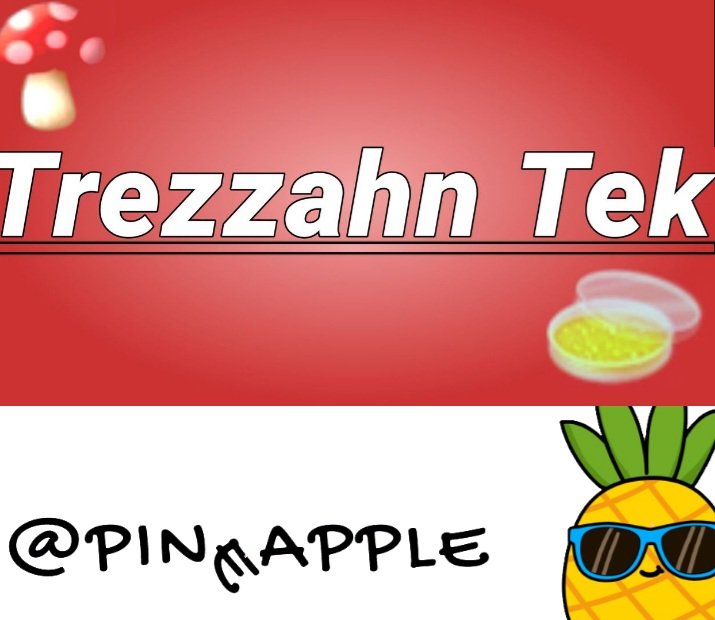 ---
---
#hive #blurt #actifit #blog #pinmapple #sportstalk #urbanexploring #ecency #sportstalksocial #photography #blogging #steem #steemit #ecency #outdoors #outside #warm #spring #beautiful #photogenic #walking #hiking #biking #mississauga #peel #cambridge #kitchener #waterloo #kitchenercambridgewaterloo #waterlooregion #danseiling #museum #doonheritagevillage #schneiderhaus #city #views #enjoyment #life #exploring #adventuring #scenic #springtime #traveling #beauty #happy #poliac #trezzahn
This report was published via Actifit app (Android | iOS). Check out the original version here on actifit.io




28/05/2022

16009

Aerobics, Daily Activity, Gardening, Hiking, Home Improvement, House Chores, Photowalking, Shopping, Walking, Yard Work
| | | | | | |
| --- | --- | --- | --- | --- | --- |
| | | | | | |
| cm | | cm | | cm | |
---
---