SEAPHOTOGRAPHY CONTEST • WEEK 154 • Una mañana cualquiera / Any given morning [Esp-Eng]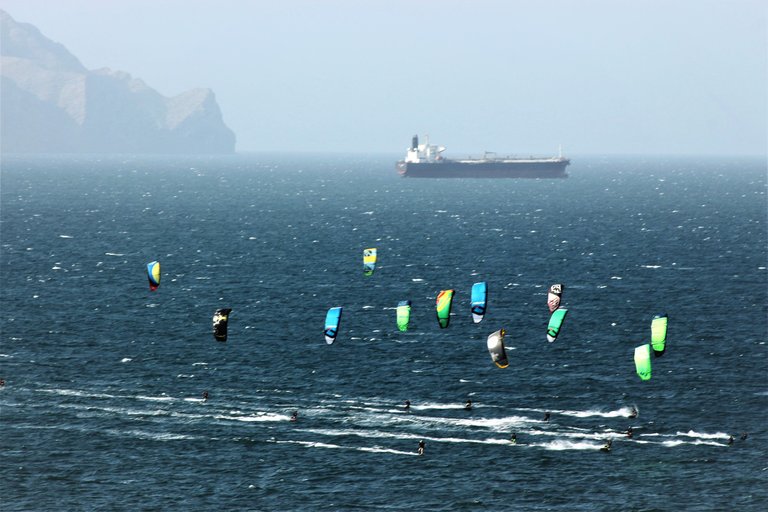 Playa Lido, Lechería-Venezuela, febrero 2019
Hay días extraños en los que la luz y la niebla, lo grande y lo pequeño, las olas y el viento, se juntan en cualquier rincón del Caribe para contar una historia. Acaso la de un capitán varado, esperando autorización para tocar puerto y dejar su carga, quizás la de una resaca, colgado de una vela kitesurf para expiar el adiós de tu exnovia en la víspera. O tal vez, solo tal vez, la de una buena mañana en la que un hombre se asoma al balcón para que el Caribe le cuente todas sus historias.
There are strange days when light and mist, big and small, waves and wind, come together in any part of the Caribbean to tell a story. Perhaps that of a stranded captain, waiting for authorization to make port and leave his cargo, perhaps that of a hangover, hanging from a kitesurf sail to atone for your ex-girlfriend's goodbye on the eve. Or maybe, just maybe, that of a good morning when a man looks out on the balcony to let the Caribbean tell him all its stories.
---

Esta es mi entrada al Concurso de la Comunidad Seaphotography, por iniciativa de marc-allaria. Si te intersa participar, puedes consultar las bases AQUÍ. Hasta la próxima, Hiveanos.
This is my entry to the Seaphotography Community Contest, by marc-allaria's initiative. If you are interested in participating, you can check the rules HERE. See you soon, Hiveans.
---

---
---