Argentina Ease Past The Croatia Side To Reach 2022 FIFA World Cup Final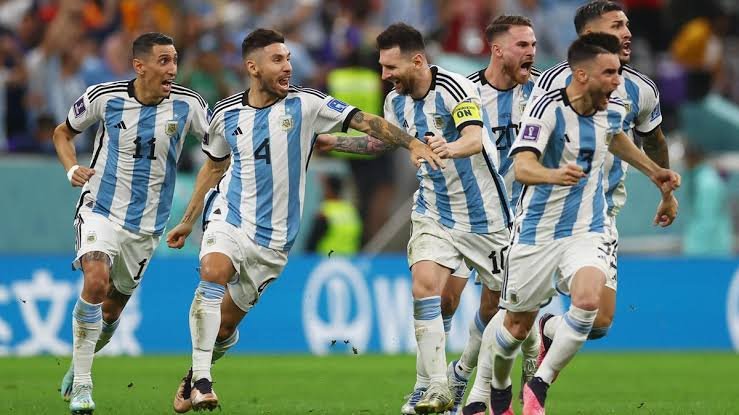 Argentina becomes the real contender for the #2022FIFAWorldCup in Qatar. Argentina demonstrate the real reason they deserve to take home the prestigious trophy as they haul out the Croatian side with three goals deficit.
Prior to the match between Argentina and Croatia, my prediction on which team will actually come on top was at 50/50 because both of the team has been excellent in the competition and very discipline as well. But the outcome of the match shows otherwise as football can be funny and unpredictable sometimes.
It was a easy ride for the Argentine team as they crushed and brought Croatia team back to earth. Though, I had predicted that the Croatian side will outplayed the Argentine team in the midfield due to the quality they have in that position and I likewise I predicted that the Argentine team will dominate the Croatian side in the attacking position as they the best quality in that in aspect in person of Lionel Messi, one of the best player to ever played the game of football. But the game was won at the attacking position and Lionel Messi once again proved to the world the reason he was crown 👑 balloon D'or for seventh record time.
Where The Game Was Won And Lost By Both Teams
Despite the fact that Argentina know how formidable the Croatian side can be in midfield, they show discipline by containing everything thrown at them and don't allow them to get the freedom they really want and by doing this they were able to disarmed the Croatian team attacking prowess.
Argentina are so lethal in the front of goal and they killed the game off right from the first half. And they found themselves in the final of the most prestigious competition in football world which means that they are one win away from being crown the world champion. I believe this is the last hope and chance for Lionel Messi to grab that trophy which he has been longing for to complete his collection of trophy in his cabinet. But let's wait who their opponent in the final would be as France will be knocking horn with Morocco team tonight.
Argentina have now reach the FIFA world cup for sixth record time and only won it twice and that was 1978 and 1986. While they have been runners up three times in 1930,1990 and 2014. And this means they have the chance to win the most prestigious trophy for the third record time, but lets wait see how things goes.
I will be dropping my pen here and be back later.
Thanks for visiting my blog and have a wonderful day
I really appreciate your upvote and support
@twicejoy cares ♥️♥️♥️
---
---