Watching Europa League football online in an easy way!
Football is such a fantastic sport, but unfortunately, I do not have as much time as I wish I had to stream the Premier League online, Champions League, the German Bundesliga, La Liga in Spain, and Europa League and similar tournaments and leagues online. But, from time to time there are matches that I really want to stream, and that is when it can be extremely annoying if you do not have a place where you can actually stream the matches.
Right now, I noticed that there is an interesting match in the Europa League between RB Leipzig and Atalanta. It might not be the best match ever, but it still remains interesting. And then when that match is finished, I am very curious to see how the Norwegian team Bodo Glimt will do against AS Roma. But, where can I stream the matches online? Luckily, I have a method that works for all these matches and I can trust it, and I can watch without watching spam ads, see hundred fake YouTube videos claiming to be live streams, and so on before I finally succeed.
So, how do I stream my favorite football leagues and tournaments online?
The problem is, this all costs money, but I am still on a budget, meaning that these are low cost options. First of all, I have a VPN subscription to ExpressVPN (which is fairly expensive), but it could just as well be SurfsharkVPN which is quite a lot cheaper. So, any of those will do.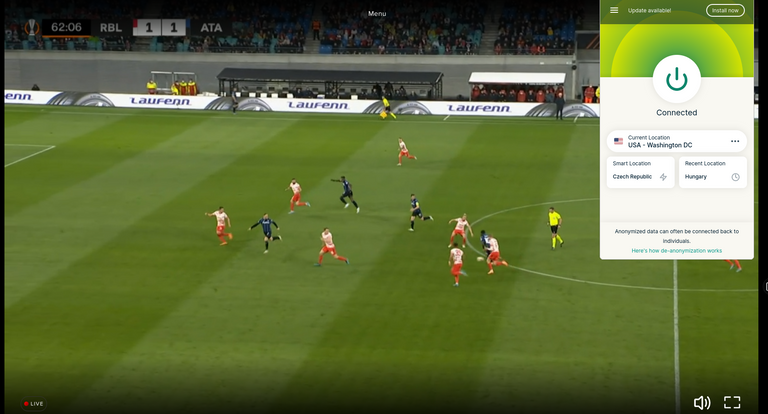 Here you can see a screenshot I made streaming Europa League football and the match between RB Leipzig and Atalanta on ParamountPlus online using the VPN services of ExpressVPN.
Then it is time to get a subscription to different streaming services.
ParamountPlus (Serie A, Champions League, Europa League, Europe Confederations League)
PeacockTV (Premier League, not all matches though)
ESPN+ (La Liga, Bundesliga)
With these subscriptions, I can stream most of the interesting football leagues out there, as you probably understand by now. And the good thing is that all of these are quite cheap, at least if you compare it to more "serious" streaming services for sports such as FuboTV and others.
I just wanted to share this information with you so that anyone desperate out there to find a way to stream Europa League football and other great tournaments and leagues online, will find a way to do so.
If you have any questions or comments, please write them below!
---
---