Raboner Soccer Scorecard: 11 Matches Unbeaten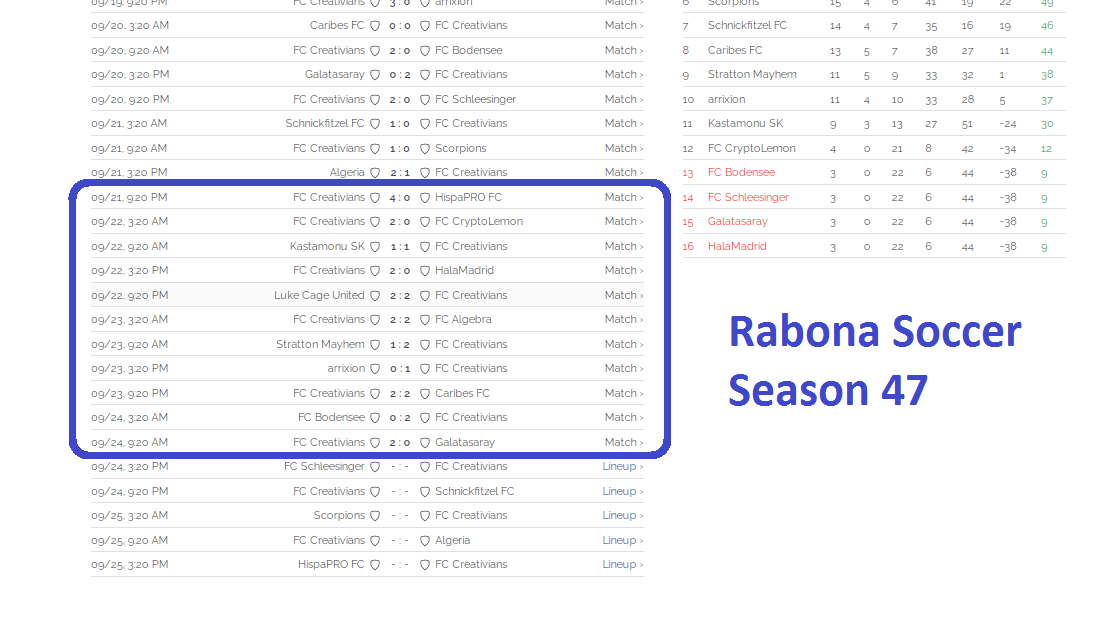 Hurray, it's been a whil;e I wrote about my Rabona game journey. Even though its been difficult creating time to post and engage Hive posts for spome days, I've always had a few minutes each day to train my Rabona team, help heal injured players, restore penalized players as well as set formation (where necessary) for the team.
We've been in here for 47 seasons and playing Rabona game would remain opne of my best moments on Hive blockchain. In fact, I'm looking forward to getting acquainted with other games here on Hive. Earning from your leissure and fun is something that's very interesting for me as a person and doing it on Hive blockchain makes it more interesting as I'll be earning cryptocurrencies.
It's exciting that to see that my team, FC Creativians are really doing big this 47th season. Even though reaching the top of the league looks slippery, however, we are well placed among top 4 teams on the Table in league 2 and we're sure of having a smooth move in the next season. Happy to see the boys in top form as we end our first year playing Rabina game in the next 24 hours or so from the time of publishing this post.
FC Creativians have yet set another record for themselves as they've had 11 matches run unbeaten (both home and away). It's really surprising to have noticed that within the 11 matches count, we had 8 wins and 3 draws (2 at hime and 1 away).
With just 5 matches to the end of the Season, I'm trusting that my boys can do just better to clinch on with the records to an exciting and jubilating league ending. I'm dearly thirsting to participate in League 1 soonest and I hope that comes through in the next 3 seasons.
You care for a Rabona Token giveaway? Read This post
---
---