Season 85: FC Creativians getting hot with 76% Win so far
Hi pals, I know you've missed a whole week of my Rabona team report. Here it comes as we progress in Season 85.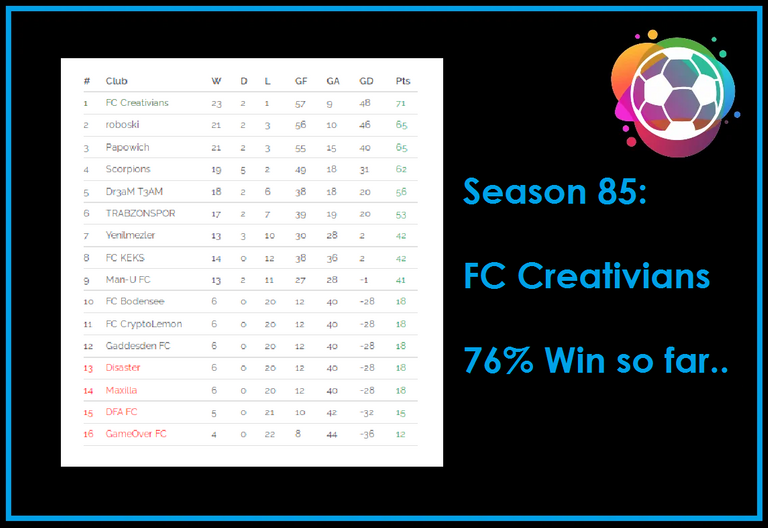 Season has been another Exciting Season in my Rabona Gaming experience. This would likely be the second season my team would secure over 80 points. It happened first in Season 83.
That has been the biggest win record for my team - FC Creativians after 83 seasons of managing Rabona game. It wasn't an easy ride though, but the team was quite tough to beat and we recorded a 27 wins, 2 draws and just 1 loss... What a coincidence that we earned 83 points in the 83rd Season of Rabona game play. That was really an epic record that should be minted into an NFT for my team.
Indeed, this development depicts that my team is grinding hard to secure a long term spot in League 1. Playing a higher league has always been the dream of every Rabona team and I am excited that we are making progress.
With just Four matches to the end of the Season, we are hopeful of clinching the top spot and heading back to the senior league. We just need Two more wins to secure stay on top of the league table.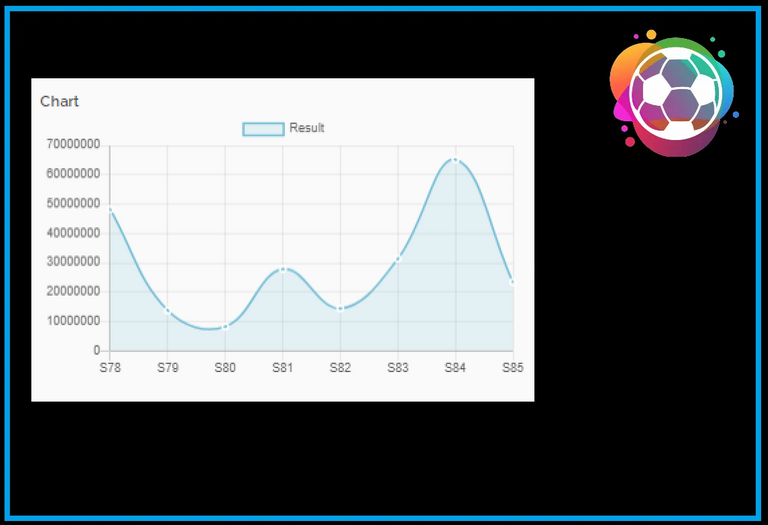 Finance wise, hitting 30 million RBN net reward is slim. Playing League 1 not minding a relegating spot always assures your team of gaining 100% stadium capacity as well as increased t-shirts and scarf sales. which is a major source of income for the team.
I'm beginning to work out modalities that would help FC Creativians stay on League 1 beyond one season and that with a minimal cost. The crux of the matter is limiting player salaries but with improved Overall Strength.
Please wish my team well as we await our anthem as winners of league 2 / ID 629. It can only get better with the right strategies and work.

What is Rabona?
Rabona is a massive-multiplayer online soccer management game built on the Hive blockchain. Decide how to build and develop your team, take on the role of the head coach of your team, and manage the financials of your club. Lead your club to the top of the league, and become the champion!
More about Rabona Game
Join Rabona game with my Referral link, get free 5million RBN PLUS 0.4 HIVE
---
---
---