Can Investment on Hive-engine Tokens Change Your Life?
After reading @Jongolson's post on how Splinterlands can change a player's life financially with the many earning options available, it dawn on me that the Hive0-engine tokens has a lot more exponential growth capacity to improve the finances of anyone who engages it rightly. This inspires this post to tell as many who care who are yet to embrace Hive-engine tokens in their crypto investment journey to do so after making their own research.
I have been here at the beginning of hive-engine and its tokens. It all started with PAL token and the palnet.io SCOTBOX. Though I didn't see the business potential with the tokens at first, I sold off all of the PAL claimed. However, when I got started investing in SPORTS, I discovered the gold hidden in Hive-engine token curation and opened my arms to embrace with my full chest. You can read my hive-engine related curriculum vitae in this post.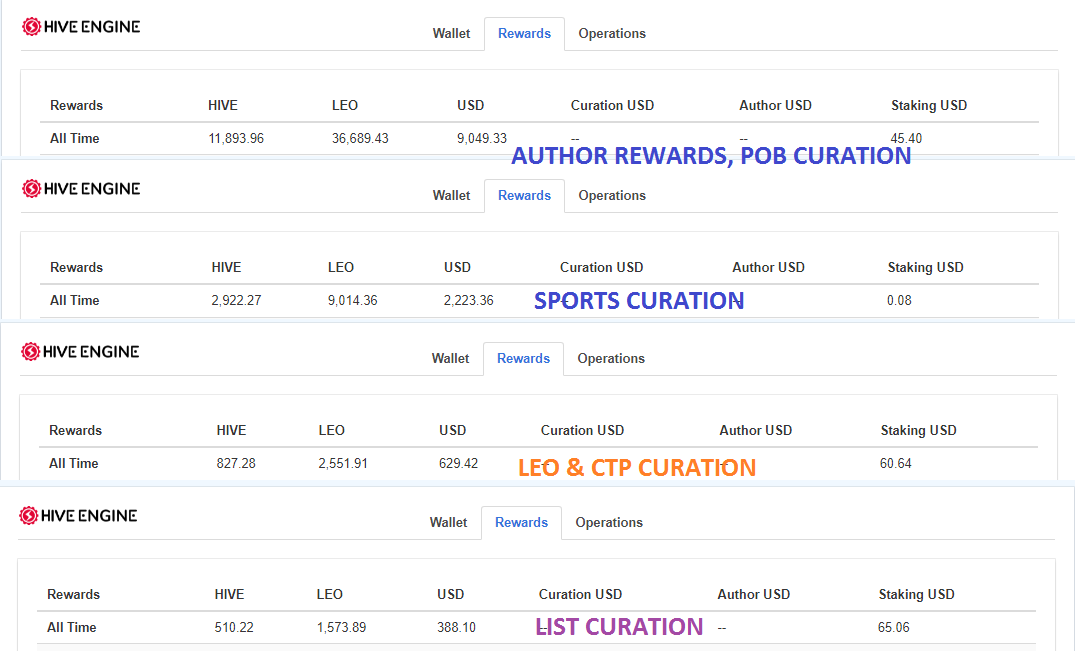 Above is the combination of screenshots of the earning statistics of four of my accounts earning hive-engine tokens. Thanks to https://hivestats.io/ for being such an awesome tool to track those earnings on daily, weekly, and monthly basis as well as the all-time earnings. On the screenshots you'll see that the earnings come in three parts:
author earnings
curation earnings
staking earnings.
Content Creation
I regularly post from my main account @uyobong which earns as much hive-tokens as possible since August 2019 and it's been amazing to see that as much as $9,049 USD (11,893 HIVE Token units equivalent). However, the account also earns curation rewards from POB (which rounds about $80 so far) ads well as staking returns for LIST and CCC tokens which rose to as much as $45 USD. However, I have earned form my main account around $8,900 USD over the last 2 years and few months since the emergence of hive-engine tokens.
It's a great pleasure to be earning some juicy bags by staying around your favourite community musing about the things you're passionate about. This is one of the awesome possibilities of earning that Hive provides to those who care. I've not just created posts to earn hive-engine tokens, also with comments. They all add up. Some big take home rewards are available at @leomarkettalk.
Content Curation
Hive blockchain grants content consumers the ability to earn a part (usually 50%) of what is used to appreciate content creators. Our votes to others also help us make money. In fact, any stakeholder that hoards votes, ends up poorer. We get richer, the more we spread the love to other users by way of upvotes. This has been the motivation to stack my bags in order to maximize my curation.
My curation earnings spree started with SPORTS which has earned $2223 USD (2,922 Hive token unit equivalent). With my growing SPORTS stake, running close to 100 million, that massive amount has been earned from August 2019. Besides SPORTS, my LEO and CTP curation (running on one account) has afforded me as much as $629 USD (827 Hive token unit equivalent) while LIST curation alone has tracked as much as $388 USD (510 Hive token unit equivalent).
With SPT, ONEUP, POB adding up, I know that the next time this review comes up, my curation earnings should be running into tens of thousands of dollars.
Staking Rewards
The first time I understood the value of staking rewards was when I started staking LIST token. Thanks to @Thelogicaldude for such creation. Hivelist was the first token where we got two rounds of rewards (curation and staking). So far, my LIST staking has rounded to 110 USD ($65 + $45). This is what prompted me to invest in CTPM (CTP miners) and LEOM, LEOMM (LEO miners) while they were cheap. Staking those miners afforded me to earn CTP and LEO on daily basis then. The duo miner fetched as much as $60 for me before selling them out when I needed cash.
In summary, I can detail my authorship, curation and staking earnings on Hive-engine tokens as follows:
Authorship rewards = $8,900
Curation rewards (LEO, CTP) = $569
Curation rewards (SPORTS) = $2,223
Curation rewards (POB) = $100
Curation rewards (LIST) = $323
Staking rewards (LIST + CCC) = $110
Staking rewards (LEO + CTP) = $60
Total Hive-engine Earnings = $12,289 USD
On a rough scale, I can tell of hive-engine token earnings rounding up to $12,289 over 24 months which gives about $512 as monthly earnings. While that may sound huge and exaggerating, it's actually 16,170 Hive token units. The exchange rates as at today makes it rise to the highs of $12k. I would say it's still small as compared to when Hive would be say $10. I cashed out some while the internal exchange rate with Hive was a lot better.
If you think $12k USD is too much, then know that 16,170 Hive is much better. I'm not stopping. I want to be known as that Hive user that never took a chill when it comes to investing in Hive-engine tokens. from the time I understood the value of communities on Hive and Smart Media tokens, I know a place to reckon with should be hive-engine.
Having read my story, now answer the question below:
Can Investment on Hive-engine Tokens Change Your Life, probabbly financially?
I'm your favourite Hive-engine token Curapreneur!
Posted Using LeoFinance Beta
---
---