DeFi in Sports and Fan Tokens - The new Revenue Model: Do we have a place in Hive/Hive-engine for them?
According to Research and Markets, it is on record that as at 2020, the global sports market was valued at nearly $388.3 billion and its recorded to have had annual compounding growth rate of 3.4% since 2015. The low value in 2020 was due to the effect of Covid-19 that affected several sporting activities. A peak value of $458.8 billion was reached in 2019 and it is expected that by 2025, global sports market would have reached $600 billion.


source
The advent of the covid-19 which has reduced s[orts revenue with reduced fans and spectators participation in live events has caused sports think tank groups to consider alternative revenue models and this has brought about the embrace of blockchain technology and cryptocurrency in the sports sector. Today, we have several sporting organizations ad teams create their fan tokens. Before the covid era, the participatory sports market was the largest segment of the sports market and accounted for 72.1% of the total in 2020. However, with the corona virus related restrictions which would continue, spectator sports is hinted to be the fastest growing segment in the sports market. source
Things are changing drastically within the sports sector as far as revenue generation is concerned an each passing day, there is an introduction of a new fan token in the crypto market by sports organization and teams. Earlier today, I received a news prompt introducing Manchester City Fan Token (CITY) on Binance Launchpool! which is expected to farm CITY by Staking BNB, CHZ and BUSD Tokens. CITY is a fan token for Manchester City Football Club on the Chiliz Chain.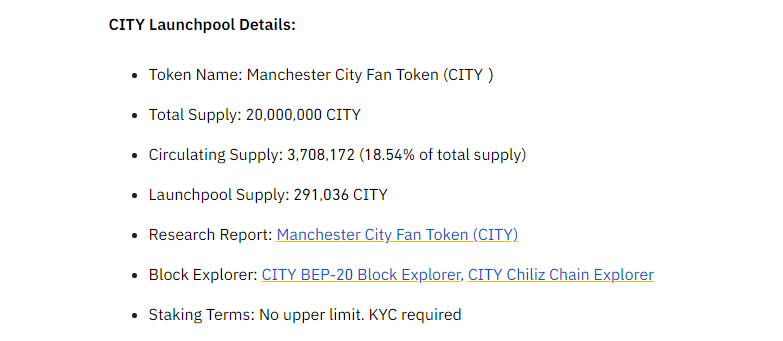 This is the embrace of Decentralized Finance (DeFi) to give more value to the CITY fan token. With this, we are anticipating that BNB and CHZ would gain more value in the coming days as the over 20 million Manchester City Fans would want to earn more CITY for participation in governance (voting) activities in their choice club. Already, the CITY token presently valued at $15.5 with about 17.5% of the token's maximum supply already in circulation.
The live Manchester City Fan Token price today is $15.51 USD with a 24-hour trading volume of $157,903,747 USD. We update our CITY to USD price in real-time. Manchester City Fan Token is up 6.82% in the last 24 hours. The current CoinMarketCap ranking is #610, with a live market cap of $54,399,458 USD. It has a circulating supply of 3,508,140 CITY coins and a max. supply of 20,000,000 CITY coins. SOurce
Last year, @taskmaster4450le predicted how large players of the sports sector to take advantage of the DeFi feature of cryptocurrency..
That said, DeFi is still in its infancy. As we see more development unfolding, there will be a host of options for large, legitimate players to take advantage of. This will restore the credibility to the sector when we see some household names entering the space.... The world of sports is a $500 billion industry. It has enormous reach while also being aptly aligned for DeFi. Tokenization offers enormous opportunities for creativity that will bring fans closer as well building further brand loyalty.... It can also provide fans with the ability to start innovating things they can do with their favorite teams.
These developments are unfolding before our very eyes and it can only get better in the coming days. For example, the FC Barcelona Fan Token Discount Sale listing on Binance was announced on 2021-04-21 10:00 and trading was slated to begin at 2021-04-21 11:00 AM (UTC).

Binance will list FC Barcelona Fan Token (BAR) in the Innovation Zone and open trading for BAR/BTC, BAR/BUSD and BAR/USDT trading pairs at 2021-04-21 11:00 AM (UTC). Users can continue to deposit BAR in preparation for trading. source
Shortly after the announcement in April 2021, the price of BAR fan token surged to the highs of $42 while the pool lasted. It wouldn't be out of place to see that $CITY would be heading towards $50 in the next few days.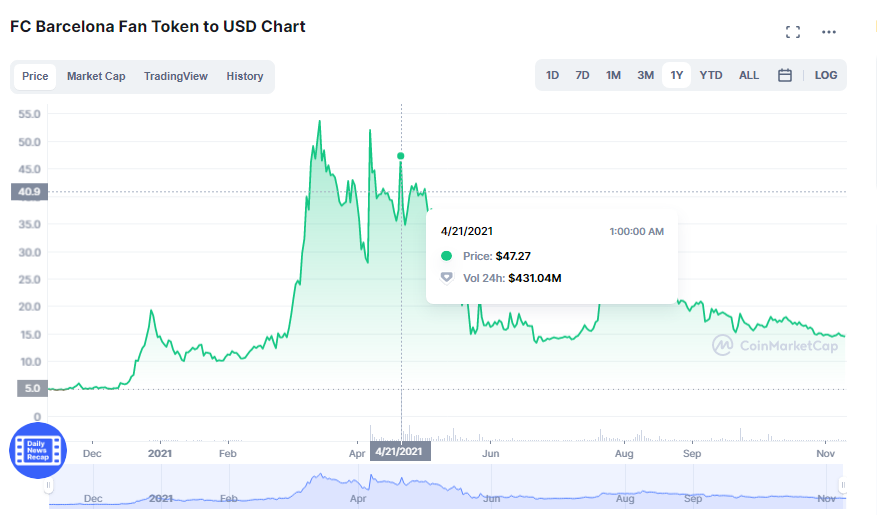 source
Fan Tokens give sports fans across the right to to exercise their share of influence within their favourite teams/leagues/clubs by lending their voice in the decision making process through a weighted vote Foe example, for example, "choosing a goal celebration song in a football stadium, choosing which fighters should go head to head in MMA and others". Socios.com has pioneered this course, and yet, it doesn't deter other blockchains from venturing to this fresh sector.
My concern is how we can have these fan tokens on Hive-engine especially as we now have smart contracts that allow bridge building with other blockchains. I have always seen a huge future with sports for the blockchain and crypto sphere since we have a huge fanbase and loyal supporters in that sector. This is one of the reasons that informed my high support for the SPORTS token on hive-engine. I know that creating fan tokens on socios is costly as we can see it's exclusively embraced by rich clubs, however, we have a very cheap and near free altrernative on Hive-engine.
It now behooves whether we have the sufficient marketing outlets and influences that would communicate the strength of our hive blockchain (speed, scalability, free transactions) to sports teams out there. Our Proof of Stake system which allows for governance and rewards generation is something every growing and upcoming/local clubs could leverage.
Where do we start from? Let's share thoughts in the comments section of this post.
Posted Using LeoFinance Beta
---
---