FC Creativians: First 365 Days of Fun and Crypto Earnings with Rabona Football Manager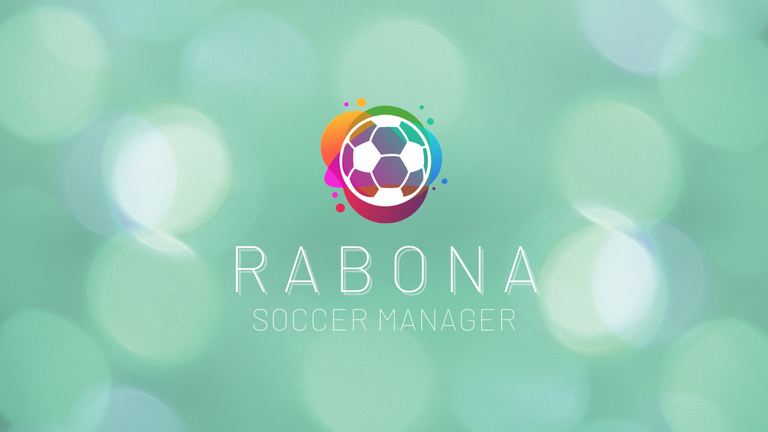 My team, FC Creativians, was founded on Friday, 25th September, 2020 at about 7:33 PM. This came within the first 48 hours of Rabona Football Manager going live on the Hive blockchain. Rabona is a massive-multiplayer online soccer management game built on the Hive blockchain, where a user can manage a fictional football club and earn cryptocurrency - in this case HIVE and RBN. The Rabona game offers the players the decision to build and develop his team, take on the role of the head coach of his team, and manage the financials of his club till the club reaches to the top of the league, and becomes the champion.
Rabona game is a brain creation of the duo of @rondras and @oliverschmid and later joined by @mciszczon and @uwelang to give a super touch to the highly played game on the Hive blockchain. Rabona has dGoal as a second interface for Rabona online football manager with access to the basic features that Rabona has. Rabona also has the feature for users to trade the in-game token (RBN) against pegged Hive with promises of a DeFi like bank in the near future.

Within the last 365 days of actively involving in Rabona game, I've grown my team remarkably to 71 Overall strength and presently having 29 players with a total salary of 423,395 RBN per match. Geoffrey Thys remains our best with 91 Overall Strength.
FC Creativians have played 1410 matches and won 643 matches which represents 46%. We've won league 3 for a couple of times and league 2 once which qualified me to have a taste of League 1 for one season. We've significantly grown our assets to a 23,000 capacity stadium with ha huge merchandise shops for sports shirts and scarfs as well as cafeteria with catering capacity of 23,0000. Parking lots, hotels and other facilities constitute our revenue generating options.
With 46% winning ratio, we have been able to keep as ,much as 48 million fans internationally till date and this means a lot to the sales of of our sports wares and tickets each match.
We've participated in 47 soccer seasons and have significantly earned about 500 million RBN tokens in all. Besides, we've received over 20 HIVE rewards over the 47 seasons.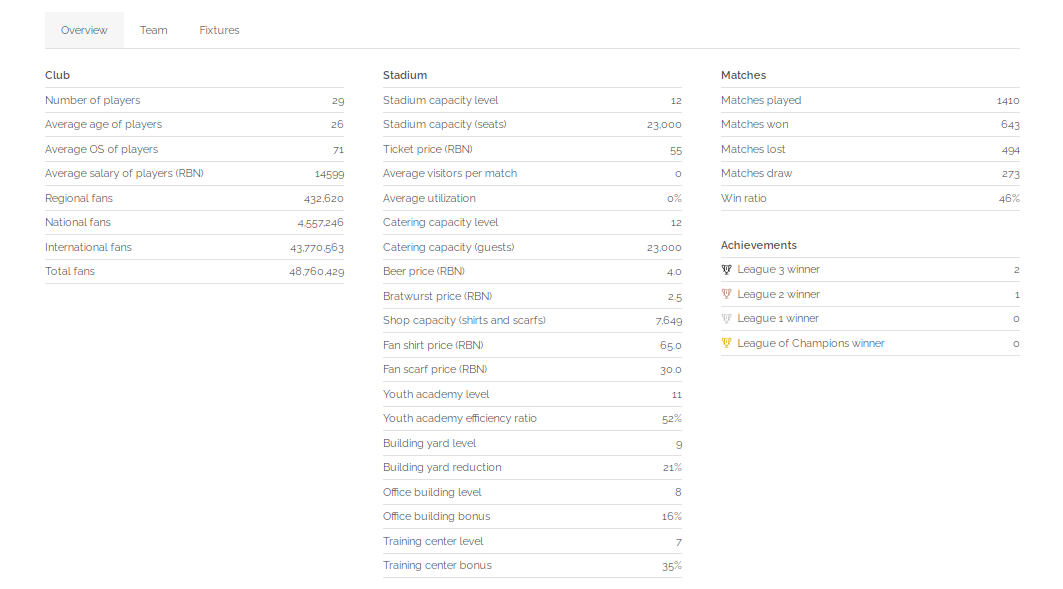 It's been an amazing One year of fun and earning crypto with Rabona football manager and I can only look forward to another bigger year ahead. Very interesting that while we do our leisure and are catching the fun, we can earn some tangible sum here on Hive. I had long withdrawn the $5 initial investment into the game and I see the future when the DeFi option of Rabona Bank would come live which mould make the game produce Hive millionaires.
Giveaway Given out!
Yesterday, in this post, I made a promise to gift 10 million RBN tokens to players in a way to celebrate this First Anniversary of being an active participant of the game. The prospective winners were expected to do a simple task to earn:
How to Win your RBN Giveaway
Just do the following:

Tell us what date and time you purchased your Rabona game starterpack
Tell us how many seasons you've played so far
Tell us how interesting you've found Rabona game to be.
You can do all the above as a comment under this post or go ahead to make a full post and share the link to the post as comment under mine. Remember to state the account you created your team from so I can send your RBN tokens.
We only had one submission as at the time of this post and that user automatically earns the entire 10 million RBN tokens.
Congratulations @DFAcademy! You won 10 million RBN Tokens

Promise fulfilled. Below is a screenshot of my Rabona wallet showing the transfer of the 10 million RBN tokens to the beneficiary. This is out of excitement of the successes enjoyed in the course of playing the game in the last 365 days.

I am hopeful that the next year of engaging Rabona game would be superb and I'll be glad to do another giveaway this same date next year. I trust, it'll be bigger and better.
Be sure you join the fun that Hive offers! Rabona is one of such.
Posted Using LeoFinance Beta
---
---