Fund your Startups & dApp development on Hive-Engine with DHEF using BEE, ONEUP, SPORTS, SPT ...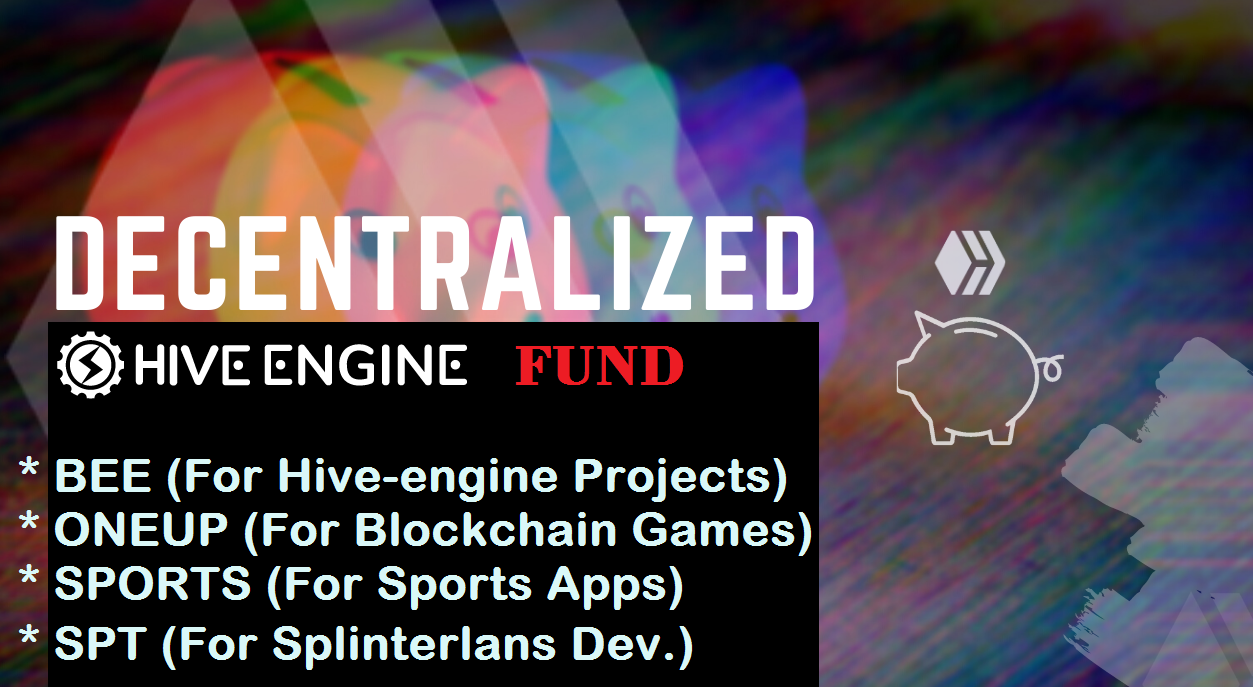 One of the greatest emergence in the blockchain technology and cryptosphere has been the "Decentralized Autonomous Organization (DAO)" and its feature which allows individual members of the community to collectively make critical decisions on treasury allocations. Several crypto projects have jetted off with solid financial footing from DAO funds. The beauty of DAO funding is that it is fully autonomous and transparent in that smart contracts lay the foundational rules, execute the agreed upon decisions, and at any point, proposals and voting can be publicly audited. Also, the very code itself can be publicly audited.
The Hive blockchain has not been left behind in implementing this huge community-bound decentralized way of raising funds for dApp development, marketing and other purposes as a agreed upon by the codes. This has been captured as Decentralized Hive Fund (DHF). The Decentralized Hive Fund (DHF) is an on chain decentralized autonomous system that allows users to submit proposals for funding and vote on which proposals should be funded. Several projects, activities, dApps development, development cost within the Hive ecosystem has been covered by DHF.


At present, the Hive blockchain doles out about 78,241.750 HBD daily to fund proposals. That is valued at about $75,894.4975 USD at today's exchange rate. Remarkably, lofty development projects as Hive gamification by Hivebuzz gets funded with 165 HBD daily (over the next 46 days), Hive keychain development gets funded with 300 HBD daily (over the next 180 days) and the just concluded HiveFest 2021 got partially funded with 2,500 HBD over 4 days.
Decentralized Hive Fund have turned supporters and community members into a Success Engine. That is, huge funds have been pooled from the community reserves (but with members' authorization through votes) to build tangible projects on the blockchain.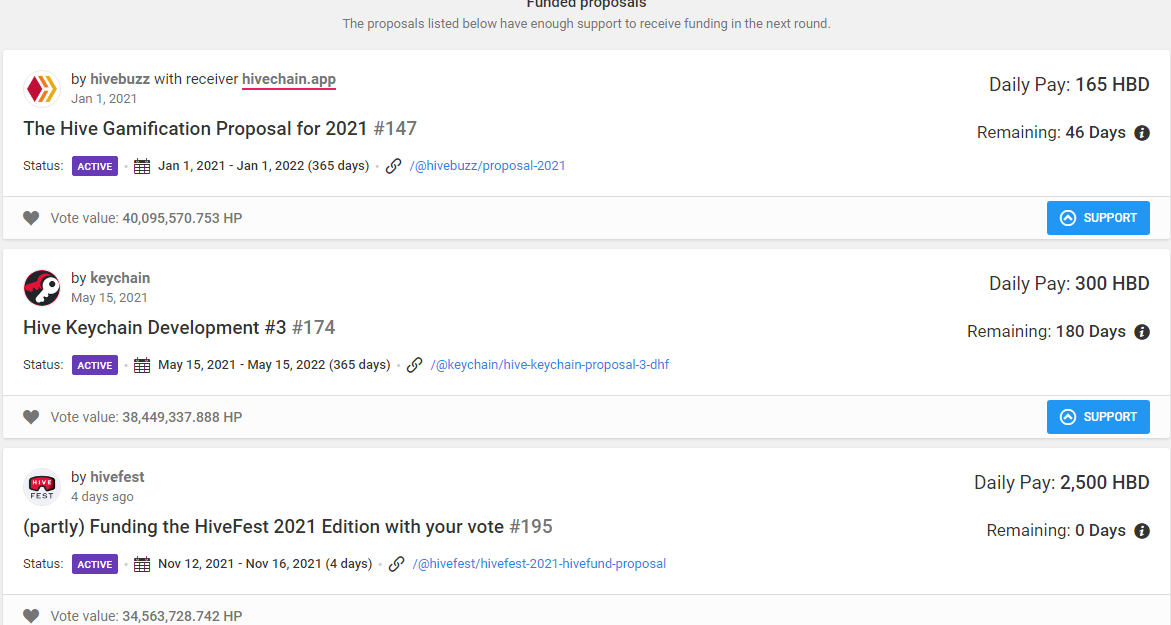 Going deeper, the developments within Hive's layer 2 - Hive Engine has made it possible for tokens created on the Hive-engine protocols to also create a Decentralized Fund to power developments within the community/tribes, such that creative community members can secure funding to BUIDL tangible stuff that would create additional usecases for the hive-engine tokens, help market the community and the tokens. WHile there may be many lofty proposals that may not secure funding on the main chain, I believe that utilizing the second layer decentralized Funding can be easier especially for projects that require less funding and are community/tribe bound.
It is beautiful that already, some of the hive-engine tribes have activates the Decentralized funding Feature which I call Decentralized Hive-Engine Fund (DHEF). So far, this feature of the Hive-engine has been underutilized as many hive users do not understand that anyone is at liberty to create a proposal and call for the community/tribes members to vote based on their conviction that it could better the economy of the community and tokens concerned. This is the motivation for this post.
A few of the communities/tribes that one can use the tribe's native token to raise funds for community-bound project are as follows:
We understand that apart from the Tribaldex community which represents a general umbrella for all hive-engine tribes/tokens enthusiasts, others like 1UP, SportstalkSocial and Splinterlands serve specific purposes.
There are about 11 Proposals requesting to fund their projects with BEE and all of these are to cover cost for liquidity pool rewards and are all authored by @hive-engine.

Proposal creation fee: 50 BEE
Vote / Payment Token: BEE / BEE
Max Duration: 365 days
Max Payment Per Day: 2,191.78082191 BEE
Vote Threshold: 20,000 BEE
There are three projects in this category requesting funding with ONEUP tokens. One is created by @flauwy-1up for SWAP.HIVE:ONEUP liquidity pool Rewards, one is created by @flauwy for ONEUP:SPT liquidity pool Rewards and one is created by @splinternews to fund "Watch to earn on Splinternews".

Proposal creation fee: 250 ONEUP
Vote / Payment Token: ONEUP/ ONEUP
Max Duration: 90 days
Max Payment Per Day: 6,500 ONEUP
Vote Threshold: 250,000 ONEUP
This category has just one proposal by @patrickulrich to fund SPORTS:HIVE Diesel Pool Liquidity Provider Rewards.

Proposal creation fee: 2,500 SPORTS
Vote / Payment Token: SPORTS / SPORTS
Max Duration: 730 days
Max Payment Per Day: 280,000 SPORTS
Vote Threshold: 20 SPORTS
Proposals funded in this category are three and are diverse in nature. One is created by @splinterlands for SPT:SPS Rewards Pool rewards, one os created by @dynamicrypto for Splinterlands Movie & Animated Series Proposal and one is created by @sbi-tokens for Splintertalk Basic Income funding.

Proposal creation fee: 10,000 SPT
Vote / Payment Token: SPT / SPT
Max Duration: 730 days
Max Payment Per Day: 1,000,000 SPT
Vote Threshold: 20,000,000 SPT
As we can see from above that the Decentralized Hive-Engine Fund (DHEF) is so far underutilized. There are more possibilities locked in there. Let me stop here, I'll be back to make some more analysis on the above proposal funding details.
---
Image edited from this post by @Dalz
Posted Using LeoFinance Beta
---
---