New Hive Tribes Interfaces: The Aesthetics, Security, Onboarding and Revenue
Hey, Hive's growing on daily basis., There's a lot of improvements on the chain and on the side chain. It's all amazing!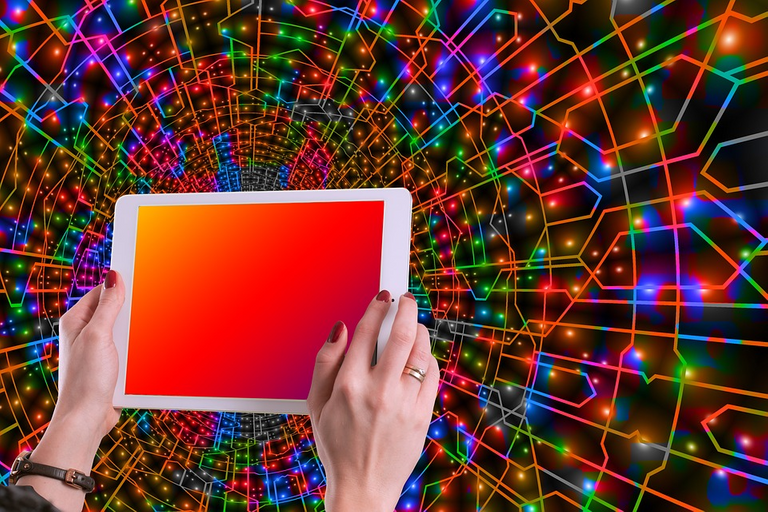 Image source
It is getting more interesting to see Hive communities and tribes move away from the condenser version of our blogging interfaces to provide a more appealing content creation and consumption experiences for Hive users and visitors. I simply love this developments and it's one of the strong points that Hive is scoring of late and this promises us a more sustaining future for the Hive blockchain.
Thanks to @LeoFinance for leading the way months back to show that it's very possible. With ProofofBrain, SportsTalkSocial, and ClickTrackProfit communities joining the league, we're a seeing an entirely different outlook for our Hive posts and its amazing. Thanks to @Patrickulrich pf the Sportstalk community and @Jongolson of the CTP for forging ahead with these developments. I must confess that I least expected this change from SportsTalk at this time, however, I'm seeing a way quicker development within the tribe than I've envisaged.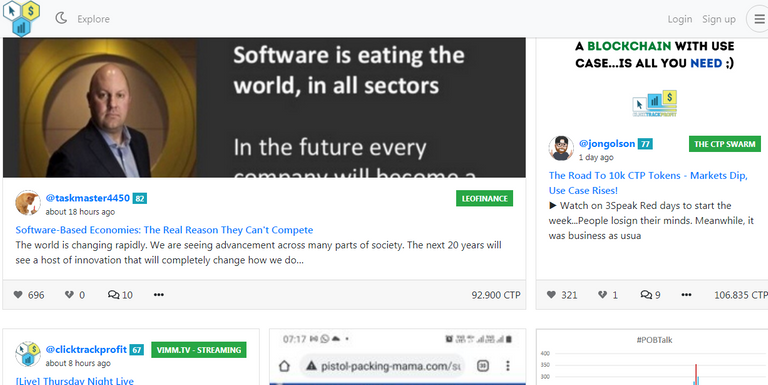 New ClickTrackProfit Blogging Interface
Without a doubt, the new tribes interfaces are built up with capacities in favour of users of the tribes, content consumers, investors of the tokens as well as the community growth. In my words, I would say, the new Hive tribes interfaces is a plus in terms of aesthetics in content creation/consumption, security of using interfaces and earning tokens, onboarding of new users and revenue generation for the community fund.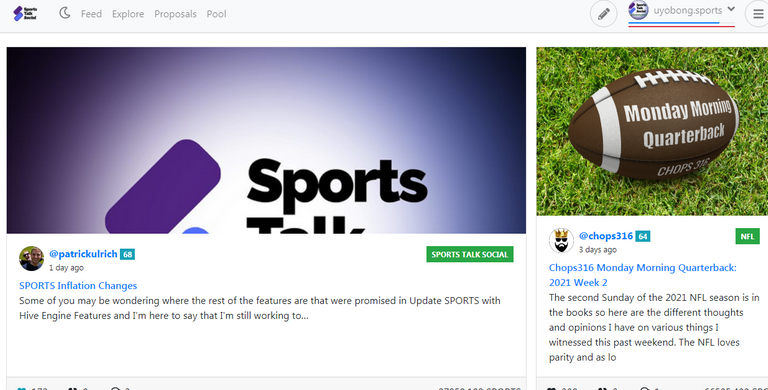 NewSportsTalkSocial Blogging Interface
Better Days Ahead for Content Creation and Consumption
Days ago while showing one of my Hive proteges how to create contents, \he complained bitterly the horror of having to source for Creative common/free-to use images as well as the stress of having to reference the sources. According to him, he didn't have to do that on other web 2 social media. He even opted to be making posts without images. I understood with him as he's just getting to appreciate an incentivising blockchain based blogging platform like Hive and he's yet to understand content copyrights and related issues. He just got to know that one shouldn't earn from another's intellectual contribution without acknowledging them. I was able to explain the SEO components of hive based blogging and the frontiers to becoming a top space when there's information need for researches, development and more and the need to follow world best practices. Taking the time to have educated him gives me hope that as many as come to understand this and put up quality contents on Hive platforms stands a chance of being ambassadors that'll bring more quality writers and quality content consumers to our interfaces and this means much more to us when it comes to exposure, google ranking and even token prices.
I can vividly remember when LeoFinance multiplied ads on the new interface and how much value had been generated from then till now as ads revenue and how that has been instrumental to the healthy LEO price. This now places leofinance contents on top of search results when it comes to cryptocurrency information and this is a step in the right direction.
Sincerely, there's going to be a massive onboarding of new users via the tribes as each tribe presents a more appealing interface to the content consumers out there. We all know the value that aesthetics can add to a blogging platform and how much it can retain content consumers. Already trusting the capacity of the CTP team in terms of affiliate marketing and their daily newsletters capable of bringing new users to see these awesome developments we have around here.
Your keys, your Tokens
One of features that earns and will continually earn my loyalty to Hive is security. We'll all agree that in the cryptosphere, where you don't have a 100% control of your keys, your funds are not safe. Retaining the exclusive right to to keep my account safe by keeping my keys is the height of security we could have on a social blogging platform. I'm glad that to see the inclusion of Hive keychain login option - the strongest and safest login option so far on Hive - in all the three tribes interface under review.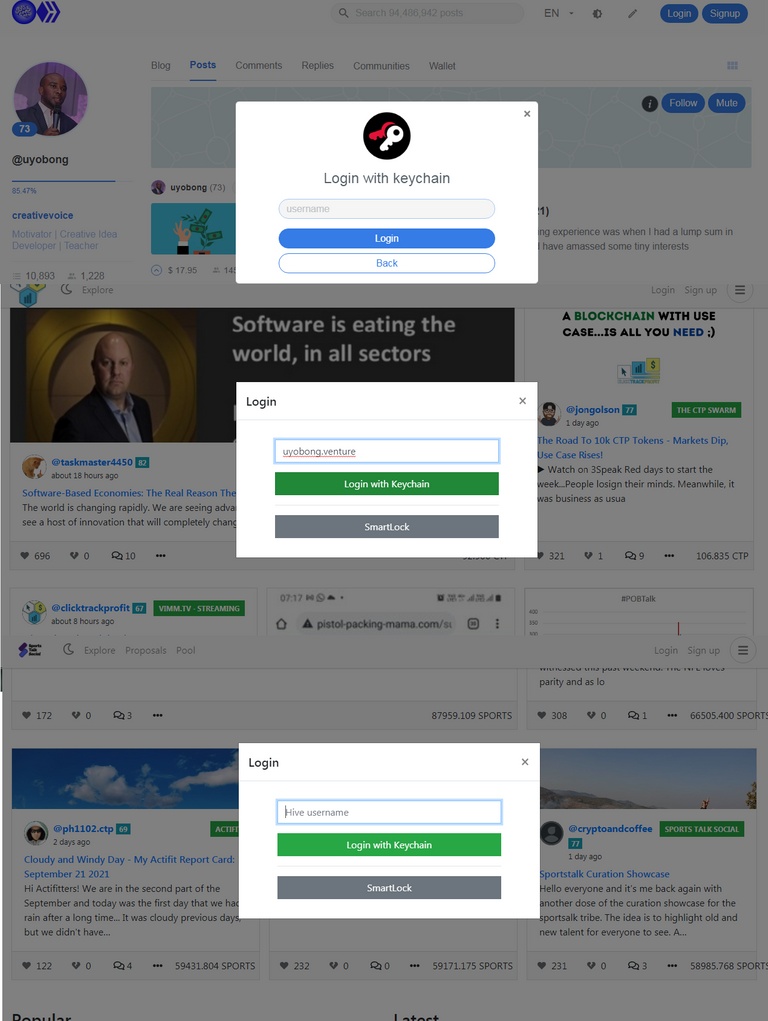 There's nothing to worry about key exposure as our keys are just at the periphery of our devices when login in or carrying out wallet transactions within the Hive tribes. Some months back, some Hive maximalist would have nothing top do with the second layer tokens or interfaces, since they considered that their tokens are not safe especially as Hive keychain integration was not popular. Now, the story is all different and I'm trusting more investors are coming tot he second layer of Hive and that means a lot for Hive itself.
Improved Community Revenue Purse
While I'm not yet furnished with sufficient information regarding ads on the new interfaces, I trust that this would be another key addition to these new interfaces. leoFinance over the months have shown how thousans of dollars have been plowed into the community purse for development and token burning from advertisement revenue. The Sportstalksocial community has over the last few months shown how its tiny viewership has already pooled close to $1k worth of BTC from ads on its condenser website. With this ,migration, I'm expecting something more robust from the POB, CTP and SPORTS tribe and that would mean more for the exposure of the tribes interfaces as well as improve token prices in the coming weeks.
Like I'll always say, we're still in the beginning of things on Hive and communities are the future. These developments around the communities is only showing how close the future is to us and the need to stick around. Once again thanks to all the tribe leads and development leads that are putting in their time, money, skills and more to ensure that Hive remains a place worthy of of our time in quality content creation and consumption. Posterity would in no way forget them.
Thanks for being my audience this Friday morning., Do have a splendid weekend ahead!
---
---