Pushing for 2k SPS Stake before October 18 - 12 Months GLX Airdrop on my mind!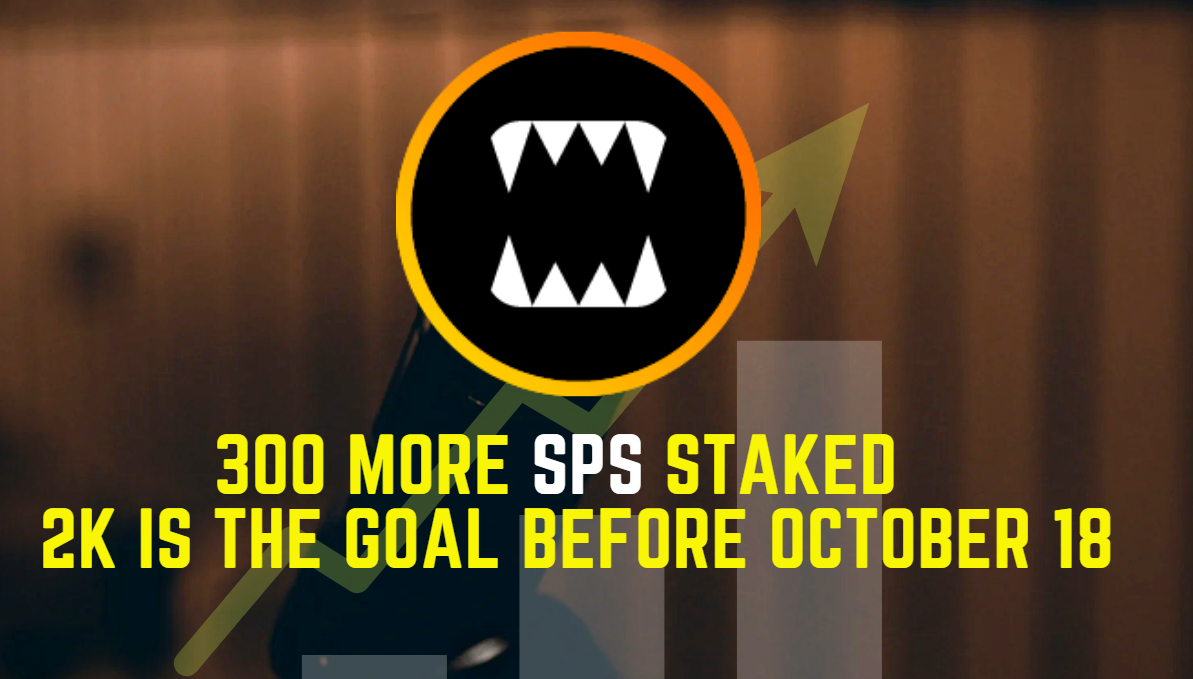 I can't really explain why I'm so excited about the new creation by the Splinterlands creators. I mean the sports gaming platform - Genesis League Sports (GLS). Maybe I have the bias that sports integration into crypto would lead to mass adoption. It's exciting that like Splinterlands, GLS would again pitch Hive as an immutable and secured blockchain hosting two top play to earn games.
Passive income & Long Airdrops is a thing on Splinterlands
The GameFi leader, Splinterlands had in the past modelled a second to none long term airdrop and passive earning for those who held Splinterlands assets. This is actually what made Splinterlands an interesting thing for me on hive. The launch of GLS comes with a promise of another long lasting airdrop for SPS stakeholders and its something not to miss.
Adding to my stake of hive tokens in bits has always been my trusted strategy. Not necessarily by dollar cost averaging. I just give attention to a particular token or tokens on my radar for a time being and keep stacking them as I can. Recently, $LEO and $SPS has been the two tokens not to miss catching each day. The communities issuing these two tokens know their onions so well and are worth the trust.
Staking SPS in my Splinterlands game comes with three main benefits. First is to help you make at least 30% APY. Second is to participate in the Splinterlands game governance and Third, to qualify for future airdrops. The previous airdrops received from Splinterlands without a intentional investment was worth over $100. I just have to do it intentionally and sit squarely for the following rewards.
GLX Airdrop is by the Corner as GLS Presale Starts in Few days
The first presale for genesis League Sports is by the corner. October 18, 2022 is the date and I know everyone in the Splinterlands ecosystem is excited. The presale would be followed by an airdrop of $GLX, a governance token of the GLS platform to all SPS stakeholders.
Genesis League Sports is a blockchain-based, play2earn gaming platform and ecosystem specifically designed for sports games and NFTs. It is the flagship sports play2earn platform brought to the play to earn sphere by the Splinterlands creators.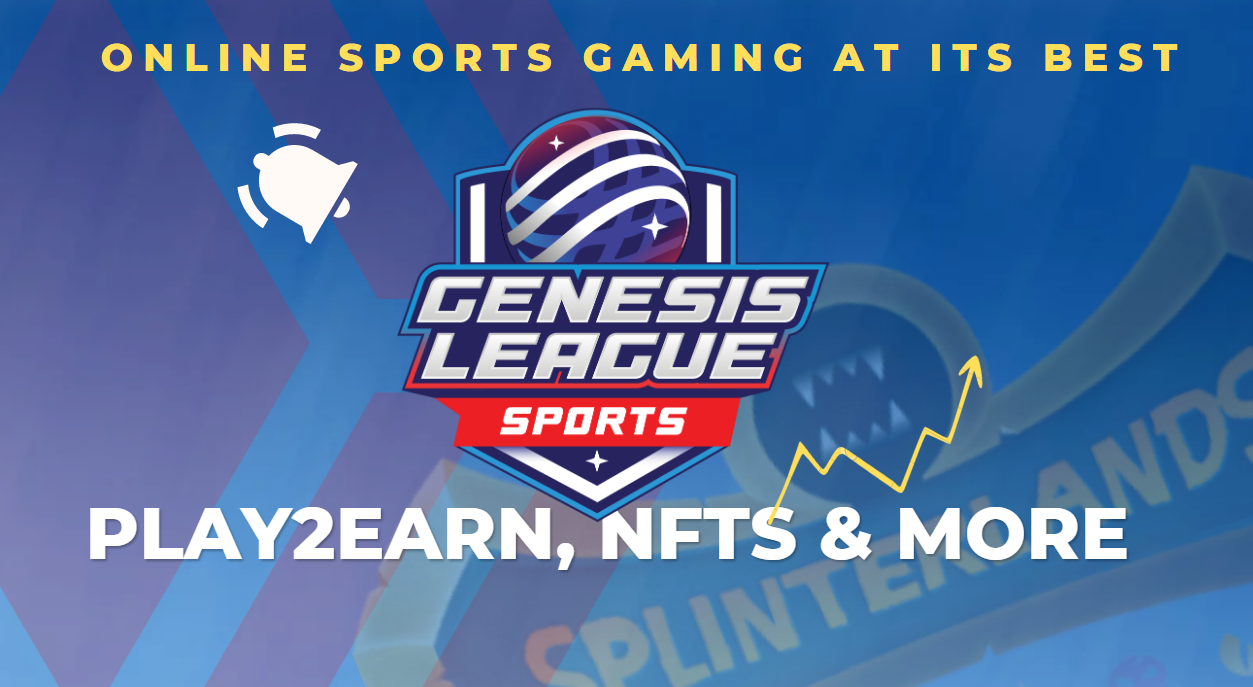 GLS will airdrop 100,000,000 GLX tokens to Splinterlands SPS stakeholders for the first 12 months. The distribution of the GLX airdrop will be determined by a daily snapshot of all the staked SPS holdings over the year. During that time, approximately 274,000 GLX tokens are expected to be airdropped to SPS stakeholders daily. - GLS Whitepaper
I am girding my loins to be sure I earn some fair share in the GLX airdrop allocation that would last for one year. I have no doubt that GLS may mark a huge selling point for Splinterlands and may record far reaching stats in short time. Holding at least 2,000 SPS stake is the target. I don't know how much of daily $GLX tokens that would qualify me for but it'll sure be better than the SPS I received in the previous airdrop.
300 SPS added to Stake
Today, i added 300 $SPS to my SPS stake. This brings my balance to 1,423 SPS tokens. That's a small amount compared to users with hundreds of thousands of SPS, but that means a lot to me at this time.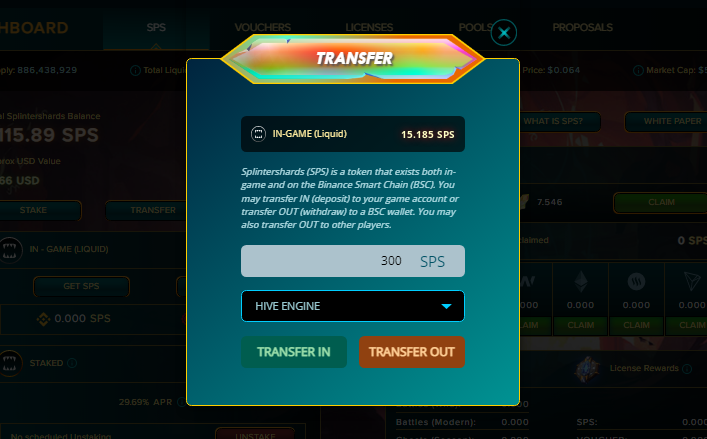 Transaction ID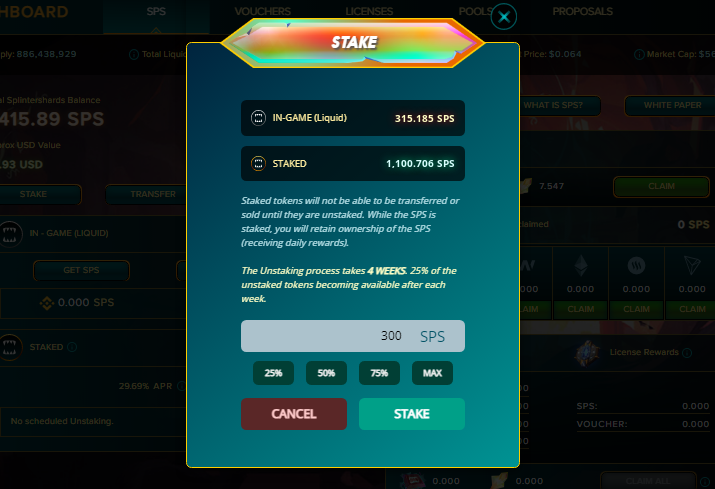 Transaction ID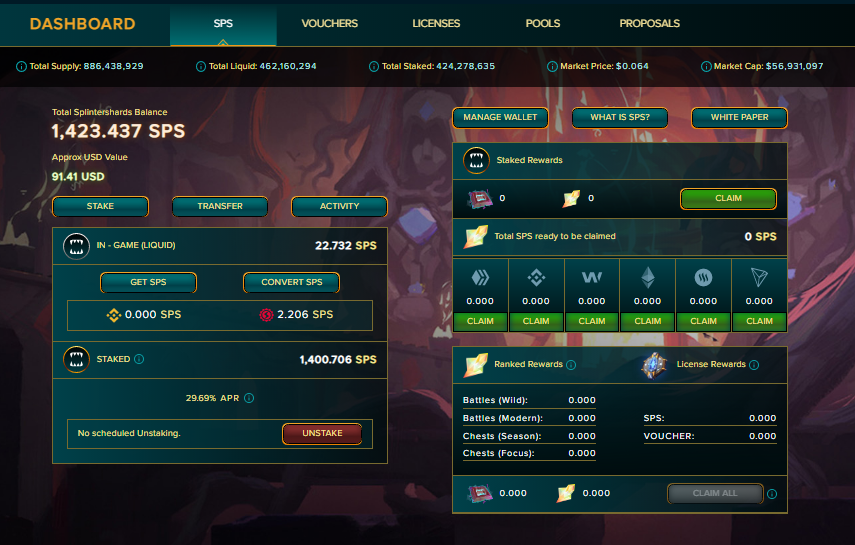 Every addition to the SPS stake brings me closer to my next goal. I just have the next 4 days to stake the remaining 600 tokens. It'll be a sure deal. This is no investment advice, just my convictions driving me
It can only get better!

Splinterlands game is termed the "next generation of collectible card games" in which allows players to collect, trade, and battle with provably scarce digital collectibles with real-world value. Battles on Splinterlands Unlike most trading card games, are fast and furious, and are usually completed within few minutes. The Splinterlands gameplay is simple and easy to learn viz: reviewing combat rules, making and submitting of the team and watching the battle unfold.
Let's Connect
Hive: https://leofinance.io/@uyobong
Twitter: https://twitter.com/Uyobong3
Discord: uyobong#5966
---
Posted Using LeoFinance Beta
---
---