Start earning BTC on Hive with your Sports contents
Sure, this sounds like the best news you've heard lately about the SPORTS token. However, it's just the beginning of better days ahead. SPORTS was like a demo steem-enginehive-engine token to me in 2019 when I started investing in steem'sHive's second layer. It was cheap enough and I could spare some $$ to play around with the tokens with less risks. The first token I'll ever stake and grow my stake for curation purposes. When I started tracking my growth in curation returns, it was just massive. Weeks, months passed and my SPORTS holdings ran into 7-digit (unit millions) and then to 8-digits (tens of millions).
There was a time almost everyone dumped SPORTS on me and I packed them at almost nothing. The decimals were quite long and I can't remember that. I was never bothered. For me, I was learning crypto trading and second layer curation with SPORTS. However, things changed at about 2020 Q4 and 2021 Q2. SPORTS token again earned admiration and investors started buying. At that time, I was selling, that's the reason I couldn't pass the 100 million stake mark. It might interest you to know that I've cashed over $3,000 from SPORTS token alone and that still fun for me.
It's a new season for SPORTS token the moment I read this post created by @patrickulrich. From now on, you can swap your SPORTS to BTC and vice versa on tribaldex. He's really working hard lately and I see the SportsTalkSocial community rise. This community has been under-estimated and I think its worth more than we know. The recent addition of SPORTS to the DeFi pools on tribaldex has helped to stabilize the price of SPORTS token over the last few months.
Here's @patrickulrich speaking on the SPORTS : SWAP.BTC pool:
Tonight I purchased another pool pairing for SPORTS with SWAP.BTC. This will allow anyone with SWAP.BTC to trade into or out of SPORTS! You can probably imagine how this could benefit everyone in our tribe.
Beyond just our authors, this should make it much easier to find people willing to work on our project as far as development too. Now someone can build something that makes SPORTS better then request funding from the token fund, like I've done here, convert those payments to BTC and then cover their costs. It opens us up to finding talent that doesn't have to care about the future of the platform to keep HODL our token in hopes that we build a community they like in the end. They can now go directly towards one of the most liquid currencies in the world.
I'm not trying to get you tuned. It's for real. I just converted about 865k SPORTS to $18.33 worth of BTC (0.00044424 BTC). It was a test case for me and it worked. That's way huge. It makes more sense presently as Bitcoin is down and assume when BTC is back to $100k, then my 865k SPORTS would have been worth close to $50. See the screenshots below. First is the dieselpool swap for SPORTS and SWAP.BTC on Tribaldex and the second is my hive-engine token balance showing my $18.33 worth of BTC.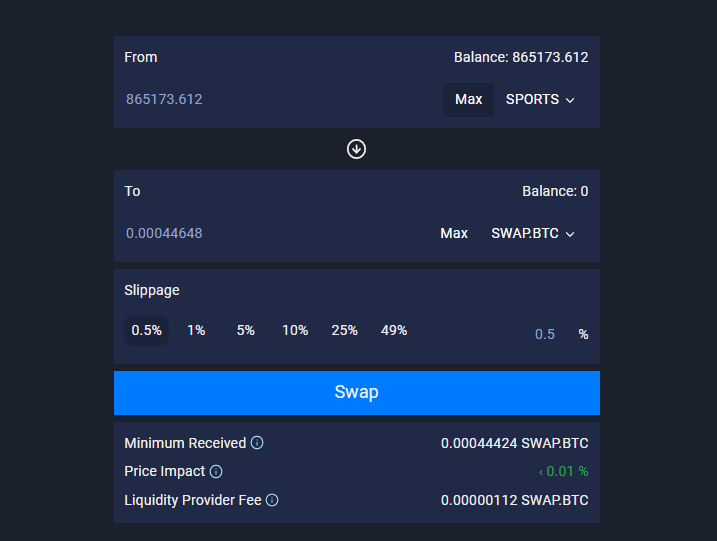 if you didn't still understand me, I meant that, from now on, you can start earning BTC on Hive via SPORTS. It's simple. make #sportstalk posts, earn SPORTS and swap it for BTC. Don't you think this swap would help SPORTS recover in price since there would be less pressure on SWAP.HIVE market? and when BTC recovers, I'll personally want to buy back millions of SPORTS. I have a dream. IO have a project that would utilize SPORTS. It's in the future and it'll be a game you'd love. I'm not in a hurry, My SPORTS holdings are a long term investment and I told myself I could actually hold say 1 Billion SPORTS before 2030.
The development around the SportsTalk community has been growing of late and its amazing to see the direction things are headed.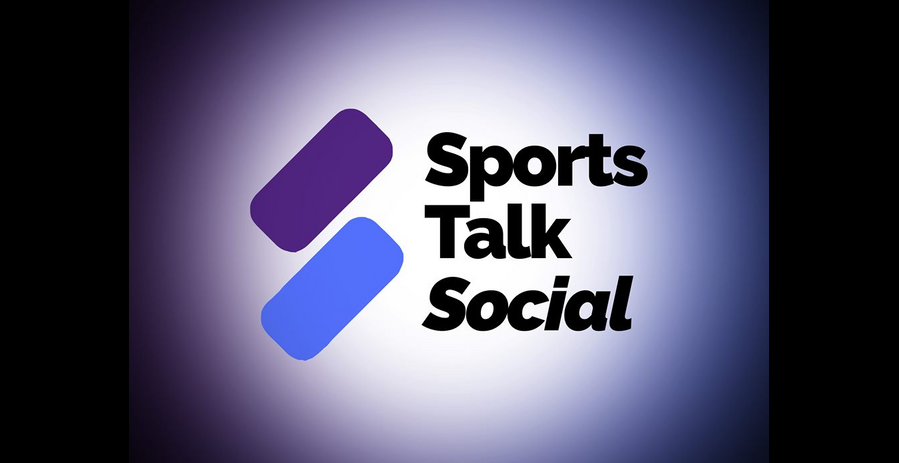 SPORTS is a hive-engine token earned by creating sports contents via sportstalksocial or using #sportstalk tag on a sports post. Actifit posts also earn SPORTS token by defaults. Presently, 100,000 SPORTS token is worth 2.5 HIVE and it's a fair price to accumulate SPORTS which can be traded on hive-engine market or swapped on tribaldex against SWAP.HIVE, AFIT or SWAP.BTC. Presently, curating with SPORTS stake gives over 50% APY and that's a fair especially as the token is in its lows in terms of price. I think it's worth investing in.
It can only get better!
Do you think that the SPORTS:SWAP.BTC dieselpool would have an effect on the economy of the SPORTS token? Lets discuss..
What is Hive?
Hive is an innovative and forward-looking decentralized blockchain and ecosystem, designed to scale with widespread adoption of the currency and platforms in mind. By combining the lightning-fast processing times and fee-less transactions, Hive is positioned to become one of the leading Web3 blockchains used by people around the world. source
What is Hive-Engine?
Hive-Engine is a smart contract platform on top of the Hive blockchain. It allows communities and businesses to build their own tokens, which are then built on top of the technology provided by Hive. This is the ultimate layer 2 solution. The token created on Hive-Engine is then immediately tradable with Hive on their exchange.
About me...
I am a called teacher, a serial entrepreneur and a Graduate of Agricultural Engineering. Nigeria is my root and a place full of opportunities. I dropped out of a Master's Degree program due to funds, yet I do not regret growing the courage to start my business from the scratch. Today, I've built layers of Businesses on the Hive blockchain in terms of Curation and it's a sustainable passive way of earning crypto while learning.
I am your favourite Hive Tribes Promoter and Curapreneur!
I am @Uyobong.
Let's connect on Twitter
Posted Using LeoFinance Beta
---
---