$3.12 worth of "single" upvote Generated from 7 Hive-engine Tokens. No.3 is shocking...
Hey there, it's an exciting evening and I bring to you an update on #MyHiveGoals for the month of November, 2021. It's been an exciting month so far, at least, I've been able to step up my content creation game and only missed 2 days so far within the month without a post. In fact, last week was the first 1 week full run in content creation after about 6 months. Today's update on my Hive goals would take a lot more different shape as it targets at showing the evidence of my growth in staking of Hive-engine goals. You know how obsessed I have been with Hive's second layer tokens and how I've grown with them.
A long time ago, I have discovered that curation is the one of the biggest wins for Hive in terms of passive income generation. While an active manual curation daily may take an hour or two, one does hae the choice of joining active curation trails and thus spends zero time here, yet, earning big from curation. Today, staking rewards shows that Hive's return or just staking is 2.9% APY whereas staking and curating earns about 9.3% APY. That means that curation contributes about 7% for the main HIVE token. Curation takes a whole new level at the second layer of Hive as some tokens yield as much as 30% to 100% to even 250% APY. As a low income investor, I choose to curate on the second layer, and take a part of my profit to withdraw as HIVE to curate at the main layer.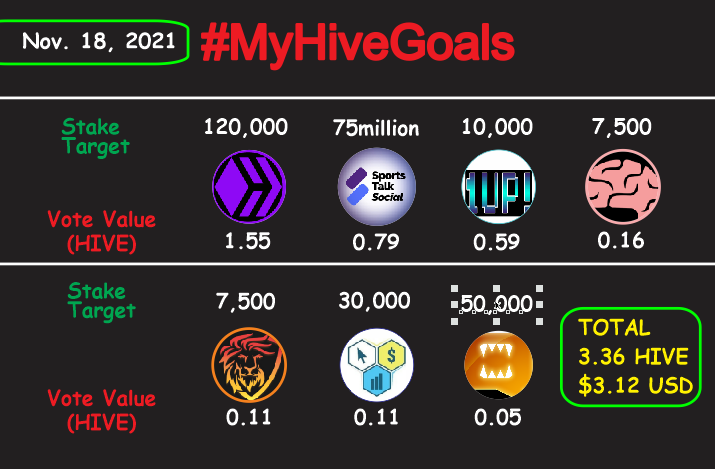 Above shows a graphic representation of the hive-engine tokens in my curation portfolio. presently, there are Seven (7) of these tokens that I monitor. I keep adding more each time a token shows amazing usecases and development that would bring mass adoption to the Hive blockchain. The tokens are LIST, SPORTS, ONEUP, POB, LEO, CTP, and SPT. Each token represent different content categories with unique usecases for each. Below is tabulated the hive-engine tokens, token amount generated when upvoting a post at 100%, and the HIVE equivalent of the token value.
| Rank | Token | Upvote Amount at 100% | HIVE Equivalent |
| --- | --- | --- | --- |
| 1. | LIST | 74 LIST | 1.55 HIVE |
| 2. | SPORTS | 19,000 SPORTS | 0.79 HIVE |
| 3. | ONEUP | 9.4 ONEUP | 0.59 HIVE |
| 4. | POB | 2.5 POB | 0.16 HIVE |
| 5. | LEO | 0.45 LEO | 0.11 HIVE |
| 6. | CTP | 4.5 CTP | 0.11 HIVE |
| 7. | SPT | 8.5 CTP | 0.05 HIVE |
| | | TOTAL | 3.36 HIVE |
| | | TOTAL | $3.12 USD |
The above is just a single upvote value, half of which is my curation earning. When full curation is triggered for about 10 times daily, then we should be thinking of 33.6 HIVE ($31.2) curation capacity and a subsequent 16.8 HIVE ($15.6) curation returns on a daily basis. That could culminate to 504 HIVE ($468) to be earned daily **assuming that the exchange rates for the token against HIVE and HIVE against USD remains the same. There could however be variations due to price fluctuations.
It is exciting to see that my baby ONEUP token is contributing as much as 0.59 HIVE ($0.54) per single 100% upvote. It therefore means that around $2 is earned as a daily curation reward. ONEUP token being used to curate gaming/pla2earn posts on 1UP website. Looking forward to the near future when the usecases for ONEUP would grow and the price for the token do a 5x price action or more.
Note that the amount of these tokens and their total worth varies which also is the reason for the varying curation outcome. The ranking does in no way show that one token is more valuable to the other, it is a rank of their yield according to the value of each token in my entire curation portfolio. You have to do your own research thoroughly to know which token that deserves a greater proportion of your investment.
Curation remains one of the selling point for the Hive blockchain and for me, it serves as a compensation plan to HODL my tokens into the future which would definitely have the tokens rise on value. I keep sharing this success stories to encourage all investors and prospective investors to buy into the token which would increase their demand and the token value as well. This would also motivate developers to create more use cases for the tokens.
I'm proud to be a Hive and Hive-engine Curapreneur and not thinking of retiring soon. It's along term ride till we hold $1 million worth of Hive tokens in stake.
Thanks @Jongolson and @ph1102 for always inspiring me with your token staking and earning goals on Hive.
Posted Using LeoFinance Beta
---
---