HIVE FPL TEAM RECAP : GAME WEEK 14
My FPL team's 14th week of the Premier League season got off to a rocky start as my main man, captain, and regular highest point earner wasn't able to play in this week's game due to injuries. However, despite how rough the week started, my team was still able to accumulate 75 points, which is significantly more than the 56 points we scored the week before.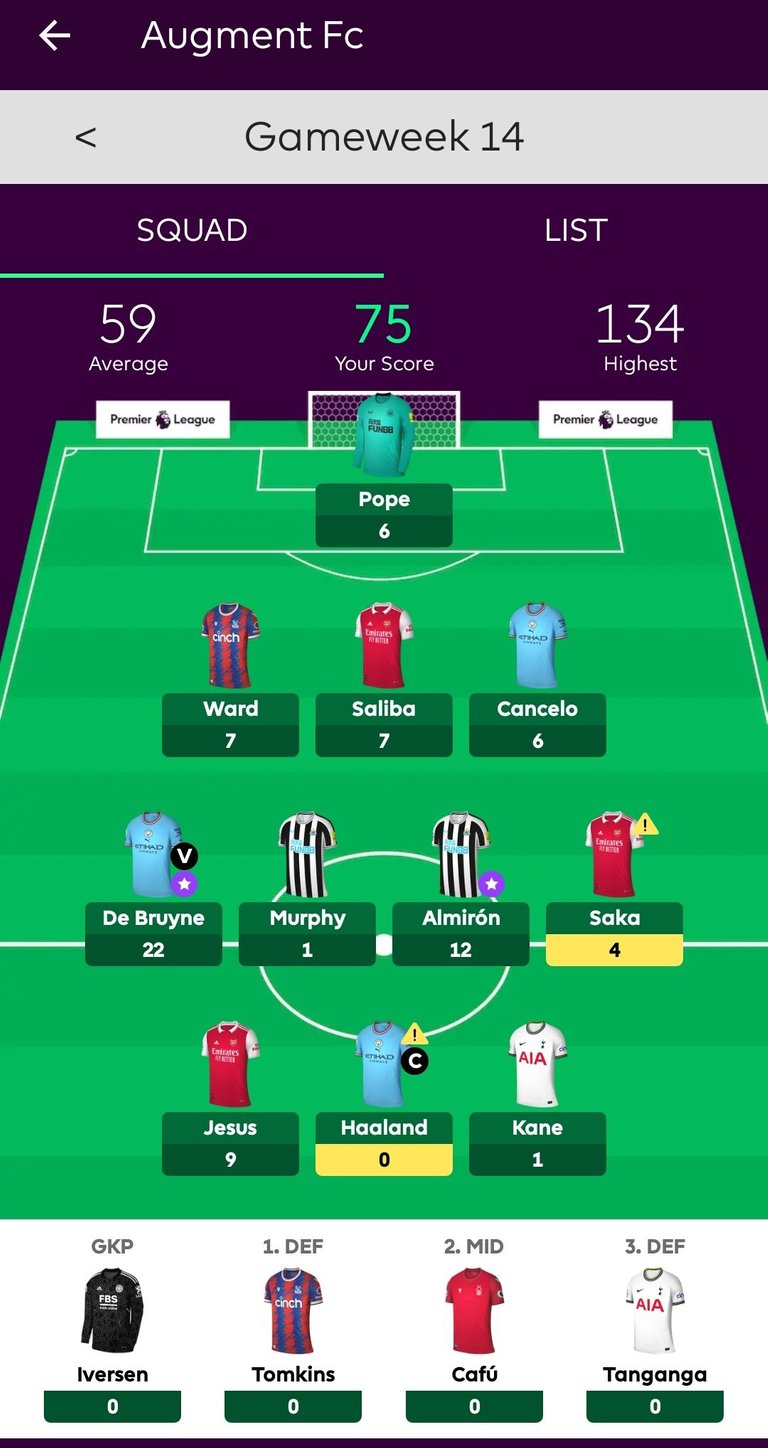 The week fixtures began with Leicester Vs Manchester City, and my team was represented by 2 city players, although I had d players from city, haaland wasn't used in the match at all, De Bruyne lone goal made the difference in the match, and he was able to get me a total of 22 point, because the captain band was moved to him as the assistant, since my major captain didn't featured, Cancelo also earn me 6 point for his cleansheet.
The second match as Even worst because my team only representative in the match between Bournemouth Vs Tottenham Hotspur was Kane and he had a terrible match and only got 1 point in the match, these made me worried, because two of my attackers has already misfire, and the last who's G.Jesus as also he poor in the last few matches.**
But the Crystal Palace Vs Southampton match light up the mood when my team rep in the match Ward was able to accumulate 6 point, my next match was the Newcastle Vs Aston villa match and Pope earn me 6 point, Murphy only got 1 point, but Almiron repay my trust of buying him back to my team by accumulating 12 point.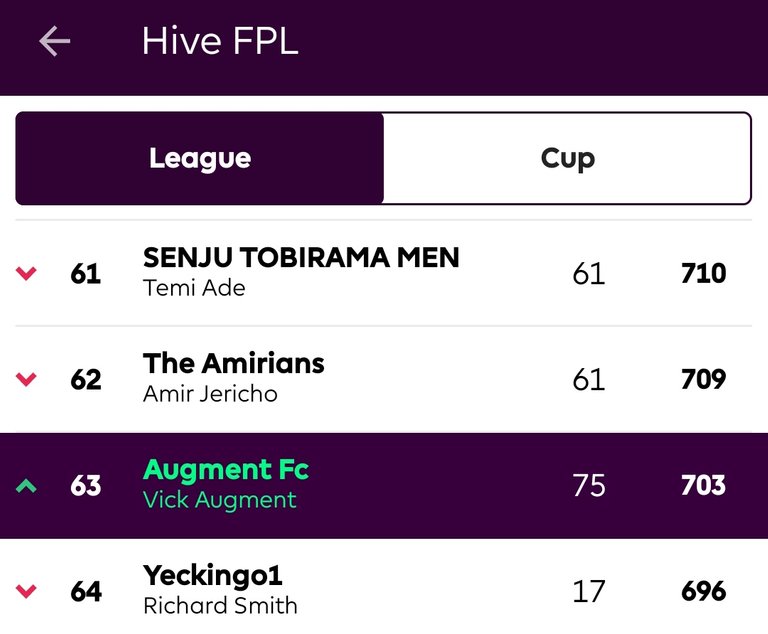 The last match in this week was Arsenal vs Nottingham forest, the match start on a worrying note, because Saka leap off with injury in the first half, but luck enough he already registered an assist before being injured, so he as 4 point, Saliba also has 7 point and G.Jesus although didn't score again, but he registered 2 assist and got a total of 9 point.
The bring my total point to 75, that's pretty more than last week 56, despite the fact that my team was short of 1 player, and this point move me up to 63rd position in the hive fpl league, that's from the 70th position I was last week.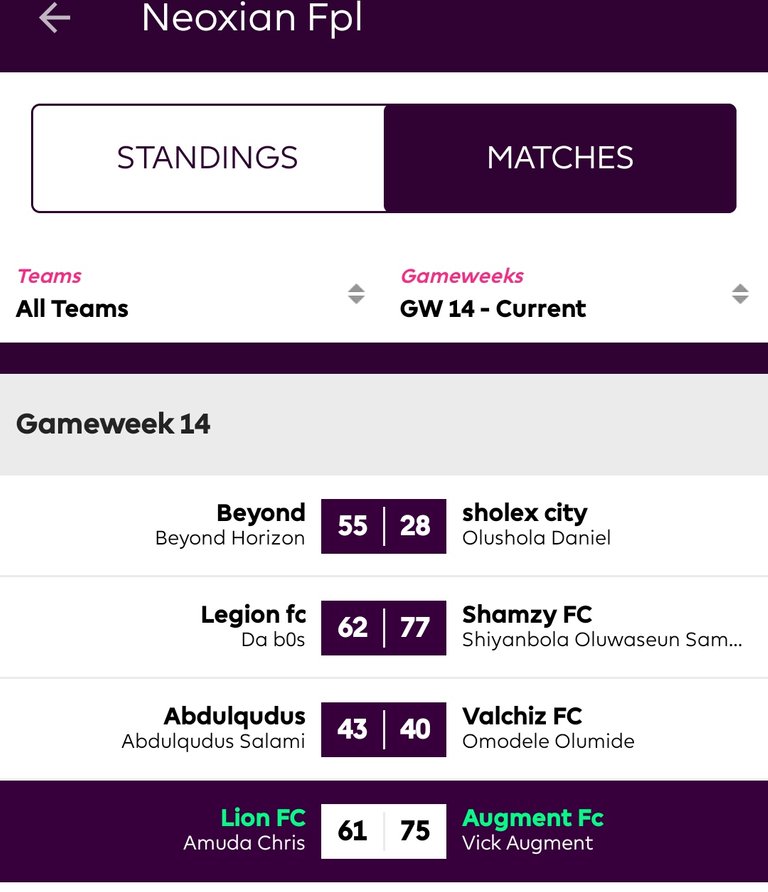 In the neoxian city FPL league, I played against Lion fc own by @hive-world and I won against him, this move me to the 2nd position from the 3rd I was last week.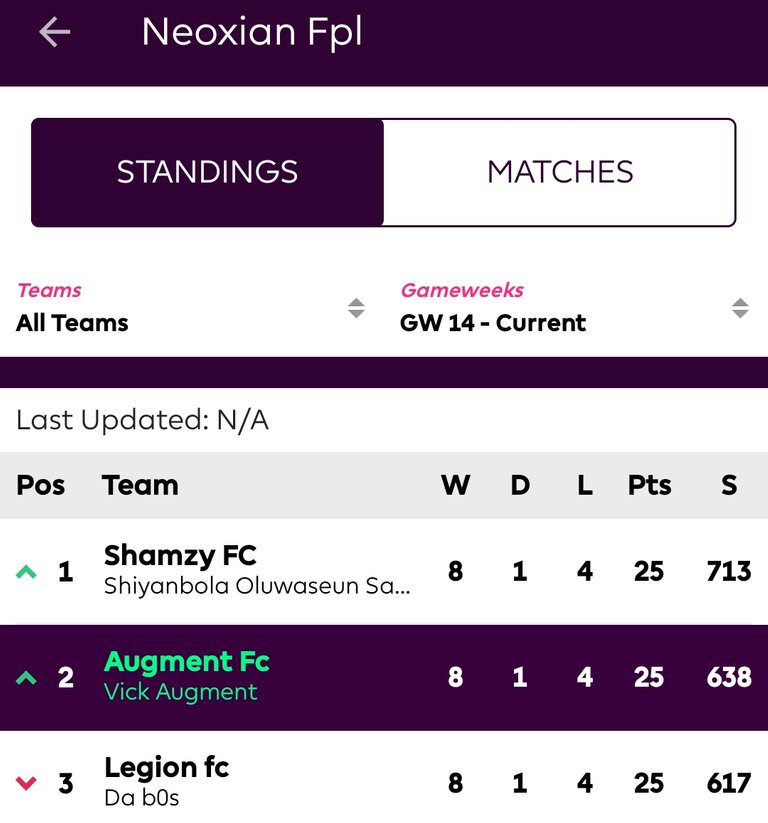 That's about on my FPL team recap, I hope things turn out well in this coming week, but I'll leave Haaland in the team, hopefully he would have recover by then, I might sell Murphy and bring in a new player, because I he's mostly kept on the bench this days.
NOTE: All images used are screenshots from the official premier league app.
Thanks for checking out my blog post,have a blessed day.
---
---