MY HIVE FPL TEAM RECAP : GAME WEEK 10
The 10th week of the EPL fixtures was just rounded up few hours ago with the match between Nottingham forest Vs Aston Villa that ended with a 1-1 draw, so today I bring you a report of how my fantasy premier League (FPL) team fair during each of the games and how I was able to accumulate a whopping 78 point.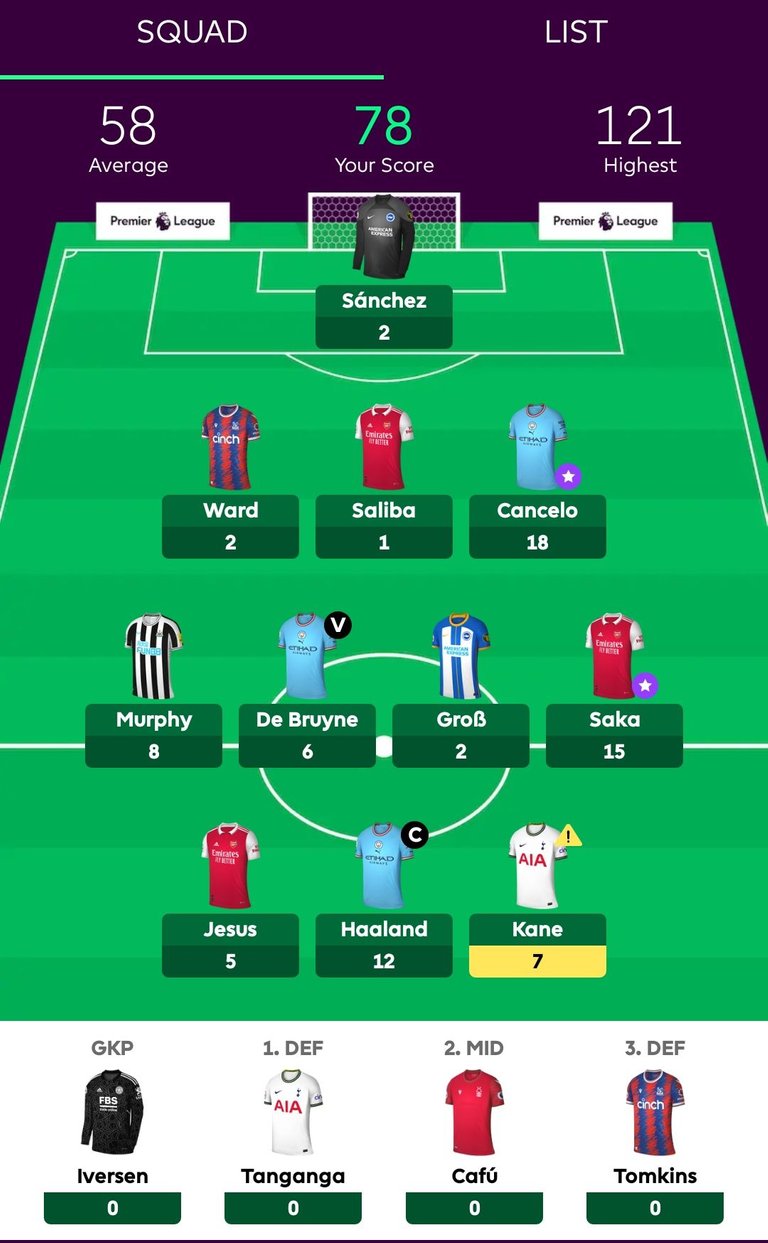 The 10th week began for my FPL team with the match between Manchester city Vs Southampton, and in this match I've got three players representing my team, whom are all City players, in person of Haaland, De Bruyne and Cancello, and I have able to accumulate 36 point from this game alone.
Cancello as the highest point with 18 via him scoring and also giving out an assist, Dr Bruyne 6 point from his impact via an assist, while **Haaland was able to get me 12 point via his goal and the fact that he was my captain.

The second match where my team members features was Newcastle Vs Brentford and my team only representative in the match was Murphy, who accumulated 8 point via him scoring the second goal of the match.
Unto the next was which was between Brighton and Hove Vs Tottenham Hotspur, my team has three representative, in person of Sanchez, Kane and GroB, Sanchez as 2 point, Harry Kane scored the only goal of the match and got a total of 7 point after a reduction of 1 point because he was issued a yellow card, But **GroB only got 2 point for featuring in both half of the match, that's a total of 11 point from that match.

In Crystal Palace VsLeeds United match, Ward was my team only representative, and he had just 2 point for featuring in the entire 90 minutes of the game.
The last match where my team player featured was the Arsenal vs Liverpool game, and my team as three representative in person of Saliba who as 1 point, Saka with 15 point for scoring two goals and other bonuses, lastly G.Jesus with 5 point for winning a penalty, so in today my team accumulated 21 point from this match.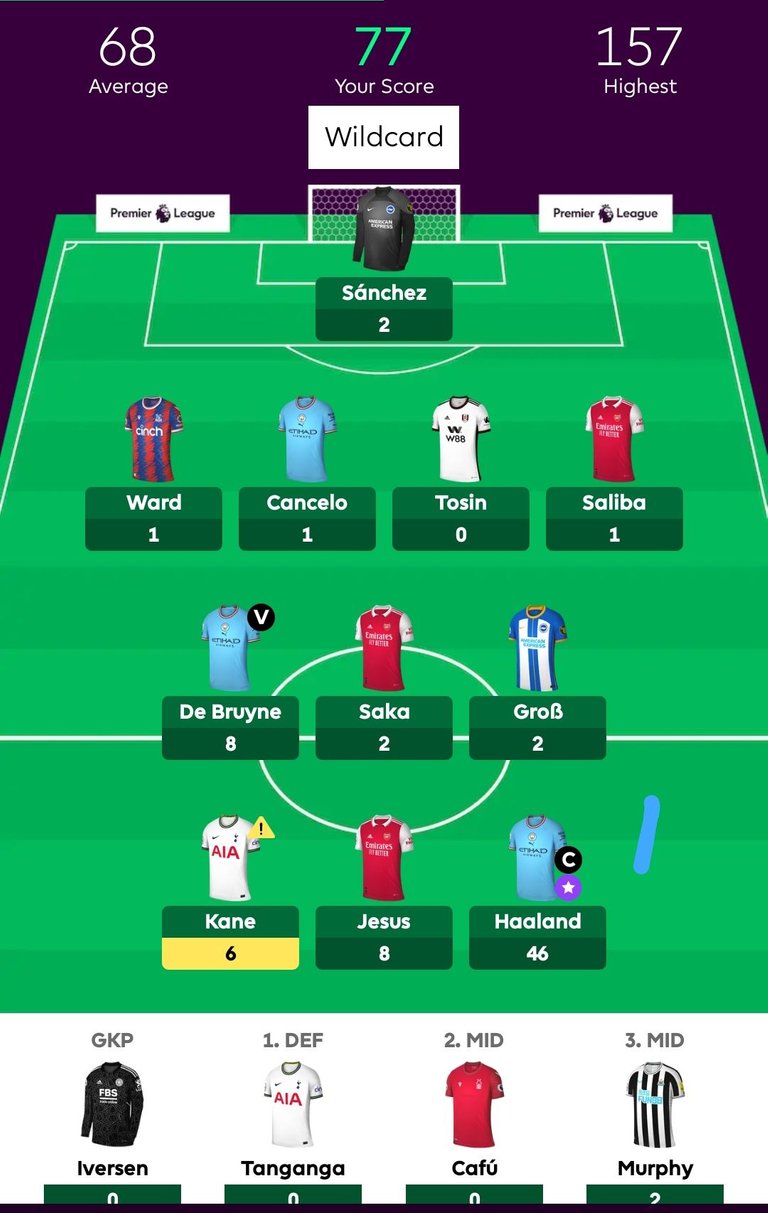 And in today, we had 78 point, 1 point more than the 77 we had from last week, so it's definitely an improvement and I hope we keep doing better.

My team move up the table in the hive fpl league table, From being in the 71st position last week, we now sit at the 61st position, so I look forward to going higher on the log.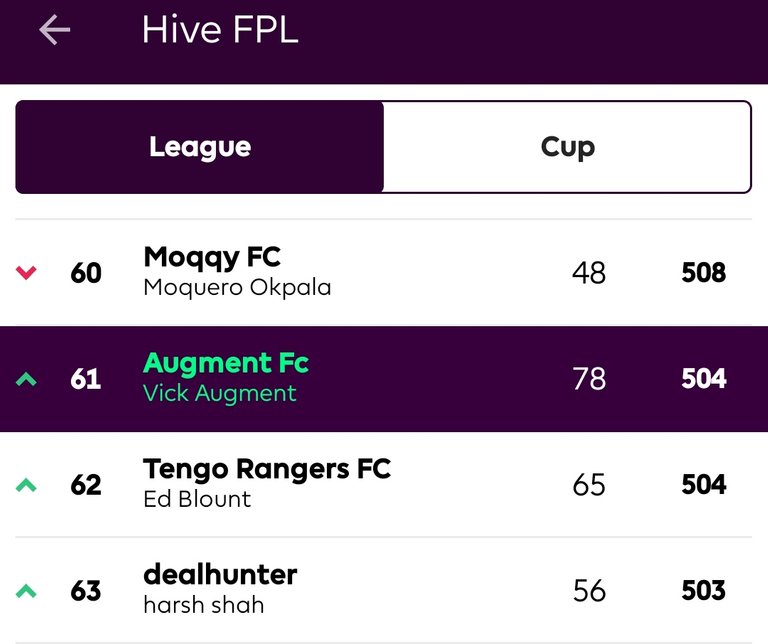 While in The city of neoxian league, I played against @shamzy who happened to be the best so far in our league based on the total point he accumulated, but I was fortunate enough to win against him with a total score of 71-78 meaning a different of 7 point make me victorious against the champion.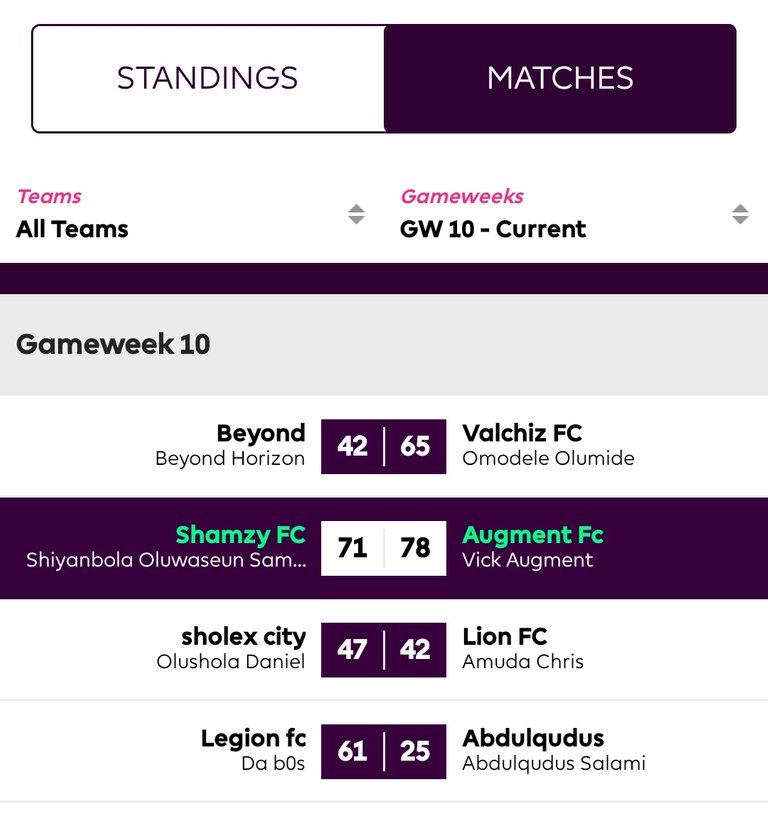 The win make me move up on the city of neoxian league table from being 3rd last week, to moving to the 2nd position, now I only have @b0s ahead of my team.
I only made one changes in my team from last week, and that was me selling defender Tosin from Fulham and purchasing Defender Tomlin's from Crystal Palace, the transfer was to just accumulate more fund so I can purchase a better defender in the coming week, so let see how it goes.

That's about all about my FPL team report for this week, I look forward to seeing an improvement in my team subsequently, thanks for checking out my blog post, have a wonderful week ahead.
NOTE: All images used are screenshots from the premier league app.
---
---