MY HIVE FPL TEAM RECAP FOR GAME WEEK 17
The English Premier League kicks off again after about a month break due to the FIFA World Cup, and with that ushers in my FPL, which had a drastic change due to the free transfer available due to the world cup break. So in this game week 17, my FPL team did excellently well and got a whopping 85 points overall from all games played this week; below is how the points were accumulated.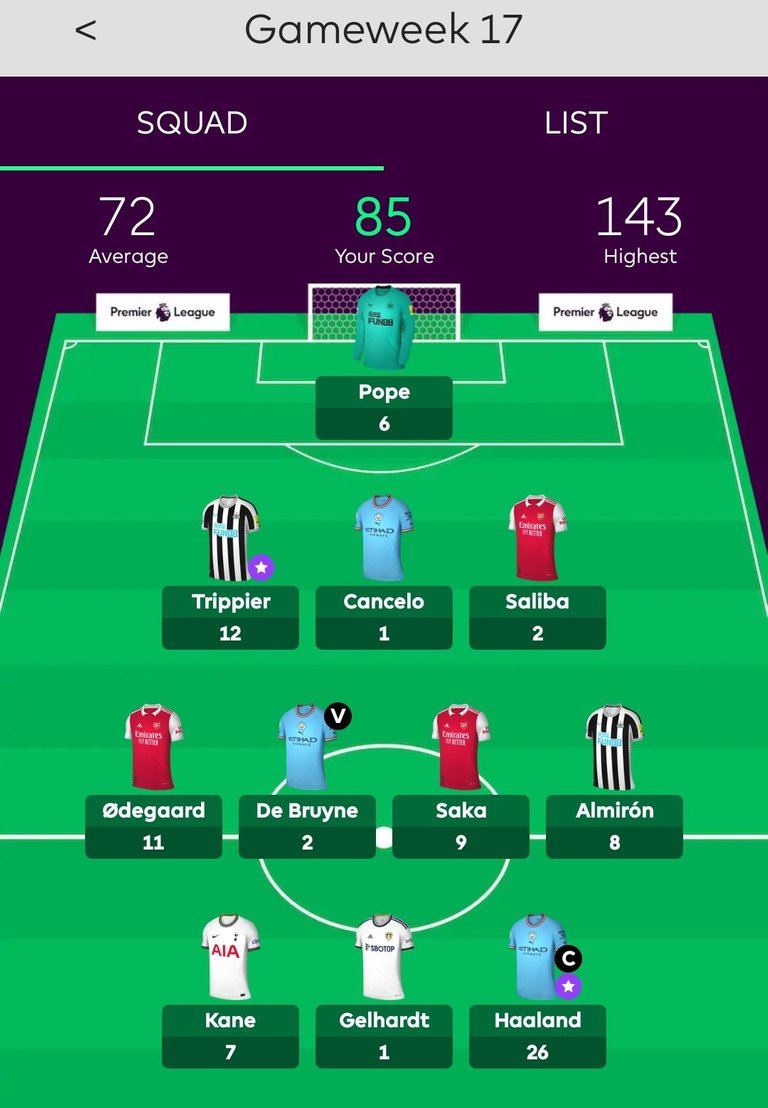 Starting with the transfer, I've long wanted to get Trippier back into my team, so the free transfer made that possible. I had him replace Perisic, and I also brought in Odegard to replace Murphy and Gelhards to replace Ivan Toney, who I was afraid might face a ban pretty soon for his actions on the field.
Game week 17 began with Tottenham Vs Brentford for my FPL team, and Harry Kane was my only representative there and he got 7 points after scoring. Over to the Leicester Vs Newcastle game, I had 3 representatives: Nick Pope had a clean sheet and earned 6 points, Trippier had an assist and was also awarded the man of the match, which gave him 12 points, and Amiron continued his fine form and got 8 points as well.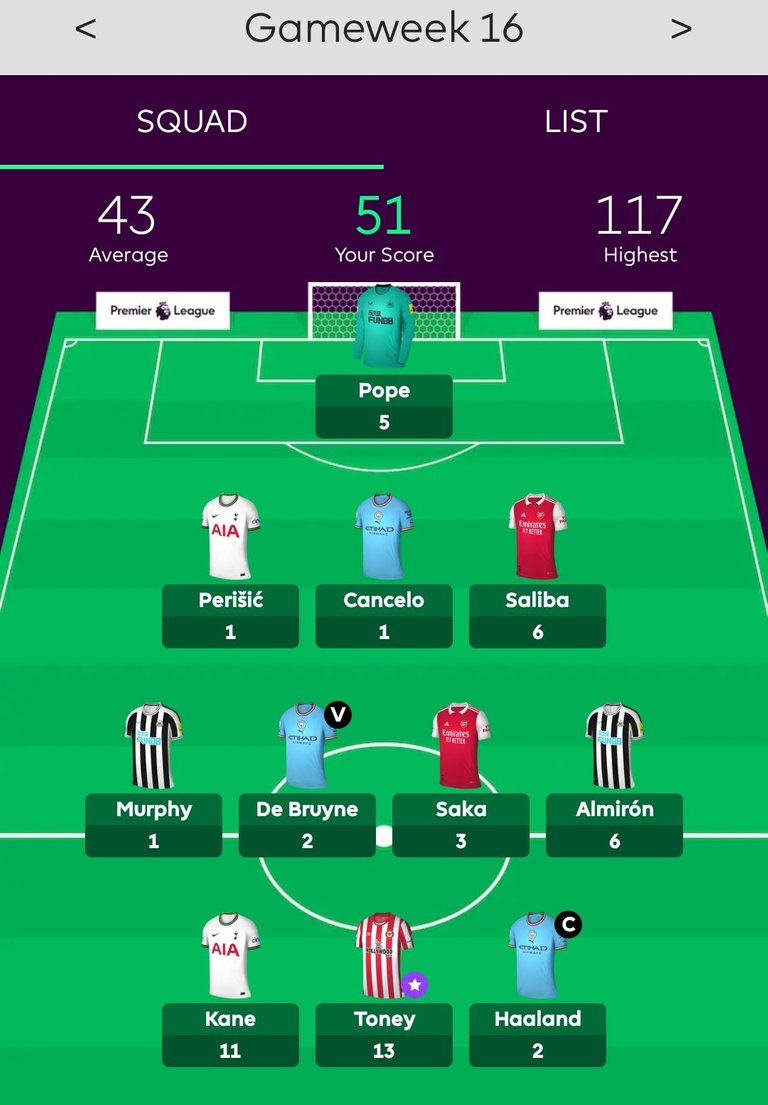 Over to the Arsenal vs. West Ham match where I had 3 representatives, Salliba conceded a penalty and only got 2 points, Odegard on the other hand had 2 assists and was also awarded the man of the match, which earned him 11 points, and Saka earned 9 points for his fine form and scoring in the game.
The last match of the week was between Manchester City and Leeds United, and my team had four representatives. Unfortunately for me, Cancelo was benched for the game and only came on later in the match to earn only 1 point, De Bruyne earned 2 points, lead United striker Gelhardt earned me 1 point, and my captain Haaland earned me 26 points for scoring two goals and his overall performance.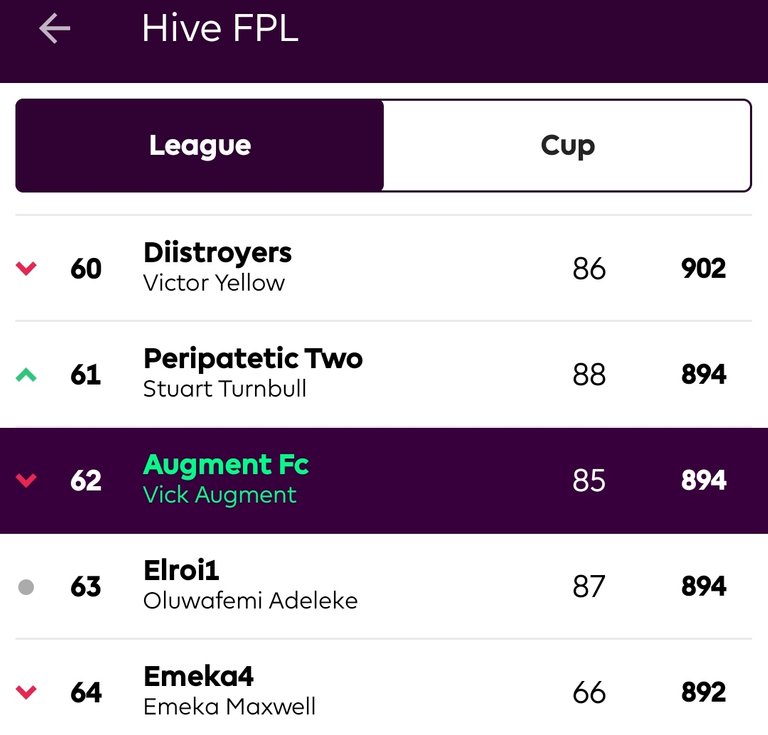 In total, I earned 85 points, but despite how much that was compared to the 55 points I earned in game week 16, my team fell down the log on the hive fpl table from the 60th position to the 63rd position. This is due to the fact that everyone around me earned more points or did pretty well too.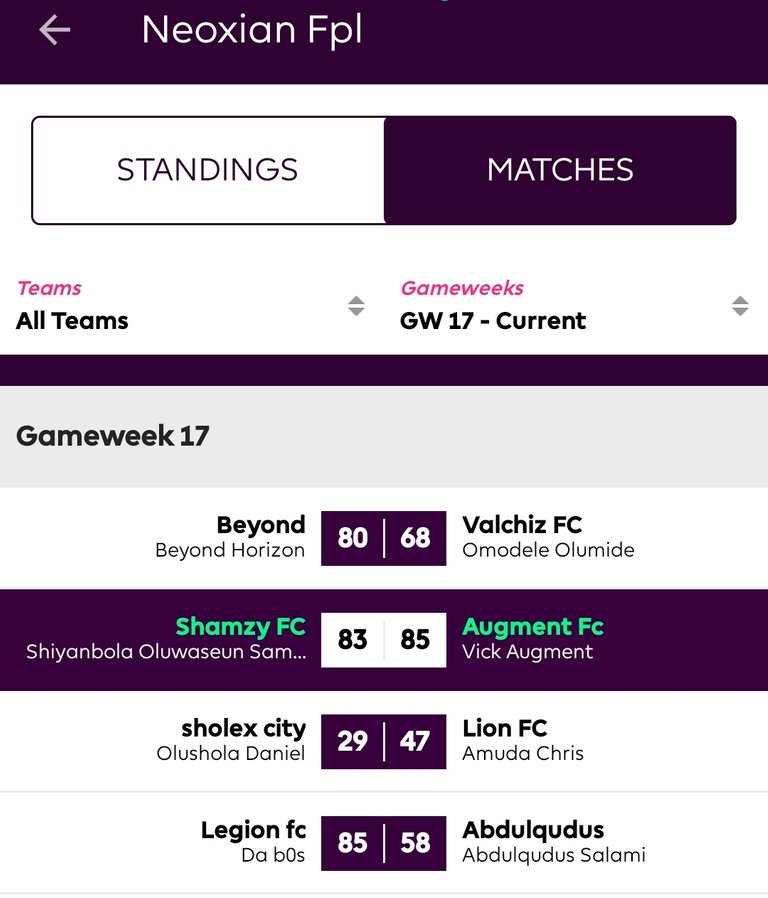 Fortunately for me in the Neoxian FPL league, my team's accumulated points were enough to beat league leader @shamzy with a score of 83-85, and that result moved me to the top of the Neoxian FPL league table. This is the first time I'm attaining this height, and I hope to retain it for the rest of the season.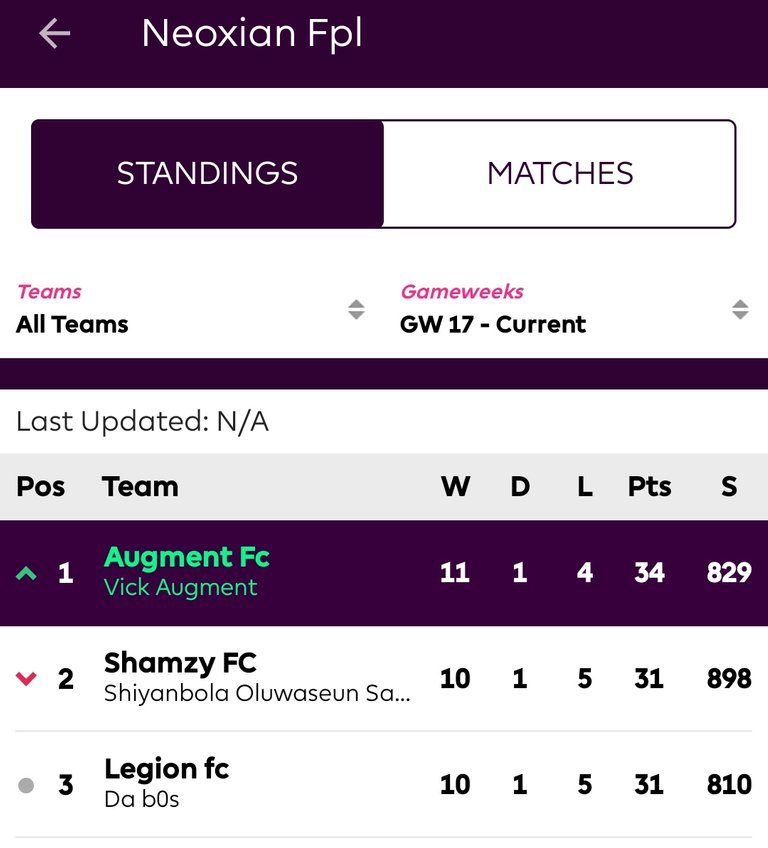 That's about all for my FPL team recap for this week. I hope you had a great read. We'll meet again next week for my FPL team recap of the English Premier League.
---
NOTE: All pictures are a screenshot from the official premier League.**
Have a blessed and productive day ahead.
---
---