Walking On A Snowy Saturday [ENG-TUR]
Hi
This is my 78th Actifit post, after 14 days. I have decided to share my Actifit post also in my mother language from now on. Thus, I can contribute to the development of TR tag.
Merhaba
Bu benim 14 gün sonraki 78. Actifit yazım. Bundan sonra Actifit yazılarımı Türkçe olarak da paylaşmaya karar verdim. Böylece TR etkietinin gelişimine katkıda bulunabilmiş olurum.
Due to the very cold weather for a while, I couldn't go out and have walking. I had doctor check on Saturday and it had been snowing since Friday evening. Thereby, this was a good change for me to walk on a snowy day. Clinic is about 45 mins away by walking. Even if I get on a bus, I have to walk about 15 mins. I wanted to go and then come back home by walking this time despite the snow. I think that I won't be able walk this much soon.
Bir süredir soğuk giden havalar nedeniyle dışarı çıkıp yürüme fırsatım olmamıştı. Cumartesi günü doktor kontrolüm vardı ve kar yağışı Cuma akşamından başlamıştı. Dolaysıyla, karlı bir günde yürümek için bu güzel bir fırsattı. Klinik bana yürüyerek 45 dakika. Otobüse binsem de indikten sonra 15 dakika yürümeliyim. Bu kez kara rağmen yürüyerek gidip gelmek istedim. Sanırım yakın zamanda bu kadar uzun yürüyüş yapamayacağım.
It stopped snowing afternoon then I left home. I didn't want to be caught in the snow. The control lasted about ten mins, after then I headed home walking. While heading home, it had started to snow again.
Kar yağışı öğleden sonra durunca ben de yürümek için evden çıktım. Kar yağarken çıkmak istememiştim. Kontrol yaklaşık 10 dakika sürdü, sonrasında klinikten ayrıldım. Eve dönerken kar yağışı tekrar başlamıştı.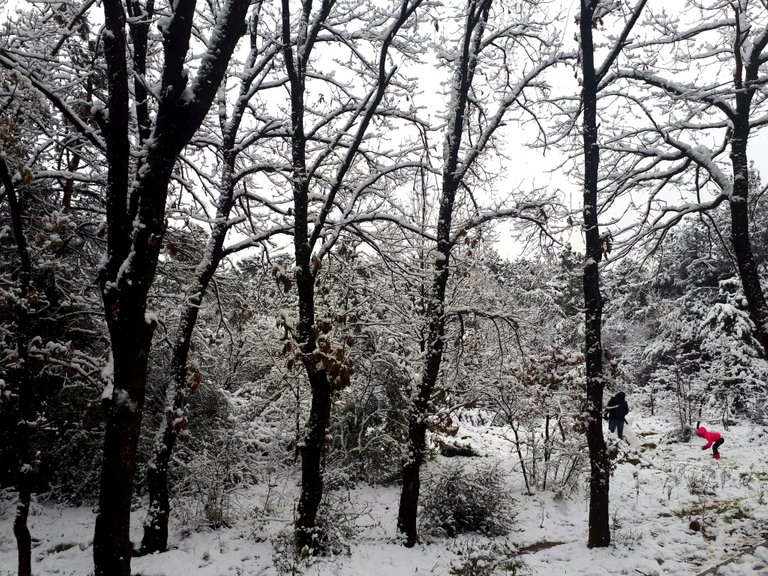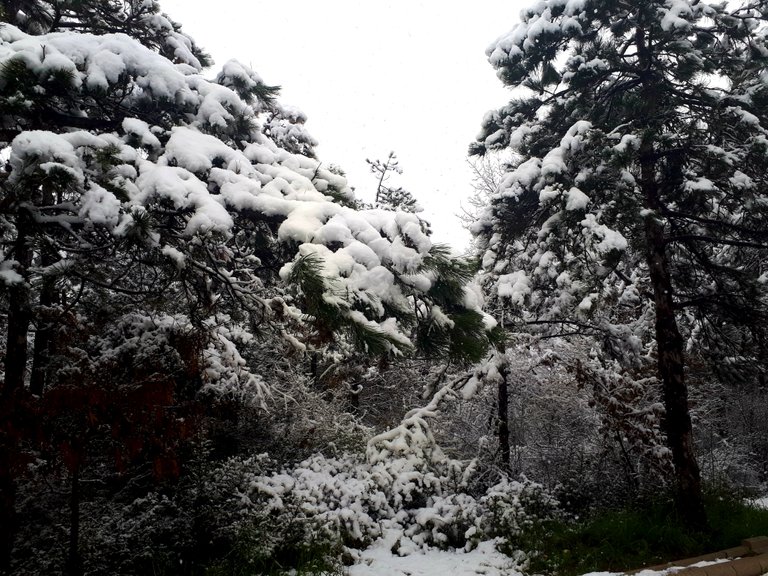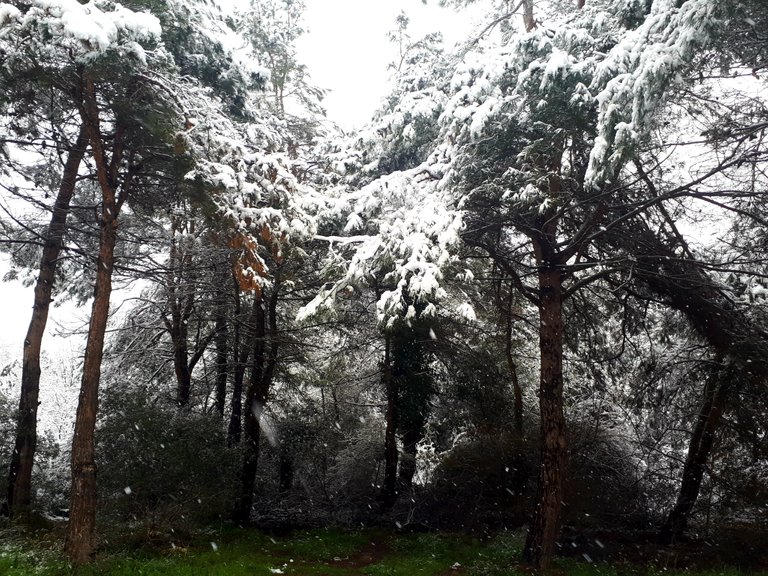 This the forest land near by the walking trail which is about 1 km long, I mentioned it in my previous posts. The forest looked very beautiful and who knows when I will be passing by here again while snowing. For this reason, I stopped here and wanted to took some beautiful photos.
Burası, daha önceki yazılarımda da bahsettiğim, yaklaşık 1 km'lik yürüyüş yolunun yanındaki ormanlık alan. Orman kar yağarken çok güzel görünüyordu ve kar yağarken bir daha burdan kim bilir ne zaman geçerim. Bu nedenle burda durup bir kaç güzel fotoğrak çekmek istedim.
The snow stopped after I had arrived home. The whole walking lasted almost two hours. I was tired, I ate something and took a nap. A friend of mine came to my town in the evening, I walked to bus stop to welcome him. Then we went to another friend's home to drink and spend time. It snowed at the night again. At the end of the day, I made 16014 steps.
Eve vardıktan sonra kar yağışı durdu. Yürüyüş yaklaşık iki saat sürdü. Yorulmuştum, bir şeyler yiyip uyudum. Akşamleyin bir arkadaş bize geldi ve onu karşılamak için otobüs durağına yürüdüm. Sonra birşeyler içip zaman geçirmek için başka bir arkadaşın evine gittik. Kar yağışı gece tekrar başlamıştı. Günün sonunda 16014 adım atmışım.
Try to be active for a good health and keep active with Actifit. A healthy mind is in a healthy body.
Have healthy days to all. There's much to live.
Sağlığınız için hareket edin, Actifit ile hareketli kalın. Sağlam kafa sağlam vücutta bulunur.
Herkese sağlıklı günler. Yaşayacak çok şey var.
This report was published via Actifit app (Android | iOS). Check out the original version here on actifit.io




22/01/2022

16014

| | | | | | |
| --- | --- | --- | --- | --- | --- |
| | | | | | |
| cm | | cm | | cm | |
---
---