CFR Cluj, The Romanian Champions, Managed To Win Over Belorussian Champions Shakhtyor Soligorsk In UECL 3QR

Good day, fellow HIVE users and dear readers from both HIVE and outside of it! It's been quite a while since I last posted here on my HIVE blog, but, very much fortunately for me, I managed to come back today and I would like to start off with some sports news regarding my all time most favourite Romanian football club, more specifically CFR Cluj.
Prior to delving directly into the subject of this post, I would also like to mention the fact that, despite ups and downs and rough times as well as some personal disappointments which some results of this football club in European competitions had caused me in the past, CFR is still my favourite Romanian football club. Also, despite the former leadership of the club which is currently put on trial for corruption.
Therefore, that being said and without any further needless ado or unwanted spoilers on my behalf, here's the sports news that I wanted to share for those interested here on the blockchain.
CFR Cluj, the Romanian champions of the latest Liga I season, managed to eliminate Belorussian champions Shakthyor Soligorsk in the 3rd qualifying round of the ongoing UEFA Europa Conference League (UECL for short) edition, managing to win at home by a margin of only one goal scored by Spanish striker Jefté Betancor, after the white-burgundies drew 0–0 away in Turkey, where Shakthyor's home game was re-directed and took place.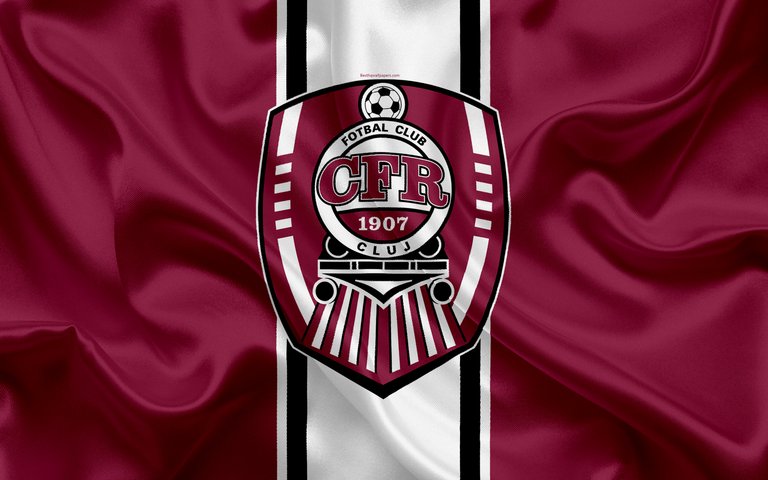 CFR Cluj wallpaper. Image source: Best HQ wallpapers
Consequently, the Romanian champions will move forward to the play-off round of this UEFA competition (now at its second edition) where they will meet Slovenian champions NK Maribor on 18 August and 25 August 2022 respectively. Hopefully, they'll manage to win this round as well and, as such, to enter the group stage where they will, hopefully once again, manage to achieve better results and an overall positive performance compared to the last season of UECL, when they only finished fourth in Group D.
I truly wish the club all the best in its next European adventures in the UEFA-administered competitions. All the best to them and hai CFR!
Side note: for more on CFR Cluj's European record in UEFA competitions, please check this Wikipedia link/page. Thank you in advance!
Thank you very much for stopping by, for reading my HIVE blog as well as for your precious attention and support! They mean enormously to me and I am very grateful to you indeed!
All the best, much health, take care, stay safe, many blessings, and great peace your way! God bless you, have an excellent day, and a wonderful week along with all your dear ones! Best regards from Romania!
Many blessings your way, all the best once again, much health, take care, stay safe, and, just as in the words of Ringo Starr, peace and love your way! Great peace and a lot of love your way, I might add! Have an excellent and most peaceful day along with your close/dear ones! Namaste and great peace your way once again! 😊🙏✌️☮️
Also, please don't forget to keep praying for Ukraine and its people! Much love, blessings, and peace to Ukraine and the Ukrainians as well! May the war stop very soon! 💛💙🇺🇦
P.S.: Thank you very much for all your support, readership, attention, precious time, appreciation, re-blogging, and feedback here on HIVE. 😊
Stay blessed, loved, well, and safe along with your family and friends! Cheers and please stay tuned for more amazing content on my HIVE blog! 😊
---
---