Adventures in the Mountains of British Columbia
Good morning, good afternoon, good evening, depending on where you live in the World 😄
Today I wanted to share with you all some of my most cherished mountain adventure shots from over the years. Most of these are taken somewhere deep in the back country of British Columbia, Canada and if you can't tell, I really have a thing for Winter.
Each photo comes with its own unique story, let me know which one is your favorite 🙂
Skiing in Dreamland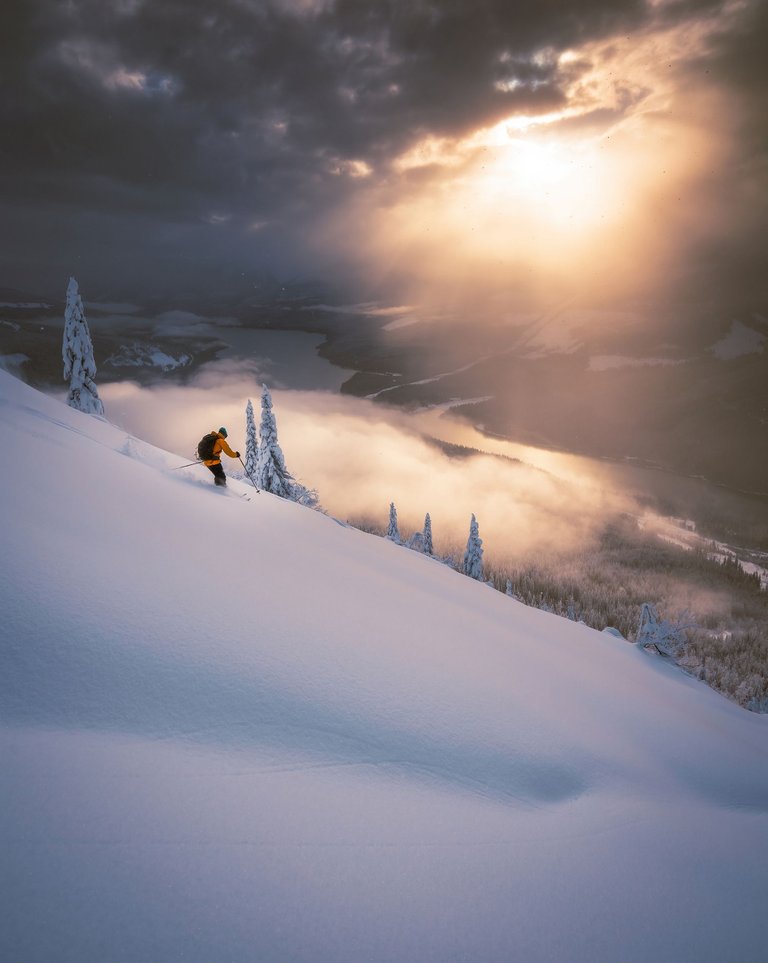 This was taken on our annual Christmas ski tour with my good friends. Perhaps my all time favorite photo I've ever taken. It is quite a drive from where I live and then a 3 hour walk to the top of where we start to ski. The views from halfway down the mountain are just incredible and on this particular day the afternoon light popped perfectly through the clouds, creating a truly dream-like effect.
Head in the Clouds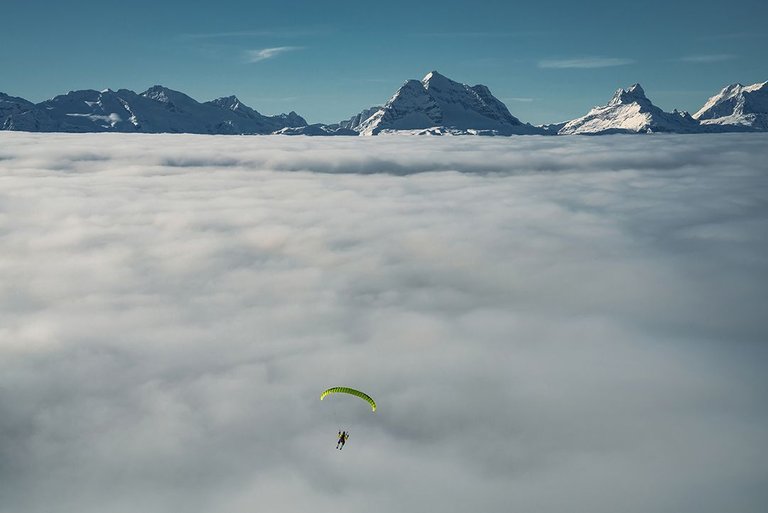 It was a beautiful day up high. The crisp winter sun was warming my face and the wind was calm. As we got to a nice take off spot we paused to take it all in. The temperature inversion had created a sea of clouds below us with the surrounding peaks seemingly rising out of nowhere. I posted up, had some lunch and watched my friend set up his paraglider. He meticulously double checked everything one last time and got ready for take off.
I grabbed my camera and waited for him to give me the signal. 3-2-1 and just like that he was off. I watched his sails inflate through my lens as he picked up speed racing downhill on his skis. The paraglider caught flight and he was up in the air. Soaring above the clouds after a perfect launch.
As I watched him get smaller and smaller in the distance, disappearing into the clouds, I felt humbled.
On Cloud Nine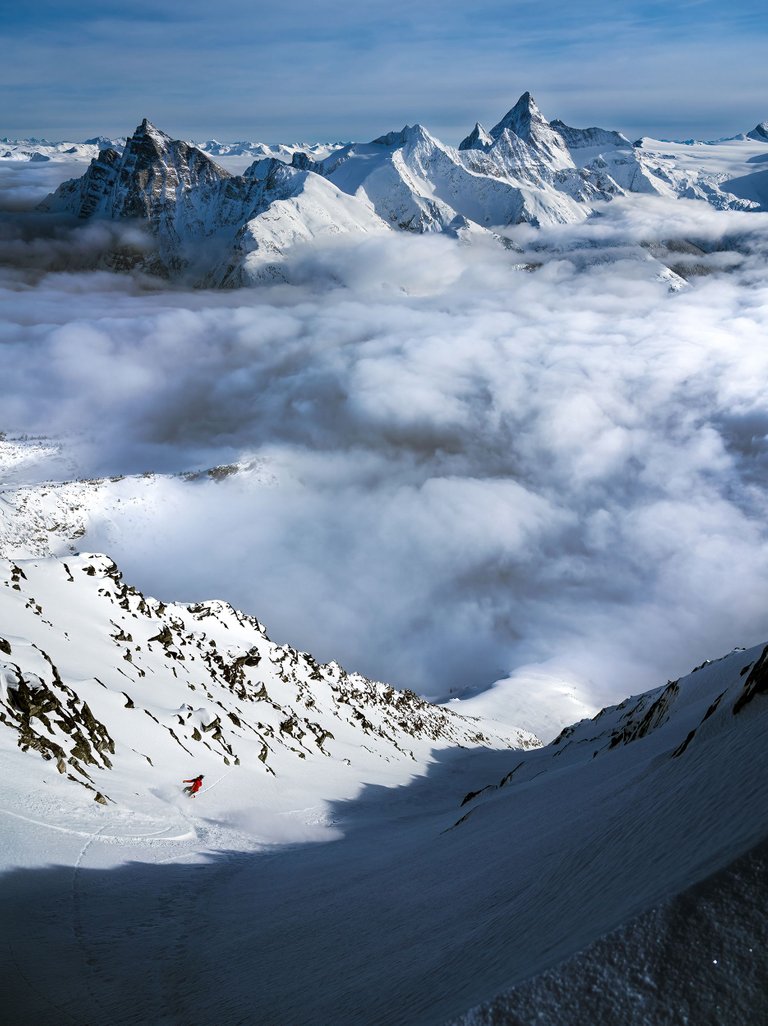 My breath hung in the crisp air as I took a deep exhale halfway up the ridge to the summit. It had been a brisk start to the day. However, we had climbed above the clouds and the sun was now beaming down on our smiling faces.
We continued our ascent, delicately manoeuvring through snow, rocks and ice on the wind affected ridge. My backpack, with skis strapped to it, was starting to feel heavy as we approached the summit.
Stepping onto the peak, I felt on top of the world. I gazed out at an ocean of clouds with prominent jagged peaks towering over the other side of the valley, taking in the beauty that lay before me. After a short and hair raising traverse, we reached our objective.
The avalanche rating was considerable that day. With a thorough assessment and a group decision, we decided to go for it. Peering over the edge, I watched my friend descend the length of the couloir. I waited anxiously, filled with nervous excitement for my turn. My radio crackled to life with a simple message, "all clear, you're good to go". I took a deep breath and dropped in. In that instant everything else faded away. All that was left was a tiny human, incredibly humbled and at the mercy of the mountains, hoping they would be good to me that day. Nothing else mattered.
The Perfect Pow Turn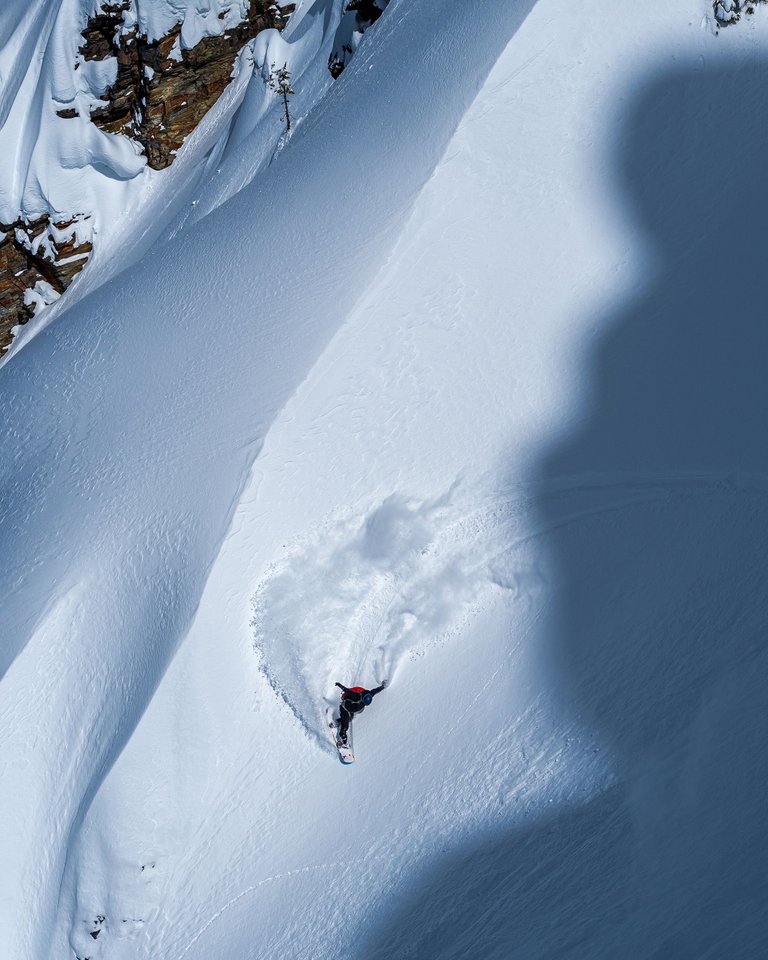 It was closing day at Revelstoke Mountain Resort, in the middle of April, some years ago now. It had just dumped snow the night before and stoke was at an all time high. My good friend and I decided to undertake the 45 minute bootpack to the summit. There is a chute just below the summit on the backside of the mountain called Thumbs Up (there is a giant rock pillar at the top of it that stands tall, like a giant thumb). After riding the chute once, with powder up to our knees, we decided we had to do it again. This is one of my most memorable experiences in the mountains and I still think about it with a smile on my face as I write this.
The Portal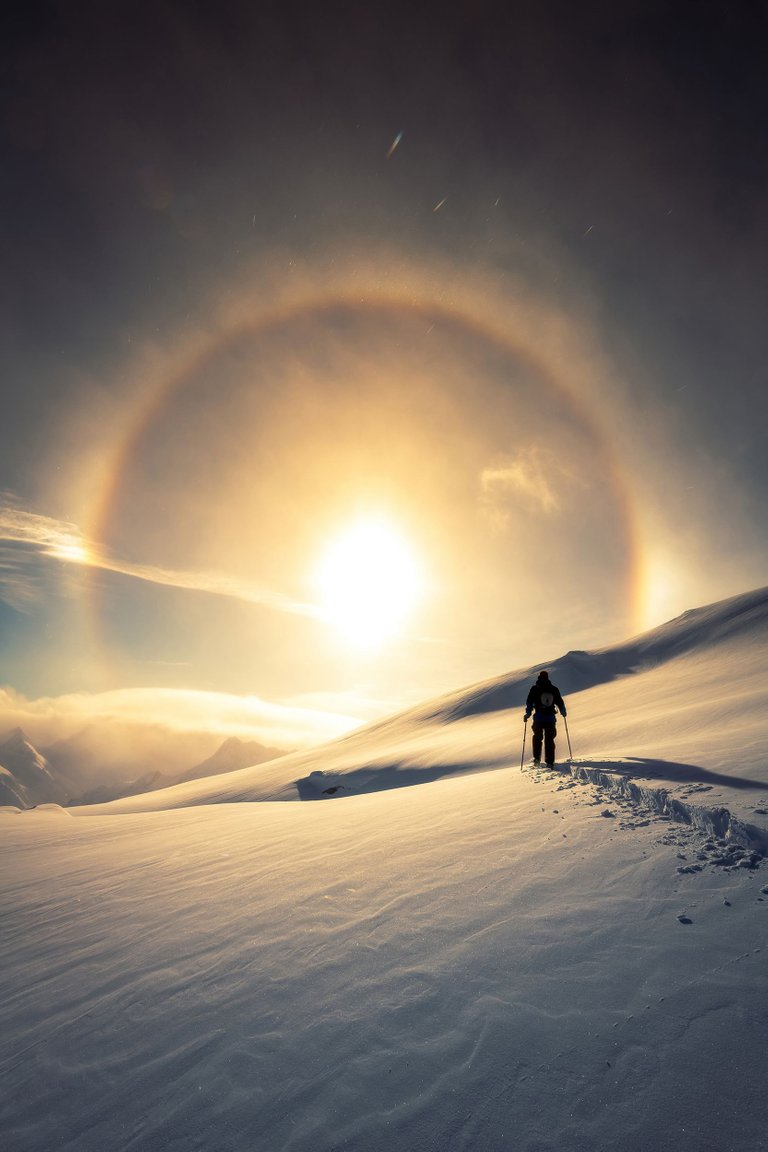 There are moments in this life that I will never forget, this is one of them. It was a frigid day in the mountains. The temperature was –30 °C, with the windchill it felt like –45 °C. It was the first sunny day in some time, so the opportunity to go outside could not be passed up. We set off into the backcountry. With skis on my feet and a heavy bag on my back I started the climb. It was so cold that any bit of exposed skin got frost burned within minutes. We slowly rose through the snow blanketed trees and emerged in the alpine. The higher we went, the more intense the wind got. There were mountains on either side of us, as far as the eye could see. I glanced back over my shoulder and there it was. A perfect 360 ° halo all the way around the early morning sun, which hung just above the horizon. I had seen weather phenomena like this before, but never as prominent as this. It was otherworldly. As if a portal to another dimension had been opened before us. I had to move swiftly, who knew how long this moment would last. My fingers instantly froze as I took the shot. The cold left a lingering pain as I quickly jammed my hands back into my gloves. I will always remember what I saw and felt in that moment.
These are just a few of my favorite moments I've experienced in the mountains over the years. If you would like to connect and follow along for more of my adventures check out my links below 😁 👇
Social Media and Website
NFTs
---
---