[ESP_ENG] Rutina de ejercicios para agilidad en nuestros adultos mayores **Agility exercise routine for our seniors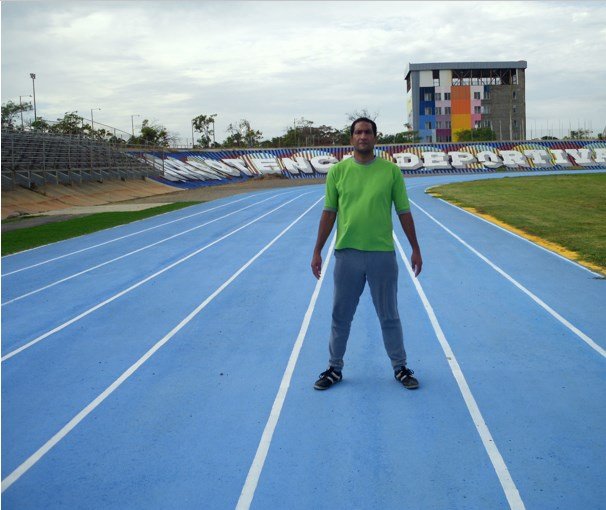 ESPAÑOL


Feliz y bendecido jueves para toda la gran familia de @fulldeportes. Siguiendo la temática de ejercicios con nuestros Adultos Mayores en esta ocasión deseo mostrarles una rutina que les ayudará a mejorar o aumentar la fuerza muscular de los miembros inferiores, además les proporcionará mejor equilibrio y mayor movilidad en todo el cuerpo. Nuestro adultos jóvenes representan una gran parte en nuestra sociedad actual donde en su gran mayoría muchos de ello aportaron su granito de arena en beneficio de la humanidad. Es por ello y en agradecimiento a tantos años de trabajo es que realizo estos ejercicio para retribuir de alguna manera a nuestros abuelos un momento de relax y esparcimiento a fin de garantizar mejor calidad de vida y una longevidad llena de bienestar y salud.
Sin más que agregar , les invito a sumergirse conmigo en esta fascinante rutina la cual puede realizar desde la comodidad de su casa sin ningún implemento costoso. En mi caso lo realizo al aire libre porque me gusta estar en contacto con la naturaleza y así apreciar las maravillas dadas por el creador.
La rutina de ejercicios que realizaremos tiene como objetivo mejorar el equilibrio, la capacidad funcional , movilidad en las articulaciones, con flexiones , extensiones , rotación, entre otros.
ENGLISH


Happy and blessed Thursday to all the great @fulldeportes family. Following the theme of exercises with our Seniors on this occasion I want to show you a routine that will help you to improve or increase the muscle strength of the lower limbs, it will also provide better balance and greater mobility throughout the body. Our young adults represent a great part of our current society where most of them contributed their grain of sand for the benefit of humanity. It is for this reason and in gratitude to so many years of work that I perform these exercises to give back in some way to our grandparents a moment of relaxation and recreation in order to ensure better quality of life and longevity full of wellness and health.
Without further ado, I invite you to join me in this fascinating routine which you can do from the comfort of your home without any expensive equipment. In my case I do it outdoors because I like to be in contact with nature and appreciate the wonders given by the creator.
The exercise routine that we will perform aims to improve balance, functional capacity, mobility in the joints, with flexions, extensions, rotation, among others.

---
En posición bipédica , brazos extendidos a la altura de los hombros, espalda recta , elevamos nuestros talones llevando todo nuestro peso corporal a nuestros talones. Para dar mayor fuerza al ejercicio flexionamos una pierna y la llevamos a la altura de la rodilla de la pierna contraria y nos ponemos de puntilla. Realizar serie de diez repeticiones.
In bipedal position, arms extended at shoulder height, back straight, we raise our heels bringing all our body weight to our heels. To give more strength to the exercise, we bend one leg and bring it to the knee of the opposite leg and stand on our toes. Perform a series of ten repetitions.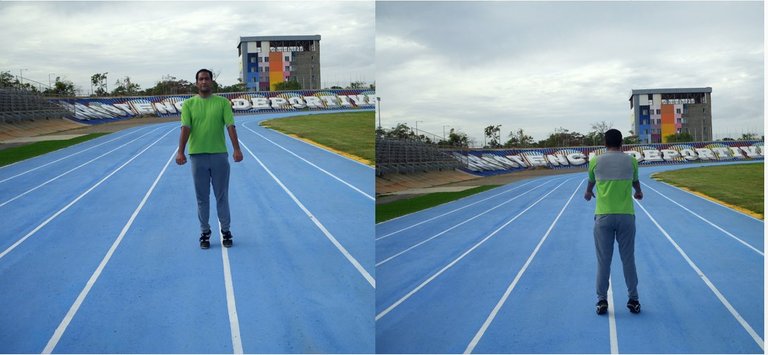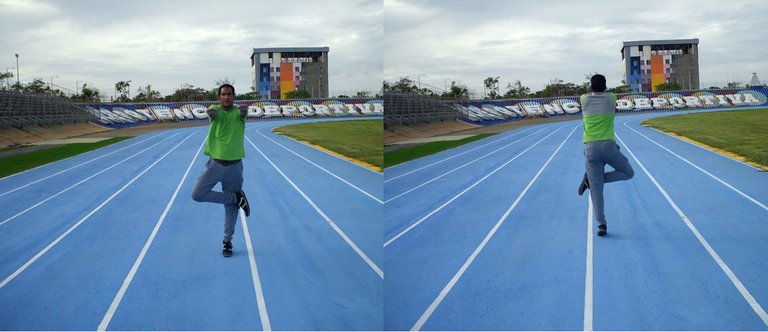 ---
En posición bipédica , espalda recta , caminamos o marchamos en distinta direcciones , es decir, caminamos de lado, de frente, hacia atrás. Realizar el ejercicio de uno a dos minutos.
In bipedal position, back straight, we walk or march in different directions, that is to say, we walk sideways, forward, backwards. Perform the exercise for one to two minutes.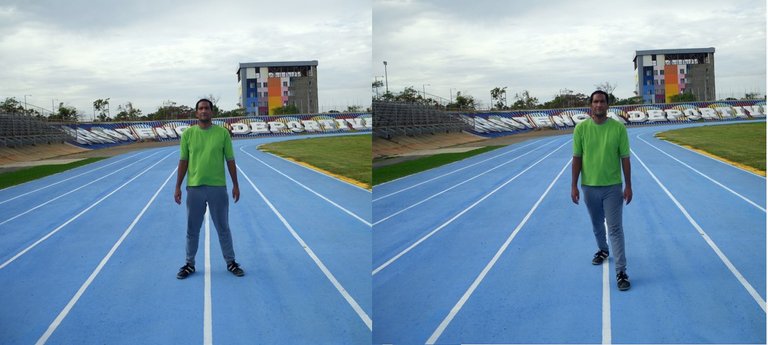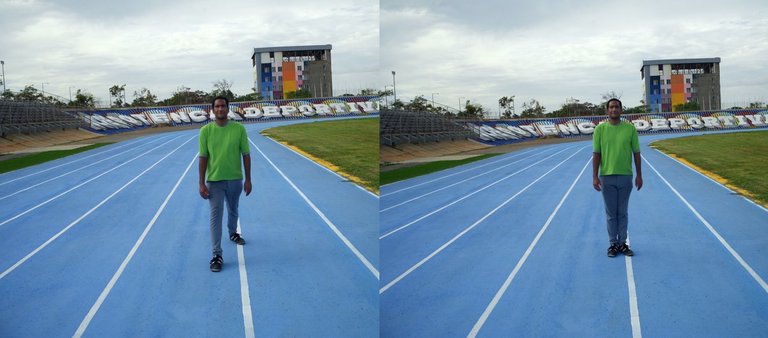 ---
En posición bipédica , piernas a lo ancho de la cadera , brazos extendidos a la altura de los hombros , doblamos la cadera y las rodillas , al inhalar bajamos y al exhalar subimos . Realizamos las sentadillas por series de diez repeticiones
In bipedal position, legs hip-width apart, arms extended at shoulder width, bend at the hips and knees, inhaling lower and exhaling raise. Perform squats in sets of ten repetitions.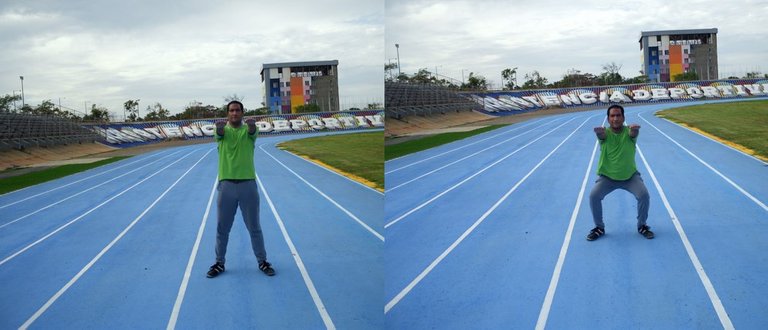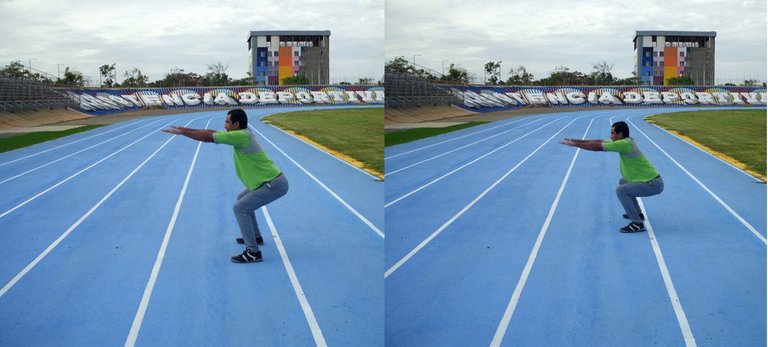 ---
Nos paremos en posición bipédica con piernas a lo ancho de la cadera , espalada recta, con brazos extendidos y con los ojos cerrados, mantenemos la posición durante 10 o 15 segundos. Para mayor dificultad colocamos una pierna extendida y la otra semiflexionada. Alternar el ejercicio cambiando de pierna.
We stand in a bipedal position with legs hip-width apart, back straight, arms outstretched and eyes closed, hold the position for 10 to 15 seconds. For more difficulty we place one leg extended and the other semi-flexed. Alternate the exercise by changing legs.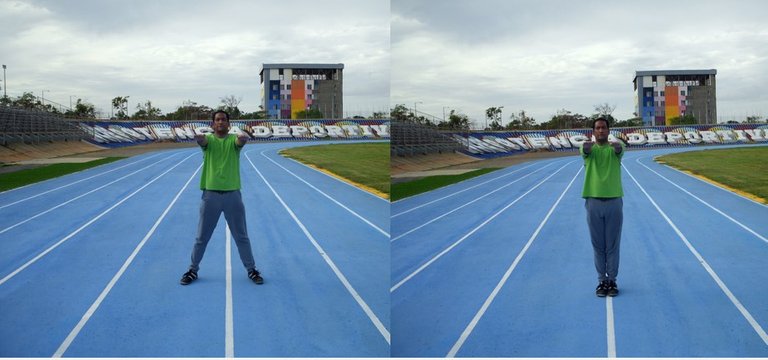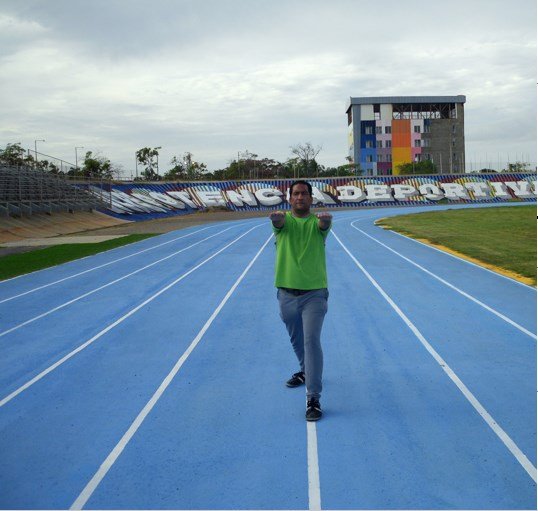 ---
Deseo de todo corazón que esta sencilla rutina con prácticos ejercicios pueda ayudar a concienciar a muchos Adultos Mayores sobre la importancia de tener una vida activa para que puedan envejecer como las águilas , renovado y con nuevas fuerzas que le garantice una longevidad saludable ya que el ejercicio no sólo servirá para vernos bien sino también nos ayudará a mantener nuestros cuerpos saludables
I sincerely hope that this simple routine with practical exercises can help to make many older adults aware of the importance of having an active life so that they can age like eagles, renewed and with new strength to ensure a healthy longevity. because exercise will not only help us look good but will also help us keep our bodies healthy.
---
---
Fotografías tomadas de mi cámara síragon LC-3000
Las fotografías son tomadas por mi esposa @belkyscabrera
Nota: Los ejercicios son recomendados por un amigo y Doctor (Gerald Vicent)
Photographs taken from my síragon LC-3000 camera.
Pictures are taken by my wife @belkyscabrera
Note: Exercises are recommended by a friend and Doctor (Gerald Vicent)
---
Muchas Bendiciones para Todos!!
Many Blessings to all!
---
Translated with
https://www.deepl.com/translator
---
---