Keep Skating is Everywhere

A menudo suelo patinar en skateparks y en la calle así que me es útil traer una lata junto con un esténcil de keep skating.
---
I often skate in skateparks and on the street so I find it helpful to bring a sptray and a stencil of keep skating.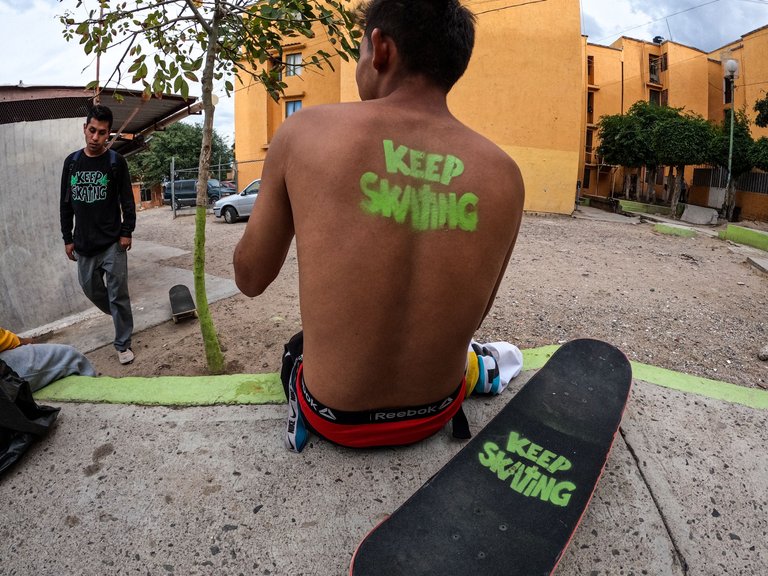 Siempre habrá un buen lugar para dejar huella incluso muy seguido le pinto las lijas a mis amigos.
---
There will always be a good place to leave a mark, even very often I paint griptapes of my friends.
Aquella ocasión después del evento go skate day en el parque de las hilamas convivimos un rato entre algunos patinadores, fue ahí cuando llego nuestro amigo Eduardo Valdivia y decido dejarse pintar la espalda.
---
That time after the go skate day event in Hilamas skatepark, some skaters got together for a while, that's when our frien Eduardo Valdivia arrived and decided to paint his back.
(Unsupported https://www.skatehype.com/ifplay.php?v=13657)
Published by Pablo Anda via Skatehype.com
---
Find me Here:

---

Join to Skate Hive, post your videos and earn crypto Sell or trade your Hive earned tokens in Binance Join to Skate Hive Discord Server Earn Crypto by your content in Odysee

---

---

Join the Stoken/Skatehive Discord

---

What STOKEN plans to bring to Hive 🍯

Unique name, and meme-ified branding that will stand out above the hard to find Hive brand.

Real world events tied to web3 content creation.

Attracting non crypto content creators, into web 3.0

Exciting content to bring in non crypto audience.

Focus on onboarding large, existing communities i.e: Reddit skateboarding: 385k members, and Redbull: 10 million YouTube subscribers.

NFTs. Plans include real world utility, fund raising, and future gamification.
DTF ( Decentralized Token Fund )

Stoken DAO: Decentralized voting system to allow the community to sponsor athletes, content creators, influencers, and real world events.

A new token for you to earn for doing Hive stuff!

Possibility of future airdrop of governance tokens. 


---
---
---