The ninth season of the Hive Chess Tournament begins! - My games and some epic moments ♟️ 🔥⚡️😎
---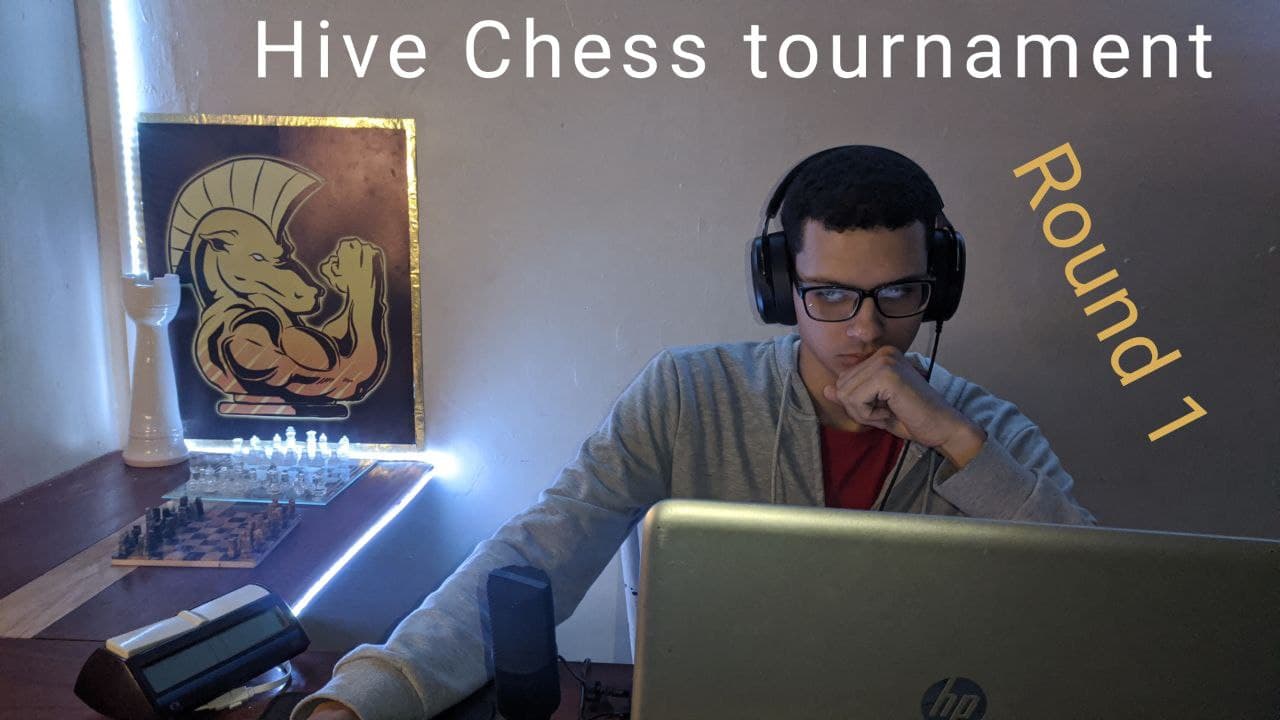 Today we played the first round of the "Hive Chess tournament Season 9", this is already 9 seasons playing chess at the highest level with the #hivechess community, it is an honor to be surrounded by such strong players.
El día de hoy jugamos la primera ronda del "Hive Chess tournament Season 9", asi es ya son 9 temporadas jugando ajedrez del más alto nivel con la comunidad #hivechess, es un honor estar rodeado de jugadores tan fuertes.
@eniolw won the tournament with 28 points, followed by @tungphong (blackswan21) with 22 and in third place @Jonbellionfan with 21 points. I finished in 10th place with 12 points. I have to say that these tournaments are super strong and the strategy to use is to use more often the "bersek" since the time is very limited and the faster players have more chance, that's why even if you don't lose many games winning the tournament is difficult.
@eniolw ganó el torneo con 28 puntos, seguidamente @tungphong (blackswan21) con 22 y en la tercera posición @Jonbellionfan con 21 puntos. Yo quedé en el puesto numero 10 con 12 puntos. Tengo que decir que estos torneos son súper fuertes y la estrategia a emplear es usar más seguido el "bersek"puesto que el tiempo es muy limitado y los jugadores más rápidos tienen más oportunidad, es por eso que a pesar de que no pierdas muchos juegos ganar el torneo es difícil.
As for my performance in this tournament, I think I played pretty much decent, I'm still not quite used to playing and commenting at the same time but there we go moving forward. I played 8 games and used a 50% bersek rate (4 bersek games), won 4 games, 2 draws and 2 losses.
Una vista rapida a mis juegos y los blunders del día
En cuanto a mi rendimiento en este torneo, creo que jugué más o menos decente, aún no me acostumbro del todo a jugar y comentar al mismo tiempo pero alli vamos avanzando. Jugué 8 partidas y emplee un bersek del 50% (4 juegos con bersek), ganeé 4 partidas, 2 tablas y 2 derrotas.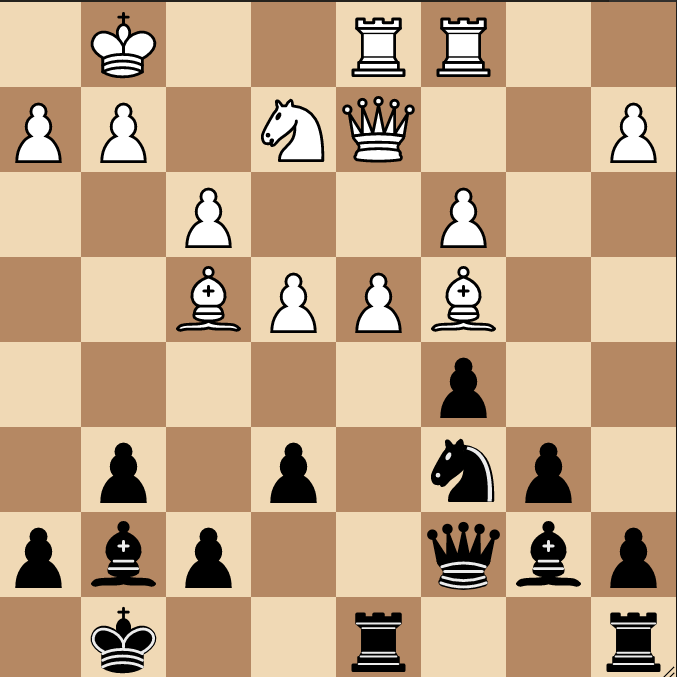 In the first game I played against @stayoutoftherz, I decided to use the Grunfeld defense one of my favorite weapons to fight the queen pawn, however I confused the lines and at this moment of the game I did not remember well the proper continuation, I know that in certain positions Be5 is played but at this particular moment it is a terrible mistake, and after the exchanges White wins easily, 15. ..)Be5?? as you can see in the video I couldn't decide between Be5 or e5, finally I played the worst 16)Bxe5 Nxe5 and now White wins with 17)Qf4 and the knight is pinned, fortunately he didn't see the continuation and I ended up winning the game later.
En la primera partida jugué contra @stayoutoftherz, decidí emplear la defensa Grunfeld una de mis armas favoritas para combatir el peón dama, sin embargo confundí las lineas y en este momento de la partida no recordaba bien la continuación apropiada, se que en determinadas posiciones Ae5 es jugada pero en este momento en concreto es un terrible error, y luego de los cambios las blancas ganan fácilmente, 15...)Ae5?? como pueden ver en el video no me decidia entre Ae5 o e5, finalmente jugué la peor 16)Axe5 Cxe5 y ahora las blancas ganan con 17)Df4 y el caballo esta clavado, afortunadamente el no vio la continuación y terminé ganando la partida más tarde.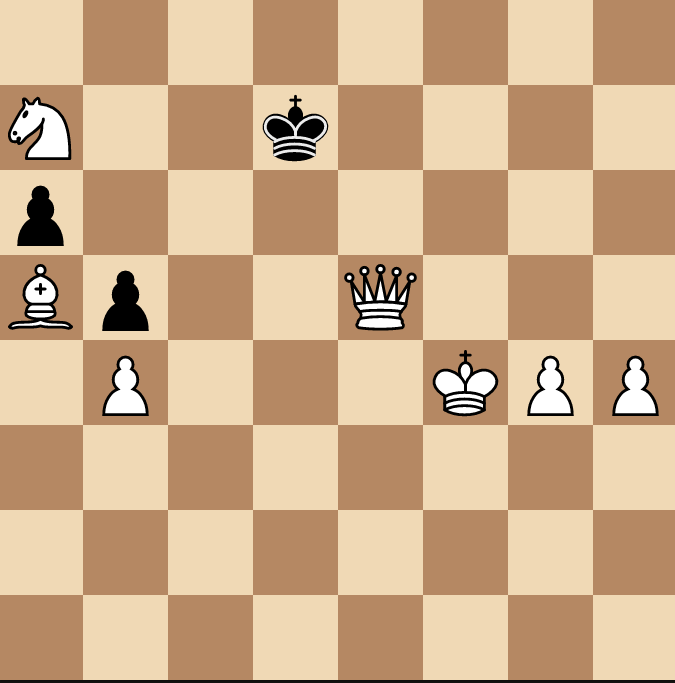 Check this out, something you can't miss in a blitz, incredibly I stelmated my opponent which cost me important points in the final standings, you see why some players never give up, there's always some hope lol. Look at my reaction at the moment of the blunder xD, I laugh not to cry....
Mira esto, algo que no puede faltar en un blitz, increíblemente ahogué a mi rival lo cual me costó importantes puntos en la clasificación final, ya ven porque algunos jugadores nunca se rinden, siempre hay algo de esperanza lol. Miren mi reacción al momento del blunder xD, rio para no llorar….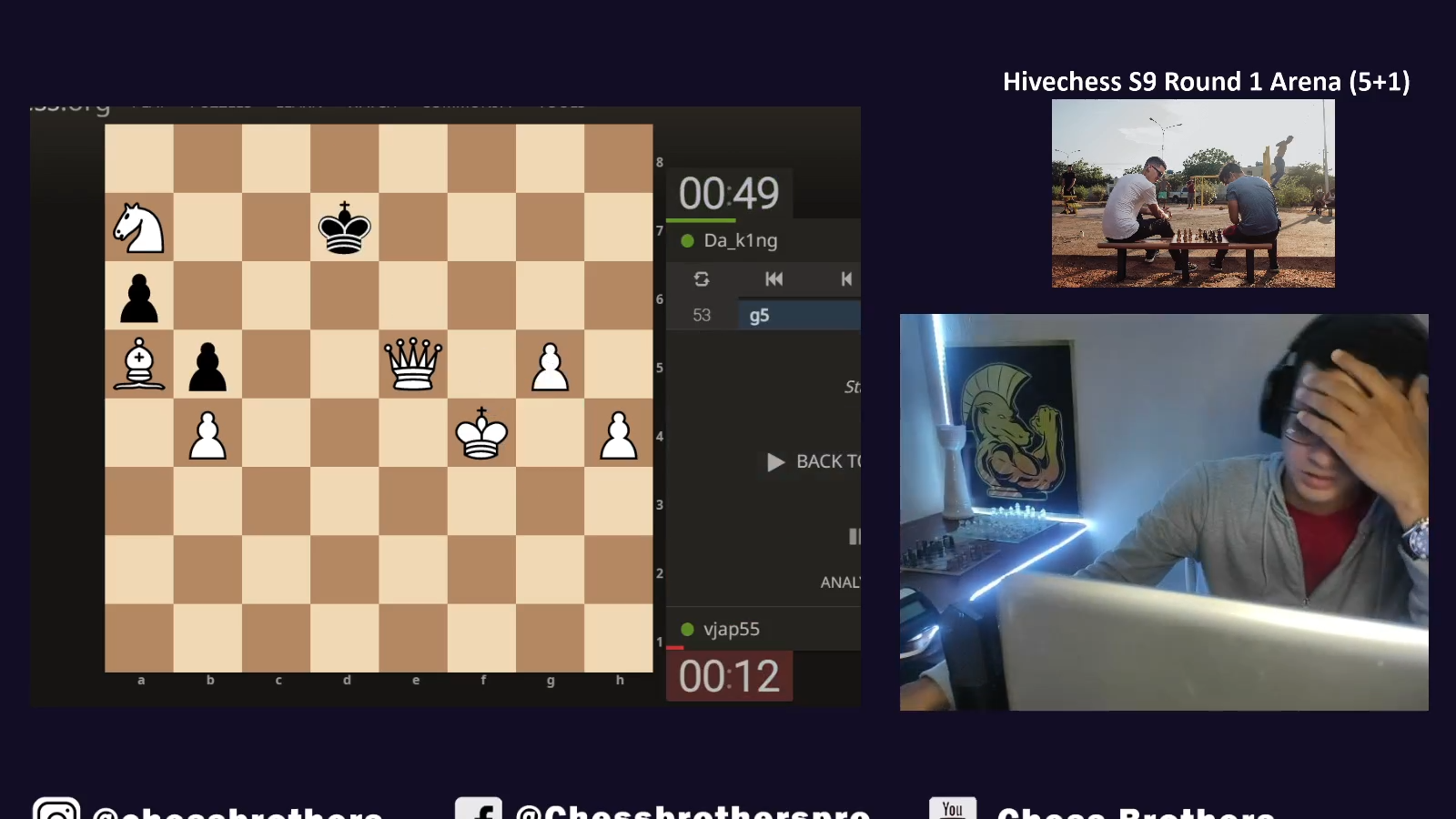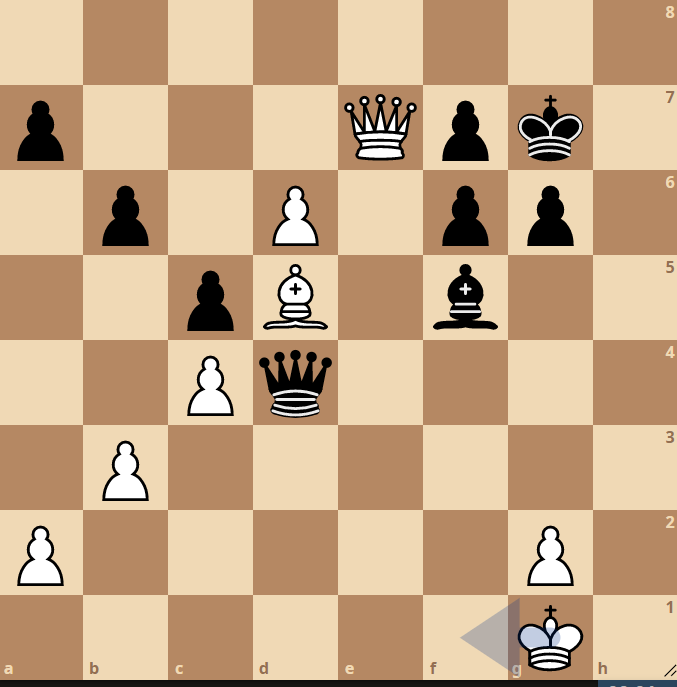 Another of the games I lost by neglecting my clock was the one I played against @eniolw, a game in which I could not get much in the opening with white pieces but I got a position with some pressure generated by the passed pawn on d5 in the middle game, as you can see in the diagram the game is complex and probably Black should seek perpetual check because the passed pawn on d6 and the threats on f7 are difficult to defend, luckily for Black I was thinking too much at this moment and my time ran out.
Otra de las partidas que perdí por descuidar mi reloj fue la que jugué contra @eniolw, una partida en la que no pude sacar mucho en la apertura con piezas blancas pero logré una posición con cierta presión generada por el peón pasado en d5 en el medio juego, como pueden ver en el diagrama la partida es compleja y probablemente las negras deban buscar el jaque perpetuo porque el peón pasado en d6 y la amenazas en f7 son dificultes de defender, para suerte de las negras me quedé pensando demasiado en este momento y mi tiempo se agotó.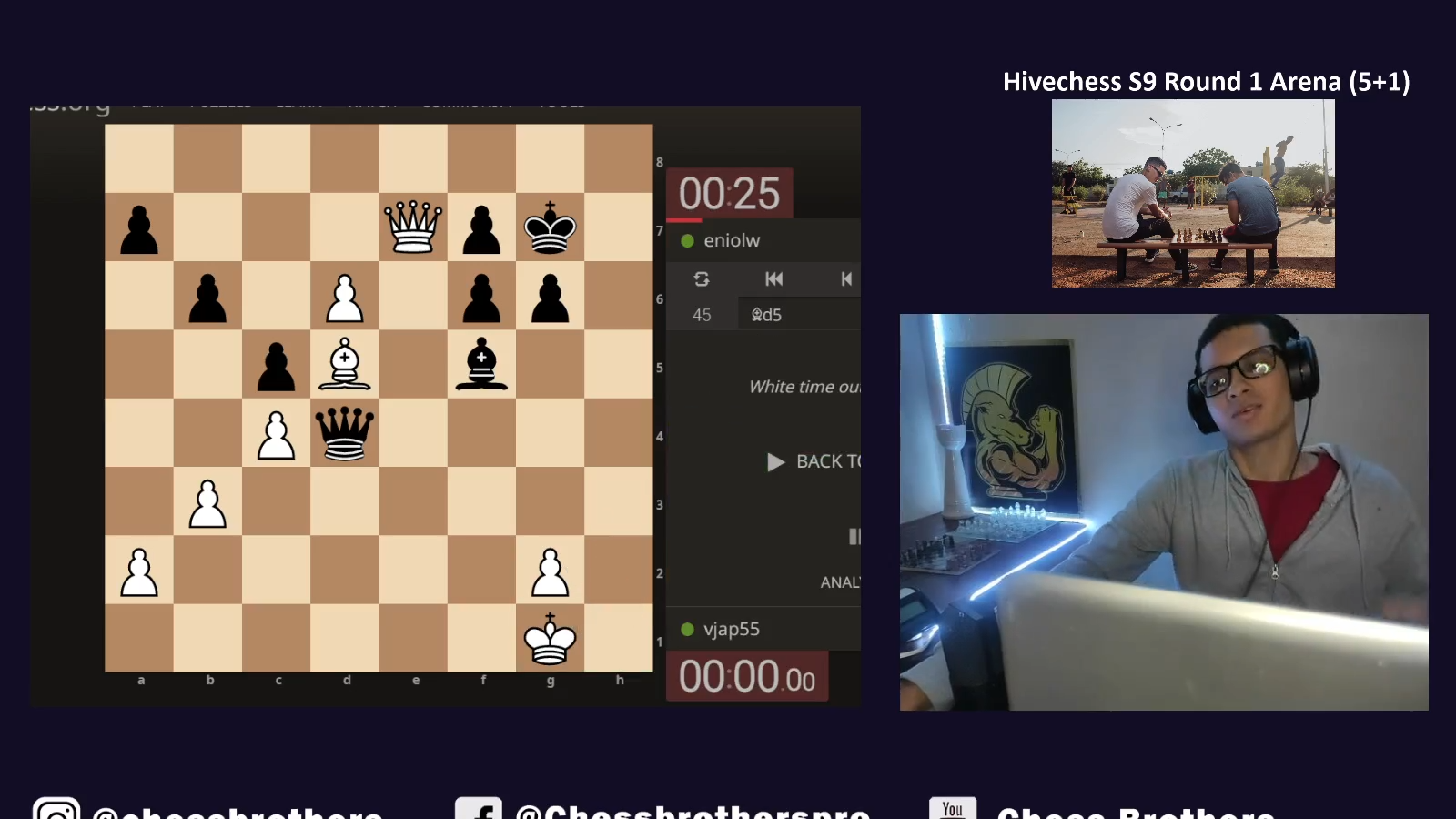 As for the positive things, I was able to beat @sawko who seems that he did not start this tournament in the best way, however it is something normal in the sport, many times there are moments in which we can not play at our highest level, but this is just beginning and we'll see what happens in the league.
En cuanto a las cosas positivas, pude vencer a @sawko quien parece que no empezó de la mejor manera este torneo sin embargo es algo normal en el deporte, muchas veces hay momentos en los que no podemos jugar a nuestro máximo nivel, pero esto apenas esta comenzando y ya veremos que pasa´ra en la liga
Thanks for reading and watching, see you this weekend!
Check out @stayoutoftherz's posts and join the #HiveChess Friday tournament on lichess.org, also @schamangerbert's posts to join the Saturday Blitz Chess Tournament and now on Sundays you can enjoy the Chess Brothers League @chessbrotherspro
Gracias por leer y ver, ¡nos vemos este fin de semana!

Revisa los posts de @stayoutoftherz y únete al torneo #HiveChess de los viernes en lichess.org, también los posts de @schamangerbert para unirte al torneo de ajedrez relámpago de los sábados y ahora los domingos podrás disfrutar de la Liga de Hermanos Ajedrecistas @chessbrotherspro
---
▶️ 3Speak
---
---