Hive Chess Tournament - My games and review of the round 4

For some reason the whole video is not available on 3speak, you can watch the full streaming Here
---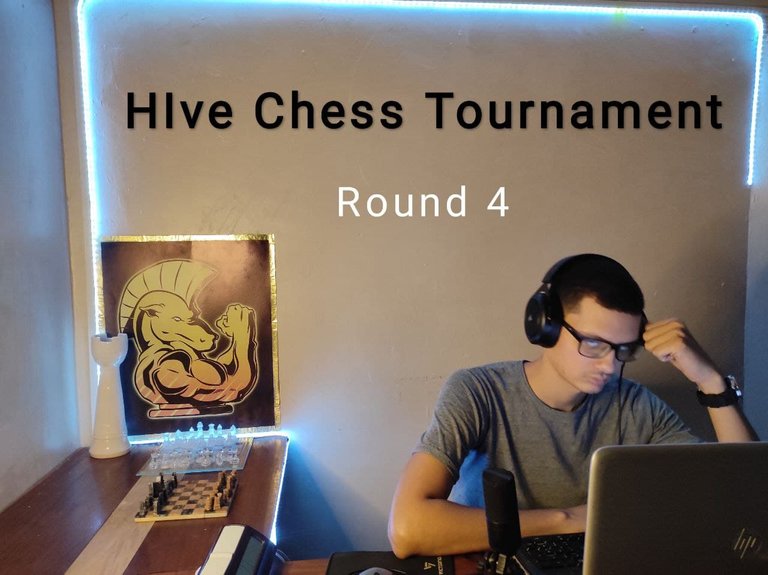 Hello hivers, I hope evrything is doing well...!
We played the round 4 of the Hive Chess tournament, this is an event organized by our friend @stayoutoftherz, you can check his profile to find more information about this toournaments.
Well, the first thing I have to say is that I wanted to do a live stream with a Dapp I recently found called VIMM. Everything seemed to go very well but when the tournament ended I don't know what happened, I ended up experiencing technical problems with this application, maybe for the next one I can learn how to use it correctly.
Fortunately I recorded everything in a local way and now I am uploading it to 3speak as I usually do.
28 players participated today, I got the 3rd place and it seems that I am already playing a little better while commenting on my own games.
Here you can see the final results :

Once again, @tungphong won the tournament, honestly he is playing a good chess these days, in fact he beat me twice in this tournament so I am kind of waiting for the next round to try to take revenge lol. @jaki01 got the second place with 27 points and it is a bit ironic I did not play with him in this round even though we made the same points, I got the thrid place and very very close was @eniolw.
In this Link you can find the whole information about the games.
A quick look at the critical positions
This is my favorite part, I mean the analysis of the games played. The idea is to improve and for this we must analyze our own games.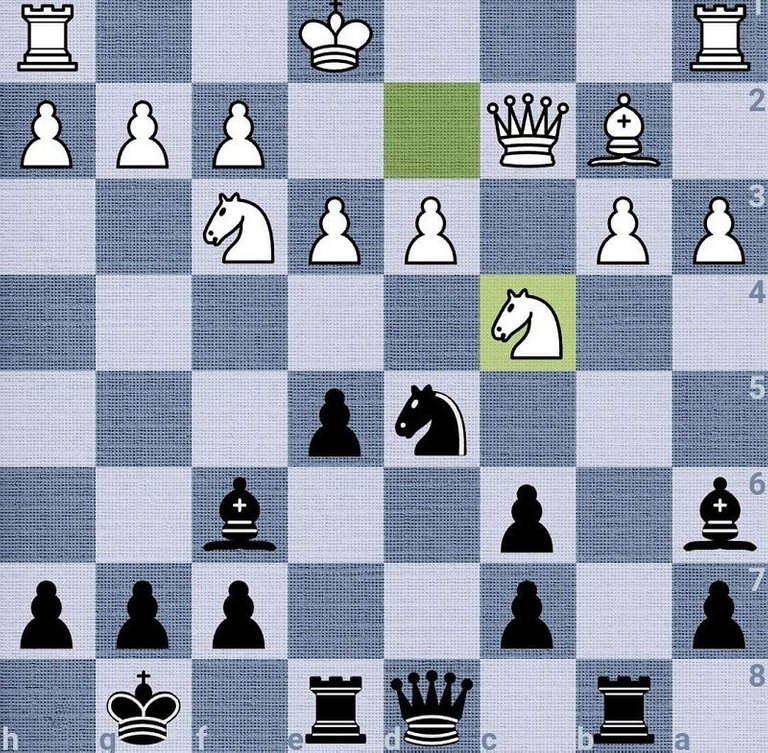 White has played a somewhat unusual opening and Black has been able to take advantage of it, in fact in this position the bishop pair is a determining factor and clearly Black is somewhat better off.
I played 13...)e4 opening the position after 14)dxe4 I made a mistake that cost me a lot, I automatically played 14...)Bxb2, it was better 14...)Bxc4 forcing 15)Qxc4 Bxb2 16)Rd1 Nxe3 and black is better, of course a little difficult to see in blitz but with practice you can improve.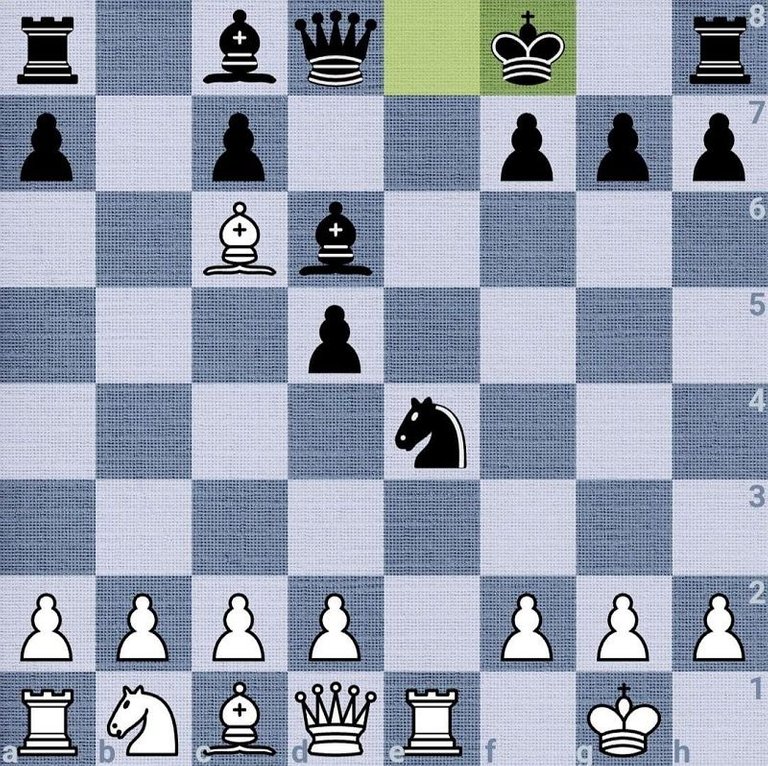 In this game I think @samostically confused the plans, it looks like a marsahll attack but Black doesn't have enough activity to generate any serious problems on White's king. Of course White could take the rook on a8 but in the game I decided first to get rid of Black's active piece, the knight, 9)Rxe4 and with this simplification Black can't do much, 9...)dxe44 10)Bxa8 and ended up winning a few moves later.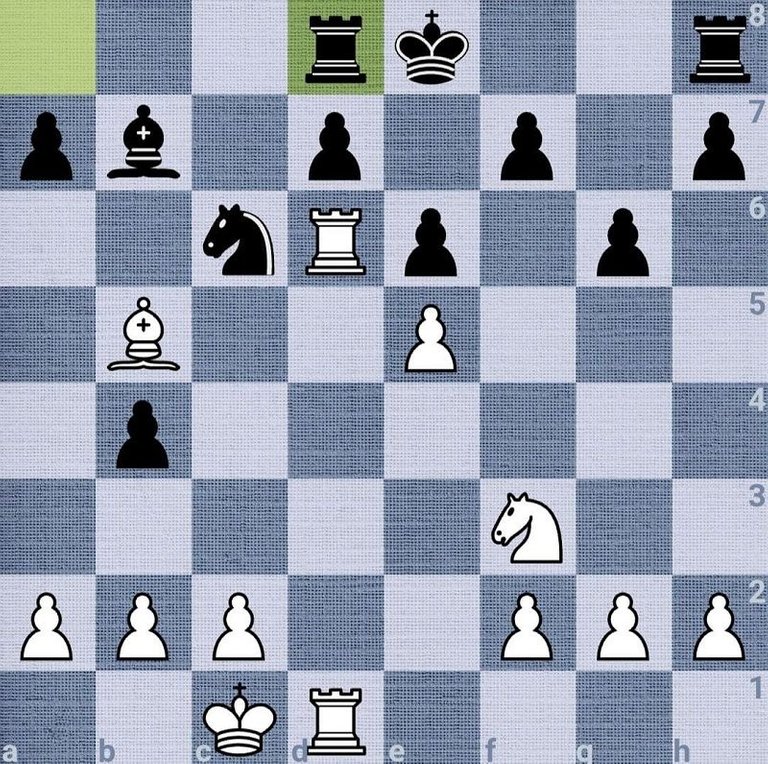 Black has played the opening a bit weird way and has been left in a dubious position, of course @eniolw was using bersek so he didn't have much time come up with the best moves. At this point I felt something was missing, my pieces are well placed but I didn't find the ideal plan.
I played 20)h4 which has nothing to do with the position. The maneuver of the knight to d4 was very strong, I knew there was something but I didn't see the full variation, for example: 20)Nd4 Nxe5 21)Nxe6 fxe6 22)Rxe6+Kf7 23)Rxe5 and White has a very good position.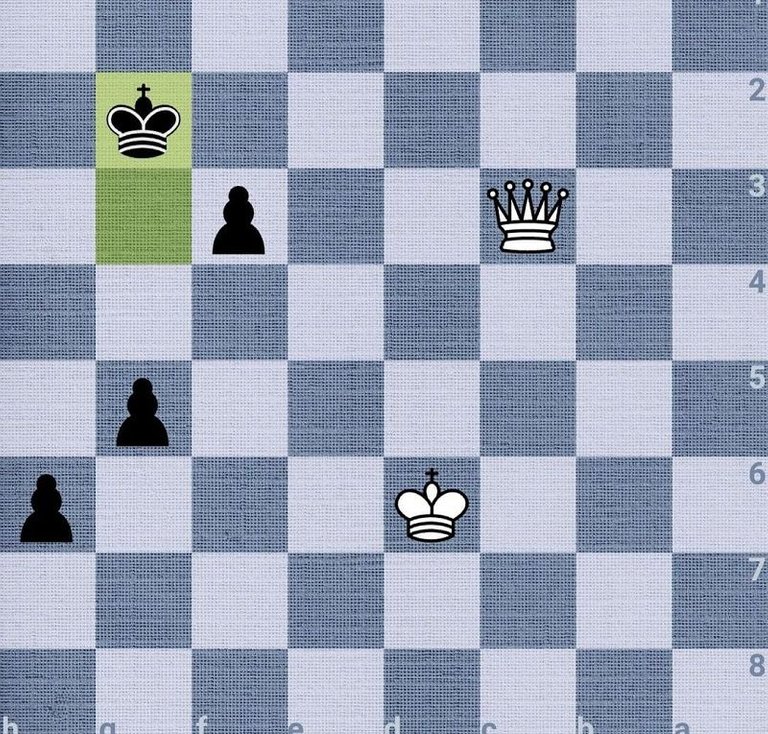 I think in this one I was very lucky @schamangerbert has a winning position, the queen is much stronger than my pawns, maybe he thought I could promote but it is imposible, after 49)Qc6 pinning my pawn I must lose time and at that very moment he can bring his king, of course we both were running out of time maybe that is why that was a draw at the end.

Thanks for watching the video and reading the article, remember we have chess for the whole weekend!
See you tomorrow in the thematic chess tournament organized by @schamangerbert and don't forget that we also have the 6th round of the chess brothers league (@chessbrotherspro) on Sunday.
By the way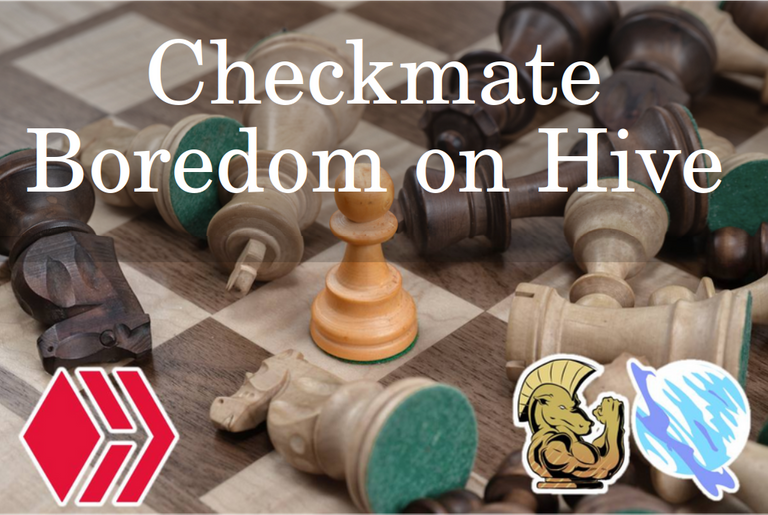 I want to invite you to the initiative Checkmate Boredom on Hive, this is a really cool contest organized by @aliento and @chessbrotherspro, there will be awards in Hive, We appreciate your participation.
Spanish Version
¡Hola hivers, espero que todo vaya bien...!
Hoy jugamos la cuarta ronda del torneo de ajedrez Hive, este es un evento organizado por nuestro amigo @stayoutoftherz, puedes consultar su perfil para encontrar más información sobre este torneo.
Lo primero que tengo que decir es que quería hacer un streaming en vivo con una Dapp que encontré recientemente llamada VIMM.
Todo parecía ir muy bien pero cuando el torneo terminó no se que pasó, terminé experimentando problemas técnicos con esta aplicación, quizás para la próxima pueda aprender a usarla de la manera correcta.
Afortunadamente grabé todo de manera local y ahora lo estoy subiendo a 3speak como normalmente acostumbro hacer.
28 jugadores participaron el dia de hoy, yoo obtuve el 3er lugar y parece que ya estoy jugando un poco mejor al mismo tiempo que comento mis propias partidas.
Aquí puedes ver la tabla de resultados finales:

Una vez más, @tungphong ganó el torneo, honestamente está jugando un buen ajedrez en estos días, de hecho me ganó dos veces en este torneo, así que estoy esperando la próxima ronda para tratar de tomar venganza lol. @jaki01 obtuvo el segundo lugar con 27 puntos y es un poco irónico que no haya jugado con él en esta ronda a pesar de que hicimos los mismos puntos, obtuve el tercer lugar.
En este Enlace puedes encontrar toda la información sobre los juegos.
Una rápida vista a las posiciones criticas
Esta es mi parte favorita, las reflexiones de las partidas jugadas. La idea es mejorar y para ello debemos analizar nuestras propias partidas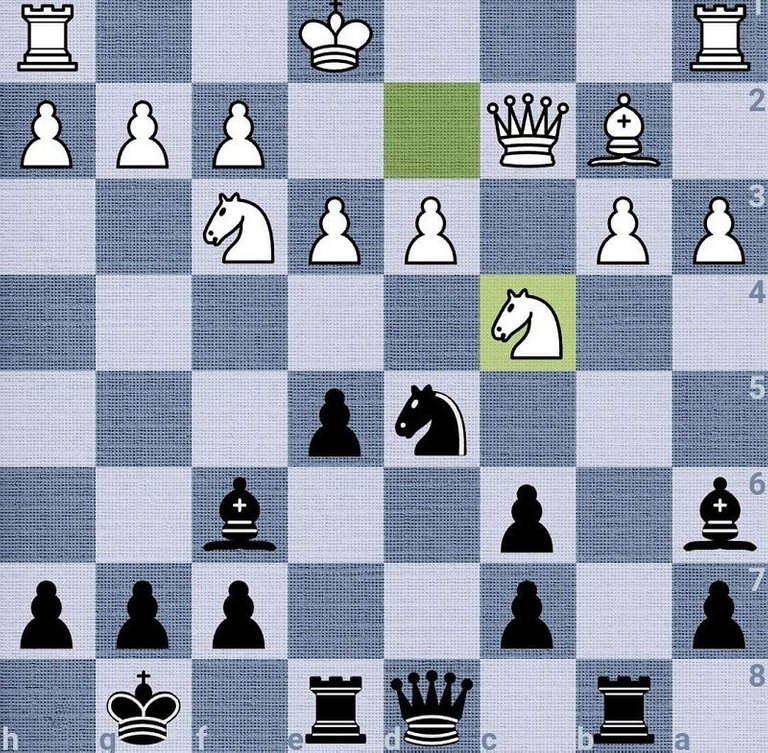 Las blancas han jugado una apertura un tanto inusual y las negras han sabido sacar ventaja de ello, de hecho en esta posición la pareja de alfiles es un factor determinante y claramente las negras están un tanto mejor.
Acertadamente jugué 13...)e4 abriendo la posición luego de 14)dxe4 cometí una imprecisión que me costó muy caro, automaticamente jugué 14...)Axb2, era mejor 14...)Axc4 forzando a 15)Dxc4 Axb2 16)Td1 Cxe3 y las negras están mejor, claro un poco dificil de ver en blitz pero con practica se puede mejorar.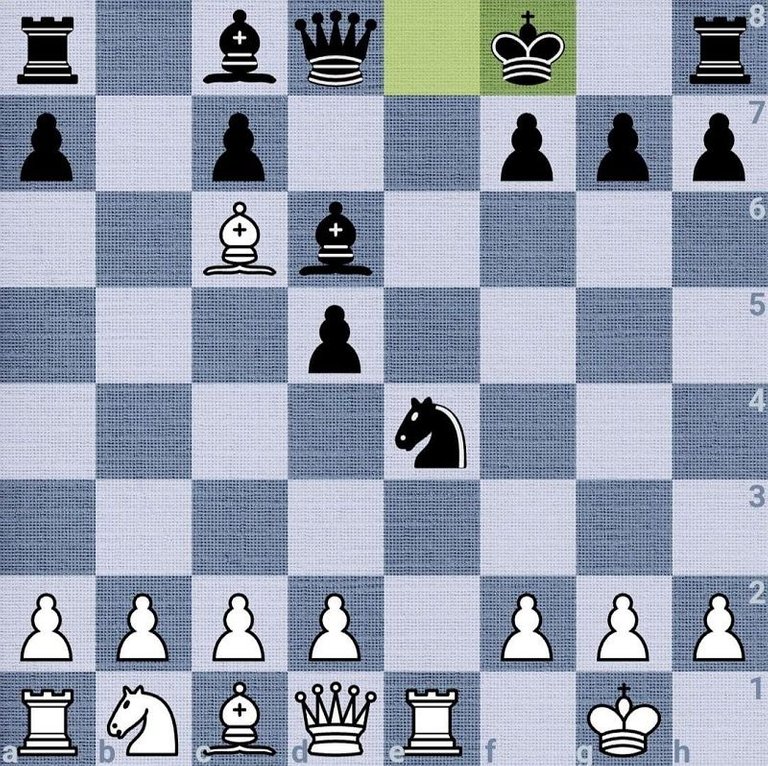 En esta partida creo que @samostically confundió los planes, parece un ataque marsahll pero las negras no tienen suficiente actividad para generar algún problema serio sobre el rey de las blancas. Por supuesto las blancas pudieran tomar la torre de a8 pero en la partida decidí primero deshacerme de la pieza activa de las negras, el caballo, 9)Txe4 y con esta simplificación las negras no pueden hacer mucho, 9...)dxe44 10)Axa8 y terminé ganando unas jugadas más tarde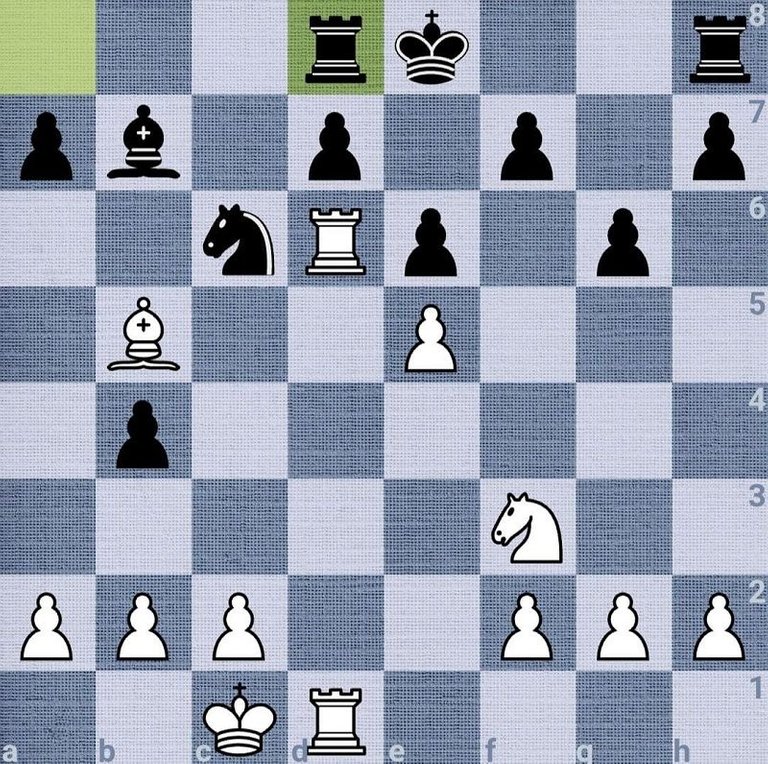 Las negras han jugado un poco impreciso la apertura y han quedado en una dudosa posición, claro @eniolw estaba usando bersek así que no tenia mucho tiempo para pensar de la mejor manera. En este momento sentía que faltaba algo, mis piezas están bien ubicadas pero no encontré el plan idóneo.
Jugué 20)h4 lo cual no tiene nada que ver con la posición. La maniobra del caballo a d4 era muy fuerte, sabia que había algo pero no vi la variante completa, por ejemplo: 20)Cd4 Cxe5 21)Cxe6 fxe6 22)Txe6+Rf7 23)Txe5 y las blancas tienen una muy buena posición.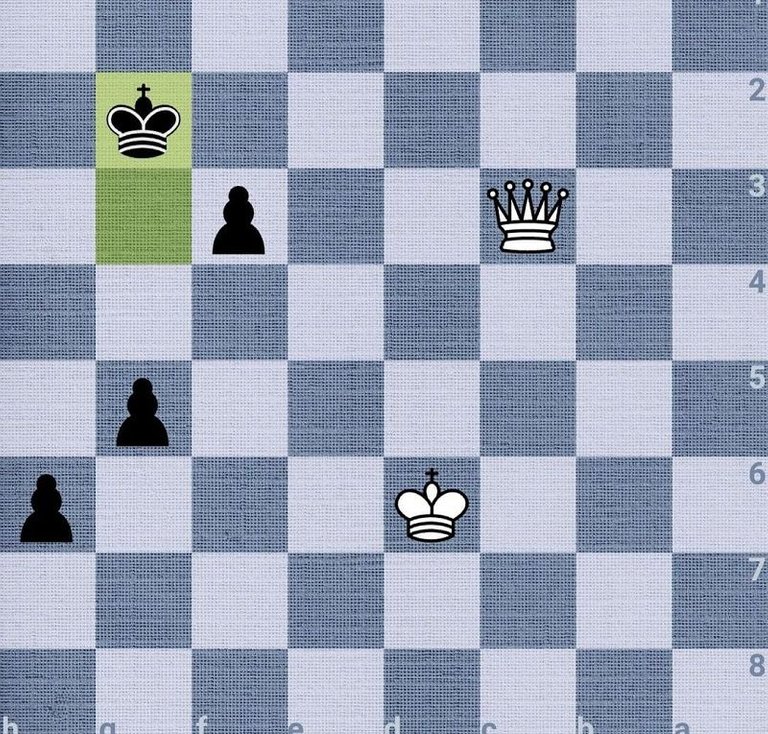 Creo que en esta tuve mucha suerte @schamangerbert tiene una posición ganadora, la dama es mucho más fuerte que mis peones, tal vez pensó que podía promover pero es imposible, después de 49)Dc6 inmovilizando mi peón debo perder tiempo y en ese mismo momento él puede traer su rey, claro que a los dos se nos estaba acabando el tiempo tal vez por eso fue un empate al final.
Gracias por ver el vídeo y leer el artículo, ¡recuerda que tenemos ajedrez para todo el fin de semana!
Nos vemos mañana en el torneo temático de ajedrez organizado por @schamangerbert y y no olvides que también tenemos la 6ª ronda de la liga de hermanos ajedrecistas (@chessbrotherspro) el domingo.

El vídeo usa música licenciada como CC BY 3.0 por Infraction - No Copyright Music
The video uses music licensed as CC BY 3.0 by Infraction - No Copyright Music.
All the photos and schreenshots were taken with my phone - Las fotos y capturas de pantallas fueron tomadas con mi telefono.
---
▶️ 3Speak
---
---